Customer service is a vital part of any business's success. With word-of-mouth and recommendations becoming the main drivers of new business, customer experience is now more important than ever. Each customer interaction counts!
Your customer service is like a first date. It's your very first chance to impress new customers and sweep them off their feet.
And if everything goes well, you've secured yourself a second date!

But how do you ensure a great first impression and customer experience? Perhaps you need some ideas to get started with the best practices? We've got you. In this post, we give you a list of 6 effective ways to boost your customer service and take your customer experience to the next level.
Why customer service is so important?
Customer service is a crucial part of many e-commerce businesses as it's often the first point of contact for any customer. This is also why it can be a huge differentiator for your business.

Most people think that improving their products will help boost their customer satisfaction, but we all know this isn't always true. In fact, 73% of people say customer experience is an important factor in their purchasing decisions.
Research also shows that 96% of customers say customer service is an important factor in their loyalty to a brand. 61% of customers would leave for a competitor after just one negative experience, and 89% are more likely to buy following a positive customer service experience. Customer service is thus closely tied to increased customer value and overall revenue.
And with the majority of businesses' revenue coming from repeat customers, who tend to spend significantly more than new first-time customers, the impact of your customer service on your overall business shouldn't be ignored.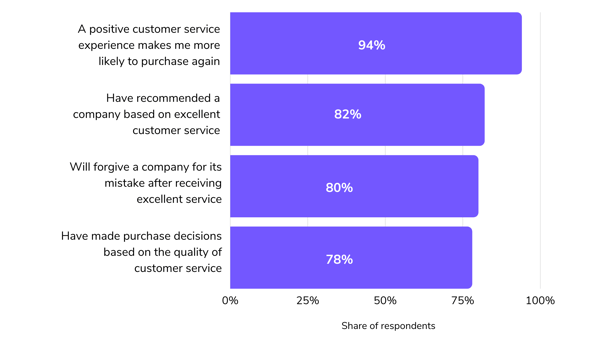 Source: Statista
Customer service is an easy way to give your visitor a reason to choose you over your competitors. So make sure your customer service and retention strategy are at the forefront of your business strategy.
To help you get started, here are our 6 top tips for delivering great customer service and boosting your customer satisfaction:
6 Ways to improve customer service
1. Offer personal support in live chat
Live chat is one of the most effective ways to communicate with your customers. Live chat lets you be readily available for your customers and provides direct and timely help from your support team. And what's better, it's a lot faster than via phone or email and allows you to resolve issues in real-time.
Naturally, the easier you can make it for your customer to buy from you, the more likely they are to come to you in the first place. Down the road, this will also improve your customer retention.
Adding live chat software to your website can increase your conversions by 12%. And visitors who participate in a chat are up to x2.8 more likely to convert than those who do not engage in this kind of communication.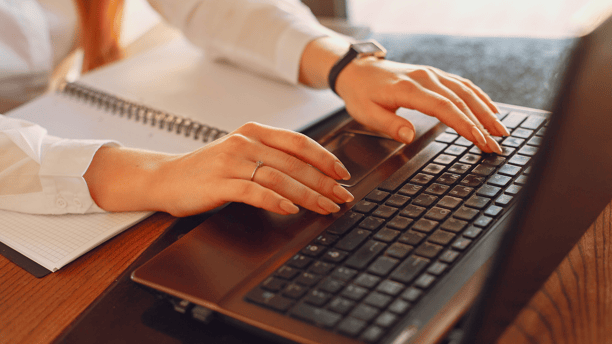 Live chat also provides a personal touch that can't be found in many other communication methods. With this, your customer interactions go beyond just providing simple solutions to queries to building meaningful relationships.
Adding a personal touch not only makes your customers feel more valued but also gives them an impression of how much you care about their needs. Plus it will help you increase customer loyalty and boost sales.

Finally, live chat is a cost-effective and accurate tool for measuring your customer service efficiency and customer satisfaction.
The live chat user data from your live chat software provides real-time information and insights into your chat conversations, response times, lead conversions and sales. This will help you better understand and evaluate your customer service efficiency. This way your customer service efforts don't go wasted.

To learn about how different companies have succeeded in providing excellent customer service online, read our article listing four case studies to gain actionable ideas and factual information for your own strategy.
2. Go beyond text-based messaging with personal video calls



In today's digital world, customer service is no longer just about text-based messaging. Companies need to go beyond what's expected and provide a more personal touch to their customer service. So welcome personal one-on-one video calls.

Video calls are the perfect way to build close contacts as they allow customers to interact with a real person in real-time. One-on-one calls are perfect for buyers who need a bit of extra help during their purchasing journey. This is often the case when dealing with unique or high-priced items, that need consulting help or just a bit more information before purchasing.

One-to-one live shopping can also help you in up-selling and cross-selling your products. You can for example offer relevant product recommendations. On the call, you're able to truly focus on a customer's needs, which makes it easier for your to spot the perfect up-selling opportunities.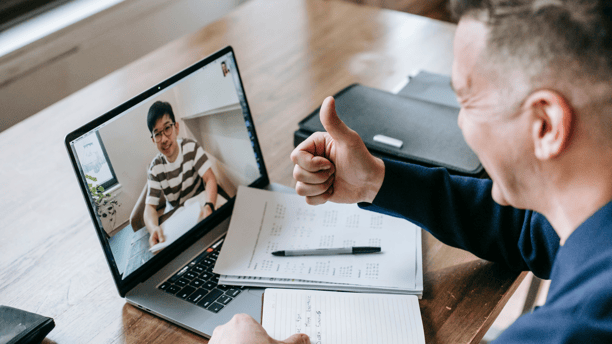 Here are some more ways video calls can benefit your business:
Video calls are more personal 🤗
The ability to see, hear and communicate with the customer is a lot more effective than text-based messaging.

Using video calls can give you the opportunity to build stronger relationships with your customers. Because it allows for more meaningful interactions and conversations, your salesperson can use this advantage by asking questions that can provide more information about their clients' needs and preferences. This helps them know how best to serve them.
Faster problem-solving ⚡



Video calling also allows customers to get answers quickly without having to wait in long queues. This means that they don't have to waste their time waiting around for someone to help them. Long response time is the biggest mistake in customer service - so make sure you avoid it!
3.
Guide your customers through your website
To promote your top content, guide your customers on your website with targeted pop-ups, FAQ bots and chatbots. Each of these tools allows you to increase your customer service touchpoints and communicate with your customers in different ways.

Consider using FAQ chatbots to promote your best answers to frequently asked questions, or create a bot that suggests articles based on what someone is looking for.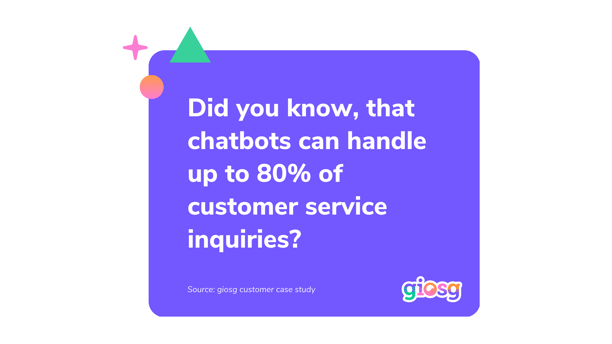 74% of users actually say they prefer using chatbots when looking for answers to simple questions.

Chatbots for example are great tools for communicating with users, leads, customers, and anyone in between. They can help you build relationships, answer questions quickly, and increase sales, for example by offering coupons and discounts.

These tools can help guide your customers on your website and promote your top content so that they have an easier time finding what they are looking for. This can result in higher customer satisfaction and better customer support, which in turn will lead to more sales for your e-commerce business.
4. Automate the first line of customer support



Customer service automation allows for fast responses even when a human agent might not be immediately available. This can help you improve service efficiency and take pressure off your customer service teams.

Automating customer service is becoming more and more popular in the e-commerce industry. The goal is to provide a better customer experience while also reducing the costs of providing customer support.
FAQ bots are a particularly good way to automate the first line of customer support. They're also useful for collecting contact details, which you might need if you want to qualify cases that are more advanced.

More and more businesses are using FAQ bots to provide instant answers to customers' questions. Some also utilise chatbots that ask questions before collecting their contact information, to qualify the more advanced support cases.
With tools like this, support teams can improve the customer experience, by providing faster and more accurate responses to customers. This way you can avoid long response times - one of the biggest mistakes in customer service!



By leveraging FAQ bots and chatbots, you can make sure that your customers get the answers they need on time, while also freeing up your customer service teams to focus on more complex issues.
5. Collect customer feedback



Collecting feedback is important as it allows you to identify the issues you need to fix on your online store. And once those issues are solved, more people can go through the funnel happily and spend more.

One effective way to collect customer feedback is through engaging interactions. With engaging interactions, you can get a lot of valuable insights into the customer experience and satisfaction. This can be NPS and happy or not surveys or more insightful multi-step forms.

With multi-step forms, the best way to understand your customers and what drives their customer satisfaction is to include both open and closed questions. Open questions are great for collecting general information about how customers feel about a product or service. But with closed questions, you can collect specific customer data like contact details or purchase history.

For example, you may want to ask specific questions related to product features, pricing, delivery options, etc. This can help you get a better understanding of your customer's preferences.

Try including surveys throughout your website along with your live chat. This way your customers have multiple ways of talking back (or forward) through their experiences while shopping.

Keep in mind, these functionalities should be included throughout the customer journey. All the way from before making purchases to after the order has been completed. Making sure you cover multiple touchpoints gives your customers peace of mind knowing that you are there for them if anything comes up. It also helps you identify areas of improvement and provide better customer service!
6. Boost your customer experience with gamification 🎮🕹️
Your customers have a lot of choices when it comes to whom they do business with and how they do it. That's why it's critical for brands to offer an engaging customer experience that sets them apart from the competition.

Often times the more special interactions get more attention amongst customers and their communities. This can make your customers and their friends buzz with excitement. With positive recommendations and word-of-mouth, you can grow your traffic and credibility in no time.

One great way to stand out and create memorable customer experiences is with gamification. Features like this help to initiate customer engagement with your brand as soon as they enter your site. And what's even better is that if they enjoy the games and quizzes - these positive emotions can be directly attributed to your business. It can add a sense of fun and excitement to the shopping process which can encourage customers to return in the future.
If you want to get some ideas for how to incorporate games on your website, see our blog on gamification marketing ideas to boost brand engagement
Incorporating games on your website can also help you boost lead generation and average order value—all by helping your brand build relationships with new visitors. In fact, gamifying your website can boost your visitors' browsing time by up to 30%.
Conclusion
Although there is no single answer to what's the key to customer satisfaction, you can combine these different strategies to improve the efficiency of your customer service team and make your customers feel valued and cared for. And make sure this strategy is maintainable in the long term, as consistency is key for making your customers choose you again and again.
Remember, it's not only about the technology that you adopt. Customer service is about making your customers feel valued and cared for.

Get started with these tips to make sure your customers always get the best experience possible with your brand! Or check out our free guide to improving your customer experience.