The see-now-want-now mentality is rapidly rewriting retail as we know it. And it is in this very practice that live shopping is firmly rooted in.
Chinese consumers and sellers are way ahead of the trend already. In fact, the live commerce market in the country accounts for more than 10% of the entire e-commerce market.
What's more?
The evident advantages of livestream shopping have paved the way for the trend to catch on in the West as well.
If you own an eCommerce business, you will feel the need to jump on the live commerce bandwagon sooner or later.
So, in this post, we'll talk about what live shopping is, how it works, and how you can leverage it to grow your own business.
Backround
What is live shopping?
What exactly are people buying?
The benefits of live shopping
Examples from brands
How to get started with live shopping?
Tips for hosting a successful live shopping session
FAQs
The future of live shopping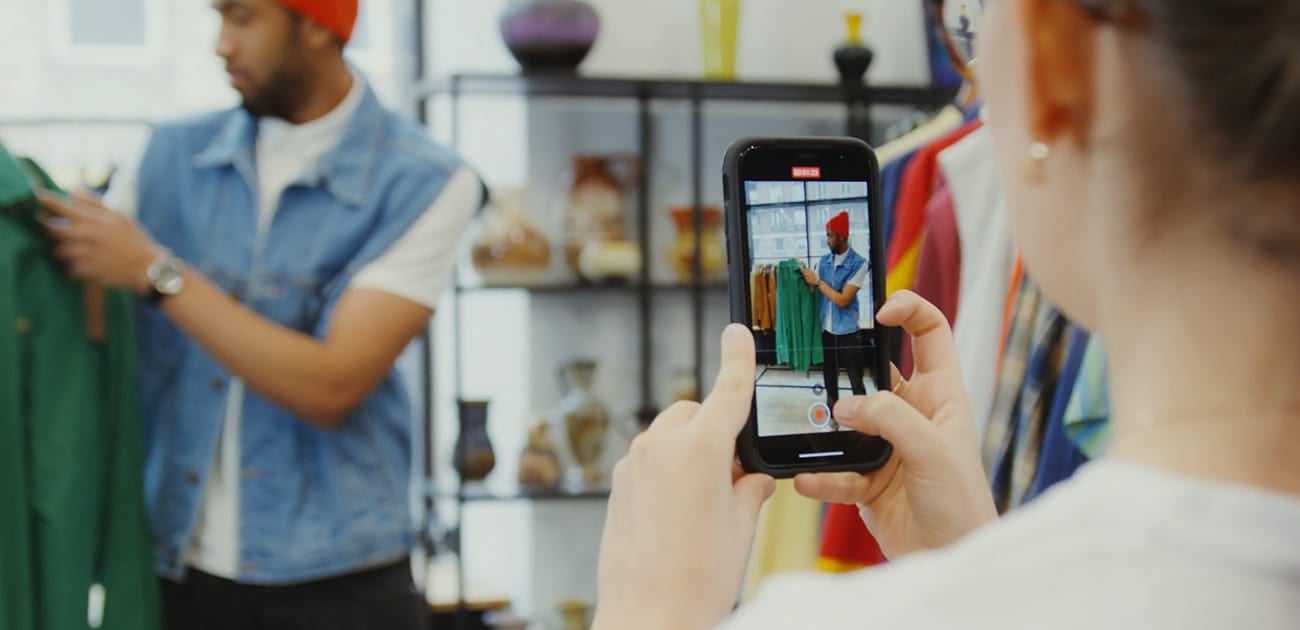 Where It All Started...
To understand what this new trend is and when things changed, let's rewind a few years.
Back in the day, people shopped by visiting brick and mortar stores.
Traditional, physical retailers were able to deliver a personalised shopping experience to consumers, while simultaneously tending to their needs and wants. This was a spectacular way to maximise customer service efficiency.
However, a few years down the line, the dawn of internet shopping transformed the retail landscape. People started swapping the experience of traditional shopping for convenience and comfort.
E-commerce presented consumers with the perfect opportunity to purchase from anywhere in the world and have their favourite products delivered to their doorstep.
Besides, the growth of the internet only acted as a catalyst.
Also e-Commerce works just as well for sellers — after all, it empowers them to serve a massive audience at once.
This growth has been further intensified by the COVID-19 pandemic. In fact, in the past year, global sales from eCommerce grew by more than 25%. That's massive!
Clearly, both traditional and internet shopping come with their own pros and cons.
But what if we told you that live shopping effectively combines the upsides of both?
Sounds too good to be real? Keep reading to see for yourself.
What Is Live Shopping?
Home shopping channels like QVC were all the rage until a few years ago.
Why exactly did QVC work, you may ask?
It's because they managed to successfully link up socialising, entertainment, and shopping. QVC customers relished the process of interacting and shopping with their favourite hosts.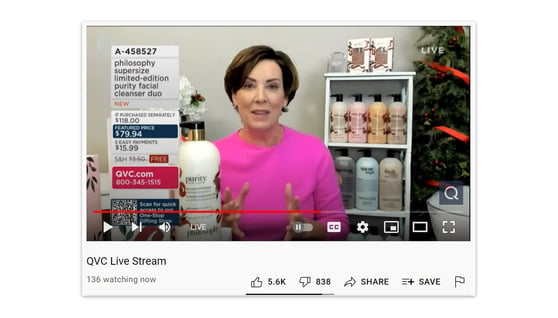 Image via YouTube
When you think about it, live stream shopping is in a way bringing the age-old practice of home shopping into modern times. The concept remains the same, it's just the channel that's different.
Live shopping gives sellers the ability to showcase their products, and customers the ability to buy products in real-time.
Overall, it's a highly engaging experience — it goes way beyond simply clicking and filling up a shopping cart.
Promotions only stay valid for as long as the live stream.
What's more?
Users that tune in can learn more about the product by leaving comments, much like on Instagram Live videos. Sellers can flash reviews and recommendations on the screen, guiding viewers through their purchasing decisions.
One way to think about live shopping is to reimagine the way we use social media platforms: instead of simply 'liking' a product your favourite influencer is promoting, you have the opportunity of directly buy it.
Sounds awesome, right?
Live shopping is enabling brands to peck away at the advantage of experiential shopping of brick and mortar stores, and that of the convenience that comes with online shopping.
It's a win-win, really.
So, What Exactly are People Buying?
Much like QVC, people are buying all sorts of products during live shopping events. After all, live stream shopping allows almost anyone to create their own shopping channel and start selling their products.
For instance, Sassy Jones sells jewellery by inspiring viewers to go bold with their looks in her weekly Facebook Live event "Sparkle Party."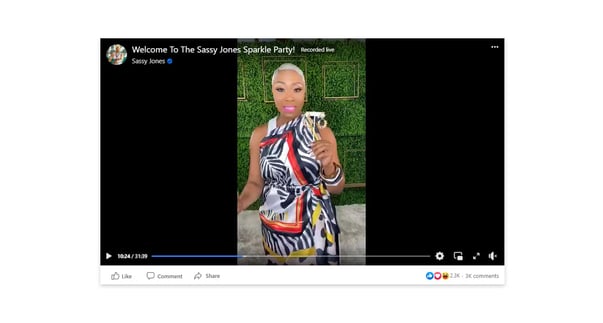 Image via Facebook
From fashion products and home decor to locally farmed goods, live stream shoppers can pick pretty much anything they need or want.
In fact, the variety of products available on live streaming platforms has gone a long way in contributing to its appeal.
The Benefits of Live Shopping
Still not sold on the idea of live shopping?
Take a look at five of the biggest benefits of live shopping for your business:
Better Engagement
There's simply too much content out there. Your potential customers are most likely getting bombarded with new brands, ads, and promotional emails all the time.
With dwindling attention spans and a higher demand for personalized experiences, how can brands keep their audience engaged?
The increasing popularity of live shopping proves that if nothing else, consumers are hungry for new experiences.
Besides, video content has higher engagement rates than most forms of content. Figure this — 92% of mobile video consumers share video content with their friends than any other type of content. Moreover, live shopping enables your viewers to chat with you in real-time.
All of these factors pave the way for higher engagement rates, and thus, more sales.
Quickly Generates Massive Sales
If you market your live shopping event well, you can expose your product to hundreds or even thousands of people in just a few minutes. Besides, once your viewers are having fun, they might invite others to join in.
Here's an example for you to realize the power of live retail:
Video shopping platform NTWRK saw a celebrity jeweller sell $120,000 worth of gold-coloured vacuum sealers in five seconds.
Yes, you read that right.
Do live shopping right, and there'll be no looking back.
Builds Brand Awareness
To be able to build brand awareness effectively, you need to get in front of your target audience. And that's exactly what live shopping networks will help you do — quite literally.
Besides, the interactive nature of live streams largely increases the likelihood of your audience remembering you.
Furthermore, having an influencer or a celebrity host your live shopping event can go a long way in making your business popular among customers and improving brand recall.
Encourages Impulse Buying
Live shopping is different from e-Commerce, in that it makes the customer feel like they're a part of something big. In order to make this feeling of belonging last, customers often end up purchasing something they didn't think they would.
What's more?
People may give in to impulse buying when they experience the fear of missing out (FOMO).
Here are some ways in which a live shopping experience may activate FOMO in viewers:
They see many others on the live broadcast buying a product.
The product may only be discounted until the live event lasts.
A person they really look up to is promoting it.
Long story short, live shopping is deeply rooted in feelings of urgency and excitement, which paves the way for a fun shopping experience, and thus, more sales.
Can Put Underperforming Products in the Spotlight
Got products that are simply sitting in your storage room?
Live shopping sessions hold the potential to transform underperforming products into top-performers.
First things first, identify the probable reasons why the product isn't selling.
Is it too expensive? Is it too complicated to use? You can then use live streams to give it the push it requires accordingly.
And that's not it.
Stating that the products aren't popular yet and that the viewers online could be amongst the first ones to use it, may also help boost sales. After all, this will make potential buyers see themselves as trendsetters.
And who wouldn't like that?
How Brands are Capitalizing on the See Now, Want Now Trend
Brands from across the world are already connecting with their customers in real-time to deliver strong shopping experiences.
Here are three real examples to give you some inspiration:
Nordstrom
American luxury department store chain Nordstrom has launched its own live stream channel in a quest of blending its in-person and digital capabilities.
Its shopping channel allows customers to shop under the expertise of Nordstrom employees. It also gives shoppers access to informative events by experts in beauty, fashion, and home.
All of the brand's upcoming virtual events are neatly listed on its website.
And what do the interested customers need to do? RSVP, and show up.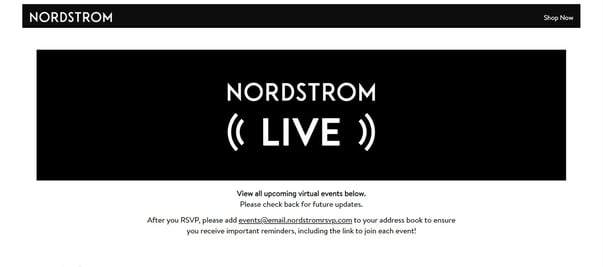 Image via Nordstrom
Although Nordstrom is still in the process of experimentation with live shopping, it has already met with immense success.
In the words of Fanya Chandler, senior vice president at Nordstrom, "livestream shopping enables us to stay closer to the customer with interactive and engaging experiences that allow for discovery, personalisation, and service at scale."
Quivr
Cold-brew coffee brand Quivr has also experienced huge payoffs by marketing its products on Amazon Live.
The first time Quivr co-founder Ash Crawford hosted a live video, it was shot right from his backyard. He simply spoke about the brand and its products for an hour.
Ever since, Quivr has hosted several live shopping events.
Crawford claims that the brand enjoys a guaranteed rise in sales by about 150% for the 24 hours following each session.
Brown Thomas
Irish department store Brown Thomas joined hands with Smartzer to come up with a fully customizable shoppable video.
While viewing the live shop, customers could click on items they liked in the video, and add them to their cart without pausing the video.
Brown Thomas has also gone the extra mile by setting up a personal shopping service.
So, how does it work exactly?
The Brown Thomas team hosts a personal video call and walks the customer through what they may need for their wardrobes.
The brand has experts dedicated for the purpose and has smartly included short videos introducing each of them on its website.
For instance, here's how one of their shopping experts, Michelle, is introduced on their website:
Image via Brown Thomas
So, you now know how brands have been capitalizing on live shopping to drive their sales. But what if there was a way through which you can drive your sales in a more personalized one-to-one manner?
Enter giosg.
giosg has launched a new live shopping feature that lets you have one-to-one voice and video calls with your customers. Essentially, you can handhold them through the entire shopping process — just the way sales executives do it in traditional settings.
Think of it as a virtual sales or shopping assistant that can take the customer's shopping experience to the next level.
And why should you opt for this method of live shopping?
For the simple reason that it gives a more personalized, boutique experience — something that live shopping videos on a large scale won't help you achieve.
How Can You Get Started with Live Shopping?
Now that you've seen what live shopping is and why it's a goldmine for business owners, you probably want to know how to get started with it.
Let's find out.
The Logistics
To host a live shopping session, you are going to need the following:
A product or service to sell
A host or presenter
A platform to host the session on
An audience
Also, understanding which products you should feature in a live session may require some trial and error.
A good place to start is to gauge which stage of the life cycle your product is in.
Do you want to gather customer feedback on a new product, give a boost to an underperforming item, or sell more of your bestseller?
Choose products you want to showcase based on your immediate goals.
Next, you'll want to figure out who is going to present the live session.
If your product usage needs some technical knowledge, you can have yourself or someone from your team host the session.
This will give you an edge as you'll be best able to answer questions about your product.
On the other hand, if you are looking for more exposure for your brand, you can partner up with an influencer.
The advantages of celebrity-backed products aren't new, and they're definitely worth tapping into.
Let's take a look at an example:
Tommy Hilfiger hosted its very first livestream shopping event in May 2020. The brand had Swiss model Manuela Fray and other special guests host the session. This guaranteed them wide exposure and a successful first event.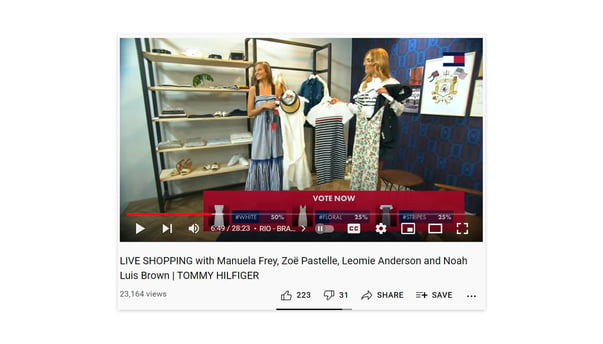 Image via YouTube
And finally, if you want to go all out, you can combine the best of both worlds and have an influencer backed by a shopping assistant host the event.
We'll touch upon the last two points — live shopping platforms and building an audience in the next section. Keep reading.
The Format
Although live shopping events are very spontaneous and in the moment, a lot of planning goes into them. After all, there are no retakes and edits, which leaves no room for mistakes.
This is why, a good practice is to chart out and rehearse the whole session in advance.
For starters, figure out whether you're going to host a long live stream or a shorter one. Then, go on to decide how the event will be structured.
Will you be demonstrating products? Will you have a Q&A?
Furthermore, will products have a limited time frame to be displayed? Or will viewers be awarded coupons for purchasing products during a certain window?
Remember — no approach is wrong. It's all about finding out which one is more right for you.
In any case, live shopping brings a great deal of anticipation and spontaneity, nurturing a sense of connection that you wouldn't find in traditional online retail.
Tips for Hosting a Successful Live Shopping Session
Just because live shopping is a hot new trend does not mean it guarantees success. So, here are six smart tips that will help you host your first live stream shopping event (and succeed at it!).
Understand Your Target Audience
You can't prepare for an event if you don't know who's going to be attending it, can you?
As with anything else in digital marketing, you need to thoroughly understand who your target audience is to really benefit from live shopping.
Doing so will help you decide:
Which products to promote
Which platforms to choose
Who should host the event
When you should host it
How you should promote it
What content you should create
One good way to go about this is to create audience personas. In other words, nail down the who, what, where, when, and why of your target audience.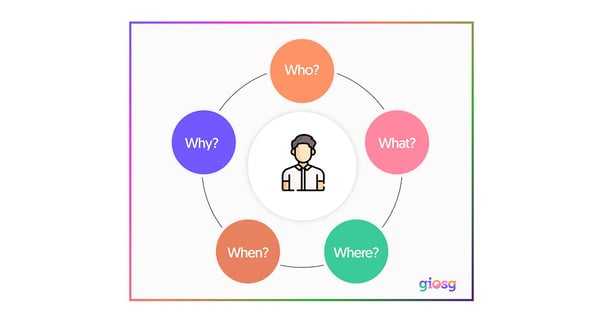 This will help you get inside your audience's mind, and see things from their perspective.
You can also analyze your existing customer base and conduct interviews to identify the likes, dislikes, and pain points of your target audience.
Some of the responses may be obvious. If you're selling diving equipment, it won't be surprising to learn that many of your customers like diving.
But sometimes, you may unearth insightful information. For instance, if you run a food brand and learn that a lot of your audience is becoming health-conscious, it could be highly effective to conduct a livestream dedicated to healthy eating.
You can also use a free online tool to research your audience.
Google Analytics is a great choice, and it can feed you with both demographic and psychographic information about your current audience.
Build A Loyal Following
Now that you know who your target audience is, it's time to start building a community. Remember that the goal isn't to increase attendance for just one event.
The idea is to build a dedicated following that will keep coming back for your live shopping events over and over again.
The secret sauce here is to make your audience feel like they're a part of a club.
And how do you do that?
Take the example of Austin Li — a Chinese livestream influencer. Millions of viewers pour in to watch him every time he is hosting a live shopping event.
Li rose to fame when he tried on 380 lipsticks during a seven-hour live stream video. Ever since, his affair with lipsticks has remained unhindered.
He once sold 15,000 lipsticks in 5 minutes, and even set a Guinness record for "the most lipstick applications to models in 30 seconds."
Fans fell in love with Austin, who came to be known as the "Lipstick King" in the country.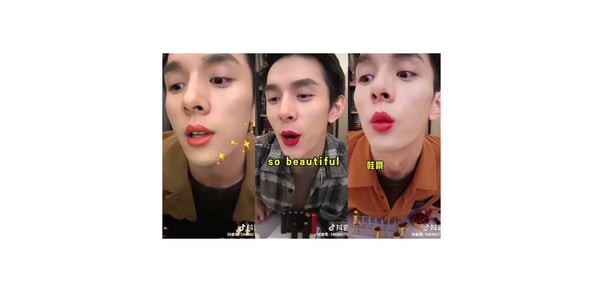 Image via Weekender
What Li really managed to do was to create a brand for himself.
Doing so, along with embracing consistency across your events is key to building customer loyalty and a dedicated following.
Create Exciting Content
What sets live shopping apart from traditional online buying is the fact that it's engaging.
Now, you don't have to come up with a complete script for your live video.
However, having a rough structure in place will help you keep mistakes and slip-ups at bay.
Moreover, don't refrain from experimenting with different things to understand what works best for your target audience.
Here are three creative live stream formats you can try:
Try Q&A
While live shopping viewers always have the liberty of asking questions in real-time, labelling an event as "Ask Me Anything" could drive more views from prospects who are curious about your product.
What's more, such events are likely to be more intimate and raw, which will help you win your audience's trust more easily.
Disclose New Products
Dropping a new product? Make your audience a part of it.
Launching products on a livestream won't just help you create a buzz around them, but it will also make viewers feel like they were part of something special.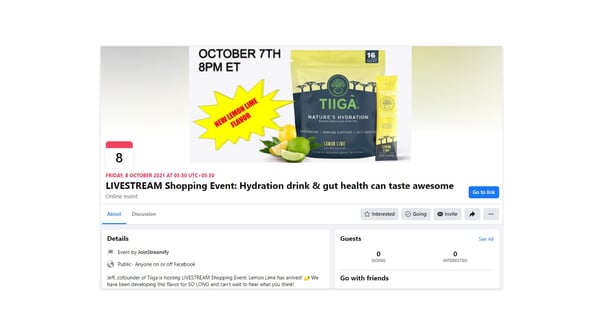 Image via Facebook
You can use this opportunity to give viewers a sneak peek into the product, and answer questions about it.
Moreover, if you want to reward those who tuned in, you can even offer them an exclusive discount on the new product.
Feature a Product Tutorial
In all likelihood, you'd have product tutorials up on your website already.
However, taking your hands-on demo or tutorial live can be far more engaging.
This is because viewers know that there is no scope for edits or manipulation when you're live. What they're seeing is what the product really is.
Besides, you will most likely receive candid feedback and comments in such a session, which will help you improve your product.
You can further unleash your creativity by asking attendees to vote for segments they'd like to see. This won't just make things easy for you, but it will also lead to proactive online engagement.
And guess what?
It'll help you understand exactly what your audience wants to see.
Market Your Livestream Shopping Sessions
The last thing you want is to go on the live event, and not have an audience to present to.
So, make sure you let your audience know about the event, and give them a reason to tune in.
Here are some great ways to build anticipation for your live shopping event:
Share it Across Social Platforms
Although this may seem like a no-brainer, we often miss out on the most obvious.
While promoting your live shopping session on social media, make sure you include the following information:
What time and day the event will start
Where it is being hosted, and how one can join
What one can expect from the event
Take a look at how Shein markets its Black Friday live stream event on Instagram: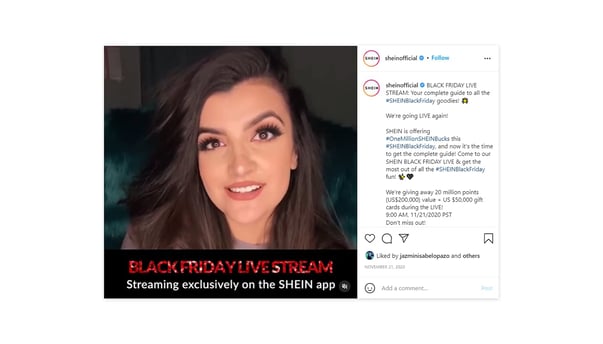 Image via Instagram
Run Social Ads
If budget isn't a constraint for you, consider promoting your event using paid ads.
This is possible on almost all social platforms including Facebook and Instagram, and can help you expose your event to an entirely new audience.
Announce What's In It for Viewers
There's no better way to market your live shopping event than to announce what viewers could gain from it.
Is there a time-specific discount you can provide? Special coupons just for attendees?
Come up with an offer prospective attendees can't refuse, and let them know about it. You can also harness their fear of missing out (FOMO) with it.
Use Call-to-Actions from Time to Time
Let's say that the goal of your live shopping event is to boost sales of an underperforming product.
You've planned an hour-long event for the same, which touches upon the benefits of the product, instructions on usage, and more.
One of the biggest mistakes you'd make would be to reserve CTAs (i.e. tap "Add to Cart" to buy) for the end of the shopping broadcast.
Instead, remind viewers at regular intervals. This will help you reduce shopping cart abandonment and drive up your conversion rates.
Here are some good times to announce CTAs:
At the beginning of the live stream, when the majority of the audience is present.
In natural breaks; for instance, after you finish answering a viewer's query.
Every time you hit a milestone, i.e. "The hundredth piece just got sold…"
Right before ending the event — ideally, after reminding viewers of the benefits they'd enjoy if they make the purchase that very day.

Choose the Right Platform
Finally, you need to decide what platform you'll host your live shopping event on.
Owing to the rapidly increasing popularity of live shopping, a plethora of platforms have cropped up for the same.
Even social media platforms, such as Facebook and YouTube, now allow users to host live shopping events. However, there might be certain limitations in this regard.
The market leader in the industry is undoubtedly Taobao.
The Alibaba-owned platform had over 779 million active users every year in 2023. This wide customer base has now started attracting companies from the West.
Major brands such as Gap Inc., Adidas, Uniqlo, and Samsung now hold online stores on Taobao.
Some other platforms worth checking out are Amazon Live, Twitch, ShopShops, and NTWRK. Most live shopping apps will charge a commission on every sale you make, which will typically hover between 2% and 5%.
Make sure you assess your needs and your audience's presence on various platforms before picking one. What works for your competitors, may not always be the best choice for you.
For instance, if you want to leverage live shopping on a one-on-one basis, you could simply use a sales acceleration platform like giosg instead. Our easy-to-use live chat, video, and voice calls are perfect for turning leads into sales.
Avoid Live Video Shopping Mistakes
If you are looking to succeed in the world of live video shopping, make sure to prioritize the important strategies mentioned above, and to avoid these silly mistakes.
By focusing on these aspects, you are able to navigate the Live Video Shopping successfully and build long lasting customer relationships.
FAQs
1. What do you mean by live shopping?
Live shopping is a bridge between traditional in-person shopping and online shopping. It gives sellers the ability to market their products, and customers the ability to buy products, in real-time.
Viewers can also share thoughts, suggestions, and feedback during the live session, which makes a highly engaging experience.
2. What is Phygital?
Phygital refers to a strategy that combines physical and digital elements to engage customers.
This approach aim to create a cohesive and interactive brand experience that leverage the benefits of both the physical and digital worlds to reach and resonate with a wider audience.
3. What is real-time online shopping?
Real-time online shopping allows consumers to directly interact with sellers, and buy products from them over the internet from anywhere in the world.
It's a process that offers convenience, comfort, a personalized experience to consumers and the chance to boost revenues to sellers.
3. What is live streaming commerce?
Live streaming commerce is a business model in which retailers sell products to consumers via live online videos. It allows the presenter to answer questions about the products in real-time, thus helping brands boost their sales.
4. What are the benefits of live shopping?
Live shopping as a business model isn't a mere trend; it's here to stay.
It can help businesses of all types engage better with their audience, understand customer behaviour, build brand awareness, encourage impulse buying, generate massive sales quickly, and give a boost to underperforming products.
5. How do I organize a live shopping event?
Here are some tips to help you organise your first live shopping event:
Understand your target audience
Build a loyal following
Create exciting content
Market your live stream session
Choose the right platform
6. Which are the best live shopping platforms?
Some of the best platforms for live shopping are as follows:
Facebook
Amazon Live
Taobao
ShopShops
Twitch
NTWRK
7. What is Taobao live straming?
Taobao is a leading online shopping platform owned by Alibaba. Taobao Live is one of the tools that enables livestream hosts to sell products to viewers in real-time.
8. Is live shopping worth it?
Yes. Live shopping is definitely worth it for businesses. It can help you expose your brand to a wide audience in a few minutes.
What's more, you can deliver an engaging shopping experience to consumers irrespective of where they are located. Considering the unpredictable times we are living in, that's a huge plus.
9. What can I sell on the live stream?
You can sell pretty much anything on live stream — from furniture to electronics to organic farm product. However, lifestyle and fashion brands perform typically well in live stream events.
The Future of Live Shopping
Live shopping comes with a fair dose of human connection and personal touch that was missing in traditional online shopping.
What's more?
Live shopping is more than just a trend. It is here to stay. You can check all the live video shopping trends from our Live video shopping guide 2023.
This is because it makes for a win-win situation for both customers and retailers.
While consumers enjoy the convenience of shopping from anywhere in the world, coupled with excitement and anticipation, retailers get the chance to grow their sales exponentially.
If at all you are still on the fence about leveraging live shopping for your brand, don't be. Pick a suitable platform of your choice, and get started.
And should you need an easy-to-use platform for real-time virtual assistance through voice and video calls, you can place your bets on giosg.