Humans are highly visual creatures. Most of us like to take in as much information as possible on products before deciding to buy. But how do you make sure that your website visitors get enough information to click that lovely "buy" button when they can't physically try the products?
The answer is with videos.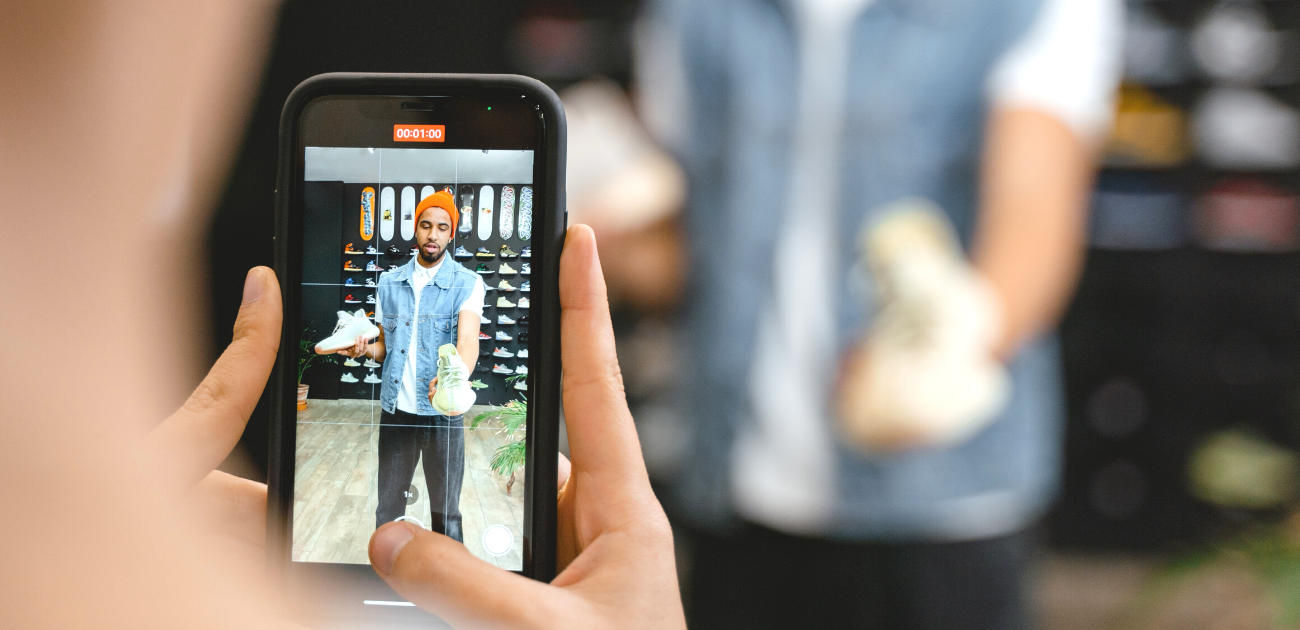 Videos are the absolute best way to educate your eCommerce customers on your products online, and this makes videos extremely powerful in selling. In fact, 81% of marketers say video has helped them directly increase sales.
Keep reading to find out why videos are so effective, and how to use them in the best way possible to increase conversions on your website.
Why video marketing is so important
Videos are a powerful tool for customer education and product demonstration. It can show the product, tell the story, and persuade customers to buy it.
Video can be used to create an emotional connection with customers by showcasing the benefits of a product in an engaging way. This is why video is also more persuasive than static images or text.
Videos are becoming increasingly popular as a way to educate customers about products and increase sales. And it's no wonder, since including videos on your website may raise conversion rates by up to 46%.
Videos have many other benefits as well. For example, videos are time-efficient and cost-effective because companies don't have to produce physical samples or models of their products.
5 Types of videos you can use on your website
Every brand has different needs for videos. Here are a few of the main video types that can be helpful for your business.
1. Product videos
A product video is a short and sweet video that shows the product's benefits. A good product video emphasises how the product alleviates the pain points your customers usually have and speaks to the customer's emotions.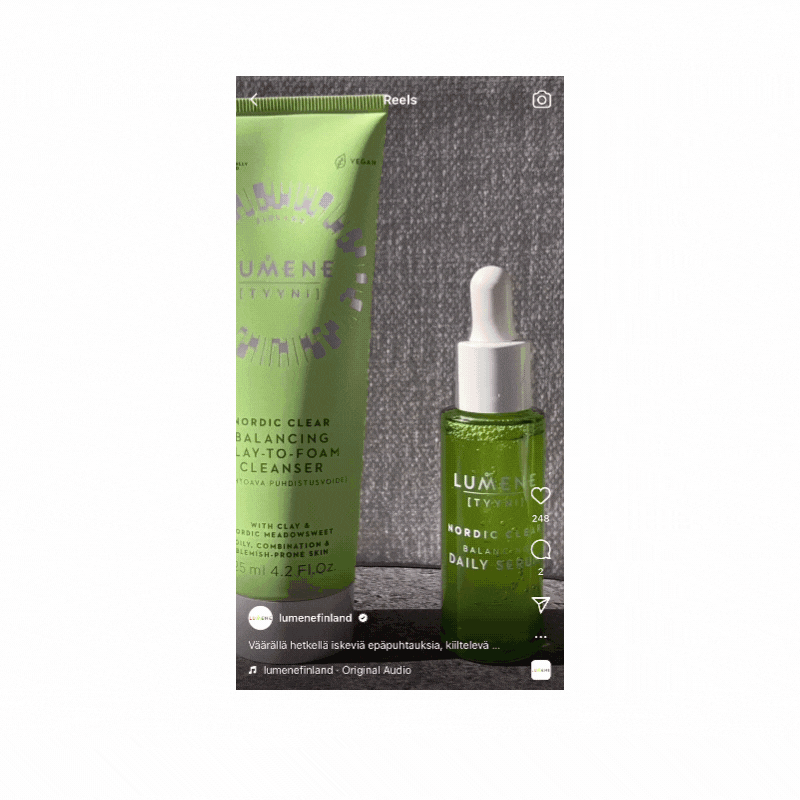 via Lumene's Instagram
Product videos counteract the lack of physical product experience and provide website visitors with an in-depth look at the items they are browsing. They assist visitors in imagining how something will feel and what materials it is composed of.
In short, product videos improve and simplify the customer's online buying journey by providing impactful information in one place.
2. How-to videos
How-to marketing videos on your website serve to demonstrate the product, answer questions, and teach consumers how to use your products.
How-to videos answer a common customer question: "how does your product work?" These videos allow you to provide crucial information to the shopper during their buying journey.
Brands that engage and assist their customers consistently can gain customer loyalty while also increasing revenue. How-to videos help you do both.
A good use case of a how-to video is to show styling tips for different clothes and accessories from your shop. These types of videos increase up-selling because you can show how one clothing item complements another.
Another good example of a how-to video is a cooking video for online grocery stores or food providers. This type of how-to video allows shoppers to add ingredients to their cart for recipes that they want to make at home. This is a great way to cross-sell products and educate customers on how to use the ingredients.

via K-ruoka
3. Lifestyle videos
A lifestyle video allows you to suggest a 'lifestyle' behind your product that can appeal to your target market. The product or service is in the limelight in these videos.
The best lifestyle videos use gorgeous graphics and action footage to present a spectacular image of what your prospective customer's life would be like if they become a consumer of your product or service.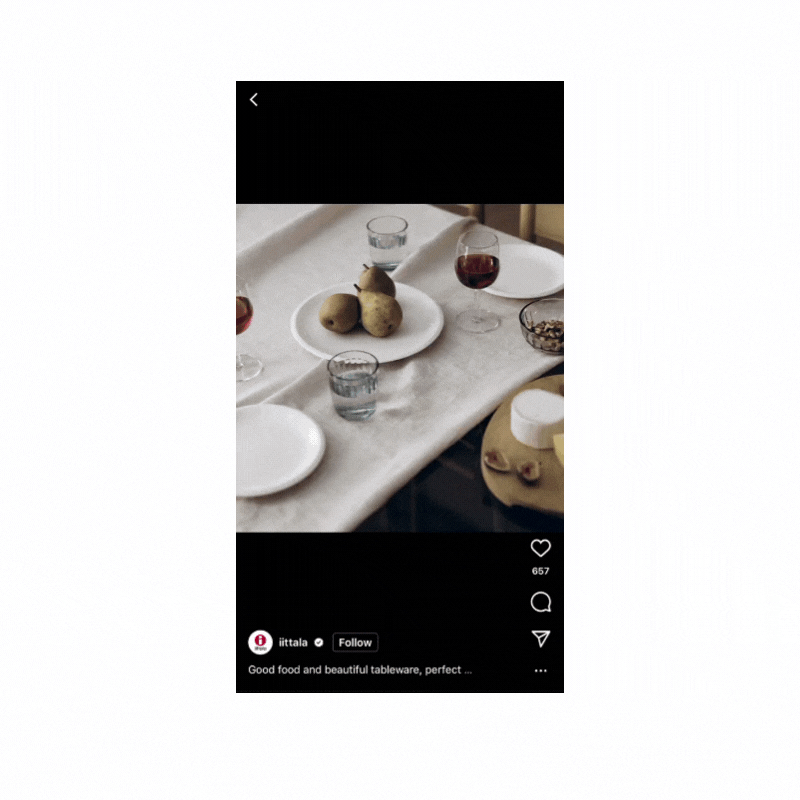 via Iittala on Instagram
Lifestyle videos are the most effective for attracting new customers and engaging potential clients.
4. Testimonial videos
Customer testimonials can quite possibly be the most beneficial video marketing tool.
89% of marketers claim video testimonials are the most effective form of content marketing.
A testimonial video is a short video that has been created to show how a product has helped someone. It's an effective way of boosting sales and increasing conversions because people are more likely to buy something if they see social proof of it working.
Testimonial videos are basically word-of-mouth marketing but in the digital world. These videos are genuine since they come from real people who have experienced the product first-hand and can vouch for its benefits.
They build credibility and trust for your products and brand.
The tricky part is getting that testimonial from your customers. Always make it as easy and convenient as possible for them to make the video. One option would be to provide clients with some of the best video testimonial software that allows them to swiftly record high-quality videos from their own devices while providing a user-friendly interface that guides them through the recording process.
5. Brand videos
Brand videos are quick videos that support businesses in communicating their brand values. While most marketing videos try to promote and advertise the product, brand videos instead focus on the core beliefs of the company and the people behind it.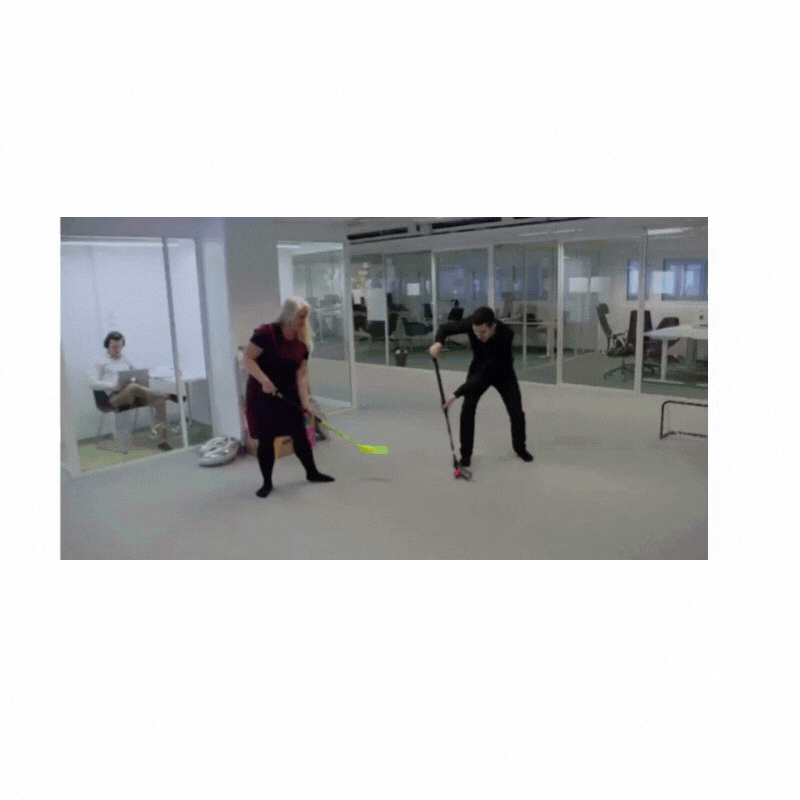 Brand video benefits include:
Bringing awareness
Driving SEO traffic
Increasing conversions
Promoting your personality
The most important feature of brand videos is that they help you lean into emotional value. When consumers emotionally connect with your brand's vision or passions, it allows you to create a personal connection with them, which will lead to sales.
How can video help boost sales?
88% of people have been convinced to buy a product or service by watching videos of the product.
Customers want to be to watch, discuss, and purchase from the comfort of their own homes while still enjoying themselves.
Shoppertainment, coined by the e-commerce company Lazada, is a phenomenon that involves using video to sell products to customers digitally. Its goal is to promote the purchase of a product by entertaining and informing the consumer as they shop.
Shoppertainment is doable for any size business. Here are some ways you can boost sales through shoppertainment on your website with live commerce tools.
Make videos shoppable
Shoppable videos are interactive videos that encourage viewers to buy things directly from the video. This allows users to watch the video and then, when they see a product they want, simply click to add it to their basket. This shortened customer journey aids in preventing viewers from losing interest before making a purchase.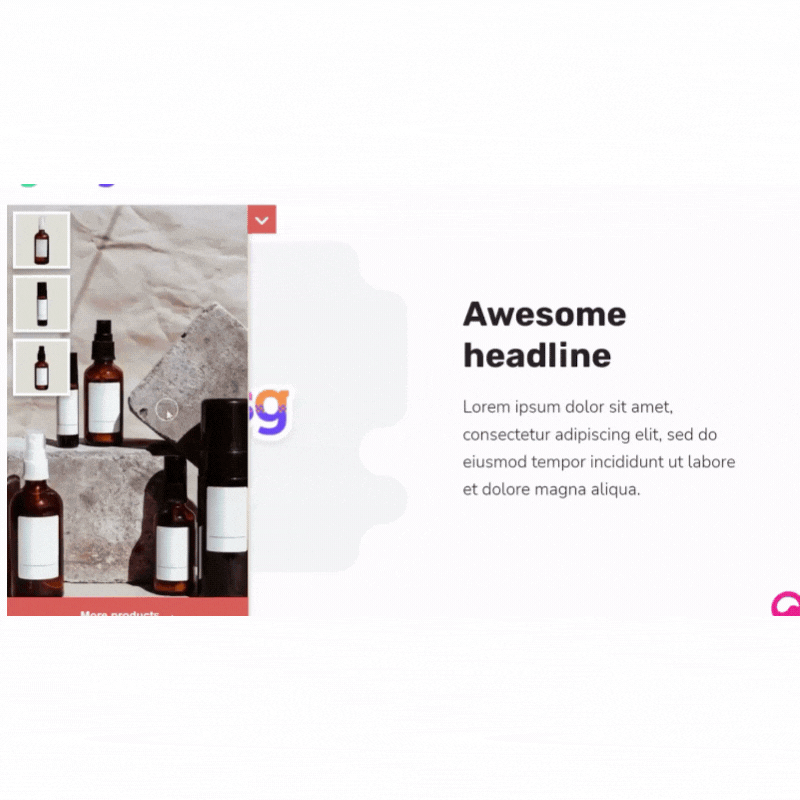 Pro tip: Shoppable videos can be a great way to reuse pre-recorded how-to videos or product videos by simply adding the product links in the video.
Offer live video shopping
One-to-many live video shopping is when a brand streams a live video of employees or influencers discussing products in detail while an unlimited amount of viewers watch the stream and buy at the same time.
A live shopping event may have a small number of viewers, but it's commonly much larger, with hundreds or thousands of individuals participating. Customers love the fast-paced, informative and fun experiences, which help to build a strong community of shoppers.
Collaborating with relevant influencers on your streams can also help drive traffic and sales to your website. Kim Kardashian had a fragrance sell out in minutes after Viya a Chinese brand streamed a one-to-many video with her in the background.
The holiday season is another opportune time to host a live shopping stream. For example, a lingerie brand can live-stream an hour-long show a few days before Valentine's Day, educating viewers on how to buy lingerie for their companions. This could help some of the shy customers buy products that are more intimate in nature.
Encourage personalised one-on-one shopping
A one-on-one personal shopping experience gives customers the in-store experience online. The salesperson has the chance to give personalised recommendations and commit their entire time and energy to the online customer through a live video call.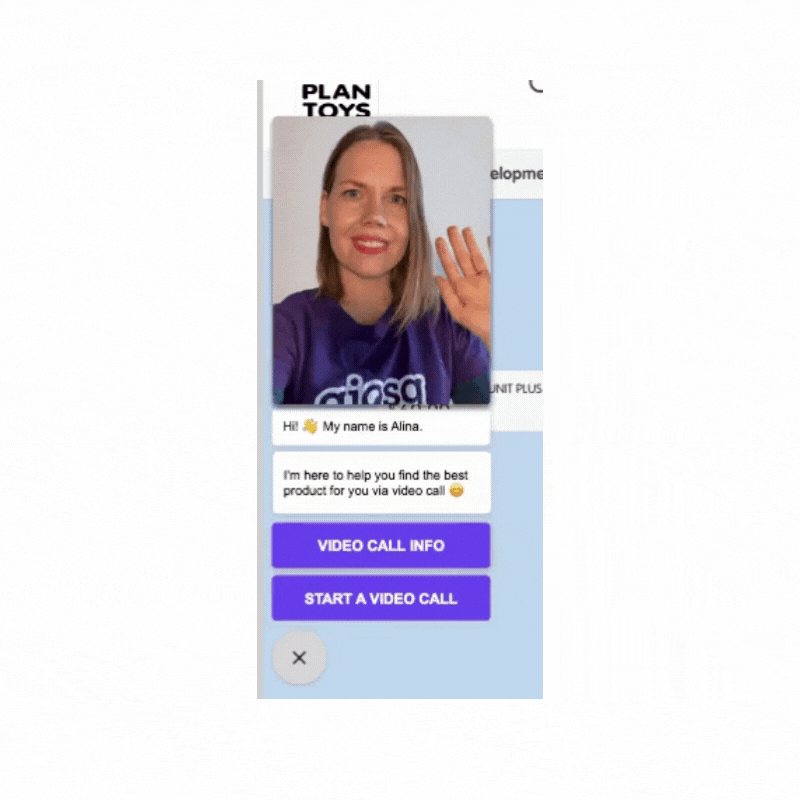 This is perfect for buyers who need a bit of additional assistance during the purchasing experience, especially if dealing with a complicated product or one that requires some thorough explanation. This is often the case with high-priced items that require more information before purchasing.
One-to-one live shopping can also be better for up-selling and cross-selling your products because you will be able to truly focus on a customer's needs and it is easier for your to spot perfect up-selling opportunities.
Stream live videos from social channels directly on your website
Streaming your live videos on your website, in addition to social media, provides you complete control over where, how, and when your followers view them. It's an effective method to draw your audience closer to your brand.
When you make sure your livestream is available on as many platforms as possible, it is easier for visitors to find the event and share it with friends and family.
Pro tip: Repurpose saved fragments of the live video across various platforms at a later time for the ones that weren't able to attend.
Use videos for lead generation
Optimise your videos for their lead generation potential.
Here's a simple strategy you can try: Develop a 3-part tutorial video. Make the first two parts readily available. But for the third part, encourage the viewer to submit their email address.
If someone has seen the first two and is intrigued enough to acquire access to the third, that could result in a warm lead.
Targeting and lead generation seem to go hand in hand, so in order to generate more leads, make sure to consider retargeting your video assets.
If a website visitor shows interest in one of your videos by clicking on it, then you can offer them the option to visit a related landing page.

Let's look at a giosg case to demonstrate how targeting has helped us generate leads:
We've tested newsletter lead capture methods by using video and using static forms. The results show that video is more efficient in achieving subscriptions. A staggering 50% of those who viewed our retail newsletter subscription bot with a video subscribed to our newsletter. This is compared to only 18.75% of subscriptions out of everyone who saw the static subscription bot.
FAQ
Why is video so effective in marketing?
A video is effective in marketing because it allows you to connect emotionally with your target audience. Building an emotional connection is what makes someone want to engage and purchase from you. A well-performed video can help influence their purchases and boost your sales.
Cultivating a likeable and trustworthy relationship helps increase the likelihood of gaining new customers.
What are the best types of videos to use for video marketing?
How to and tip videos
Product videos
Testimonial videos
Lifestyle videos
Brand videos
What is live video shopping?
Live video shopping is when your brand or product experts sell products to customers via livestream while the viewers watch and buy products.
Live video shopping can be a personal one-on-one video call or a one-to-many livestream.
Customers love the informative and interactive experience live video shopping provides, which helps to build a strong community of shoppers.
What is shoppable video?
Shoppable videos are interactive videos that encourage viewers to buy things directly from the video. This shortens the customer buying journey and allows viewers to directly make a purchase at their point of inspiration in the video.
Learn more about video marketing
Strengthen your website by creating more engaging and efficient customer interactions using video, and your sales are very likely to improve.
If you are interested in learning more about how videos can lead to increase sales check out our shoppable video blog for more ideas.