It's no secret that the more fields you have, the higher your form abandonment rate. In fact, 81% of people abandon online forms after starting to fill it out.
So what can marketers do to optimise their landing pages and lead forms for conversions?
Ditching traditional forms for high-converting multistep forms is a simple and effective way to reduce your form abandonment and optimise your website lead capture strategy.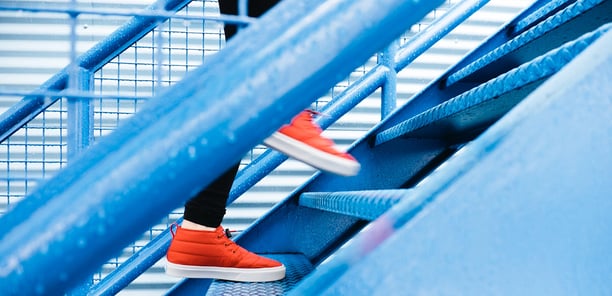 What are multistep forms?
Multistep forms are just as they sound - long forms broken into multiple views.

Rather than requiring visitors to complete forms in one go, visitors are able to answer questions and fill in their information step-by-step.
Why ditch static forms for multistep forms?
The issue with traditional forms is that, when a visitor lands on your website and sees multiple fields, the workload of filling it out can be too intimidating. And if the value proposition or reward isn't motivating enough - chances are they will abandon the form.
Breaking it up into smaller digestible pieces eases the perceived workload and helps fight form fatigue. This makes it easier to complete and less overwhelming for your website visitors.
Switching to multistep forms isn't just a nice way to improve your customer experience, it's a simple and effective tool for improving both lead quality and your conversion rate.
Splitting your form fields into different views can improve conversion rates by 87%
Use multi step forms when you want to:
How to optimise your multistep forms?
To help you succeed, we've listed our best tips for optimising your multistep forms to improve lead capture conversions:
1) Always start with the most important information
By prioritising and collecting the most important information in the first view, you ensure that you gather the data you need to qualify leads even if they abandon your form mid way through.
At giosg, we always start with the email address. This ensures that our CRM is updated and we capture the lead immediately.

Also using the absolute minimum of form fields in the first view means that you can then qualify and update your CRM in the following views. Lower the bar even further for by making some of the less crucial information optional.

2) Use clickable buttons
Using clickable buttons instead of making visitors type in their answers speeds up the process and makes the form look more accessible to your website visitors.
Buttons enable your visitors to move forward to the next view by simply tapping or clicking on the options provided. This reduces amount of typing required, makes the form mobile-friendly and the filling process quick.
This is also important for your lead form accessibility - get a full checklist of dos and don'ts in our blog about optimising lead forms for accessibility.





3) Make visitor progress visible
To stop potential leads from abandoning your forms half way through, let them know where they are in their progress at all times.
Here are some of the most common ways to convey form progression:
Percentages i.e "25% done"
Progress bars
Show the step their on i.e "You are on step 2/5"
When website visitors that are pressed for time, clear progress indicators are essential. Visitors are much more likely to complete a longer form, if they know how close they are to finishing.
Just remember to convey two things when adding this element to your multistep forms:
What step the visitor is on
How much they still have left to do before completion.


4) Don't over do it!
Although multistep forms make it possible to add more fields and ask more qualifying questions, it's important not to overload your forms.
Make sure you stick to relevant questions that your potential leads are happy to answer and that will also benefit your marketing and sales.
A golden rule is not to ask more than one or two questions per step and keep the number of steps to a minimum.
In situations where you can't limit the number of fields, try grouping similar questions into one view. This way the form will look less overwhelming and will be faster to get through.


5) Provide value
Even with a fully optimised multistep form, if what you're offering isn't interesting enough there simply won't be enough incentive for your visitors to fill it out. To convert visitors into leads, the offer has to be truly valuable. And it needs to be something they receive instantly - this is equally important in B2C and B2B lead generation!
Whether it's an eBook download, newsletter subscription or a free consultation booking, instant gratification is key. With content this is easy and can be automated..
But when it comes to customer inquiry forms, a quick reaction is needed from your sales team. And many businesses are failing to respond fast enough! The average response time is 42 hours and only 37% of companies respond within the hour.
This is something we are very passionate about at giosg. We aim to follow-up with leads within a few minutes! Because we know, the faster you follow-up with your online leads the more likely you are to convert them.

By using workflow automation and tasks you can increase your speed to lead and ensure that your leads get contacted within minutes of them completing your lead capture form.
Want to learn more about this topic? We've written an entire guide on the best lead capture strategies. Read the guide now!