Whether you are preparing to launch your first e-commerce store or already have established one, sales growth must be one of your top priorities.

As the e-commerce business involves tough competition, business owners must develop strategies to attract new customers, convert them into loyal ones, and encourage them to share the brand with others – which ultimately will help bring in more sales.

This article will cover several best practices to create an e-commerce website that drives profitability.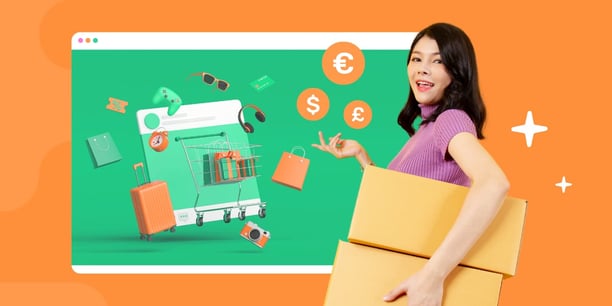 1. Choose a Web Hosting Plan for eCommerce
For example, NameHero's hosting packages include everything you need to run an e-commerce website but allow you to upgrade your plan at any time. If you're suddenly experiencing a lot of traffic, having that level of flexibility could literally save your website from crashing.
So to protect your website, its files, and customers' sensitive information from hacking attempts, choose a reliable web hosting provider that offers robust security features such as firewalls, DDoS attack protection, automatic backups, and a free SSL certificate. Then, select a hosting plan that meets your expected needs and budget.
Due to its affordability, most beginners will likely opt for a shared hosting plan. However, as you'll be sharing resources with other website owners under one server, shared hosting may not offer the best speed and performance – not ideal for an e-commerce store. Another choice will be to buy cheap RDP.
For instance, if one website receives a traffic spike, your site will likely run slower, causing a poor user experience. So, you'll need scalability to easily upgrade to a more suitable plan, like virtual private server (VPS) hosting. A scalable hosting plan helps accommodate your growing traffic and resource needs, which will likely occur during peak times for online shopping.
Although it's more expensive than shared hosting, DDoS-protected VPS hosting provides allocated resources and full root access. As a result, you won't likely have to deal with speed, bandwidth, and storage issues. Moreover, it also lets you customise your hosting environment, which is perfect for fast-growing online stores.
2. Pick a scalable e-commerce platform
An e-commerce platform is a software application that streamlines your daily operations, such as managing inventory, adding or removing products, and handling customers' queries. Therefore, find a platform with an intuitive interface and smooth user experience.
As there are numerous e-commerce platforms to choose from, evaluate your online store's requirements, goals, and budget plans to help you make the right decision. Also consider a range of factors like usability, integration capabilities, and the quality of customer support. Furthermore, ensure that your chosen platform is PCI-compliant.
Let's look at some of the most popular types of e-commerce platforms:
Website builders. With an intuitive interface, various pre-made templates, and a drag-and-drop editing tool, create your e-commerce using a website builder in just a few clicks without any coding


Open-source. This type of free e-commerce solution provides users with full access to the source code so you can customise the platform to meet your specific needs. Two of the most popular open-source e-commerce platforms are WooCommerce for WordPress and Prestashop. If you're not familiar with coding and customization, consider enlisting the expertise of a WooCommerce expert to make the most of the open-source e-commerce platform's capabilities and tailor it precisely to your requirements


Enterprise solutions. Popular fully-hosted platforms like Shopify and BigCommerce offer an all-in-one e-commerce solution with built-in search engine optimisation (SEO) tools to boost your online store.
3. Optimize website design for mobile
As a Google ranking factor, having a responsive and mobile-friendly site design increases your chances of appearing on the first pages of search results. Select a responsive e-commerce theme and personalise it to match your unique branding. You could implement a custom Shopify theme to increase the sales of your e-commerce website and create a more visually appealing and user-friendly interface for your customers.

Don't forget to, use a tool like Google's Mobile-Friendly Test Tool to check if it's well-optimized for mobile devices.

Additionally, design your e-commerce site as efficiently as possible by displaying only the necessary elements. This ensures optimal performance and minimises the likelihood of errors or a slow loading speed.

Some essential website elements include a search bar, menu categories, and product listings with high-quality images and clear descriptions. Easy navigation and a clutter-free website layout help create a smooth online shopping experience, both for desktop and mobile users.
4. Use the Right Sales Tools
The right e-commerce tools help to reduce the time, effort, and costs of conducting repetitive tasks associated with running an online store. For example, using chatbots to answer customer questions will streamline store and customer management.

Such tools will also help reduce manual errors, giving you more time to focus on important business tasks like refining your digital marketing strategies. This is where Giosg comes in handy.

By combining data, artificial intelligence (AI), and feature-rich technology, giosg's chatbots, interactive pop-ups, live chat, and shoppable video features help improve the quality of the customer experience. Additionally, with advanced targeting and reporting capabilities, you can consistently create meaningful customer interactions.
5. Display Product Recommendations and Best-Selling Items
Product recommendations create a more personalised shopping experience, encouraging your customers to make another purchase. If you sell fashion products, it can be an excellent cross-selling strategy as you can recommend matching items to complete an outfit.

For optimal effect, display product recommendations at the bottom of the page or below the Purchase or Add to Cart button. Additionally, display Best-Sellers, Sales, or New Releases on your homepage to guide new customers to relevant product categories.
6. Display Online Reviews
As reviews influence 80% of sales, they offer a solid potential to boost customer engagement. A way to encourage customers to leave reviews is by rewarding them with gifts like promo codes or free shipping offers.

Additionally, you can include a thank-you note in your packages. This small gesture can go a long way in making your customers feel appreciated, motivating them to connect with your brand further.
7. Simplify the Checkout Experience
Another way to increase sales for e-commerce sites is by providing a streamlined and fast checkout process. For example, let visitors easily add or remove items directly via the shopping cart and allow new website visitors to check out as a guest.

Furthermore, offer multiple payment gateways to encourage conversions. It's also important not to clutter the checkout page with irrelevant design elements. All these practices help boost user satisfaction and sales.
8. Boost SEO and Paid Ads Strategies
Optimise your website's ranking position and drive more sales through proper SEO strategies. Use tools like Semrush and Ahrefs to gain better insights on how to maximise your online sales and presence on search engines.

At the same time, you can boost e-commerce sales through paid ads like Google Ads, Facebook Ads, or TikTok Promote. Identify the latest social media trends to create relevant and valuable content for your target audience and e-commerce site.
9. A/B Testing to Track Conversion Rates
A conversion rate represents the number of users who have completed the desired action, like clicking on a call-to-action (CTA) button or purchasing a product. One of the ways to track conversion rates is by performing A/B testing.

Test the effectiveness of your messaging in two different versions of the same content. It can be email headlines, landing pages, or CTA buttons. Then, use the findings to determine which one generates better results. Understanding which elements need improving will contribute to your business's profitability.
Conclusion
There are many ways to boost e-commerce sales for your online store. Target loyal customers and drive new ones by implementing all the best practices above.

To recap, here's what you can do to increase e-commerce sales:
Choose a web hosting provider for e-commerce.
Pick a scalable e-commerce platform.
Optimise website design for mobile.
Use the right sales tools.
Display product recommendations and best-selling items.
Add customer reviews.
Simplify the checkout experience.
Boost SEO and paid ads strategies.
Track conversion rates.
Remember that it takes commitment and dedication to establish a profitable online business. Implement the right practices, measure their effectiveness, and refine them as necessary to improve sales.
If you wish to boost your e-commerce sales with the right tools, check out our listicle on the 10 best e-commerce tools in 2023.