As eCommerce businesses embrace the importance of conversational marketing, they also realise how crucial it is to have eCommerce chatbots on their website.
eCommerce chatbots can be used for anything to start automated conversations about topics such as product suggestions, one to one shopping or customer service.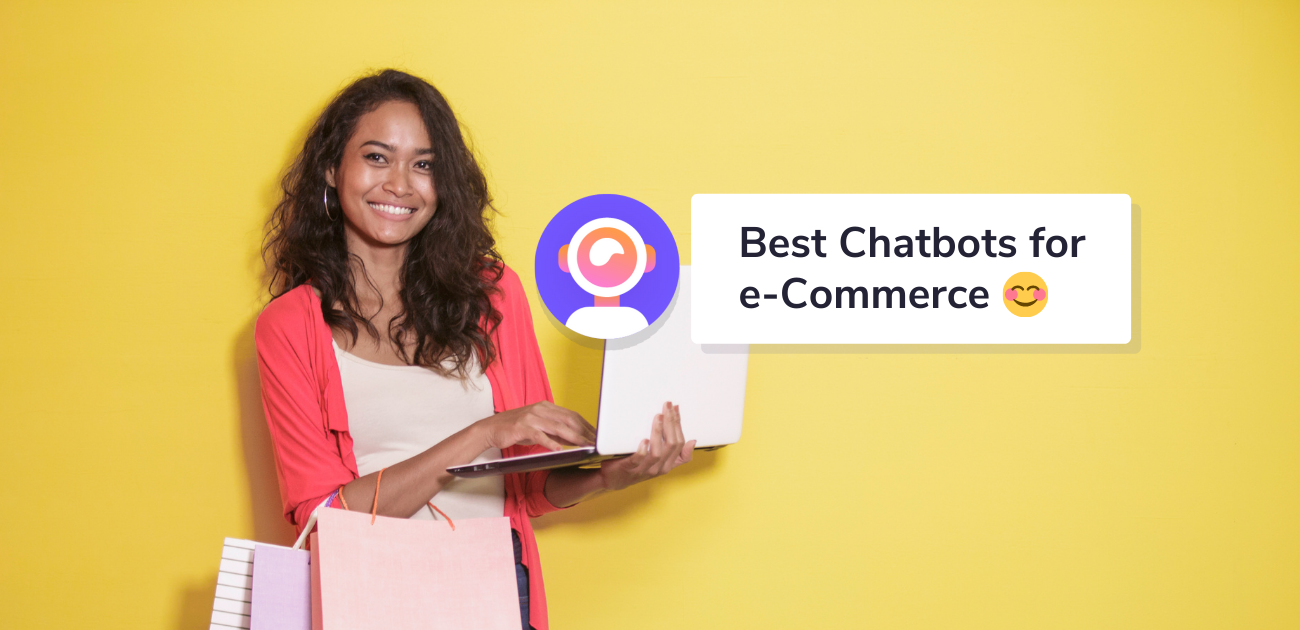 Ready to get to know 11 of the best chatbot options for eCommerce stores? Keep reading to see our list of the top chatbot platforms and their key features, pros, and cons.
What are eCommerce chatbots?
Chatbots are software applications that engage with users online by answering questions, suggesting products, and providing information.
This type of customer-service technology that supplements human activity can be beneficial for answering simple queries and providing automated customer support 24/7.
If, you're new to the notion of chatbots, check out our blog post on AI chatbots to learn more about the differences between AI chatbots and rule-based chatbots.
The benefits of eCommerce chatbots
When online shoppers are on your website, they would rather have instant access and assistance to their concerns. With the help of eCommerce chatbots, you can provide a quicker conversation compared to customer inquiries via email or phone.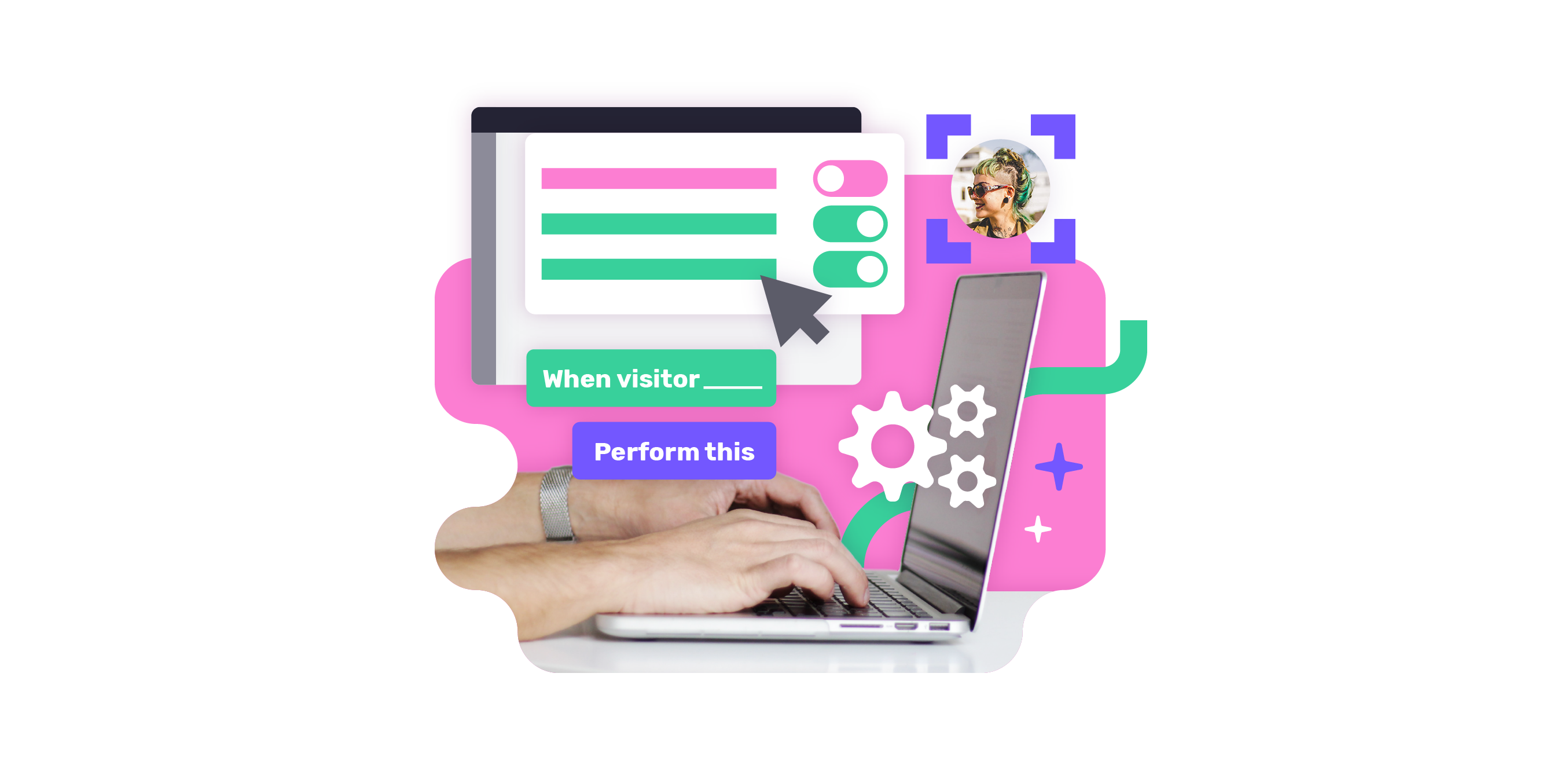 Along with quick and efficient service, there are several other advantages to using bots:
Easy to provide personalised experiences

Ability to suggest products based on user profiles

Reduces cart abandonment

Increases sales by promoting relevant offers

Saves employees' time with automated customer service

Engages customers

Increases

ROI
How to choose the right eCommerce chatbot
When it comes to selecting the right chatbot for your eCommerce shop, you'll want to consider the problem you want to solve.
If you need a chatbot to answer frequently asked questions quickly or you want chatbots that pop up and proactively start a conversation, then a basic and easy-to-configure platform would be great for you.
Furthermore, If you want a chatbot that carries out more complicated discussions by using natural language processing, you'll need to look more towards chatbots with artificial intelligence.
Here are a few basic features to keep in mind when looking for a chatbot.
Customer targeting features.
A/B testing options
Pre-made templates
Integration capabilities
Analytics and reporting features
List of 11 Best Chatbots for eCommerce
When it comes to adding a chatbot to your eCommerce store, there are a ton of options to choose from.
So, let's look at some of the best we have found!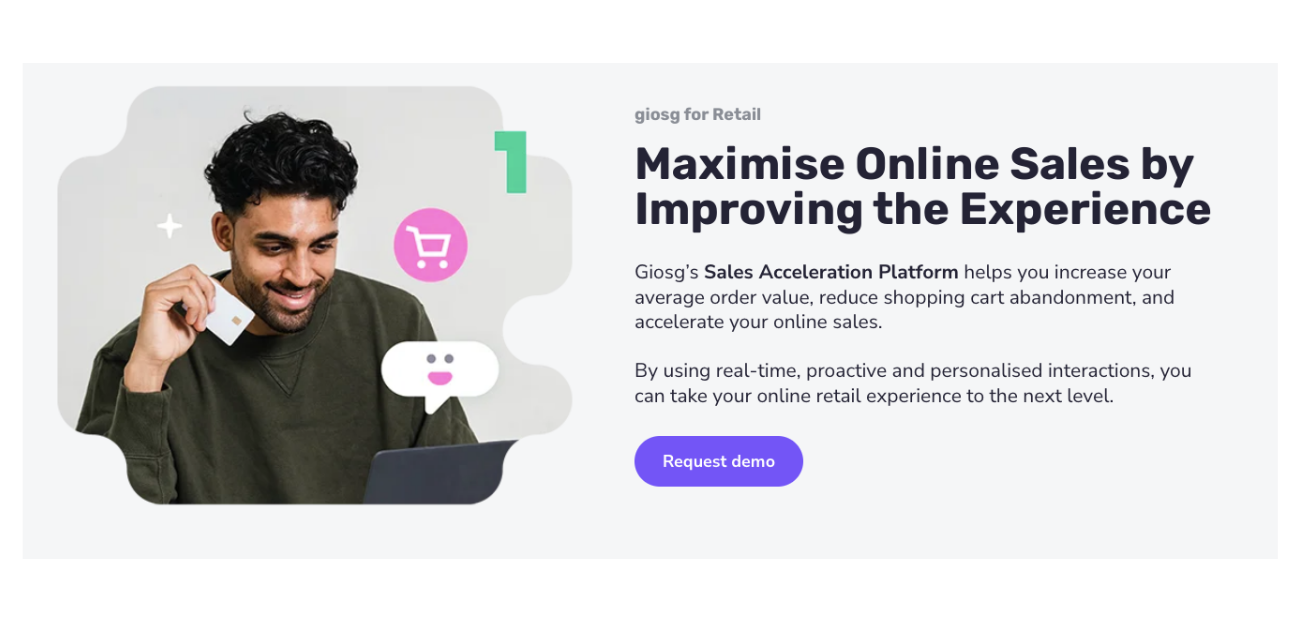 What can we say? We certainly think giosg is top-notch when it comes to chatbots. We use our tools on the daily and we can say that if you aren't a techy person but still want the cool features, Giosg's solutions could be what you are looking for.
Giosg is one of the best chatbot builders in the market today, with advanced features and an easy-to-use interface.
The wow factor:
You don't even have to know how to code. That's right even your least tech-savvy employees can turn out some superior chatbots.
How is that possible you may be asking?
Simple. You can first choose one of our giosg pre-designed chatbot templates and then build a chatbot quickly and easily. Additionally, you can customise your chatbot to ensure it fits your brand and objectives.
How about one more bonus? When you use giosg chatbots, you can also incorporate live shopping features to them so your video bots are more shoppable and engaging.
Key Features
No-code chatbot building platform
Ready-to-use retail bot templates
Numerous customisation options
Option to add media files and promote products with video bots
Performance reporting is in a visual format
Integration of live chat
Pop-ups, forms, and other add-on features
Integrations that work well with Zapier, SalesForce, and Hubspot, among others.
Conversation starters driven by AI
Pros
Quick and easy-to-use chatbot builder
request a demo option
Plans and prices that are tailored to your needs are available.
Premium customer service
Cons
Can't be positioned with messaging platforms like Facebook Messenger, Slack, etc.
Usability
Easy to use
Skill Level
Beginner/Intermediate/Expert
Price
The price of Giosg is determined by case-specific factors such as the amount of giosg features used, the number of users, the degree of service, integrations, level of solution customisation, and your need for consultative assistance.
Visit our pricing page and connect with us for a customised quote 😊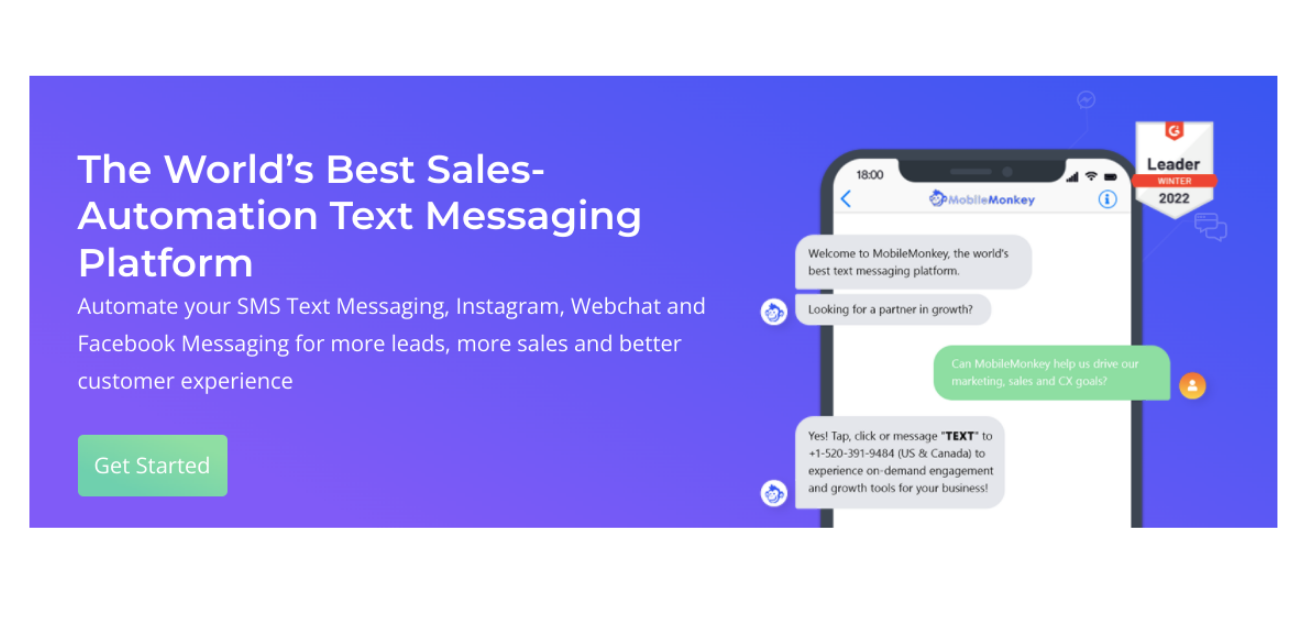 MobileMonkey is a popular option in this list of the best chatbots. It's one of the easiest-to-use chatbot platforms, as it integrates bots for website chats, Facebook ads and SMS within a single system.
Some of the most notable features are natural language processing (essential to avoid clients becoming dissatisfied while chatting to a machine), customer segmentation, and ready-to-use dialogue templates.
The WOW factor:
It also incorporates the usage of GIFs and photos, which adds to the realism of the automated discussion.
It is, however, built primarily for the most basic needs. It excludes a payment system, an API, voice assistants, and connectivity with platforms other than Facebook.
Check out some of the key features to know:
Key Features
Reporting and analytics
chatbot builder for multi-platform
Inbox for a unified chat
lead magnets, and other similar items
Marketing automation
Ready to use Templates for chatbots
Handoffs to live chat
Pros
Multi-channel bots
Cart reminders
Targeting with Facebook ads
Solutions for all types of client
Cons
integrations are limited
Basic platform
Usability
Moderately easy to use
Skill Level
Intermediate/Expert
Price
Various plans and pricing for all types of customers, Contact their team to get a quote.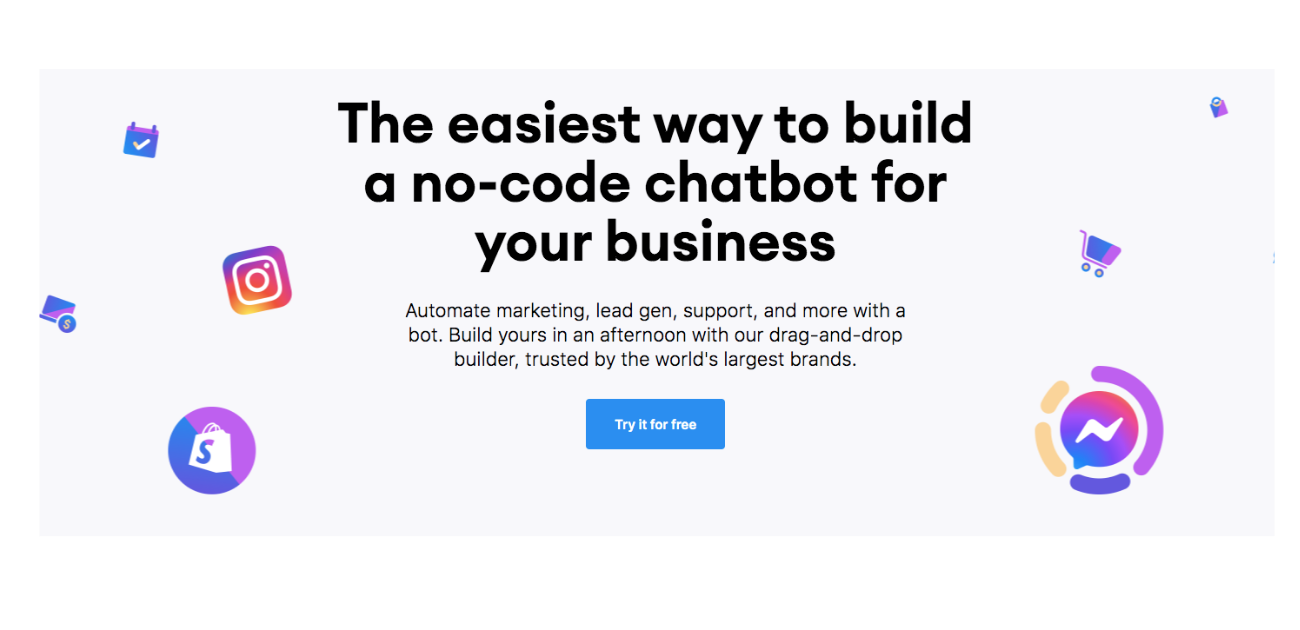 Chatfuel is a simple chatbot builder that creates Instagram and Facebook Messenger bots. This technology is known for its eCommerce chatbot cases because of its capacity to respond to client questions about items supplied on social media platforms such as Instagram and Facebook.
The WOW factor:
Simple FAQs bots and Facebook Messenger bots, can be created without any hiccups in minutes.
If simplicity and quick chatbot building for social media is what you are after, then this is a fair option.
Take a look at some of its features along with the pros and cons.
Key Features
No-code interface
Free FAQ bot templates
Supports many languages
Pros
Quick to build
Free plan for up to 50 users
Cons
Exclusively built for Facebook Messenger and Instagram
Few advanced features
Relies heavily on third-party integrations
Usability
Easy to use
Skill Level
Beginner
Price
There is a free plan for up to 50 members, whereas a pro level starts at $15 a month for 500 subscribers. Custom pricing is available for premium and agency customers.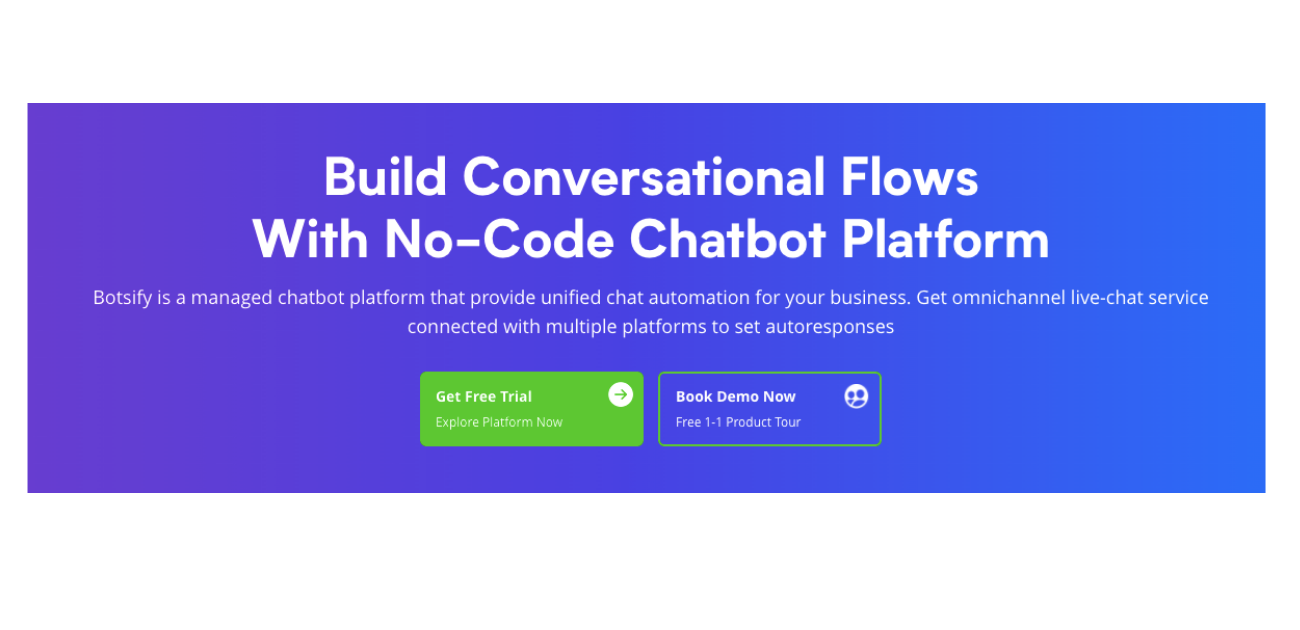 Botsify is a multi-channel chatbot solution that allows you to create conversations for Facebook, your own website, and WhatsApp. Botsify's vocal features set it apart from competitors, but it lacks Facebook retargeting and campaign options and is focused on customer support.
The WOW factor?
The bot can effectively transfer customer queries to the right human agents, known as a human hand-off. Botsify also offers 100+ integrations with in-chat payments.
Here are more details about its features along with the pros and cons:
Key Features
Chatbot platform for multi-channel use
AI and machine learning features
Ready-to-use templates
Visual flow builder and editor
Supports many languages
Good integrations
Basic analytics
Pros
Setup is simple.
Designated chatbot manager
Translations for bots are available
A 14-day free trial
demo solutions.
Cons
Pricing is based on subscribers
Needs coding for the best experience of integrations
Marketing features are available only for Facebook Messenger
Usability
Easy, although more advanced skill is needed for the more intricate bots.
Skill Level
Intermediate/ Expert
Price
A free trial is available. While Paid plans start at 40 per month, check them out for more details.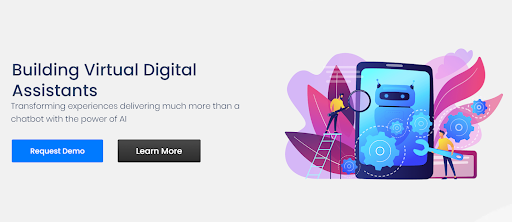 5. BotCore
BotCore is a platform that enables you to build custom chatbots that aid customer support. BotCore is a Microsoft Preferred Conversational AI solution that uses many technologies from Microsoft like machine learning.
The WOW factor:
BotCore has an integrated Knowledge Graph that you can use to create bot conversations with a number of tools and built-in AI methods.
Key Features
Resources for sales and marketing
Code free for basic bots
Beneficial integrations
Security features
Payment integration
Conversation-starting prompts
Analysis of Sentiment
Pros
Omni-channel interactions
Human handoff technologies
Multi-language support
Cons
Microsoft Bot Framework needed
Pricing not readily available
Usability
Little more difficult than other options
Skill Level
Intermediate/Expert
Price
Contact their team to request a quote.

DialogFlow is a Google product that makes use of the company's speech-to-text, natural language processing, and machine-learning technology. Dialogflow projects run on Google's Cloud Platform, which can expand to hundreds of millions of users and interface with Google Assistant, Alexa, Facebook Messenger, Twitter, Slack, and other services. It also works with things smart devices like smartwatches and other gadgets.
Want to learn more about its features?
Here you go.
Key Features
Builder for multi-platform chatbots
Supported in many languages.
Natural language processing (NLP) capabilities that are advanced
Machine learning and AI abilities
Google Assistant, Amazon Alexa, and Cortana integrations are available
Pros
Google's advanced technology
Free trail
conversational AI features are comparative
Use for websites and mobile apps
Cons
In comparison to other solutions, it is more complicated to utilise.
Limited use without coding skills
Limited customer service
Usability
Difficult to use, coding skills required
Skill Level
Expert
Price
Check out their pricing page for more information as custom pricing is a bit complex.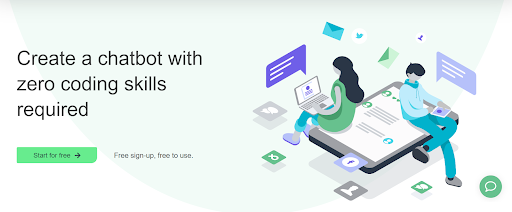 Flow XO is another useful chatbot for businesses. They provide an eCommerce company with a multi-channel conversational ai chatbot solution that can be used on Facebook Messenger, WhatsApp, SMS, Slack, and your website.
The chatbot also allows both automatic and live chats to receive payments.
Their user interface is simple and intuitive, and they provide the option to construct from scratch as well as several pre-built templates for a range of use cases.
The wow factor?
Makes it a seamless process for your consumers to interact with you across all platforms. They can start with a web bot on your website and can follow up with the interaction via Facebook Messenger on their mobile device.
Take a look at some of its other features, along with the pros and cons.
Key Features
Bot builder for many platforms
Live chat
many languages are supported
ability to take payments via bots
Bot processes might be simple or sophisticated.
Customisations and training for chatbots
Pros
Intuitive, easy-to-use UI
Free plan
Abundance of features.
Cons
Even with a simple interface, actual bot creation is time-consuming.
The bot to human handoffs needs improving
Usability
Easy to use, but no fast solutions
Skill Level
Beginner/Intermediate
Price
Standard Plan: $19 for 5,000 interactions per month
Add-Ons:
Five bots or active flows -$10 per month
25,000 interactions -$25 per month
Pro Tip: Be sure to calculate the number of interactions you estimate to have per month as the pricing can seem like a great deal, but can quickly get expensive with more interactions.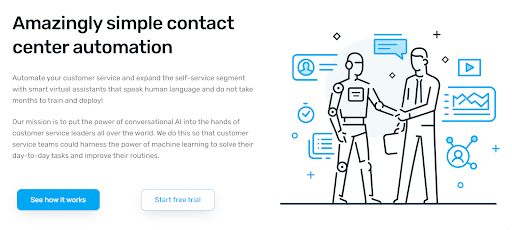 ActiveChat was created with eCommerce and customer service in mind. The platform is compatible with Facebook Messenger, Twilio SMS, Shopify and WooCommerce to make things easier for the users.
The Wow Factor?
This platform allows you to develop bots for all of your consumer engagement channels.
Here are some of its key features, pros, and cons.
Key Features
Bot creator with multiple channels
Interface that is visually appealing and easy to utilise
Numerous integrations
Integrations and features for eCommerce
Abilities in artificial intelligence and natural language processing
Pros
Simple to use
14-day trial version
adequate eCommerce solutions
Cons
pricey for the capabilities it offers,
missing several sophisticated functions.
Usability
Easy to use
Skill Level
Beginner
Price
Activechat has a usage-based pricing model. You pay based on monthly interactions and the live support agents that use the product. Contact them for further information.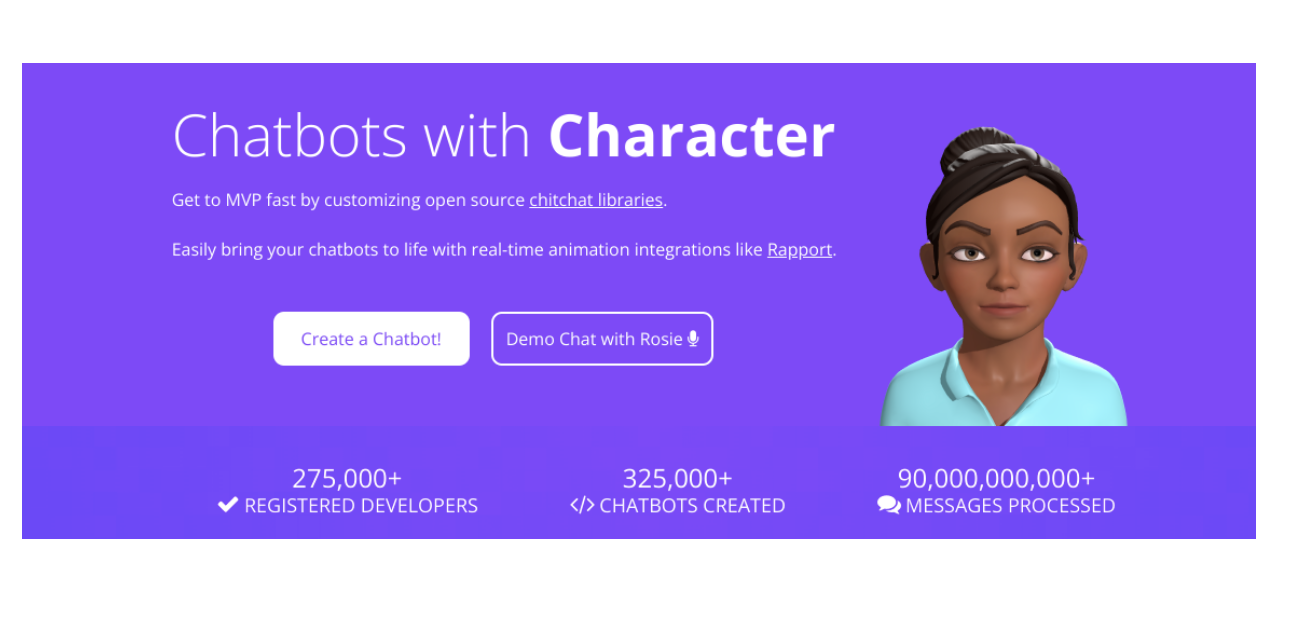 This multilingual, conversational AI chatbot builder allows you to create a wide range of bots. On this platform you can build bots for a number of purposes, including marketing bots and voice assistants.
The WOW factor:
Its an open-source platform that allows anyone to create chatbots and download the code.

Beginners, on the other hand, may find it difficult to fully utilise the benefits of this platform. As a result, it is only appropriate for experienced users and developers.
Take a look at the features to get better acquainted.
Key Features
code and no-code versions.
10,000 pre written chitchats
Several integrations
Speech to text and text to speech
RESTful APIs
Modules that are ready to use.
Resources for education and training
Open platform
Context awareness
Pros
A free plan
Downloadable code
complex features
Cons
More designed for developers and CX designers
Usability
Comparatively difficult to use than most platforms on this list
Skill Level
Expert
Price
You can use the basic features for free. Paid plans are also available. Checkout their website for more information!
Verloop is a platform that focuses on converting leads into paying customers through individualised conversations. It may be used to create a variety of bots, including sales and marketing bots as well as customer support bots. Bots for Shopify, WordPress, and Magento are also available.
The WOW factor:
It includes a drag-and-drop interface that is code-free, making it extremely simple to use for people of all ability strengths.
Key Features
Bots for Messenger

Ecommerce chatbots integrations

human handoff for support

drag and drop builder

APIs,

Analysis for analytics, sentiment

Answer visitors FAQs
Pros
Quick and easy design and deployment
Advanced features
Scalable and flexible
Cons
No Pricing
Limitations in creating conversational flows and broadcasting
Usability
Easy to use
Skill Level
Intermediate
Price
Schedule a demo find out more about their pricing.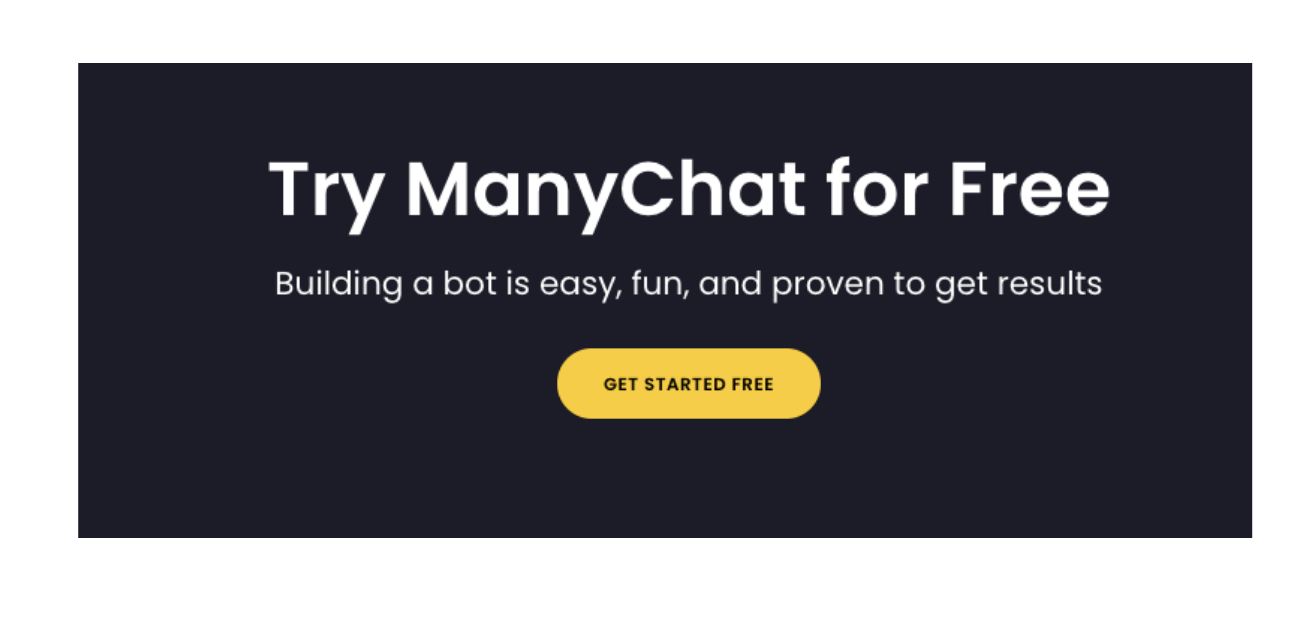 11.

ManyChat

This chatbot is pretty simple to operate and has capabilities that are well-explained to newcomers. It will show its consumers how to finish the setup and activate it right away.
For AI and speech capabilities, ManyChat also connects with Google's Dialogflow technology.
The WOW factor:
With the Pro version you can easily connect it with your eCommerce platform, as well as other customer service tools. This Metaverse -oriented chatbot solution supports Facebook Messenger, Instagram DMs, and SMS bots which can assist you in responding to customers needs.
Take a look at the key features to get a better idea.
Key Features
drag-and-drop builder.
add a bot to manage emails and SMS.
Customers can be managed on social media sites (Instagram and Facebook)
Multi-language bots
Pre-designed templates
Pros
sales and marketing tools
Facebook Messenger bots come with the fee plan
Creates bots within minutes
Cons
Pricing based on number on contacts
Less flexible when it comes to custom coding
Usability
Easy
Skill Level
Intermediate
Price
Pro: Starts at $10 per month for 500 contacts and increases with the number of contacts.
Business: Custom pricing.
Conclusion
There is no such thing as a one-size-fits-all solution in today's world of technology, so you'll need to think carefully about your business needs. Your chatbot solution will be determined by your requirements and how well its features meet them.
What are you waiting for? Start building your eCommerce chatbots by booking a demo with us!