Chatbots are great tools for communicating with users, leads, customers, and anyone in between. They can help you build relationships with your audience, quickly answer questions and increase your sales.
Interacting with your audience at every step of the sales cycle is a crucial part of a solid eCommerce strategy. The more personalised your approach is, the better your results will be.
In this article, we'll explain six different ways to use sales chatbots to make product recommendations, prevent cart abandonment, boost sales and more.
Combine even just a few of these methods to start providing your audience with a better customer experience and got them completing their purchases.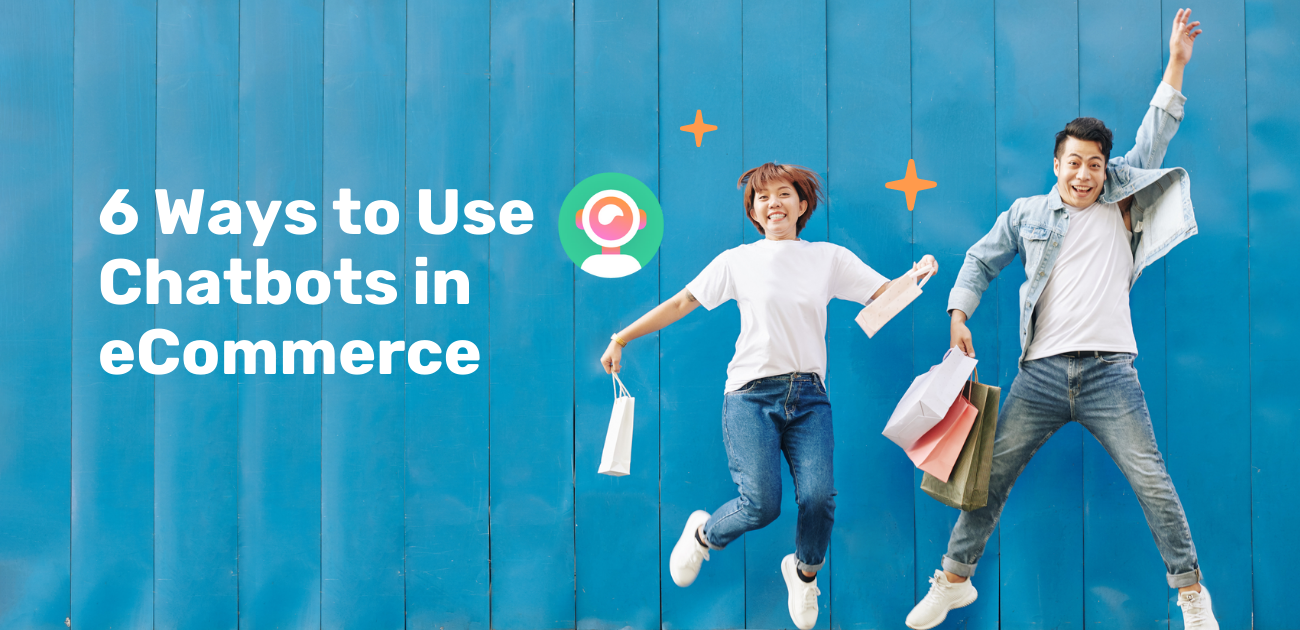 1. Give product recommendations
If you want to sell more products and services, you need to know when and how to upsell to your customers. The less annoying you are in that process, the more value you'll receive.
Here are a few tips on how to use chatbots to upsell.
Once your clients choose a product or service, recommend another solution that would complement their purchase. A lot of clothing brands recommend accessories, like fanny packs and other products that go great with a clothing item.
You can group different complimentary items and curate the selection for your chatbots to recommend.
Another way you can do this is by recommending products you wouldn't expect to go together. Find out which of your products are best sellers and promote them with every product. Someone who is buying a new keyboard might not think to look up a portable heated pet bed, but might be pleasantly surprised that one exists.
In order to perfect your recommendation choice, you can create an interactive quiz which will find out what types of products your audience is interested in. Once an individual finished the quiz, they'll get tailored recommendations, which can increase sales.
This is a great way of personalizing your approach, which will provide great value to both your business and your customers.
2. Provide shipping information
It's very common for eCommerce websites to ship worldwide these days. This creates a lot of potential issues and questions from your customers regarding shipping.
The most frequently asked questions about delivery are:
How much does it cost for people in specific locations?
When can they expect their package?
What is your return policy?
Can they change the address of the delivery?
Can they schedule the delivery for a specific time of the day?
Can they track the delivery?
Can they pay once they receive the package?
If your customers can't find the answers to their questions, they will flood your customer service with messages and calls, if not just leave for the competition immediately.
Enable the chatbots to provide your visitors with these answers and speed up your sales cycle. As a result, you will also benefit your key customer support metrics, such as reduced average handle time.
That way, you won't have to answer the same questions over and over again.
3. Prevent cart abandonment
If your company is struggling with a high shopping cart abandonment rate, you should try to include chatbots in the sales process. They can help build confidence in your site and answer any lingering questions your customers may have.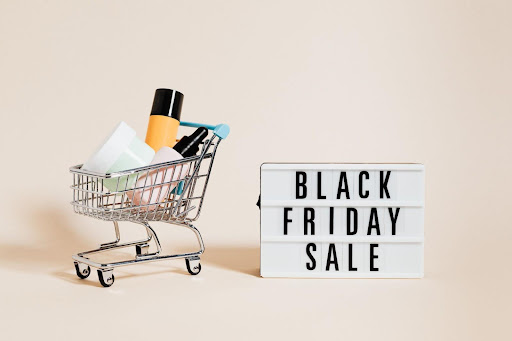 Once your customers add items to their cart, your chatbots should be triggered to send reminders to people who didn't finish up the buying process. These messages could incentivize people to go back and buy the chosen products as well as other products that compliment the purchase.
You can automate responses that offer discounts and limited offers. Make sure to provide real-time assistance to customers by answering the FAQs and linking to any helpful articles, especially if you're selling a high-end product or service.
Improve customer satisfaction by being one step ahead of any inquiries your clients might have. When you're proactive at the checkout stage, you have a better chance of increasing your shopping cart conversion rate.
4. Use chatbots as a shopping guide
If you're not selling everyday products, but rather something that requires a tutorial, utilize chatbots to offer more information to your customers. These bots can conveniently link to how-to videos and helpful articles.
The easier you make it for your customers to learn about your products and services, the better your results will be.
For some questions, like about how to use a product, people don't normally like to reach out to customer service. So, they will appreciate the answers coming to them proactively in the form of a chatbot.
Seeing how 83% of online shoppers require help to complete their orders, it makes sense to employ chatbots in order to provide quick and accurate information.
Speed is of utmost importance when it comes to your customers who are in the later stages of the sales process. If your audience doesn't get the information they need as soon as they run into a problem or question, they will most likely go to your competition.
5. Automate returns
As much as you would like to avoid them, returns are a part of your sales process. You have to make sure your customers have a quick and easy way to get all the needed information about this process. Remember, this can be a part of your relationship building.
Your chatbot can inform the customer when the package was received, offer them tracking information, give details on the refund and more. This means that your customers will be able to quickly return their items and have an overall positive experience with the brand.
6. Use chatbots to answer frequently asked questions
Automated chatbots can answer repetitive questions independently without needing a live agent.
However, when you integrate a live chat option within your chatbots, you offer customer service to your customer at every step of the way.
For more detailed questions, you can use live chat to quickly answer questions, offer solutions to potential problems and reassure your audience that they won't have to go through the sale process alone.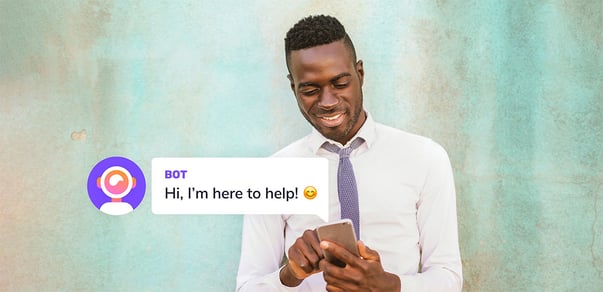 Also, you can utilize chatbots to offer special discounts, remind customers of an upcoming sale, and build a relationship with your customers. The more time you invest in personalizing their customer experience, the better their chances are of coming back to you.
Conclusion
Chatbots can provide a quick and easy way for customers to engage with your eComm shop and finish their purchases without having to involve the customer support team.
Make sure to implement chatbots to offer value to your customers instead of annoying them.
Make sure they provide accurate information and provide solutions for any problems your customers may encounter.
Ready for the next step? If want to learn more about how to build chatbots, we have the perfect guide for you.
Download our free "How to Build a Chatbot" guide here.