Another year, another peak sales season. But with brick-and-mortar stores forced to move online during the first half of 2020, consumers' buying habits have shifted faster than ever before. In a very short period, eCommerce has accelerated growth and even exceeded last year's holiday season sales by 7% in April and May.

This means the pressure is on for eTailers to keep their eCommerce website working at peak performance, during the 5-month sales period, from Halloween to Valentine's day. When consumers expect easy and carefree shopping, delivering a seamless customer experience throughout the holiday rush is essential for successful online sales.

So how can you ensure you optimise and prepare your online store for the busiest time of the year? What can you do to grow your market share and delight customers while preventing abandoned carts? We'll share our best tips for getting ready for the fast-approaching holiday season 2020.


10 tips for peak season success:
1. Learn from last year
2. Gamify your seasonal promotions
3. Stand out with interactive ads
4. Personalise your shopping experience
5. A/B test your offers
6. Optimise for conversions with AI
7. Power up your customer service
8. Automate FAQs
9. Think mobile
10. Meaningful data
1. Learn from last year
In 2019 eCommerce took a massive jump compared to previous years, representing over 28% of all holiday retail sales in the UK. This is the first time ever eCommerce surpassed the 25% mark. Safe to say it was a busy season for most eTailers! So why not take advantage of last year's learnings and use it as the foundation of your peak sales season eCommerce strategy for 2020?
A good place to start is by digging up your previous year's to-do list and action plans. This insight gives you a template for moving forward with planning. By using what you've created to your advantage, be it your campaign calendar or content plan, the prep work is already done for you - saving your time and helping you work more efficiently!
Next, it's time to dust off your data by analysing last year's successes and possible failures. By using analytics and reporting tools, you can make informed decisions to ensure you knock sales out of the park and don't go into the peak season blindfolded.
Gather data on best sellers, sales times and performing campaigns. Use your data to segment customers based on their behaviour, and target them with relevant and timely offers. Why not take a deeper look into last year's...

Promotions: Which of your offers performed the best? Was it free shipping or a discount code? Compare offers and find out which promotions gave the best results and helped reach your campaign goals.
Channels: Which channels converted the most sales? Advertising is extremely competitive during holiday seasons, so make sure advertising costs aren't eating up all your profit. Knowing which channel worked best last year will give you a guideline for budget allocation.
Devices: Consider what devices your customers used to make purchases. Where did the majority of your conversions come from - mobile, tablet or desktop?
Timing: The holiday calendar is full of important dates, so naturally offers run at different times, with varying durations. Black Friday discounts may be set for just one day, whereas your pre-Christmas promotions may go on for multiple weeks. The timing of offers will have an impact on your overall sales and even your website's functionality making sure you avoid unwanted site crashes.
Customer service: Peak season calls for increased traffic which usually calls for a clogged up customer service. So when planning for 2020 look into your purchasing journey. Where did your customers need help on your site? At what points of the checkout process did your customers fall off their purchasing journey?
Digging into data will give your holiday season eCommerce campaigns the kick-start required for success, ensuring you achieve ROI and generate happy customers.
2. Gamify seasonal promotions
Believe it or not, consumers today have a shorter attention span than goldfish, meaning brands have a mere 8 seconds to catch their interest. With such a limited amount of time, the pressure is on to prepare your peak season eCommerce strategy and create campaigns that really engage and convert into direct online sales.
Gamifying your online store and building interactive sales-focused campaigns around peak seasons can provide the kind of engagement you're looking for. It increases the interactivity of your campaigns giving that extra push to speed up your sales cycle.
How to gamify your peak season campaigns?
Questionnaires
Personality tests
Quizzes
Polls
Surveys
Creating interactive campaigns have the potential to increase conversion rates and drive weekly newsletter subscriptions by 4X. It works exceptionally well as a way to gather more data on your customers, allowing you to segment and personalise your offering further. A great tool for refining and building your database.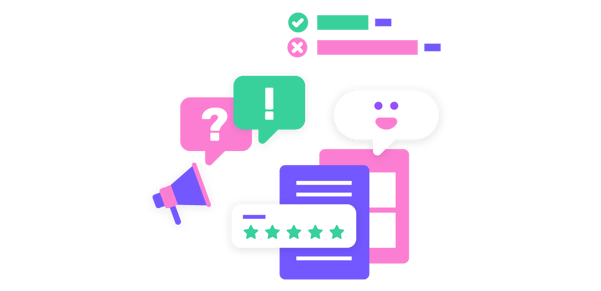 Get inspiration for your peak season campaign from these examples:
Tap into Black Friday by gamifying your discounts. Create a quiz on your website, where visitors can play to win free shipping or an even better discount. Make the experience fun and personalised, while encouraging them to purchase.


Publish an advent calendar for your Christmas campaign on your website. Provide a new promotion or discount code that can be claimed by a visitor only on that particular day. This can help drive traffic onto your website and promote your seasonal products!


Use personality tests or quizzes to generate more newsletter subscribers, to build your mailing list. Quizzes work as data collection points to segment your customer base for personalisation. Leverage the power of holiday marketing with a fun quiz that activates customers and allows you to promote your seasonal campaign and sell more.


Find out how we gamification in our Halloween marketing campaign to increase brand awareness and engagement on our website in this blog post.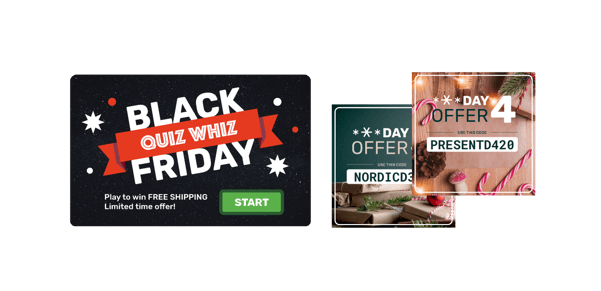 70% of marketers not using interactive content are holding back due to a lack of technical expertise and not knowing where to start. And understandably so, it can feel overwhelming if you don't have the right tools in place. Consider investing in a platform that lets you take matters into your own hands.
Using content marketing tools that require no coding, means you don't need IT or a marketing agency in order to launch your new campaigns. This gives you flexibility to build your holiday campaigns, make changes on the fly and optimise them as you go along.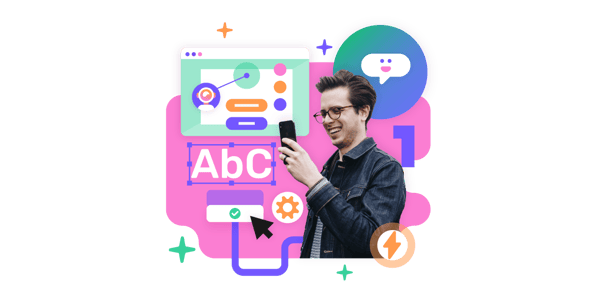 Check out giosg Interaction Designer to create engaging campaigns and add an element of gamification to your holiday promotions.

3. Stand out with interactive ads
Peak seasons are one of the most competitive times of the year for advertising, with ever- increasing PPCs. As consumers are flooded with various offers and marketing ad budgets soar, businesses need to find new ways to differentiate themselves from their competitors online.
Avoid banner blindness, cut through the noise and build up your peak season eCommerce strategy by promoting your campaigns across paid channels with rich media interactive ads.
Rich media ads allow brands to provide unique ad experiences that increase conversion rates. They differ from static display ads by encouraging consumers to interact with ads, often including forms of media such as video, images, audio, or animation.
It's a powerful way for marketers to not only catch their target audience's attention, but also prolong the time consumers spend with their brand.
Interactive video ads can extend the amount of time consumers spend with your brand's ads by 47% more than static non-interactive ads
Rich media ads typically react to a user's movements i.e. widening when a user scrolls down the page, playing a video when clicked on, or expanding as a user hovers over it. However, with platforms such as giosg Interaction Designer, interactivity is taken to another level by allowing marketers to design quizzes, polls, games or even chatbots and connecting them to 3rd party websites as rich media ads.
Consider giving interactive rich media ads a try, if you're looking to:
Improve your shopping experience: Unlike static ads, they don't force the visitor off a publisher's website and hence don't interrupt a visitor's browsing experience


Increase lead capture: Interactive ads will allow lead capture to take place outside of your eCommerce site with lead form extensions within the ad.


Increase CTR: Rich media ads have been proven to deliver a high click-through-rate, outperforming banner ads by 267%.
So how does it work? Interactive ads are technically HTML5 and therefore work with any advertising platforms such as Adform or AppNexus. Publishing to your desired ad network is easy with this easy three-step process:
Design and publish your ad interaction using giosg Interaction Designer
Copy interaction tag into your ad management system
Viola - your interactive ad is now live!


4. Personalise your shopping experience
eTailers work hard to drive visitors to their eCommerce website and even harder to turn that traffic into online sales! And this is no simple task, as consumers today expect highly personalised experiences. They don't want to be bombarded with offers or product suggestions that aren't relevant to them.
Personalisation is really about proving every single visitor on your site the content and interactions they prefer, that helps them reach their goals throughout each stage of their shopping journey. As an eTailer, this means dynamically showing content, offers or promotions, and recommendations based on previous visitor behaviour and data.
The good news is that if you succeed in delivering a personal experience, consumers will reward you for it. Not only does it foster customer loyalty but, 80% of brands report an uplift in conversions after implementing personalisation into their eCommerce strategy.
How to successfully personalise your
customer journey
Combining data on visitor behaviour and marketing automation ensures that each visitor gets a unique experience that matches where they are in their purchasing journey. This can be done by offering your seasonal promotions, offers, and interactions according to:
What page your visitor is on
Where your visitors are on your page
Where they came from - so their traffic source or campaign URL
Which country they are from
The number of times they have been on your website
Their shopping basket value
Whether it's your Christmas quiz, Black Friday discount code, or proactive live chat, it should be provided at the right time to the right visitor. To help you with this, we've mapped out how to target different content for different stages of the customer journey: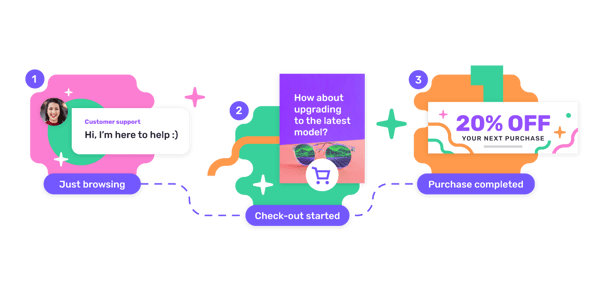 Just browsing
At the beginning of the customer journey, visitors are usually researching or browsing and are more likely to leave without converting. And sometimes a visitor may come to your site, but they're not sure what they are looking for. The best way to help them in this situation is to offer assistance.
Proactive live chat replicates the kind of experience you would offer in your brick-and-mortar store: A customer walks in and is immediately greeted by a shop assistant that helps them find what they're looking for. You would never leave a customer wandering aimlessly in-store, so why would you online?
Triggering a chat with a proactive message not only improves your visitor's experience, but gets you closer to closing the sale.

Check-out started
Now your visitor is moving from browsing to check-out. They've placed items in their basket but haven't completed their purchase yet, so cart abandonment is still on the cards.
50% of shoppers will abandon an online purchase during the checkout process due to extra fees or delivery charges. That's why it's important to be completely transparent about your site's checkout process.
Offering live chat during checkout with a personalised autosuggest message can provide a sense of security for those hesitant buyers. You can also use chat to remind customers to finish checking out, offer deals and discounts or help them navigate through the purchasing process.
Why not try triggering a live chat message with "Hi there! Need help checking out?" for people who have been on the checkout page over a certain amount of time. At giosg, we've seen this increase average basket value by 30%.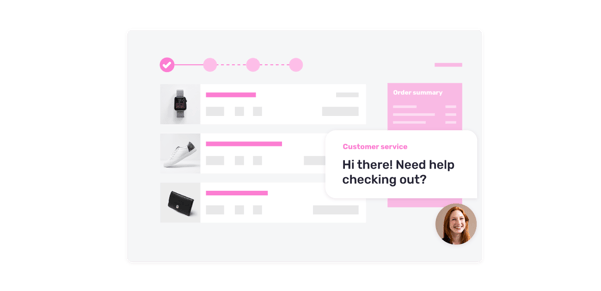 Shoppers with items in their baskets provide a real opportunity for cross-selling relevant products and up-selling a higher value product. Real-time visibility of a shopping cart combined with a record of a shopper's previous history, creates multiple sales and marketing opportunities.
Here are a few to take advantage of when planning your peak season eCommerce strategy:
Cross-Sell: When a shopper places an item in the basket, you can suggest a value pack of other relevant items that are often purchased along with it in a chat message.
Up-Sell: When an item is placed into the basket, a pop-up suggesting a newer and better version of the item of a higher value can be suggested instead.
Offers: When a shopper has a basket with a value of £60, for instance, remind them of discounts and offers available only if they increase the value of their basket to £75 or £100.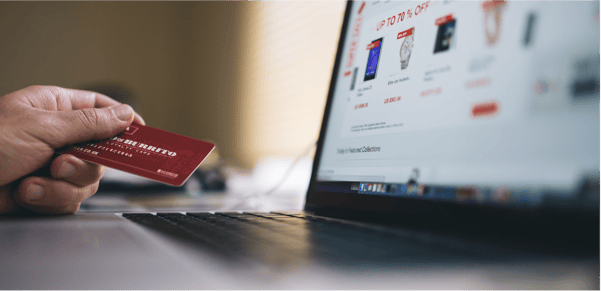 Post purchase
Now your visitor is officially a customer, so it's all about keeping them happy and coming back for more! Nurture customer loyalty and personalise their shopping experience further post purchase by:
Using your thank you page to reward customers by offering a discount for their next purchase.

Providing value-added content that relates to the products they have just purchased. A guide or how-to video for using the product they have just purchased. Provide product recommendations that go along with their new purchase.

Triggering a personalised chat welcome message or a product suggestion when they return to your site "Welcome back! Have you seen our new product...", can help you build the brand-customer relationship.
5. A/B test your peak season offers
Even with all of last year's data and learnings, you can't expect to hit the nail on the head. Sometimes the market changes (as we have all learned in 2020...), your business goals might evolve, and what worked previously simply might not be the best solution this year.
That's why A/B testing is such an effective tool, helping you learn more about what resonates with your audience and drive online sales.
A/B testing is not just for your email campaigns, ads or website landing pages, it's also a great way to optimise interaction conversion rates. You can experiment with elements such as pop-ups, live chat, chatbots or even the quizzes or games created for your holiday season campaigns.
Get started with A/B testing interactions on your eCommerce website in three steps:
1. Define your goal:

First, start with the goal of your campaign - Are you promoting a specific seasonal product, aiming to increase order size, or growing your mailing list? Use this to determine the goal of your A/B test and as a guide for what you want to optimise.
2. Choose what to test:

Secondly, you need an idea of how to reach the desired goal. This is your A/B testing hypothesis. A/B tests are done by experimenting with one specific variable like your heading copy, banner visuals, or CTA placement. Why not try testing one of the following?:
Offer a free delivery pop-up vs without it
Show a discount code in a pop-up vs in a proactive live chat message
Provide live chat on your check-out page vs without it.
3. Traffic and timing:

Finally, for reliable results you will need enough traffic on your site to split the traffic between the two alternatives. That's why peak seasons are ideal times for A/B testing, with all that traffic you're already driving onto your eCommerce website!
Also, consider the running time of your test - it should really be as long as is needed to gather enough data for you to draw conclusions between variations. Once you have the data, make your changes accordingly and move on to test other elements!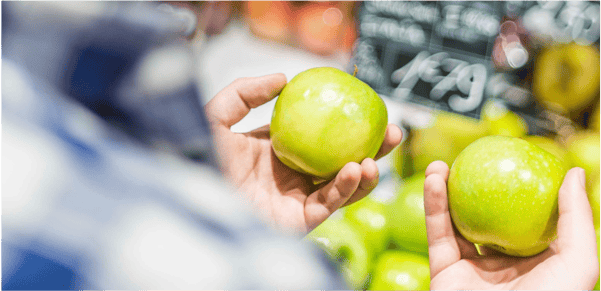 Why A/B test peak season campaigns?
The question isn't why - it's why not? A/B testing is all about iterating changes to your website that drive results and marketing ROI.
Just remember this for successful A/B testing: Set a goal, choose your variable, test it, analyse the results, make changes to optimise your campaign, and move on to your next test!
6. Optimise for conversions with AI


To prepare your eCommerce strategy for the peak sales season, you might want to consider automating your campaigns further, past manual rule-based workflows. If you're aiming for increased online sales, conversion rates, personalisation and improved efficiency, then there's no better solution than AI.
AI-powered targeting helps convert website visitors, from browser to buyer by identifying shoppers, prioritising them and triggering custom actions to meet their specific requirements.
How does AI targeting work in practice?
AI targeting identifies indecisive visitors and shows them the right incentive or interaction they need to buy or build up the courage to buy. So by using machine learning and the data collected from your site, the AI can predict the buying probability of each and every visitor on your eCommerce website.
With this information you can decide which actions to use to convert them - be it a discount coupon code, a proactive sales chat, a reminder of an existing offer or free shipping.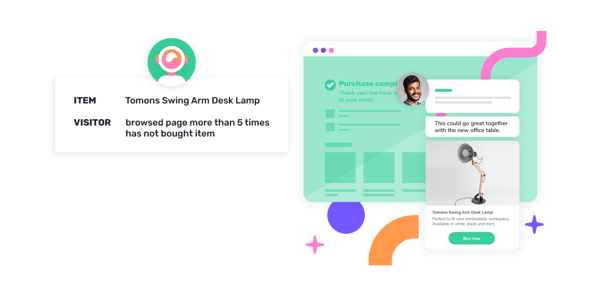 The benefits of AI
Save time: AI eliminates the need for manually built workflows, so your team can focus on more important tasks. With the hectic peak sale season rush, AI enables you to save time and valuable resources by setting up your targeting with a simple push of a button.
Efficiency: AI can analyse data much faster and more efficiently than humans. This leads to more accurate conclusions and predictions of when to target someone and when not to - meaning you never interrupt your online visitor's purchase journey nor do you leave them hanging!

Increase conversion rates: Machine learning tools will optimise your eCommerce site for conversions. At giosg, we've seen an increase in eCommerce conversion rates by 6,6% with the use of AI.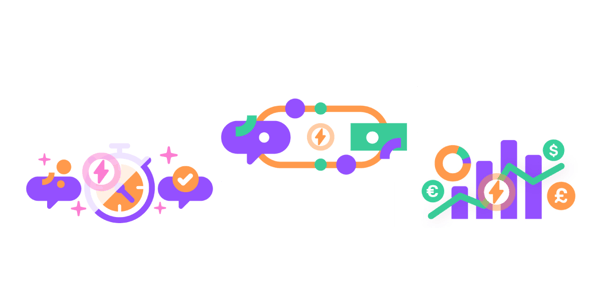 7. Power up your customer service


With increased website traffic, support inquiries regarding your promotions, delivery times, and returns etc. are bound to go through the roof. Providing your customer service team with the right tools will ensure your site is ready for the sales season rush.
Your support channels are important touch points throughout the customer purchasing journey. And as mentioned previously, they're excellent opportunities to increase basket size, upsell or cross-sell, and reduce shopping cart abandonment.
Take live chat for instance - when automated and targeted correctly, it not only provides customers with proactive real-time support but can help boost conversation rates and maximise online sales. Power up your eCommerce customer service in time for holiday sales with these four tips:
1. Prepare canned responses to speed up customer service
You're likely to get a lot of the same questions during peak sale times. Creating canned responses speeds up response times and also keeps your brand communication consistent helping maintain your tone of voice and avoid things like typos! If you have an FAQ page, this can help form the basis of your canned responses.
2. Provide co-browsing for agent-customer collaboration
Cobrowsing enables chat agents to support customers in a collaborative way when they need it the most. It allows your customer service team to view your visitor's browser in real-time, helping them find information, fill-out forms and complete their online purchases. This is a sure way to provide hands-on customer care in an online setting and reduce resolution times during your most hectic season.


3. Be strategic about your live chat placement
Not all online shoppers are going to need assistance, and they certainly won't need it on every single page of your website. Don't waste your valuable time or resources on customers that don't necessarily require help. By setting manual rules or using AI to target your messages, you can provide support for the website visitors that need it and step up your live chat game for the holiday season.
4. Use chatbots to automate support
Using chatbots as your first line of support will increase your efficiency and ability to serve more customers with fewer resources. In fact, the best chatbots can handle up to 80% of all your customer interactions and will only transfer to a live agent when human assistance is absolutely necessary. What's more, chatbots can also help to drive conversions by using targeted messaging i.e. providing relevant discount codes, promotions or product recommendations.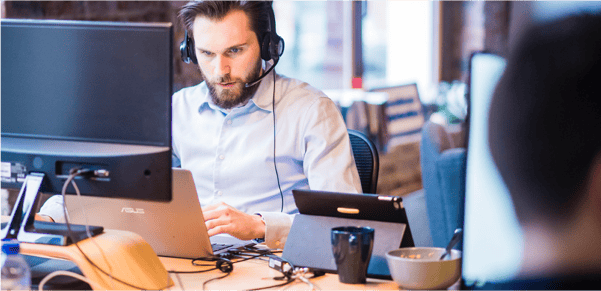 8. Automate peak season FAQs
During peak season sales, delivery times or promotion terms are likely to vary. So, instead of creating a completely separate page for your frequently asked questions (and customers having to find their way to it), try publishing a dedicated FAQ bot.
Building an FAQ bot makes targeting visitors that require help possible. It allows your visitors to self-serve and the ability to get answers immediately when they need it. FAQ bots also provide support outside of your working hours, 24/7 (when your well-deserved customer service team is asleep).
On the other hand, during service hours, FAQ bots free up support team's time and resources. This is in line with our previous point, that highlighted using chatbots to power up your customer service to improve response times.
Furthermore, peak season campaigns like for Black Friday or Valentine's day, will often drive completely new visitors to your site. Typically they'll be in the beginning of their customer journey researching, and may not have purchased from you before. So consider covering the following areas in your FAQ bot:
Delivery charges or times
Payment methods
Product availability
Promotion running times
Promotion terms and conditions
Returns and refunds
FAQ bots educate novice shoppers about your checkout journey and reassure them that it's safe and secure to make a purchase - in turn helping your campaigns conversion rate!
9. Think Mobile first


Over the past decade, mobile usage has grown significantly and the share of mobile commerce or "m-commerce" in all eCommerce is expected to rise to over 71% by the year 2021.
This can be accredited to the quick adoption of new smart devices and an ever-growing screen size that makes browsing and purchasing online easy.
Long gone are the days of just buying on desktop - many consumers now complete their entire customer journey via mobile. Even today, consumers who buy on desktop will first research products on mobile.
Clearly, not optimising your eCommerce website for mobile can cost online retailers loss of market share!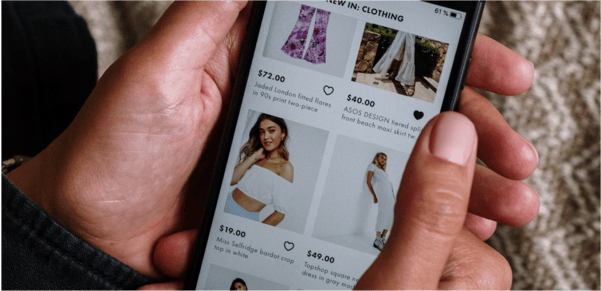 For your peak sales season eCommerce strategy, it's worth thinking mobile first not just in terms of marketing and sales, but customer service as well.
Mobile devices now account for over half of the time spent on the internet and a 53% share of all web traffic. That's why it's crucial to shape your customer journey accordingly. Consider the following, when optimising for mobile:

Create your own mobile app
With increased mobile consumption, developing a mobile app is naturally the next step for eCommerce businesses - about 66% of consumers report using shopping apps on a monthly basis.
The benefit of apps lies in not only better engagement and interactivity, but an increase in conversion rates via push notifications. These enable you to push out new product releases and offers directly to your customer's phone.
But if you're already on the m-commerce bandwagon, think about improving the user experience further - do you offer live chat in-app? Can customers make in-app purchases or is your app linked to your website?
Integrate instant messaging apps

89% of consumers use messaging apps each month. Offering support and even up-selling via messaging apps could be the best way to reach your target audience and grow revenue.
For a seamless experience and efficiency, make sure you're able to integrate messaging apps like Facebook Messenger, WhatsApp, or Viber into your existing platforms, before actually implementing more channels into your mix.
Social media ads

Fun fact - 89% of consumers also report using social media apps each month! When creating your holiday campaigns, ensure that your media placement is optimised for mobile.
Also, when driving traffic from social media, don't neglect your campaign landing page. Optimise it for a mobile-friendly experience, when a visitor continues on your site after clicking to your ads.
Optimise your interactions
Finally, whether it's your pop-ups, chatbots, banners, and live chat windows make sure that they don't intrude your visitor's mobile experience. It's simple but super important.
Sometimes certain interactions work better on desktop than mobile, so either create responsive interactions or consider creating different versions for each device.
10. Meaningful data
Data has become the new gold and is absolutely vital for eCommerce businesses to improve marketing ROI and determine the success of their peak sales season campaigns - we can't stress this enough (clearly, since it's involved in every single one of our ten tips thus far)!
From analysing last year's successes and personalisation, to A/B testing and optimising your eCommerce strategy - data is the common denominator. But for it to have any kind of value, data should be examined throughout the entire lifecycle of your campaigns.
Thankfully today, data can be viewed in real-time in almost all analytics tools. Real-time analytics offers online retailers actionable insights that provide accurate, timely and effective decision making. Leveraging real-time data will enable you to refine your holiday marketing strategy and enhance your online sales efforts accordingly.
With the unprecedented start to 2020, potentially changing purchasing behaviour for good, data has become all the more valuable. As consumers develop their digital shopping habits, eTailers need to stay up-to-date about how this change is impacting their online business and the way their customers consume!
When deciding which metrics and data you want to follow, first start by considering your goals. Focus on the end goal and look into what metrics should be measured and which KPIs should be tracked. Think about the different data that influences and affects your goal both indirectly and directly.
Let's take a sales-oriented live chat as an example. If your goal is to increase conversion rate on your eCommerce website using live chat, some factors to keep in mind that can affect conversions are:
Traffic - your visitor amounts and visitor times
A good bench mark is that 0,5% of all website visitors chat or interact with you. Also, look at the timing of your traffic - when are your visitors visiting your pages?
Autosuggest conversion

Different kinds of autosuggest have a significant effect on what kind of conversations you get - proactivity also increases the amount of contacts.



Response times

How quickly are you able to respond to your customers? Quick and efficient service helps improve your overall customer experience and reduce shopping cart abandonment - A happy customer is more likely to buy and up to 78% customers will bail on a transaction after a poor customer experience.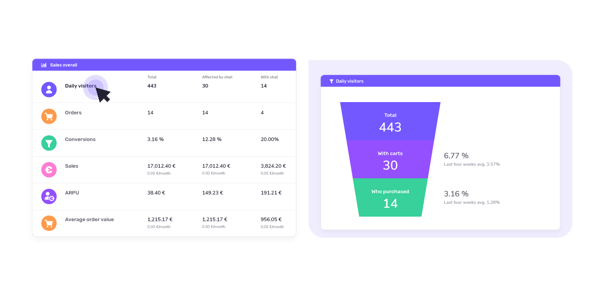 Finally, even with all the data in the world if you can't make sense of it, it's essentially worthless. That's where unified dashboards and data visualisation come in handy, by displaying your data in a simple and actionable way, it allows you to take out what is meaningful and useful to your business. So throughout the highest sales period, make sure you have the right tools in place in order to be able to analyse your data.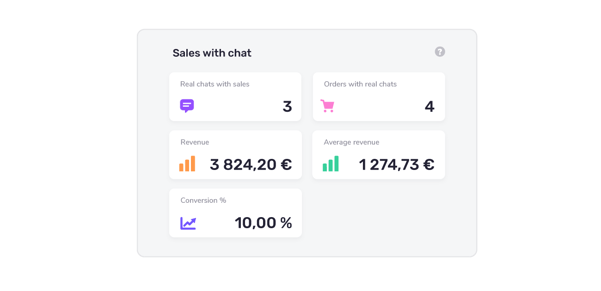 Time to act
Over 60% of global consumers have changed their shopping behaviour since the start of the pandemic. With decades of development taking place in just a few days, the global situation continues to shift consumer behaviour in an unprecedented way.
During this short space of time, eCommerce has seen an increase in deliveries with an estimated 10 years of online deliveries in just 8 weeks.
As the holiday season approaches, we want to help you optimise your eCommerce website for the most hectic time of the year. We hope these tips give you new ideas on how to succeed in the new normal, tools to get ahead of your competitors, and actionable insights to build your 2020 holiday eCommerce strategy.
If you've enjoyed reading this guide and would like support implementing any of the solutions mentioned, book a demo with our eCommerce expert.