Conversational marketing is helping companies grow their businesses by providing a way of communicating with customers and prospects through customised interactions.
At giosg, we have the pleasure of helping a variety of businesses implement conversational marketing practices. Some of them have introduced chatbots on their sites, while others have seen live chat as the best option to improve their performance.
We've put together a few examples of how our customers have used conversational marketing to increase conversion rates, qualify leads, launch new services, or enhance the customer experience – all achieving excellent results.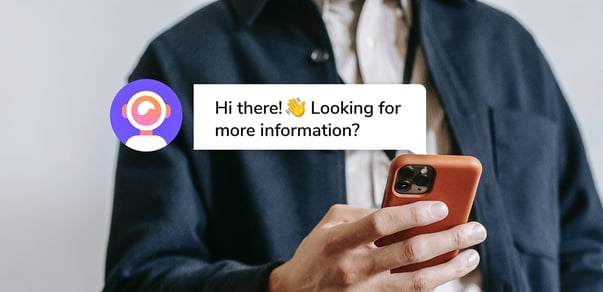 1. DNA automates chat conversations with a button-based bot
DNA, one of the leading Finnish telecom service providers, wanted to improve their corporate customer self-service and how people were using it.
To enhance their live chat channel, DNA decided to automate their online customer service and their current chat service by implementing a button-based chatbot into their existing chat window.
With the button bot, DNA customers are able to help themselves when they have questions, without needing to ask for assistance from a live agent. Based on DNA's text analytics and enriched with data gathered from previous live chat conversations, the button options provided by the chatbot guide users forward in the Q&A conversation.
Taking the button-based chatbot into use and enabling customers to self-serve has decreased DNA's live chat conversations by 58% in just one month of launching the chatbot.
The DNA customers who have used the new service with a button bot and a live chat have been highly satisfied, with 96,3% of people describing their service experience as positive.


2. Connells increases conversion rate from 8% to 30% with live chat
Connells Group, one of the largest estate agency and property service providers in the UK, was in search of new ways to generate more leads and sales from its various websites.
To encourage more valuation bookings, they needed a better way than filling in a form or making a phone call for their customers to reach out.
After adding giosg Live Chat to a number of their brand websites and taking a conversational approach, Connells saw a sudden and significant increase in property valuation bookings.
By implementing systematic training for their agents and working with giosg to create customised chat features, Connells was able to boost their conversion rate of chat to property valuation from 8% to 30%.



3. Suomalainen Kirjakauppa launches audiobook and ebook service with chatbot
Suomalainen Kirjakauppa (in English, Finnish bookstore), Finland's largest bookstore chain, launched their new audiobook and ebook service using a chatbot.
They kicked off the service using ready-made chatbot templates and equipped the bot with frequently asked questions. Because it's easy to manage, they are able to modify and update the bot according to their needs.
Placed on the bookstore's audiobook and ebook service site, the conversational bot is offering assistance to customers who are interested in activating this service or need to modify their current subscription.
The online bookstore's chatbot has proven to be an efficient and cost-effective way to launch a new service. Each month, about 5% of the website's thousands of visitors use the chatbot, and the number of users is growing steadily. After launching their conversational service, during the first three months, the use of the chatbot increased by 26%.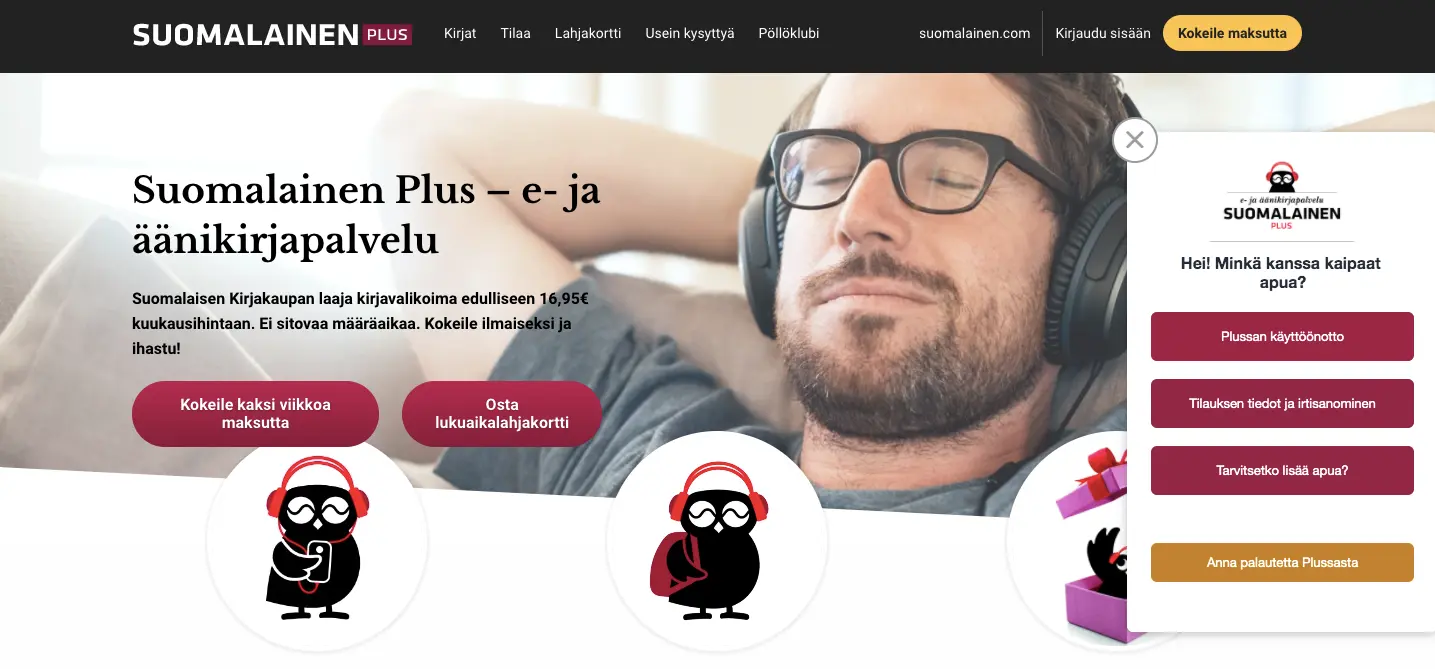 4. Staples enhances the check-out process with conversational pop-ups
Staples, the leading provider of workplace products, services, and solutions to small, mid-sized, and large businesses, had an urgent need to improve their online store customer experience.
To make their purchasing process smoother, they needed to improve the navigation of their eCommerce website, and better assist customers with their online purchases.
On top of the search function of the online store, one of the challenges was the checkout process that required customers to submit a product reference number in a field that went easily unnoticed.
With giosg, Staples was able to create informative customised pop-ups to help their visitors find their way around the website and make the check-out process smoother.
All this led to fewer questions to customer service and helped their agents save time and focus on more complex inquiries.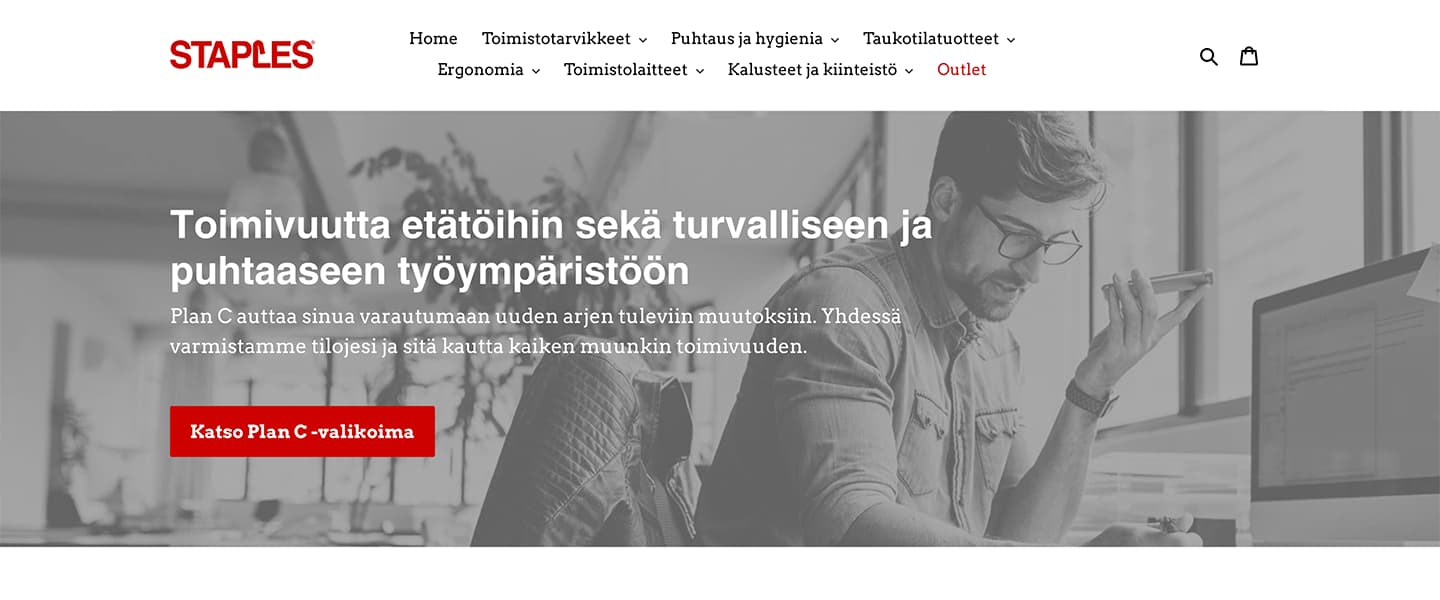 5. Riddermark Bil takes purchasing cars online with live chat
Riddermark Bil, one of Sweden's largest car dealers, needed to find a solution that would enable their sales representatives to easily start conversations with their customers online.
With more than 100 000 website visitors every month, there was also a need to identify, engage and support these visitors at every stage of the buying journey.
Providing giosg Live Chat on both their website and third-party sites such as Bilweb helped them solve this challenge. Sales teams are now able to start chat conversations with their target audience in real-time, and also approach visitors with personalised, targeted messages at the right time.
The new chat solution had a positive impact on both sales results and customer engagement. With dedicated chat agents who can deliver meaningful and relevant information at the right moment, Riddermark is able to successfully sell over 30 cars through live chat every month.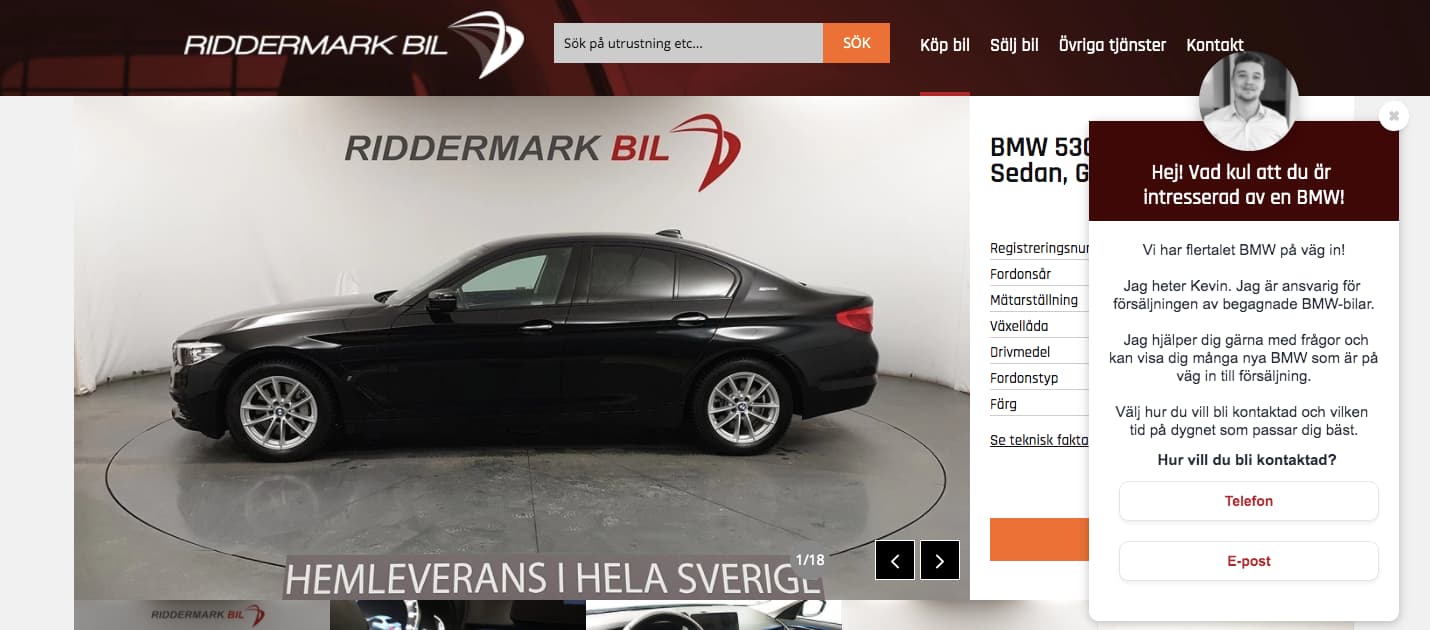 6. Yliopiston Apteekki grows digital sales by 10X with chat
Yliopiston Apteekki (The University Pharmacy), known for leading the way with their digital customer service, wanted to develop their online store further to offer the same level of personalised service online as they do in their brick-and-mortar stores.
To achieve this, Yliopiston Apteekki decided to incorporate a live chat solution for serving customers and providing one-on-one medical advice online. They needed a solution that could be easily integrated into their online store to ensure a seamless service and became users of giosg Live Chat.
Being able to offer targeted digital interactions to the right visitors and route chat conversations to the right experts helps the pharmacy to provide a better online customer experience.
All this has led to excellent sales results, with digital sales channels growing more than tenfold, and the cyber-secure chat software playing an important role in achieving this growth.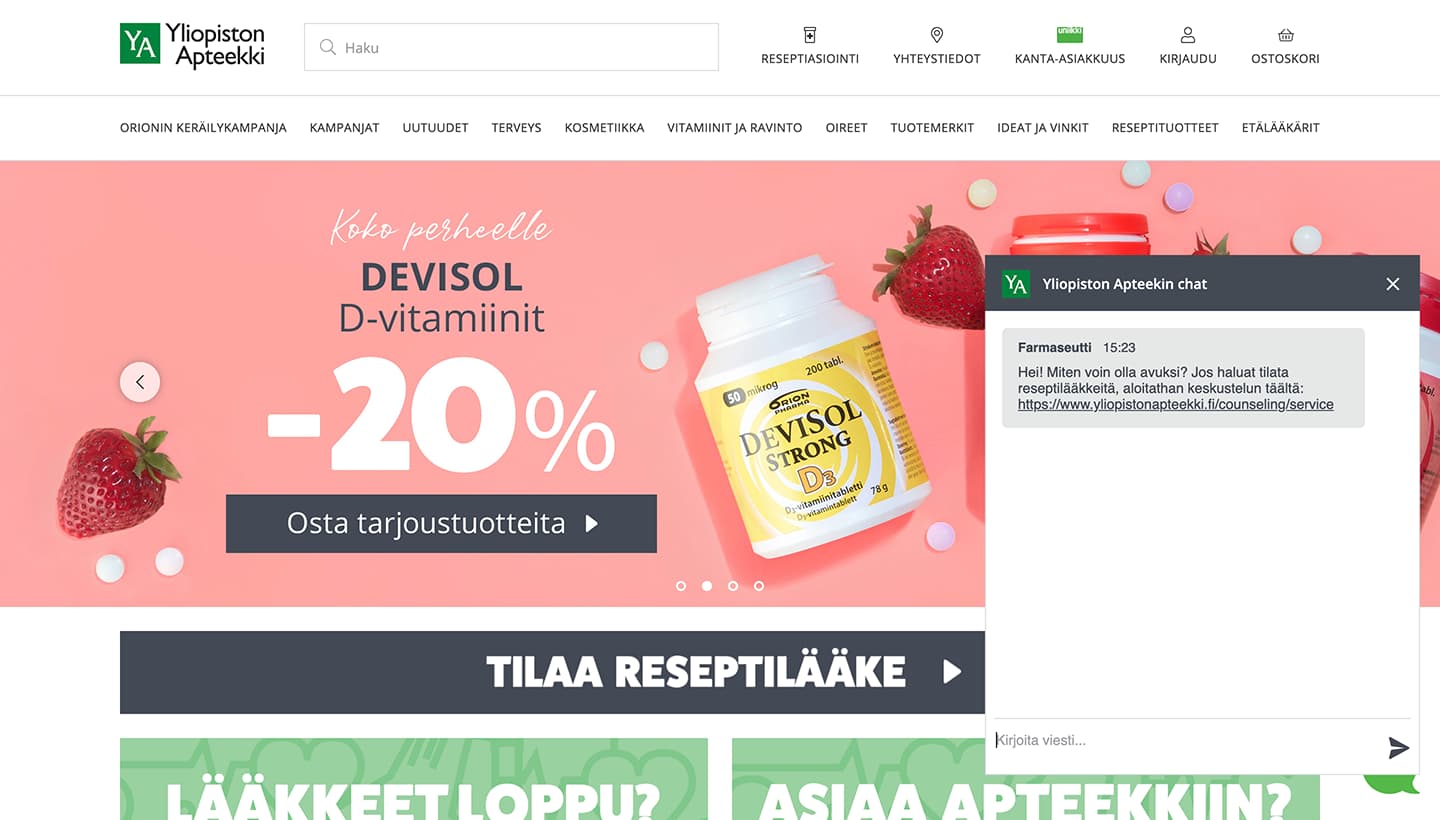 7. Asuntoyhtymä gets 300 new leads with property portal bot
Finnish housing investment company Asuntoyhtymä builds and rents new homes wanted to better reach their customers and be present where they spend their time online.
The company decided to take a bot into use and implement it onto two different property portals, providing people who're looking for a new home with an easy way to reach out.
Offering this new way for their potential home buyers and sellers to communicate with them has not only triggered positive feedback for the quick service the company is able to provide but has also generated 300 new leads in just three months.
So there you have it - 7 of our top conversational marketing examples, from real estate to eCommerce. If you're ready to get started and put what you've learned about conversational marketing into practice, make sure to make demo request to know more about our products.