What is shoppertainment? Well, I'm sure you can guess the formula for it. Shopping + entertainment.

At this point in time, if your e-commerce shop isn't doing anything extra to stand out, it's at best a bit bland, and at worst detrimental to sales.

Shoppertainment combats both.
If you've been hearing the buzz of shoppertainment in e-commerce, it's time to lean in and embrace this here-to-stay trend.

In this blog post we'll cover: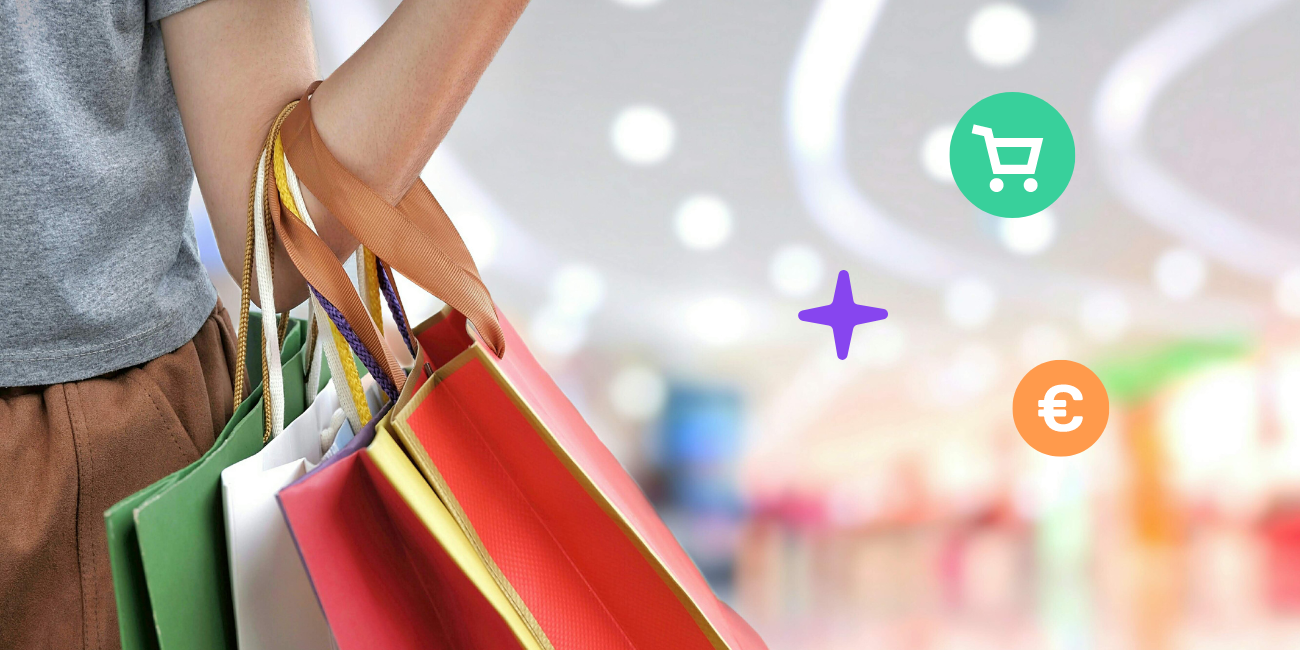 What is shoppertainment?
If you were to time travel back to 2002 and try to dissect the topic of shoppertainment, you'd probably discover tips on hiring the most dazzling sign twirler or where to find a brand mascot for a memorial day sale in your shop.

Needless to say, that's not the type of entertainment that helps e-commerce shops today. Times have changed.
Shoppertainment today primarily refers to the experience online. It's the act of making your website more entertaining for online shoppers.

So, what does shoppertainment mean in 2022? Shoppertainment is the blending of e-commerce and entertainment to help engage customers and promote sales.
The foundation of shoppertainment is consumer participation.

Most often shoppertainment can be in the form of "interactive content, hosting live events, [or] offering unique experiences that cannot be found elsewhere," according to e-commerce CEO Wolfe Bowart of Vivi Pins.
Where did shoppertainment begin?
This specific term "shoppertainment" first started making rounds in e-commerce conversations around 2019.

Southeast Asian e-commerce giant, Lazada, coined the term as they reinvented online shopping with their focus on livestream events, interactive features, and games.
They've been trailblazers in the shoppertainment trend and have truly leaned into the customer's desire to "see now, buy now."

Lazada has set the tone for other e-commerce businesses across the globe as they demonstrated it's possible to entertain millions with shoppertainment events and convert that excitement into sales.
What does shoppertainment mean for e-commerce?
So, if you're not as big as the huge e-commerce platforms like Alibaba and Lazada, do you already scratch off shoppertainment from the vision board? Not at all!

E-commerce shops of any size can hone in on a shoppertainment strategy to boost brand engagement, awareness, and sales.

Retail expert, Jessica Kats of Soxy, says that when you create interactive and useful experiences for customers, you're strengthening your overall marketing strategy. She's personally witnessed an increase in her webshop's sales, customer satisfaction, and customer thanks to shoppertainment.

And until shoppertainment becomes the complete norm for all online shops, for now, it's a key way to stand out from the competition.

Let's dive into how to incorporate shoppertainment into your e-commerce strategy.
How to bring shoppertainment to your webshop
First, allow us to reassure you that shoppertainment doesn't have to be a grand production with a host, fireworks, and a DJ. Most often, shoppertainment takes a much smaller scale on your website.

Keep in mind the goal is to create engaging and enjoyable experiences for your online customers.

Wolfe Bowart gave us a simple framework for embracing shoppertainment for your webshop:

"First, it is important to ensure that your shoppertainment offerings are relevant to your brand and target audience.

Second, ensure that your shoppertainment elements are well designed and executed to provide a positive customer experience.

Finally, track the performance of your shoppertainment initiatives so that you can continue to improve and refine your offerings over time."

But what type of shoppertainment elements can you offer on your website? Here's a short list, but we'll give you some of our favourite, more-detailed examples further down.
Interactive shoppable videos
Spin-the-wheel prize games
Livestream shopping
Trivia & quizzes
Augmented reality elements
Contests
Examples of shoppertainment in e-commerce
Lazada Livestreaming for shoppertainment
As mentioned earlier, one of the pioneers of shopppertainment, Lazada takes on this trend full force.

They regularly host live video shopping events within the app where users can interact in real-time with the sellers and other viewers. Viewers can instantly buy what they see the hosts demonstrating.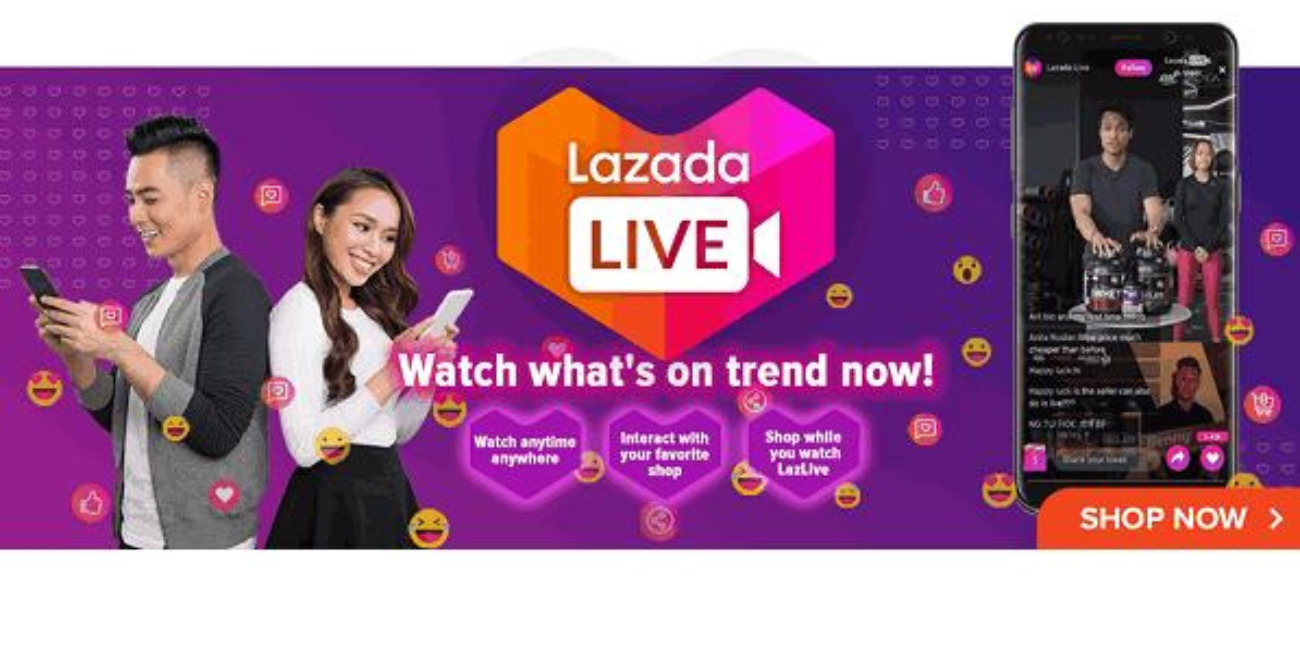 Customers also participate for the thrill of snagging exclusive deals and insights into must-have products.

Of course, Lazada has a larger production budget than the average e-commerce store, but you can still try out live commerce strategies by connecting Facebook or YouTube livestream to your website.

Testing out one of these channels first would be a great way to get your feet wet and see how your target audience receives livestream campaigns before you invest deeper into the production.
Shoppable videos for shoppertainment
Shoppable videos are a great alternative to livestream shopping events. These are interactive videos you can promote on your website.

This type of video is engaging and a great way to show your products in action.

With shoppable videos, viewers can watch the video and then instantly click to learn more about a product as soon as they are inspired.

You can use feature your current video resources for shoppable videos or even user-generated videos to show customer feedback.

You can decide what type of video is most entertaining and informative for your audience.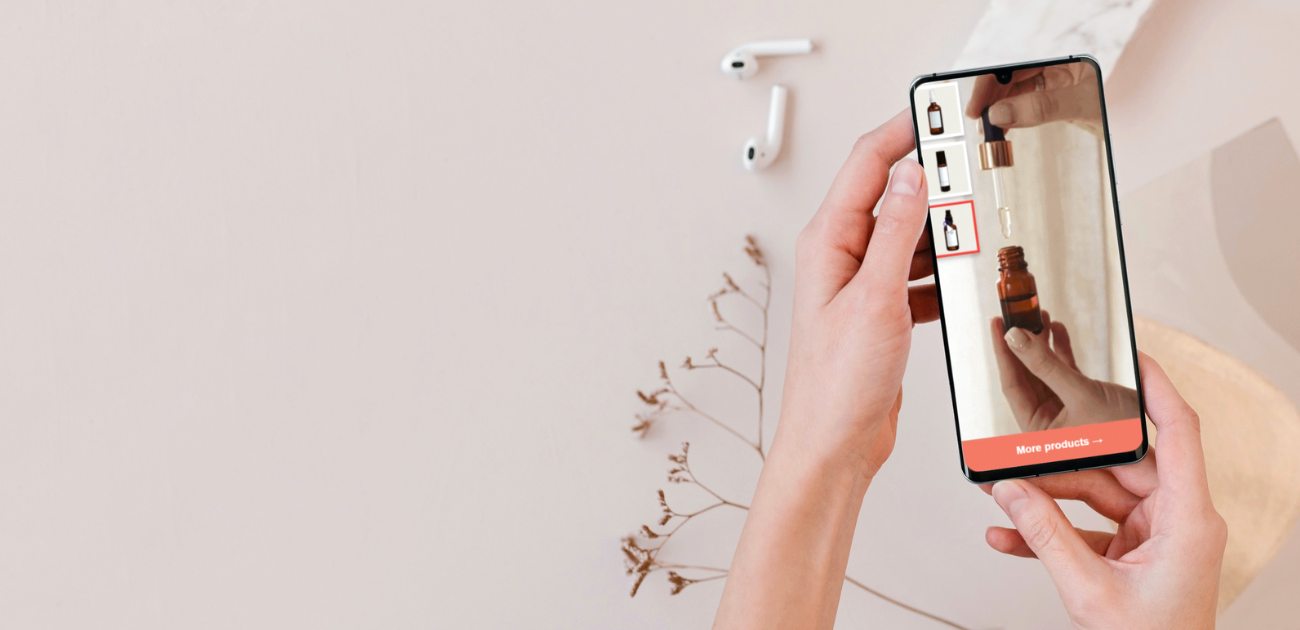 Gamification for shoppertainment
Gamification marketing covers a wide range of interactive elements on your website. The definition of gamification is bringing game-like features to typically non-game environments, like your e-commerce store.

Consumers love the idea of a game and the prospect of winning a prize or beating out a previous score. So, key into this to entertain customers on your website.

You could do a spin-the-wheel prize game.

You could create a fun quiz that helps customers choose the product that best fits their needs.

You could make a memory game where users need to match the correct images to win.

Remember, with these types of games, you have to make it worth it. So consider how you market it.
Is it by tempting the customer to beat the record-high score?
Is it to reveal something about their personality?
Is it to flat out win a prize or discount?

What's next for shoppertainment?
Shoppertainment is still only in its growing phase in the west, but if we want to take a peek at what's to come, we can look towards Asia.

Along with livestream shopping events, shoppertainment has also evolved into virtual reality events too.

To keep up with some of these blossoming trends in e-commerce, download our free Live Commerce Guide here.