There's no doubt that in all businesses, marketers work hard to make their online marketing efforts generate a steady flow of new leads.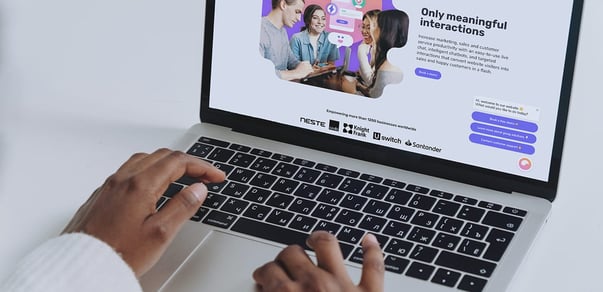 Among other things, they need to be able to provide smooth and personalised customer experiences 24/7, be efficient in gathering data and contact information, and be able to select the most valuable customers to be sent to their sales team.
To avoid missing any of these opportunities, marketing teams are now increasingly replacing static forms on their websites with chatbot strategies.
It's true that chatbots have many qualities that make them a perfect tool for optimising customer experiences and boosting lead generation. And what's best, they can be used for different tasks throughout the customer journey.
We've gathered a list of some of the benefits of using bots for lead generation:
1) Chatbots provide 24/7 lead generation and support
Being available and providing support to your website visitors are some of the things chatbots can help you with. Website visitors really like the fact that chatbots can provide 24/7 service – actually, 64% claim that it's their best feature.
On the other hand, marketers like the fact that chatbots can convert website traffic into sales-qualified leads outside of office hours while supporting customers with their conversational approach.
Let's take FAQ bots, for example, a website visitor enters your website but can't find what they are looking for and turns to the FAQ bot for help.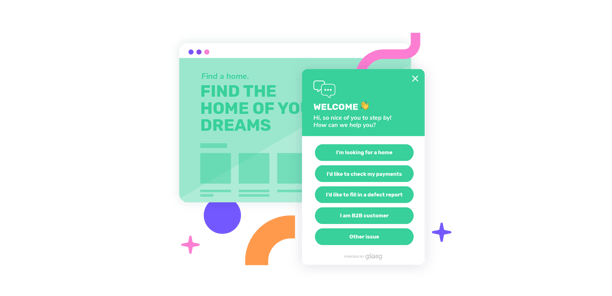 The bot can provide visitors with the option of self-service, answer simple inquiries and guide visitors to the right page. This is important because leads are more likely to convert if they are able to find answers to their questions.
The bot can also be designed to collect customer information so that your sales team can contact them later regarding a specific question or topic. Alternatively, during office hours, the bot can send high-intent leads directly to a live person in chat for faster conversions.
For a smooth experience, the bot should be easy to find on the site, clearly visible and actively encouraging visitors to ask questions.
2) Chatbots increase conversions by promoting your lead magnets
Lead magnets are one of the best ways to increase top of the funnel conversions. This includes gated content and materials are available on your website that the website visitor gets access to in exchange for their email address or other contact information.
You can turn your expertise into attractive lead magnets like guides or white papers that your visitors can download improving your lead capture in the awareness stage.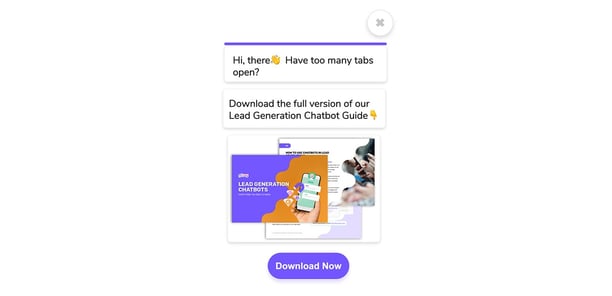 Newsletter sign-ups and webinars are great for content further down the marketing funnel to educate and connect with your audience.
Instead of static forms, you can use your chatbot to promote all of your lead magnets and reach the right audience.

Target your promotions based on visitors' past behaviour and the pages they have visited. You can also enable downloading or signing up within the chatbot itself.
Why ditch static forms for chatbots? Using interactive content such as chatbots to promote newsletters can increase subscriptions by 4X.
3) Chatbots gather data and contact information
Static forms tend to have high abandonment rates, even 81% of people abandon online forms after starting to fill them out. The more fields there are, the more likely people are to abandon the form.
With chatbots, it's possible to break long forms into multiple views and gather data step by step. When you break down the information collected into a series of conversations your visitors won't be overwhelmed with an abundance of questions.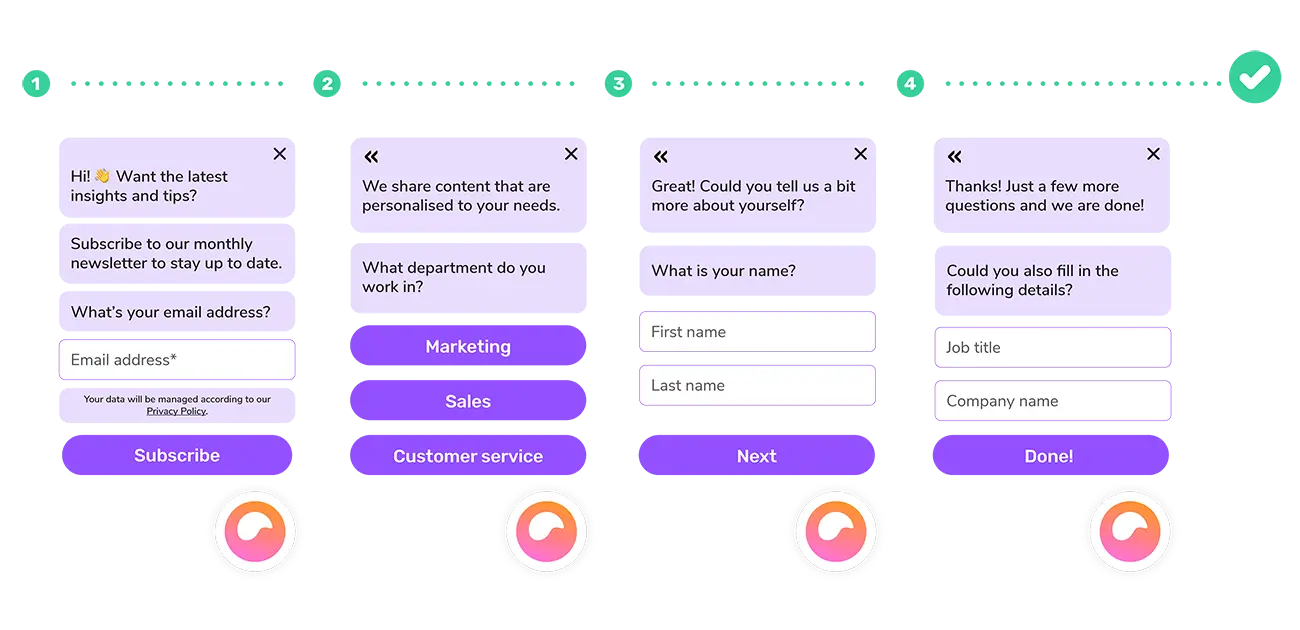 To improve your conversions, always start with asking the most important questions first.
This kind of multi-step converting makes collecting lead information smoother and can improve both lead quality and conversion rates. It can generate even 4x more leads than using static forms.
4) Chatbots qualify your leads better
Chatbots can effectively qualify leads by asking relevant questions from your website visitors.
These questions should be based on your business goals and your definition of a good lead or an ideal customer profile. This way, you can guarantee only the best leads get sent to your sales team.
Chatbots can validate your customer's needs with automated questions and answers that are adjusted according to your marketing funnel.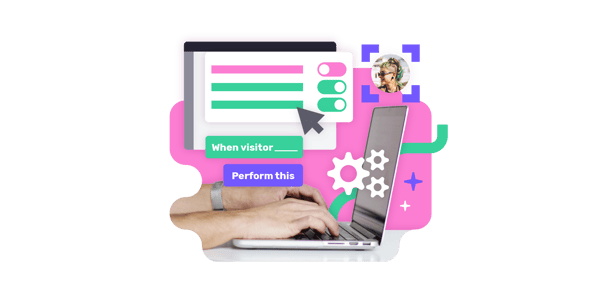 This way, you can be sure you are gathering the right data at each stage of the customer journey, whether it's just the email at the top of the funnel or more specific data further down the funnel.
With their modifiable questions, chatbots can easily find out if the customer is interested in buying or able to buy your product or service, and if there are any obstacles on the way.
After they have identified a high-intent lead, chatbots can offer to book a demo, meeting or start a free trial.
5) Chatbots help personalise your customer experience
Personalising customer experiences on your website is all about delivering relevant information effectively to the right visitor at the right time.
With personalised interactions, your chatbots can meet your visitor's requirements and needs to help make them feel valued when connecting with your business.
When having a conversation with the customer, your chatbot should ask relevant questions about topics that interest the customer. The questions should be based on the data you have collected on them earlier.
Automatically target your chatbot using information related to your customer's previous behaviour and buying habits on your website.
You can, for example, trigger your chatbot with a targeted proactive message when visitors arrive from a specific URL from your paid search campaign. Or you can activate the bot to offer a discount on a purchase to a returning customer.
Convinced? Get practical tips on using chatbots for lead generation
If you want to dive deeper into the world of chatbots for lead generation, download our ultimate guide to lead generation chatbots.