Choosing a chatbot is an investment and as a marketer, it's important that you make sure you get the most out of it to see an improvement in your marketing results.
This requires careful consideration and weighing out different alternatives and chatbot solutions. And there are a number of things to take into account when buying a chatbot to support your marketing efforts vs one for your customer service.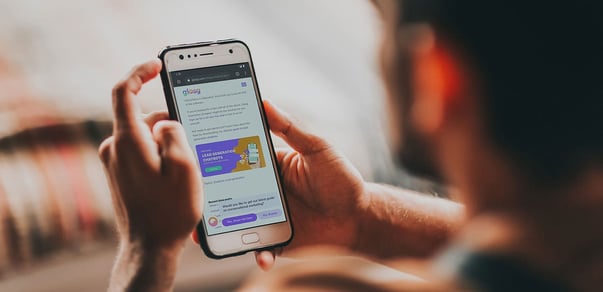 When it comes to chatbots for marketing the main objective of a bot is to generate, convert, nurture and qualify leads.
That's why we've gathered the following list to help you understand the key elements to consider when choosing your marketing chatbot solution:
1. User-friendliness of chatbot software
One of the key features of a chatbot platform especially for marketers is how easy it is to use. With new campaigns and evolving targets, you need to be able to update your chatbot content regularly.
Making changes should be effortless, possible to do on the fly and shouldn't require any specific coding skills or the help of a designer, marketing agency or IT professional.
When deciding which chatbot platform to choose, make sure it's possible to easily make changes and has drag-and-drop functionality, that requires no technical help.

The ability to modify the bot content yourself is important as you won't need to worry about contacting your internal tech team to do it or even the chatbot provider.
In addition, check whether the platform has limitations or whether usage is unlimited. Some providers will have limitations on the number of chatbot views, or amount of lead submissions a bot can receive.
This is important to take into consideration to make sure whatever chatbot platform you choose meets your marketing needs and lead generation objectives.
Consider the following elements when choosing your chatbot platform:
Do you have full control over creating and publishing your chatbot content?
How easy is it to get started and implement the chatbot solution?
Does the chatbot provider have limitations on views or lead submissions?
2. Branding
Brand-related modifications are needed to make your chatbot meet your company's brand guidelines.
As with any marketing tool, you should be able to freely edit your chatbot fonts, colours, images etc. to match your company's look and feel.
Ask these questions from the chatbot provider:
Can your brand colours be easily added to your chatbot?

Is it possible to fetch colours from your website within the tool?

How easy is it to add your brand's font to the chatbot text?

3. Integrations to other systems
To automate your processes and collect real-time data, you'll need your existing CRM system, email, and social media tools to integrate seamlessly into your chatbot.
This way, you'll be able to connect with your customers in their preferred channel and capture your leads directly to your CRM, marketing automation system or email. Integrations also ensure your sales team stays efficient.
One of the benefits of integrating your CRM is that the existing information on a company or contact can help you with qualification and further decisions in your automation flow.
If the platform doesn't have an integration to your existing system available, check whether it is built in a way that makes integrating new systems possible. Does it have open APIs etc.?


4. Personalisation and targeting
Consider what kind of targeting the chatbot platform should offer.
As a marketer, you want to be able to customise your content and website interactions according to your website behaviour – not just show the same thing to all your visitors!
Does the chat platform make it possible to customise the content of your chatbot and conversations according to where the lead is in their buyer journey?
Different tools will have different targeting, but basic targeting should include:
Which page the visitor is on
Where the visitor came from: previous page, campaign URL, or traffic source
The visitor's geographical location
What device the visitor is using i.e. desktop, mobile or tablet
The number of times they have been on your website
You might also want to have flexibility on how your chatbot is shown on your pages.

Sometimes you may want the chatbot to pop up like a chat window or maybe embedded into your page, and other times you want it to trigger with a button click.
This is not possible on all tools but if it is, it's worth checking whether it can be done easily within the tool without coding.


5. Chat routing
Speed to lead is what you as a marketer are of course interested in – the sooner you're able to contact your lead, the higher the conversion rate.
Some leads qualify 100%, and with chat routing, the chatbot can immediately hand them over to your sales team to book a meeting.
Even better if it's possible to do this through a mobile app, you'll be able to hand over leads to your sales team even when they are on the move.
6. Built-in A/B testing
A/B testing capabilities are important to optimise the interactions on your chatbot and improve your conversions.
By running A/B tests you'll be able to gain insight into your website visitors' preferences and filter your target audience. You should be able to test and measure various types of interactions, such as
Auto-suggest messages
Banners, pop-ups & discounts
Forms and chatbots
You should also be able to A/B test the placement of the chatbots, the size of the chatbot, as well as the usage of images and other visual elements.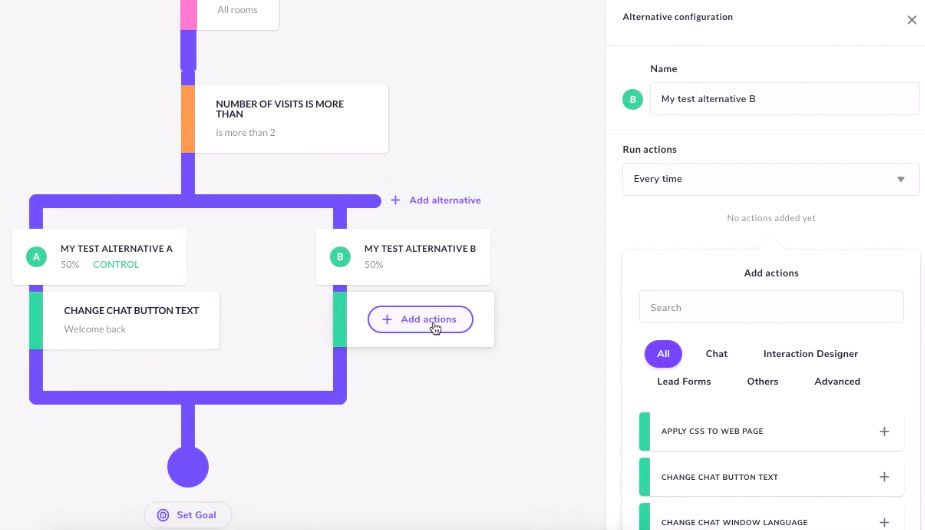 7. Ready-made chatbot templates
As a marketer, your time is your most important resource. Chatbots are notorious for being big IT projects and taking longer to implement. But platforms that provide templates give you a head start, enabling you to publish a chatbot instantly.
Here are some of the types of chatbot templates that you might need in marketing:
FAQ
Product release
Content promotion
Lead generation
Time-limited offers
Newsletter subscription
Ready-made templates are easy and convenient to use, all you need to do is choose the blocks you want to use in your flow and customise the content to match your brand.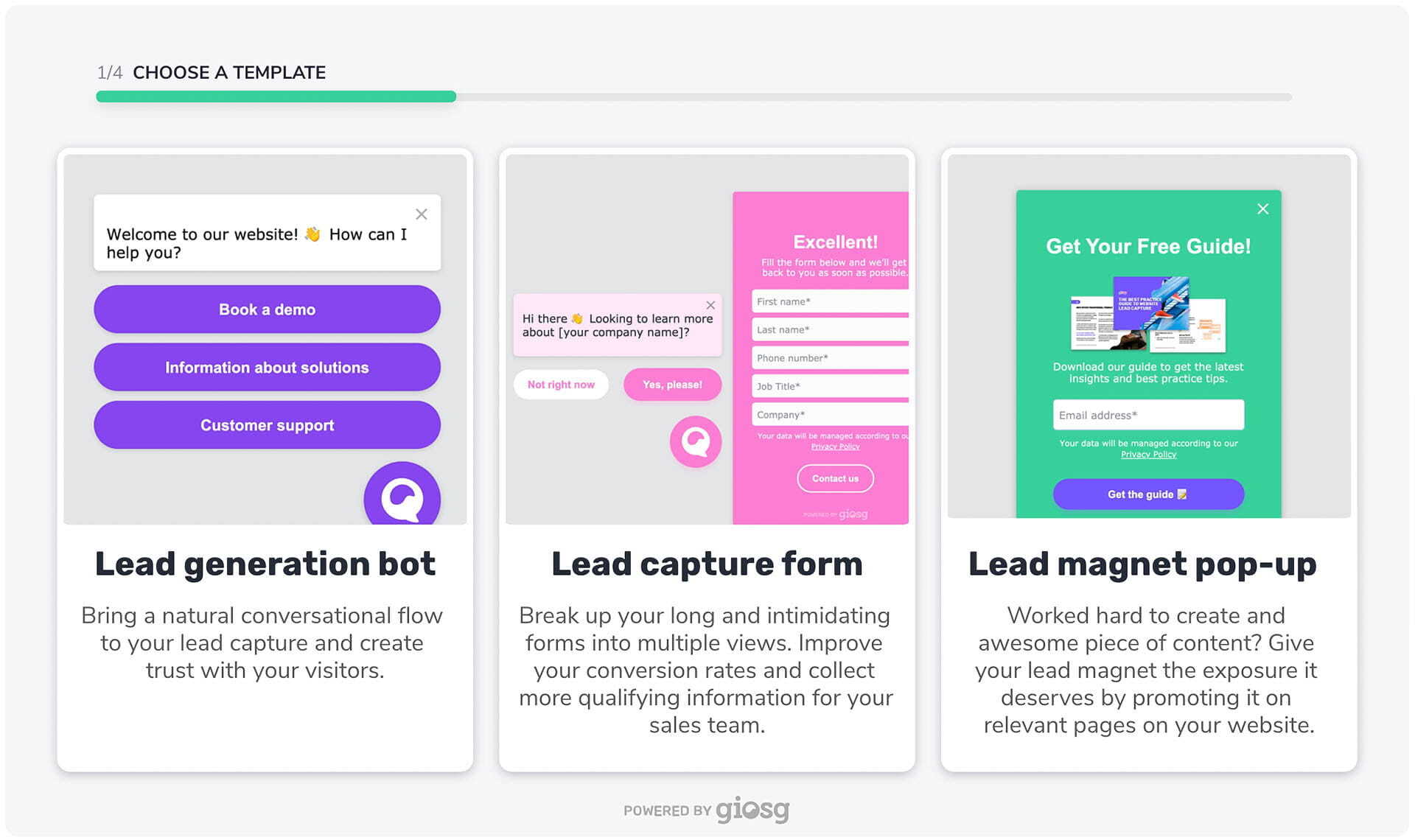 Just change the font type, colours, images and links, add your conversation flow, and you're good to go.
8. Chatbot reporting and analytics
The reporting capabilities of your marketing chatbot solution should enable you to get quick and timely insights into your bot's performance and your website visitors.
Reporting should help you understand your visitors' background, their behaviour and intent, and which types of interactions lead to quicker conversions.
Unlike a static form, a chatbot allows you to keep track of the steps of your flow, how many of your visitors complete giving information and how many abandon the process.
Being aware of the drop-offs helps you to know if some of the questions should be rewritten or if you'd need to change the order of the questions or redesign the whole flow.
Consider the following reporting features when choosing your chatbot:
Is it easy to view chatbot reporting?
Does it provide a visual reporting dashboard?
Does it provide real-time insights?
What information can you get in reporting?
You would need to be able to see real-time insights and get the needed information at least on the following:
Number of views
Button clicks
Number of conversions
And is integration with PPC platforms and analytics tools integrated into the tool? Or will you still need landing pages and thank you pages to measure performance?
Reporting should also show how your workflows perform against the goals you've set. You should be able to see the value that the chatbot brings to your business - conversion rates, sales and order value, and webshop pipeline.
9. Onboarding and support

You can save yourself some time by getting started with ready-made templates, and build your own only when you've seen what works for your business.
Most of the tools are set up so that they are easy to use and don't require constant maintenance from the vendor.
But to be able to launch your campaigns without delay, make sure your vendor is able to react promptly when issues arise.

What to look out for when comparing chatbot vendors:
Is there a live chat service for customer support?
Is there a

support page

or FAQ page?
Do they offer guides, webinars, video or other supporting content?


Multi-purpose tool or a one-hit-wonder?
Most chatbot tools are just that, chatbot software. But what if you could create more diverse content within the same platform?
From lead generation bots and multistep forms to interactive pop-ups and seasonal campaign banners, as a marketer getting an all-in-one tool for creating interactions is imperative.

And multi-use is key for the ROI of your software.
If you're looking for a tool with all of the above, Giosg Interaction Designer might be the solution for you. Sign-up for a 30-day free trial to test it out for yourself.