Live commerce, live shopping, live streaming, live chat... have you heard of some of these terms already in the e-commerce realm?
If you can't already tell, live tools are the trending topic. Businesses have latched on to live solutions to help take their sales to the next level and get ahead of the competition.
We'll introduce you to the exciting trend of live commerce and the top trends you don't want to miss in 2023.
What is live commerce
Benefits
Top live commerce trends in 2023
How to get started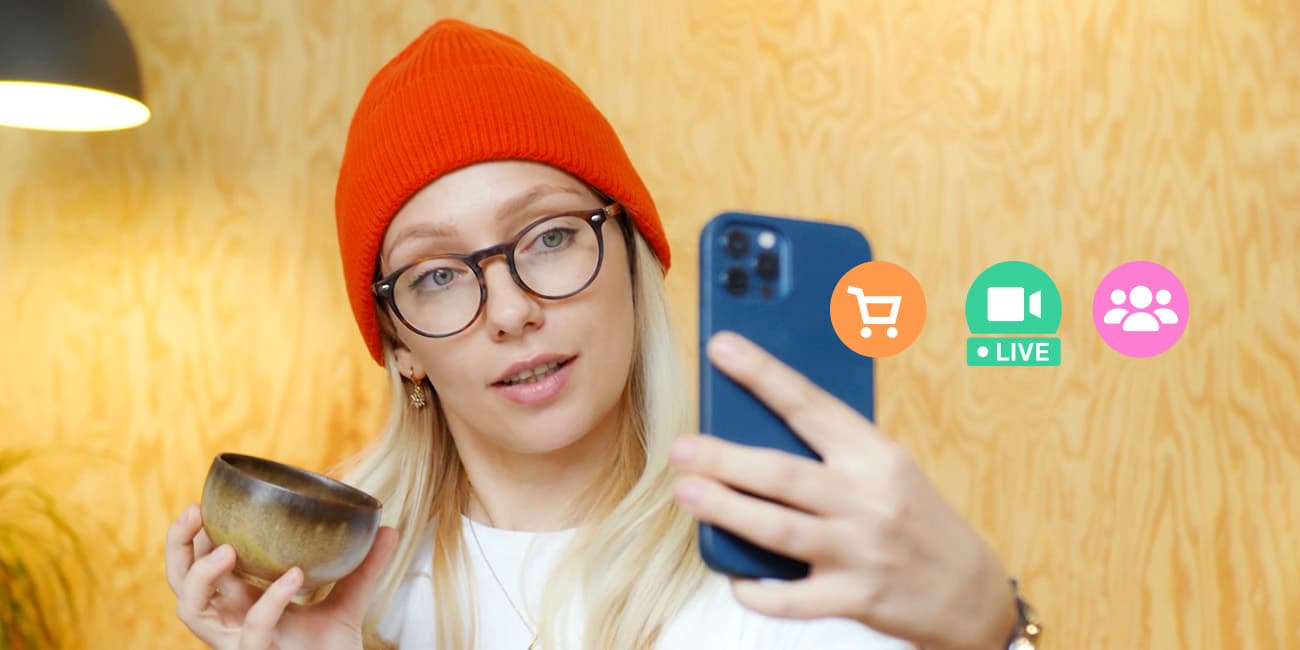 What is live commerce?
So, what is live commerce? Well, it takes e-commerce just a couple of extra steps forward.
Live commerce is the act of selling products online through live video shopping platforms and shoppable video while shoppers interact with the brand in real-time.
To make live commerce successful, in most cases you would need certain tools like a live video shopping tool, live chat, and shopping cart integration for the ultimate user experience.
Consumers can watch, talk, and shop all from the comfort of their own home.
Where did live commerce begin?
The live commerce trend caught on like wildfire in China. The leader in so many product innovations has now also pioneered the live commerce trend.
If we rewind back to 2016, we see that the Chinese retail giant Alibaba launched their first live stream shopping event with great success.
And by great success we mean bringing in $7.5 billion in transaction value within the first 30 minutes.
But, could we go back a little further? Does anyone else remember the QVC Home Shopping Network? One could argue the foundations of live shopping were set in the 90s via television home shopping networks such as this.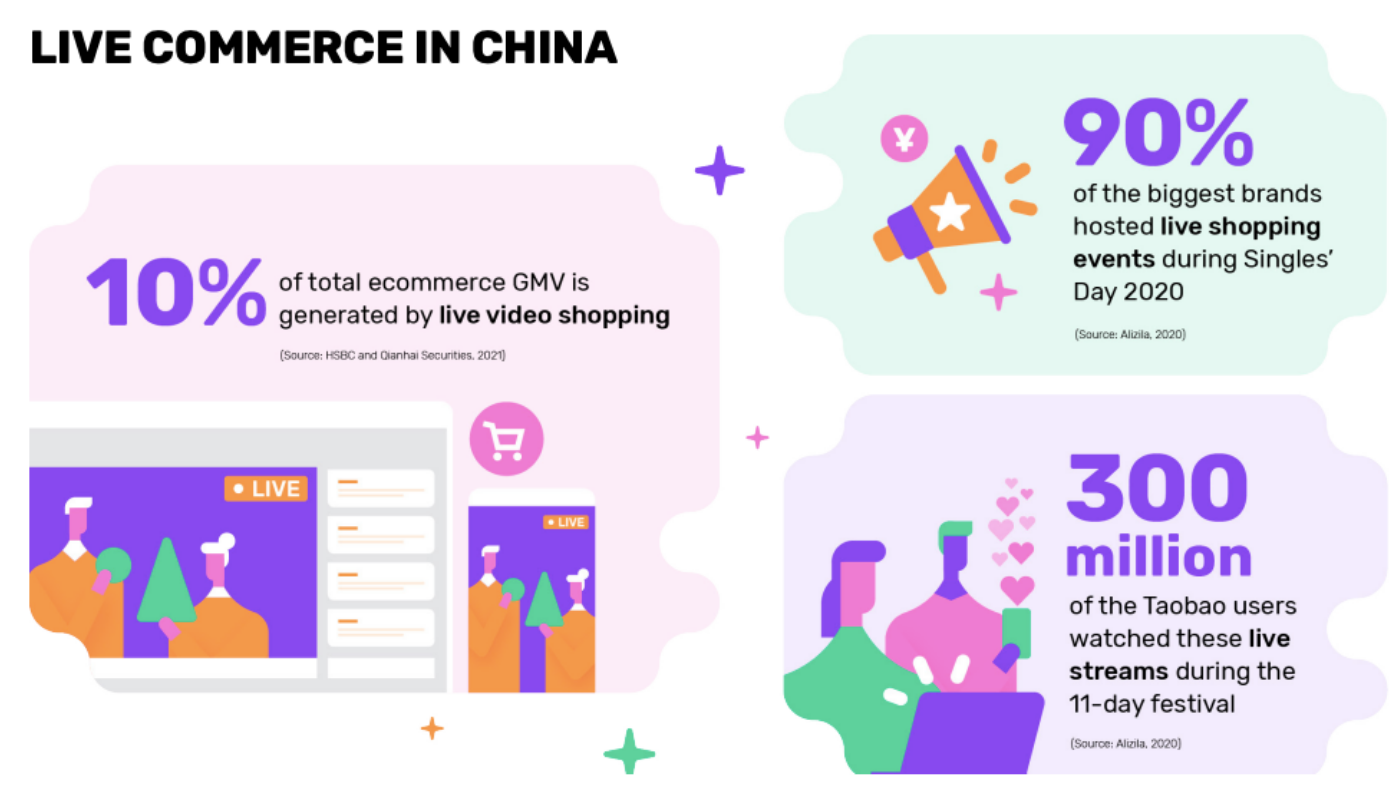 What are the benefits of live commerce?
✅ Live commerce leads to sales acceleration
Live commerce strategies generate sales quicker by exposing products to thousands of viewers in minutes.
✅ Live commerce encourages impulse buying
People may feel more inclined to buy when they are taking part in an exclusive event and fear they may miss out on the limited-time great offers.
✅ Live commerce promotes better engagement
Video content has higher engagement than other forms of content. People are 2x more likely to share videos with their friends than static ads.
✅ Live commerce builds brand awareness
When consumers see the face behind the brand, or beloved influencers using your products, you can bet they'll start recognizing your brand more often.
Top 6 live commerce trends in 2023
1. Live Q&A sessions
Live Q&A sessions are the perfect place to start if you're not sure how to get your live stream event off the ground.
In addition to testing products or sharing style tips in real time, these Q&A sessions allow the host to answer hot questions straight away.
Viewers can ask questions via the live chat discussion, and moderators will help answer and catch all of the questions in the chat.
An instant answer to a burning question can be what convinces the viewer to purchase.
90% of consumers expect immediate responses to sales and marketing questions.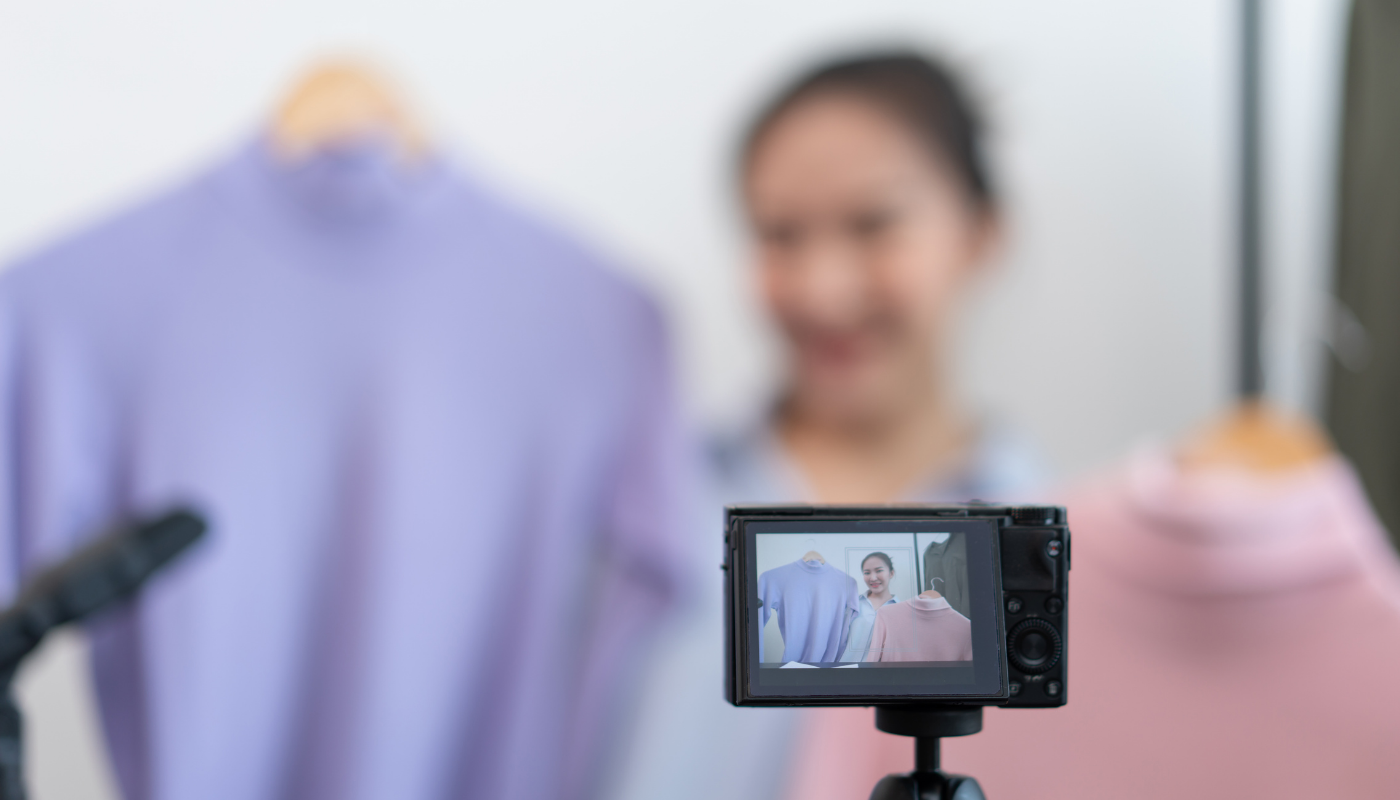 It's not a bad idea to have some scripted questions ready to answer in case you don't have a ton of viewer questions in the live chat.
Here's a cheat sheet for inspiration on what your Q&A sessions can be about. Try:
About the founder
Product of the month highlight
Holiday gift ideas
Style guide for the season
Industry insights
Remember, you should save segments of these live streams as helpful videos to add to different product pages later.
2. Omnichannel live streaming
Honing in on your omnichannel marketing is the best way to ensure customers have a frictionless buying process.
Omnichannel marketing delivers a fully integrated customer experience across all devices and channels. Transparency and consistency are key. Live stream video shopping naturally flows into an omnichannel strategy.
Use these tips to ensure smooth omnichannel live streaming:
Make the live video stream available on YouTube, your own website, and social media
Make the live stream video shareable for viewers
Purchasing within the live event should be easy
Repurpose snippets of video or chat discussions across multiple channels
3. One-to-one live video shopping
You don't always have to make a big production out of your live video interactions.
One-to-one video calls are a great way to create meaningful interactions for online shoppers. This video shopping tool is a great solution for high-consideration purchases.
For example, when selling luxury items.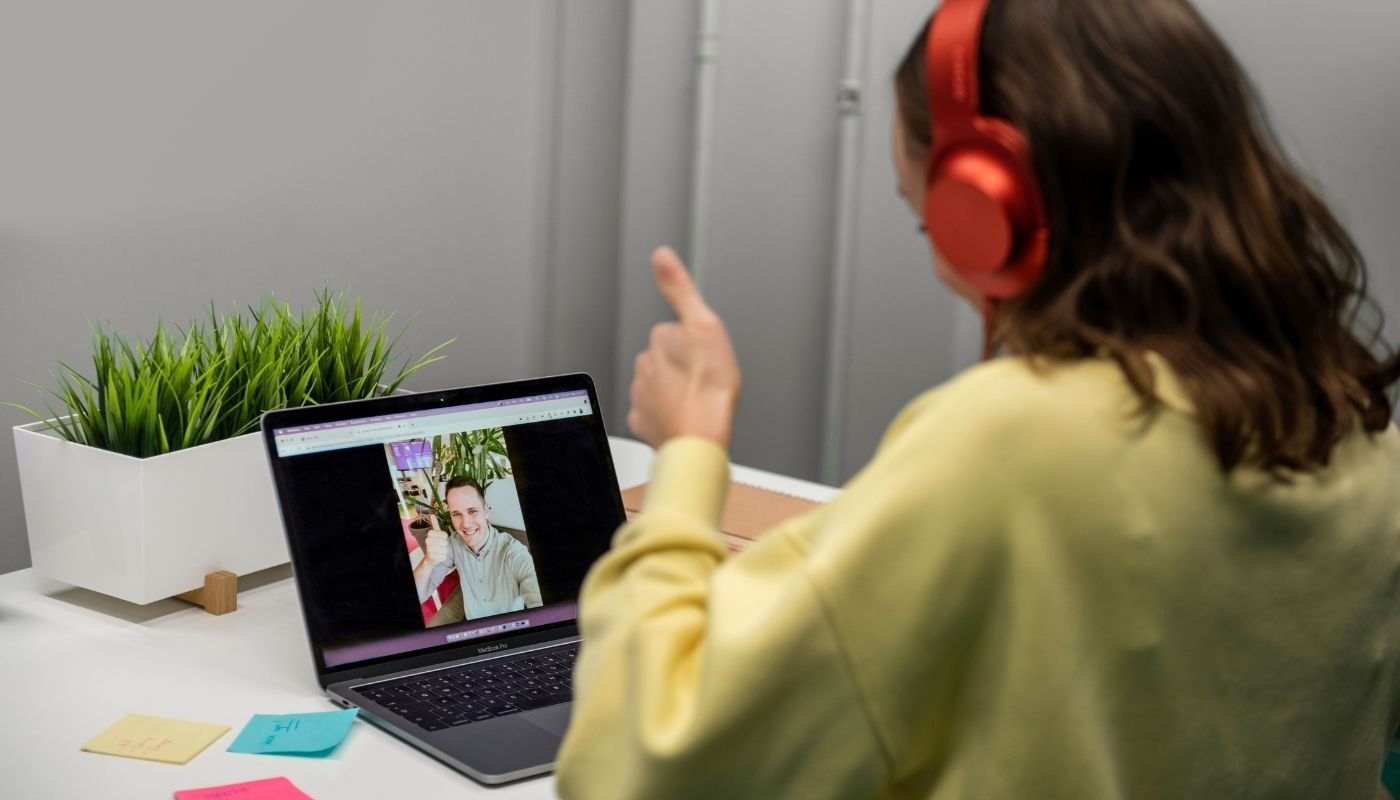 Keep these best practices in mind:
Use targeting features to offer live video calls to the right visitor at the right time.
Use pop-ups to detail what the caller can expect before the video call (i.e they don't need to turn their camera on etc.)
Even if a one-to-one call doesn't instantly result in a purchase, you are building higher and longer customer value.
4. Influencer marketing
Including influencers in your live video shopping experience is a great way to attract and engage customers.
ALDO, a shoe and accessories retailer, boasted 17,000 page views over 5 days thanks to their live stream hosted by celebrity stylist Mimi Cutrell and TikTok star Nate Wyatt.
You may want to consider one-to-many live videos or even prerecorded videos for your influencer video marketing strategy.
5. Active Live Chat discussions
Live chat discussions are important to have during your live stream event.
If it's only a one-sided conversation with no audience interaction, the customer may as well watch a pre-recorded video on their own time.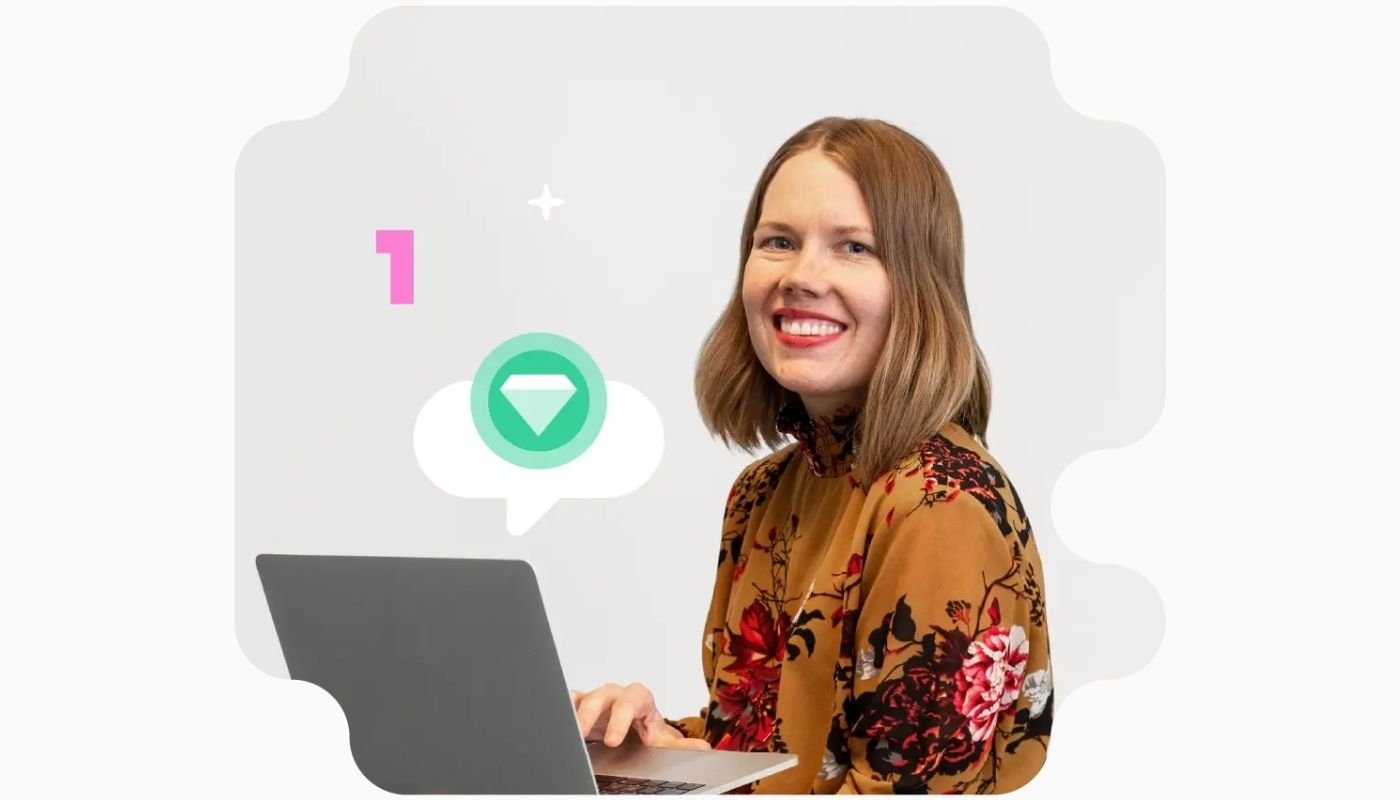 Conversational marketing via live chat promotes engagement and a sense of connection between brand and customer. Also, the customer gets an instant answer to their question helping them to make the purchasing decision.
In an active live chat, viewers can:
See reviews from current customers who have bought certain products
View FAQs answered in the chat
Build camaraderie and excitement with other fans of the brand
Click on links to products, offers, other resources
6. Virtual reality shopping
Brands are jumping on the possibility of virtual reality shopping with more and more hype buzzing around the metaverse.
The metaverse is a virtual environment where people can interact with one another and digital objects.
You may have become aware of this sci-fi-like world when Mark Zuckerberg's renamed Facebook "Meta."
What can brands do to stay relevant in the metaverse? Some companies are already showing us the way.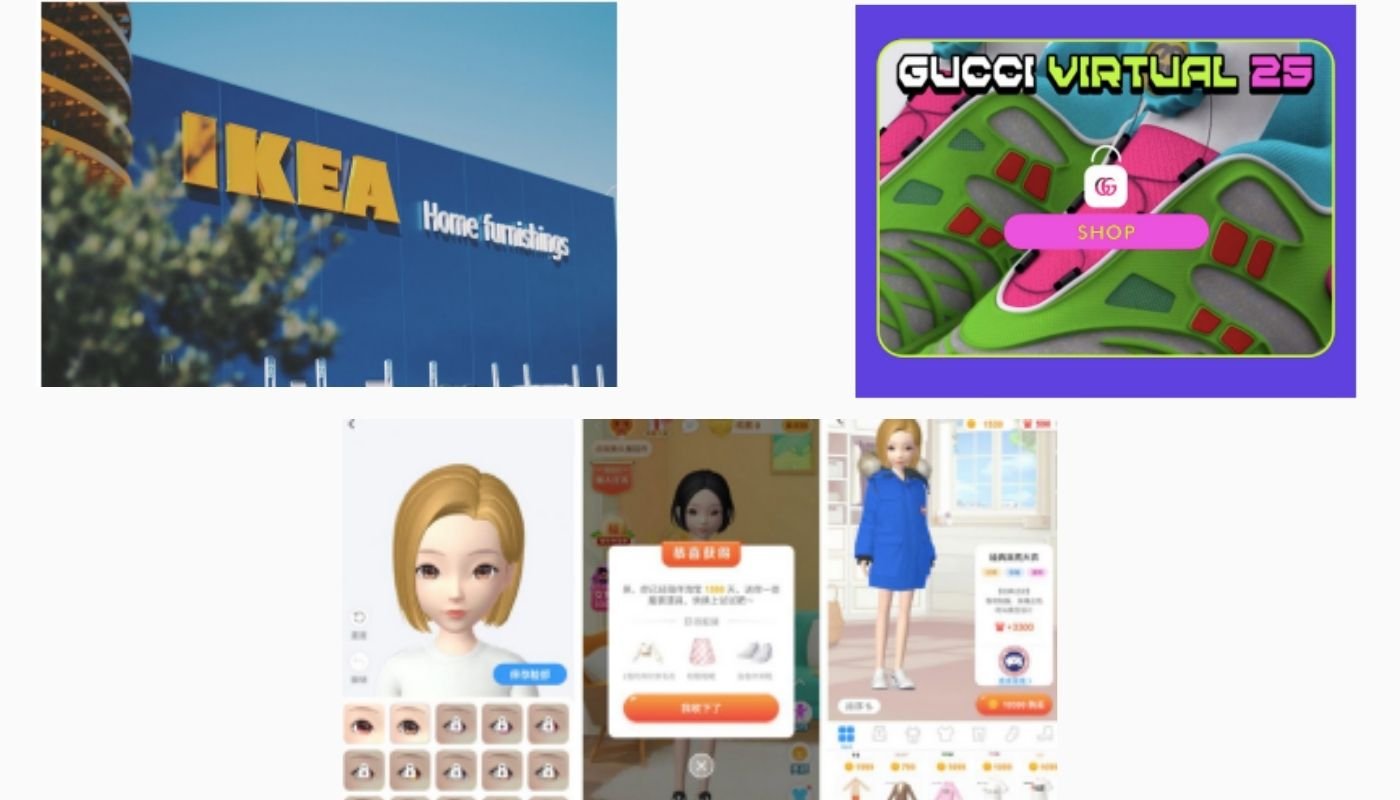 Ikea has been ahead of the trend by offering customers the possibility to design their personal rooms through augmented reality technology.
Gucci has now jumped head-first into virtual luxury footwear reality by selling their own pair of virtual shoes.
In the Chinese online shopping platform Taobao, you can create your own avatar and go shopping virtually with your friends' avatars.
How to get started with live commerce
Live commerce has revolutionized online shopping, and the craze is here to stay. We predict that most online stores will jump on the live commerce trend within the next few years.
What will you do to stay competitive in this video-centric, e-commerce industry?
Download our guide to keep these tips and trends a click away.