Speed to lead directly determines the success of your online car dealership.
That's why we've conducted an original study to share the average speed to lead practices in the automotive industry today.
In this article, you'll learn important automotive statistics that can help you separate yourself from the competition and improve your digitalisation process.
So, keep reading to find out if you're faster than your competitors at locking in leads or if you're lagging behind.
What is speed to lead in the automotive industry?
Speed to lead is a term used to describe lead response time.
In the automotive industry, speed to lead demonstrates how long it takes for a salesperson to make contact with an inbound lead who has submitted a form, sent an email, or inquired via live chat, for example.
If you're not sure how fast you should respond to an interested website visitor, let's take your in-person dealership as a benchmark.
For example, if someone were to walk into your car dealership and say out loud, "Hey, I have a question about this Mercedes-Benz." How long would it take you to respond?
Almost instant, right? Or at least, as soon as possible.
That same type of fervour you show to assist in-person customers should be present in how you acknowledge and value interested leads on your car dealership website.
Using the latest lead velocity statistics from sites like Mercury News, you can ensure that your sales team responds quickly and efficiently to customer inquiries.
Original speed to lead statistics in the automotive industry
To take a closer look at the automotive industry, we researched the top 100 automotive companies in the UK to uncover the current state of speed to lead for car dealerships.
Here's what we found: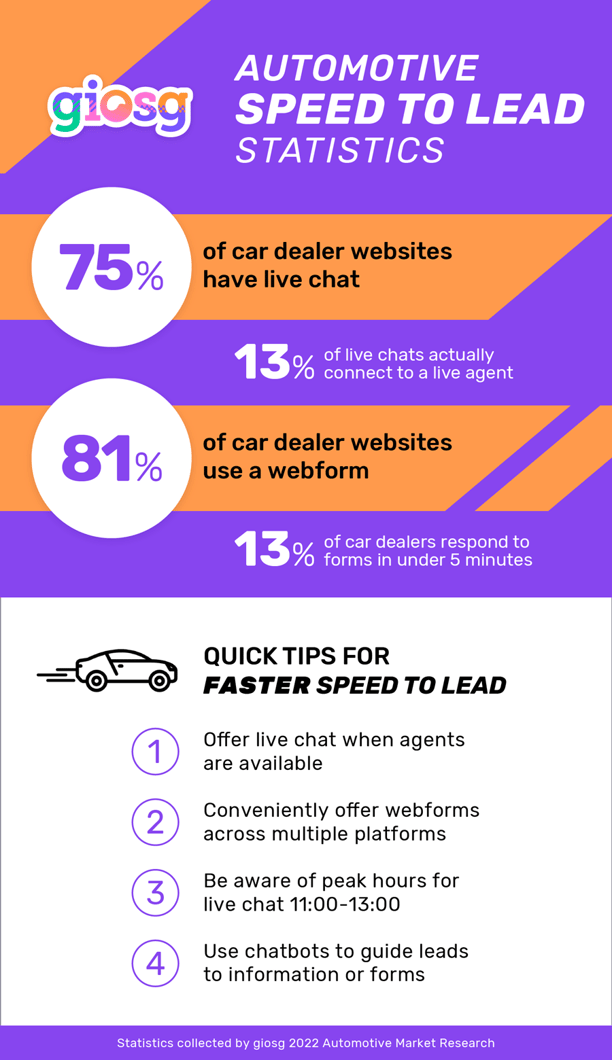 75% of car dealerships have a live chat option on their website.
Live chat for car dealers is a useful avenue for increasing lead generation.
75% of car dealerships have a live chat option on their website and 55% of car dealerships have it readily available on their home page.
In most cases, live chat is the fastest way for a potential car buyer to connect with a dealership.
Research shows that 78% of the time, customers will buy from the company that responds first, so if you don't have live chat on your website, you're hurting your chances of successfully converting leads.
Proactive car dealers have taken note that live chat is a channel on their website that can help scale customer contacts, so they also offer it in other places on their website, not only on the home page.
50% of car dealers with a live chat on their website also offer live chat on 5 or more different spots on their website.
You should highlight call-to-actions for your preferred communication channels conveniently so a website visitor can find it without trying to remember on which page they saw the contact option previously.
Ideas on where to offer live chat on car dealer websites
Home page
Navigation menu
Product page
Contact us page
About us page
Footer of website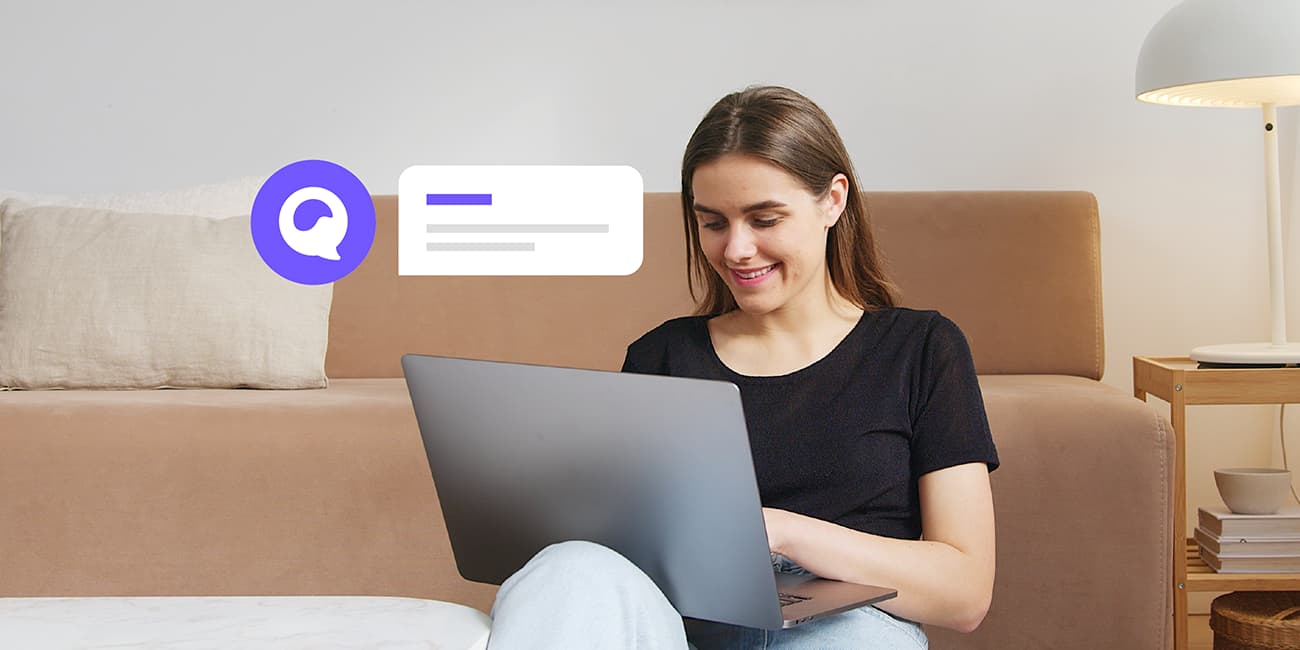 Best time of the day to offer live chat on car dealer website
We know and you know that you can't be stationed in front of your computer all day manning the live chat channel.
There are certain times of the day you want to make sure you can be online and available for live chat conversations though.
For companies that use giosg live chat, they have found that the most active time of the day for their live chat conversations is between 11:00 am and 1:00 pm.
So, if you want to capture a substantial amount of interested website visitors with your live chat, you may want to keep these peak chat hours in mind.
81% of car dealerships use a webform on their website
After live chat, web forms are the next best way to collect information about car-buyer leads.
81% of car dealerships use web forms on their website but it is also important to consider how easy it is for a website visitor to find this form.
For car dealerships, most web forms are commonly only found on "contact us" pages or product pages, nearly 100% and 69% of the time respectively. However, these aren't the only places customers should be able to find these forms.
As mentioned above for live chat, you can also point attention to your webforms on the home page, navigation menu, or footer of your website.
For most effective results, consider using a chatbot for the best of both worlds of guiding your website visitor and providing easy access to fill out a form.
14% of car dealerships use a chatbot on their website
Chatbots are able to work on your website when live agents aren't available on your live chat channel.
14% of car dealerships utilise chatbots on their website to either guide the website visitor on her buying journey, collect lead qualifying information, or to receive general inquiries.
When your chat window generates automated responses, and there isn't actually a live agent on the other end, it should be noted that this is a chatbot.
It's important to set customer expectations when using solutions like live chat and chatbots because you don't want your customers to be frustrated when they expect one thing and receive the other.
We discovered that only 13% of the car dealerships that offer live chat actually connect to a live agent on the other end. It weakens trust in your dealership if you promise a live conversation when in reality it's just a form submission or producing automated responses.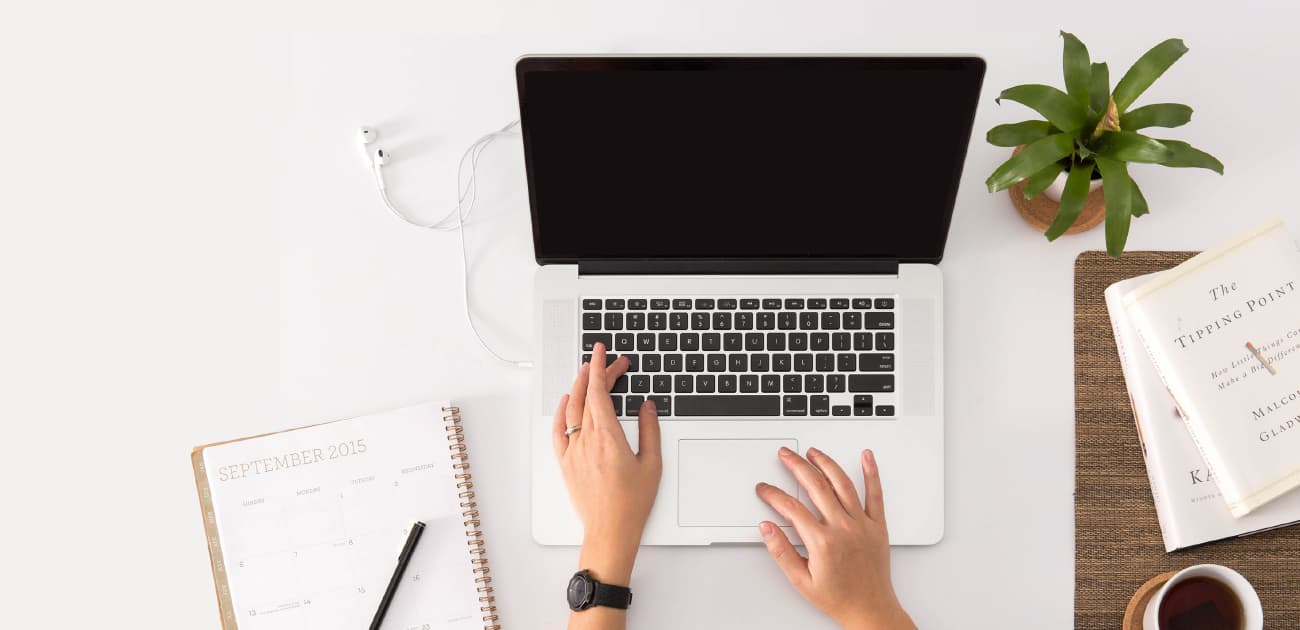 Response time averages for car dealerships
When it comes to speed, 13% of car dealers responded in under 5 minutes to a submitted web form.
These quick response times are highly effective since studies show that companies that respond to leads in 5 minutes or less are 100x more likely to convert.
Best speed to lead times are less than a minute
When testing the speed times of the top 100 car dealers in the UK, we used two contact methods: live chat and web form submissions.
The study was conducted during business hours.
Below are the top 12 performers for the quickest response time in their respective categories.
The results show that for live chat, the fastest speed to lead dealership was Chorley Group.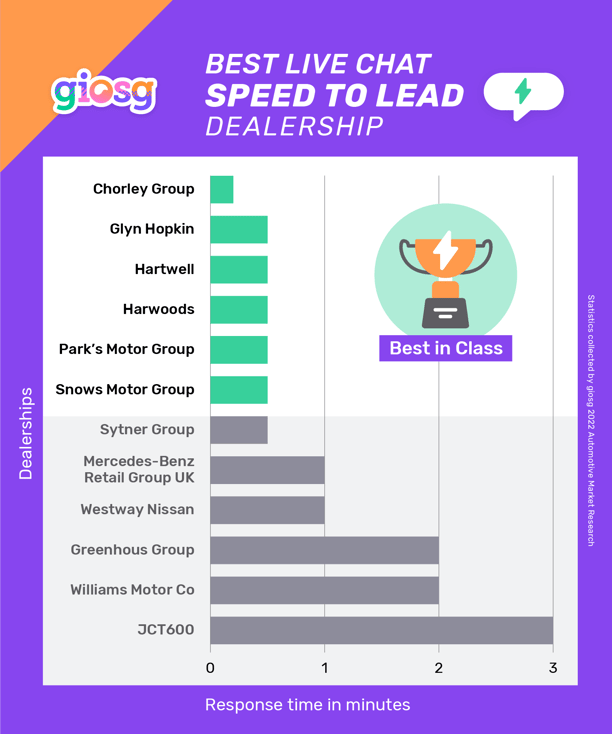 The results for speed to lead from web form submission show that SG Petch was the top performer in this category, their response time took only a few seconds!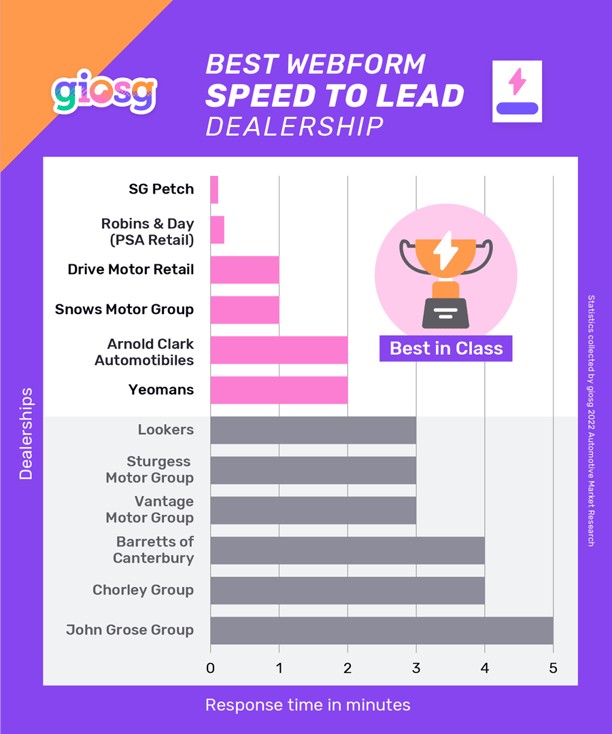 Chorley Group was the only car dealership that made it into both lists for top performers.
Tips for quicker speed to lead for car dealerships
The key to responding fast to leads and providing memorable service is to have the right tools available on your website.
Live chat, convenient forms, and chatbots all contribute to a streamlined lead generation process.
To learn more about how to generate more car buyer leads on your website, download our free Car Dealership Lead Generation Guide.