A year on and the pandemic is still affecting our lives. Like many industries, the UK property market has gone through ups and downs throughout the last year.
To get a clear understanding of the impact on buying behaviour and online engagement, we set out to analyse data from 14 of the UK's leading estate agent websites.

In this blog, we break down what's happened, the implications of the pandemic for the UK property market and make our predictions of what's to come during the rest of 2021.
Here's a quick look at what's in store:
What's happened in the UK property market?

Let's take a quick recap of what's happened in the last year.

In March 2020, the first national lockdown began and everything was shut down including the property market, which opened back up 2 months later in May 2020.

Then, in July in order to boost the demand, the UK government provided relief from the stamp duty to buyers, provided they buy their homes before March 2021. This was later extended and now remains until June 30th 2021.

In addition to this, mortgage availability improved and interest rates fell during the beginning of the pandemic, which is now on the rise again. This has allowed buyers and investors to secure better deals. Mortgage payment holidays are also in place until summer 2021.

Overall, the support and effort made by the government have had a positive impact on the market helping keep the property a popular investment choice.

In particular, demand for more space and bigger properties in suburban areas in the UK has increased.

HM Revenue and Customs department data show 126,400 properties were sold in the UK between July - December 2020 showing an increase of 32% over total 2019 sales.
Property market timeline & key dates:
2020
March: First national lockdown begins
April: First national lockdown continues
May: The housing market reopens!
June: Lockdown restriction eased, while Boris Johnson pledges "build build build" putting the focus on investing in homebuilding
July: Stamp duty holiday announced until March 31st and help-to-buy scheme is extended
October: Three-tier system introduced and local lockdowns in place
November: Second national lockdown and the property market remains open
December: Local lockdowns and vaccinations began
2021
January:

Third national lockdown and stamp duty holiday extended until June 30th 2021

February

: Third national lockdown continues
How has this impacted customer engagement?
In order to get a better idea of the impact on online engagement in the residential property market, we took a closer look at our own data.

We work with some of the top estate agents in the UK helping them better interact with clients online and convert more home buyers and sellers with chat and chatbot software.
We were keen to understand whether the pandemic has increased website traffic or the way people interact on estate agent websites overall.

Data from 14 leading estate agents in the UK that already use online chat to engage customers online was analysed and compared year-on-year. Here's what we found:
The number of website visitors grew significantly
Estate agencies in the UK have seen a significant boost in website traffic. The number of website visitors has increased by 126%, from Q1 2021 to Q1 2020.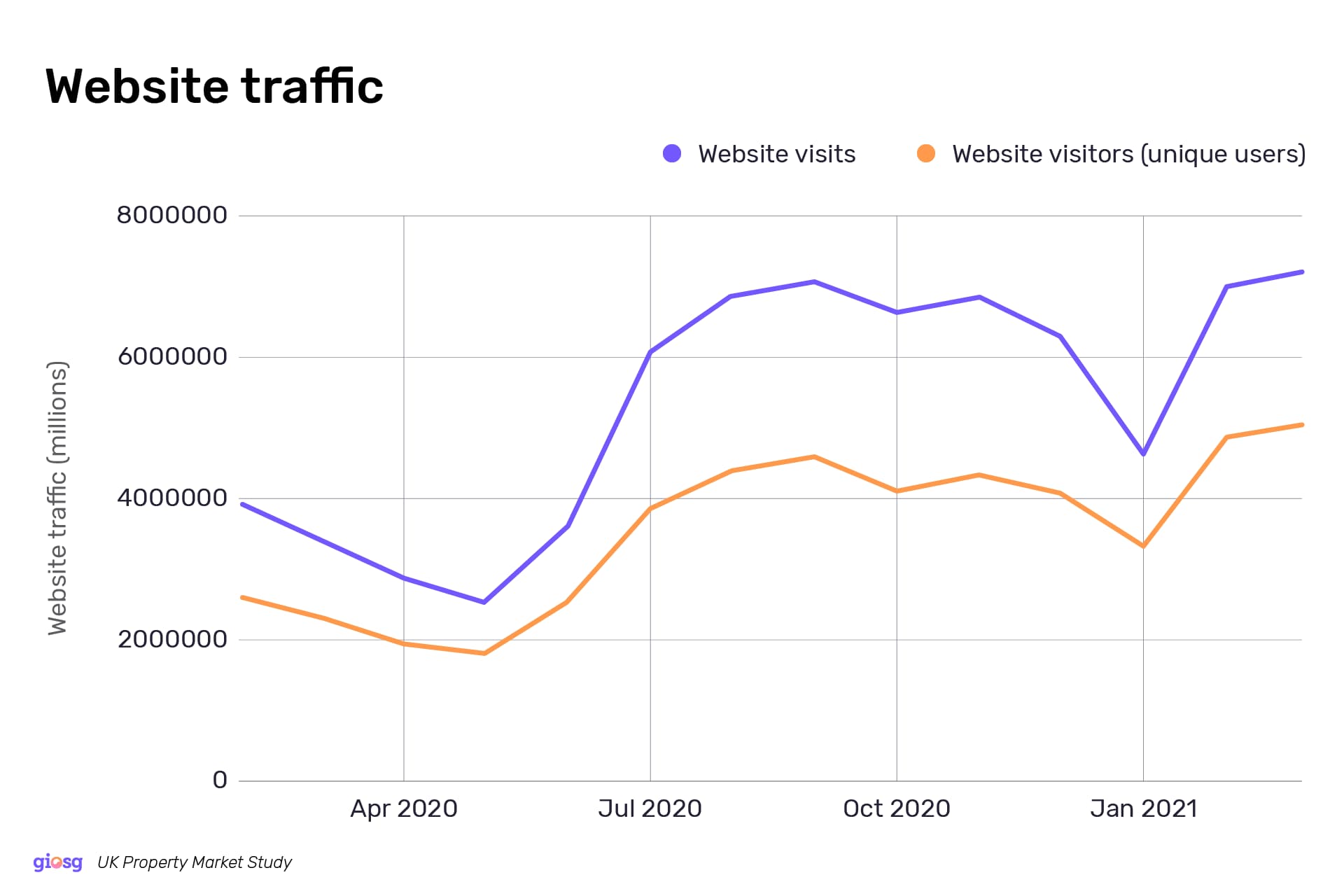 Mobile is the #1 device
In general, data shows that visitors on agent websites prefer mobile over desktop, with significantly over half (67.2%) using mobile and tablet to browse on agency websites. Only 32.9% of visitors were desktop users.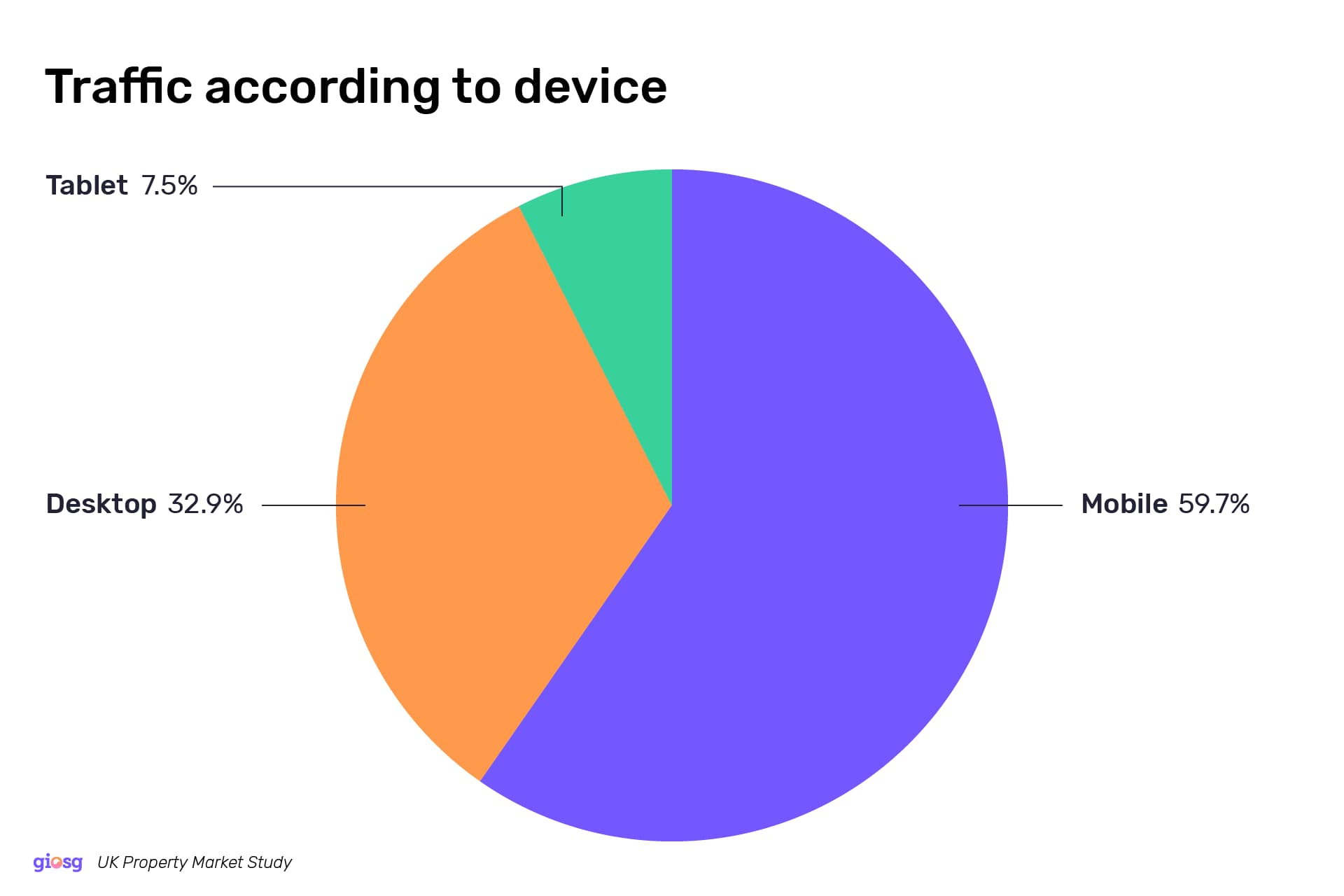 Chat conversations with visitors doubled
The number of online chat conversations on agent websites increased by 109% in Q1 2021 compared to Q1 2020.
This shows that the reduction of in-person meetings has clearly increased the number of people contacting agents online through their live chat services.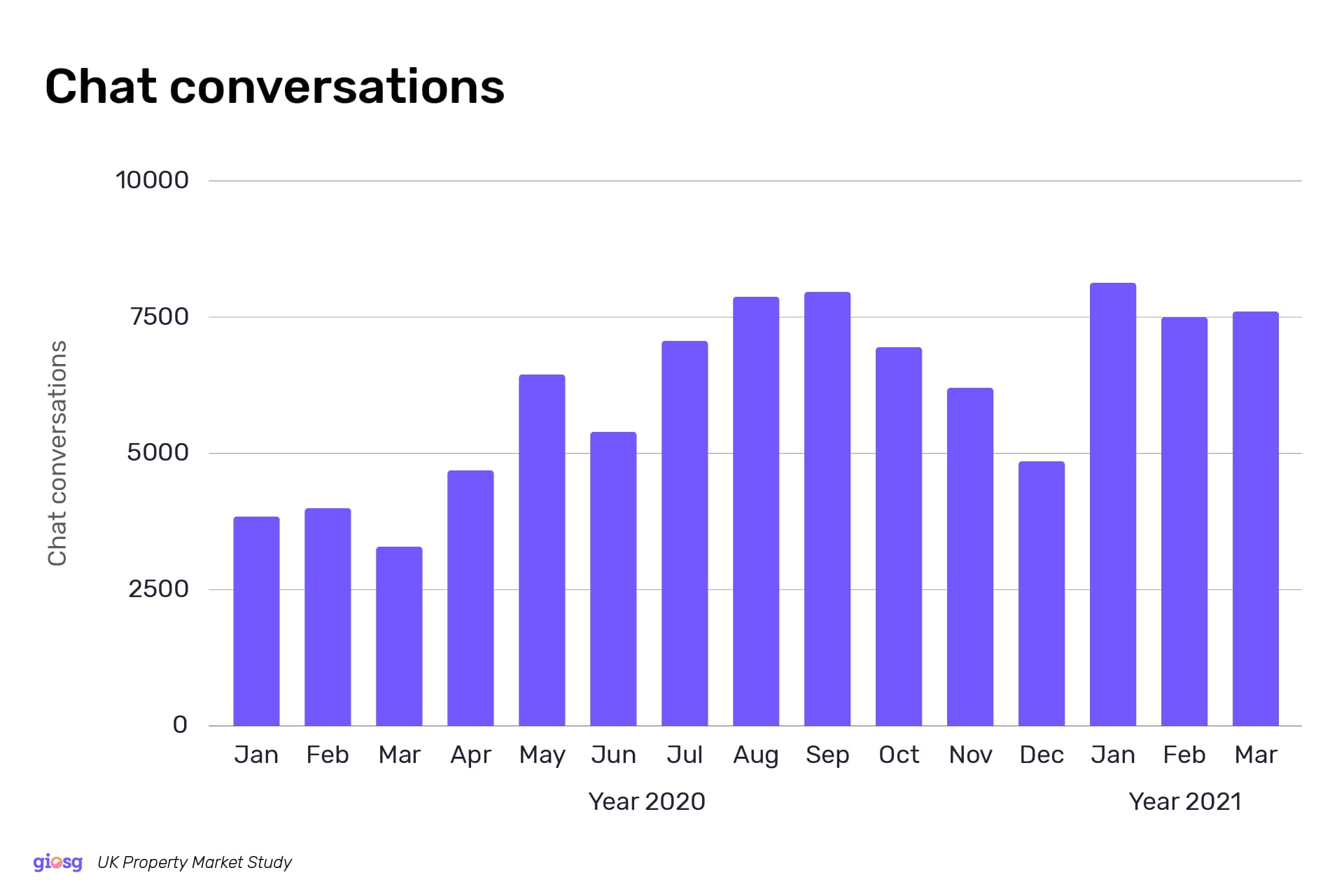 Average agent chat response time decreased
Not only did the number of chat conversations on estate agent websites rise, but the average agent response time also decreased on average by 20 seconds.

In Q1 2020, estate agents had an average chat response time of 1 minute and 15 seconds, whereas in Q1 2021 the average response time was down to 55 seconds.

This indicates an increased focus on resourcing the sales chat channel. However, this still leaves room for improvement with response time in chat often expected to be instant, ideally less than 10 seconds.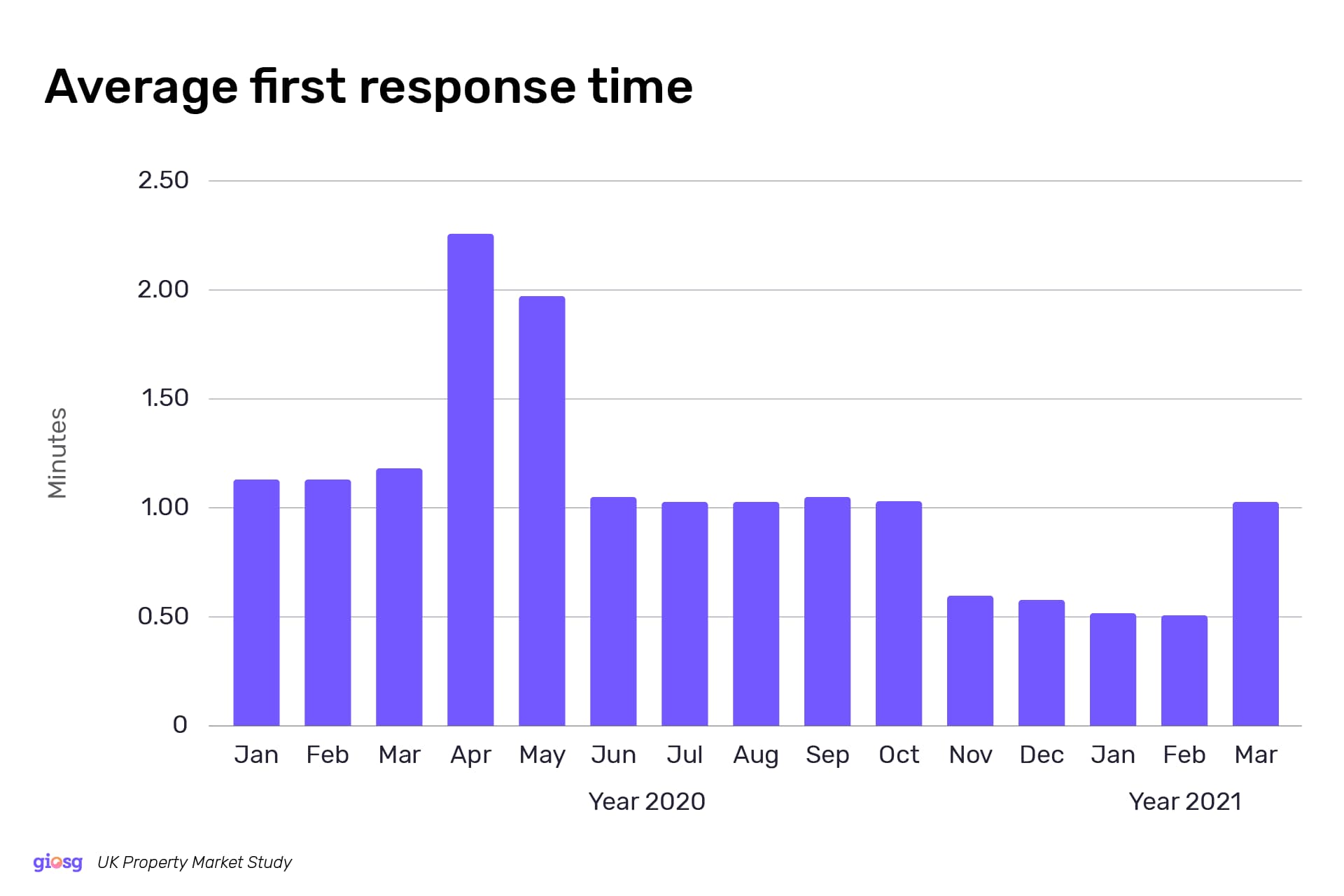 More buyer and seller leads on chat
Estate agents use chat and chatbots as tools not only to support clients but also to convert website visitors into valuations.
The majority (75.3%) of chat leads on estate agent websites were looking to either buy or sell their home, 21.8% were looking to rent a property and 3.0% were landlords looking to let their property.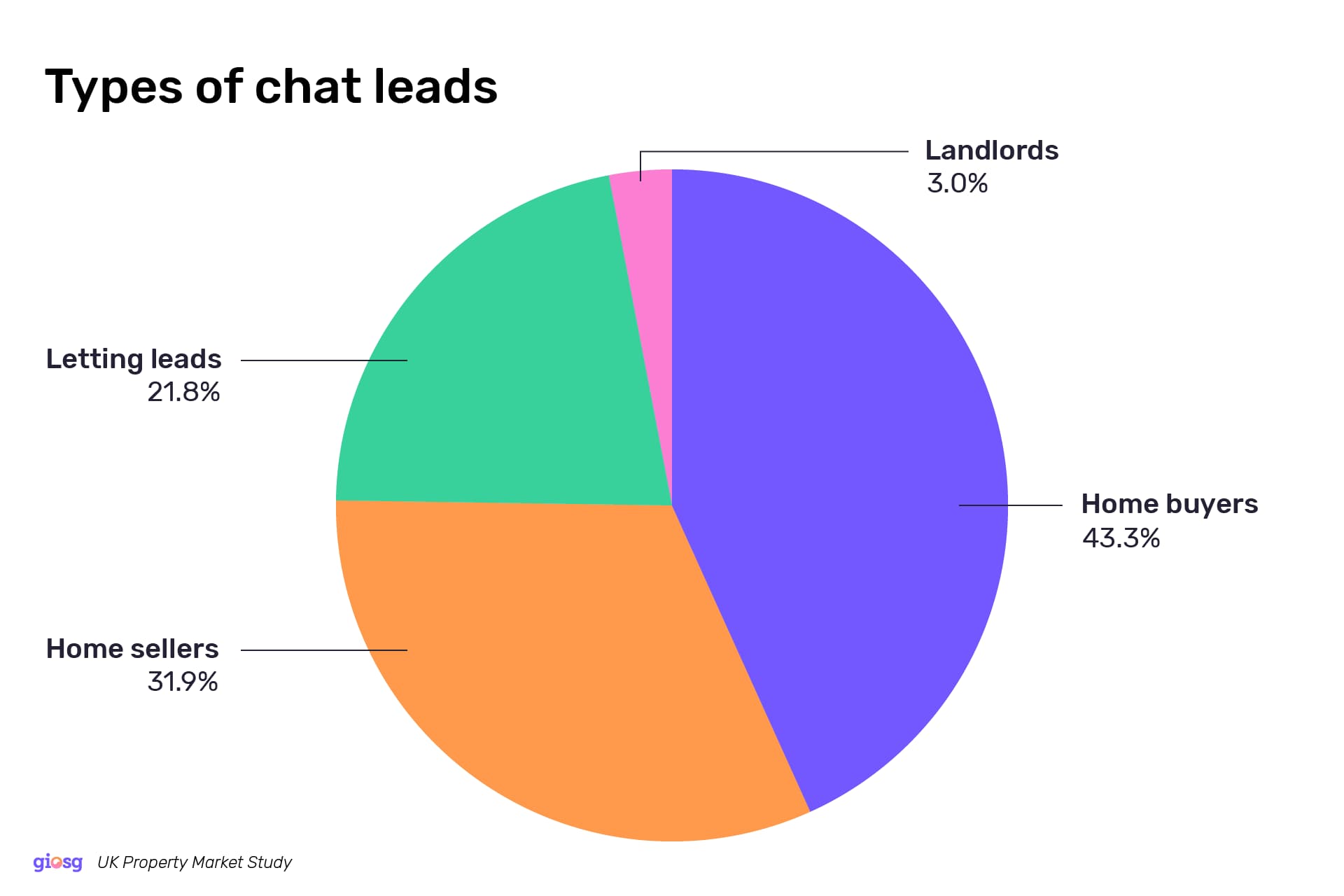 What does the future hold? 4 property market predictions
The pandemic has reduced the amount of face-to-face contact and in turn increased website activity, changing online property buying behaviour.

This change has forced estate agents to quickly adapt to new ways of working and adopt new technology. Even before the pandemic hit, the UK property market was already reacting to the technology or PropTech boom.
Many agents now offer new services such as virtual house viewings and live chat, which still continues to play a big part in the industry.

Based on our findings, we've made four property market trend predictions for 2021:
1) Mobile traffic will continue to grow
With more than half of website traffic already coming from mobile, it's likely that the number of visitors coming to agency sites on mobile will increase.

This means estate agents need to focus on developing better mobile experiences and making sure websites are responsive to all devices.

We believe that it's crucial that agents optimise the online experience for mobile, whether it's their lead capture forms, interactions and overall usability in 2021.
2) Demand for real-time 24/7 service will continue
With mobile being the most used device, messaging will continue to be a popular choice.
Messaging through mobile apps such as Facebook and WhatsApp between clients and agents is already happening, and estate agents that aren't chatting on mobile are already missing out.

With this said, it's not surprising that live chat usage has doubled during the pandemic, as chat is a low-threshold channel and allows estate agents to offer real-time services online.

Live chat not only provides a great customer experience but also enables agents to proactively engage and communicate with potential clients online.
On the other hand, chatbots help to automate the sales process and allow estate agents to support and book viewings or valuations 24/7. Bots also free up agents' time by qualifying leads before sending them to agents.

By using a chatbot as the initial interaction, agents are able to qualify seller leads before transferring to a live chat agent.
We believe that combining both real-time live chat with automated chatbots will continue to be a popular option for estate agents.
3) Virtual viewings are here to stay
Estate agent website traffic has increased by a whopping 126% throughout the pandemic, as such estate agents have adapted to video viewings when in-person showings were not available.

This has helped agents limit the number of physical visits they need to arrange and created a convenient option for those not able to see a property in person.

Whether it's pre-recorded walk-through videos of the home, 360-degree viewings that allow buyers to navigate through the property in their own time, or real-time video calls using technology such as WhatsApp, Zoom, or FaceTime to do live viewings.

We believe these virtual viewings will continue to be a crucial part of the property sales and lettings process.
4) Speed to lead is key
Finally, time will continue to be of the essence!
Lead response time is truly the make-it or break-it factor when it comes to converting home sellers and buyers online.
Slow lead follow-up times can mean losing a seller lead to another agent or agency.

In our research, data shows that estate agents have already caught on to this with agent chat response times decreasing year-on-year.

And with 75.3% of chat leads being home sellers and buyers, the time in which leads get a response is even more essential.

As such, we believe that speed to lead and response time will continue to be absolutely crucial for sales success - and even a competitive advantage for agents who choose to prioritise it.
Moving forward...
There's no doubt that the pandemic has changed the way people live, how they interact with agencies and their buying behaviour for now, and possibly for good.
As we go through 2021, we will continue to help agencies support, engage and convert clients online in the new normal.
If your property business or estate agent is looking for new ways to engage potential clients online, don't hesitate to chat with us or book your demo!