You're putting effort into driving traffic to your website, but for some reason, your inbound leads just aren't converting.
And often the leads that are generated aren't qualified - whether it's home buyers and sellers you're after.
The fact is that static forms and traditional lead generation practices, just aren't as effective anymore.

Long static forms might even be killing your lead generation, as they no longer provide enough value for your visitors.

However, by proactively engaging and interacting with your visitors, you can
convert visitors in a user-friendly way, while increasing the quality of your property leads.

How to generate more estate agent leads?
In this lead generation guide for estate agents, we uncover the best tools for effectively converting your property leads and how to optimise them. Here are our 8 tips:
1. Use live chat to convert
2. Automate with chatbots
3. Qualify with multi step forms
4. Target your visitors
5. Chat on property portals
6. Engage on social media
7. Ensure efficient follow-up
8. Try A/B testing
1. Use live chat to convert
In today's online world, it's absolutely vital that agents respond to every customer as quickly as possible, or they risk losing that seller or buyer to another agent or agency.

Your lead response time can mean the difference between closing a sale or losing one. And that's why live chat is such a great tool.

Live chat is a low threshold channel that allows your customers to easily connect with your business. It also enables your sales agents to proactively communicate with your potential clients.

Live chat is 7X more efficient than traditional channels.

Chat solutions, like giosg Live Chat enable your agents to converse with multiple leads at one time, making your team more efficient.

It can also reduce the number of enquiries from other less effective channels, such as phone or email by more than 26%.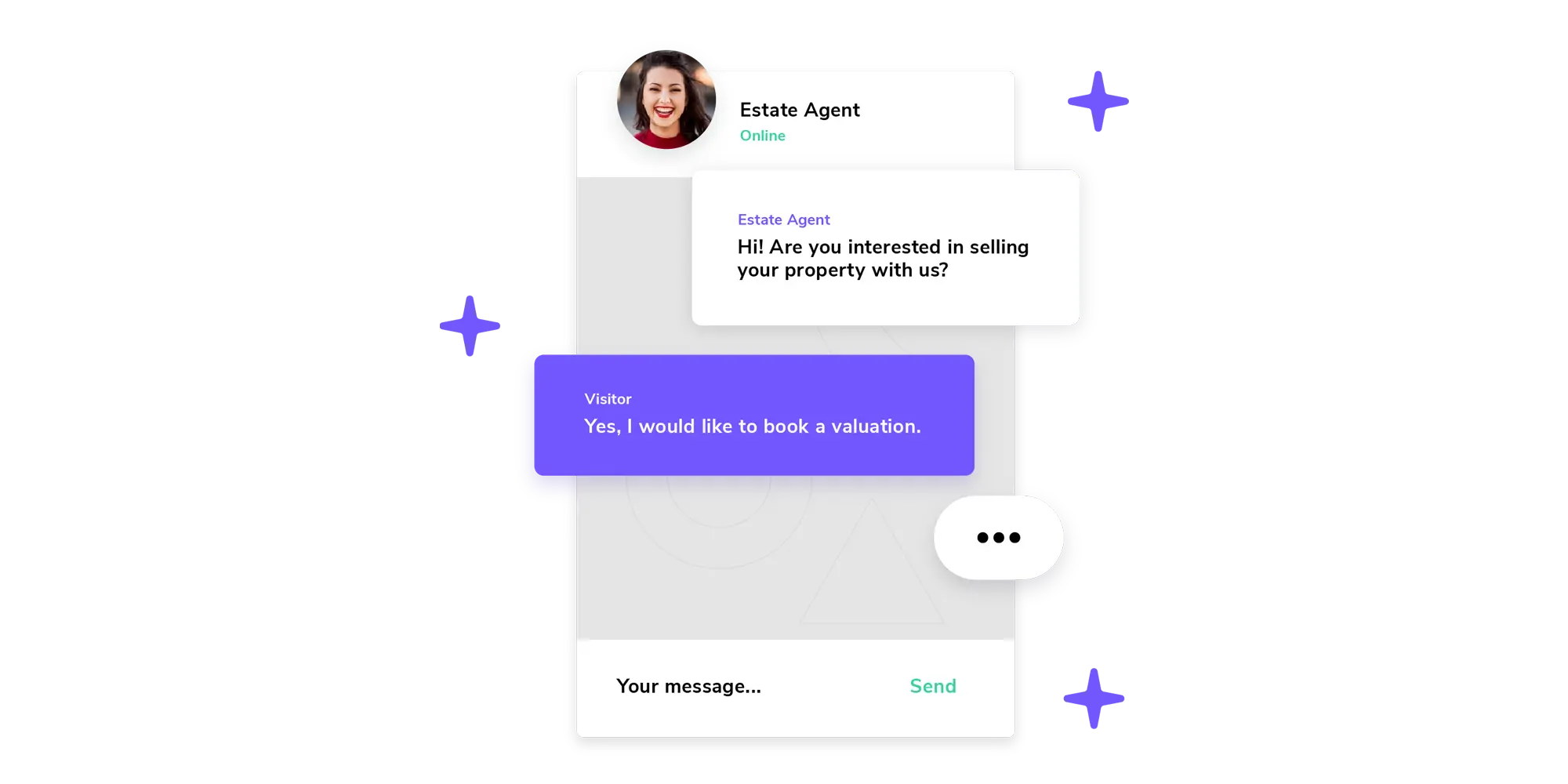 Key benefits of live chat for real estate lead generation:
Proactively reach out to potential buyers and sellers
Increase conversions from visitor to valuation booking
Provide a better customer experience online and improve your customer satisfaction
Save costs and improve your team's efficiency
Provide a low threshold easy-to-use channel for your customers to reach you online.
Find out how leading estate agency, Connells increased their conversion rate from 8% to 30% with giosg Live Chat.
2. Automate lead generation with Chatbots
It's not always possible for your agents to be available to prospects and clients throughout the day. From meetings to organising viewings, agents are busy people!

Chatbots help to automate inbound lead generation and provide a great solution to support your team when they're busy.

The best part is that chatbots are available round the clock, 365 days a year 24/7, meaning your client queries are addressed outside of operational hours as well.

Not only do chatbots convert browsing visitors into viewings or valuations, but they also help to guide visitors to the right content on your website, improving your online customer experience overall.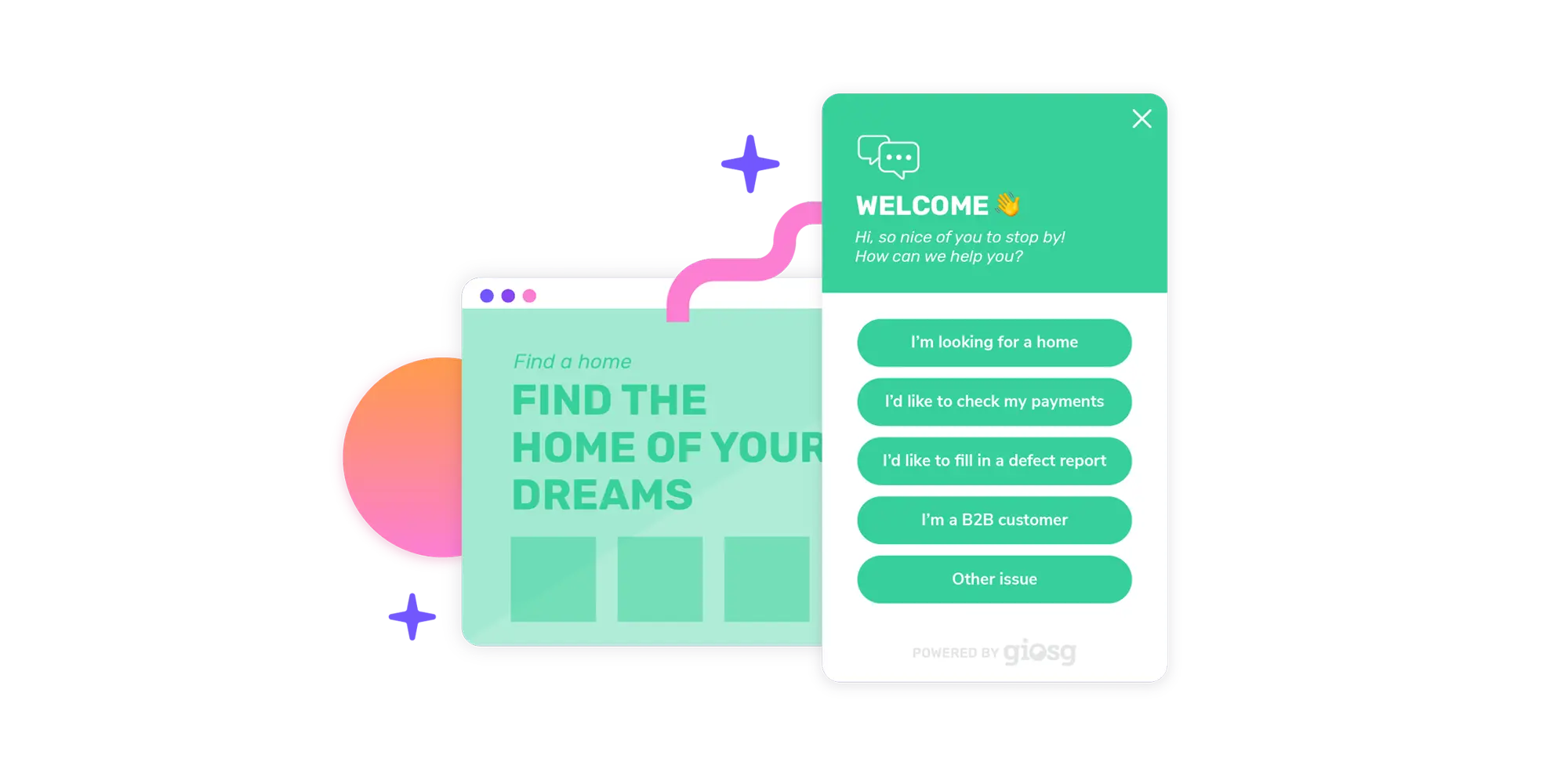 The key benefit of using chatbots for estate agent lead generation:
Chatbots qualify buyer and seller leads
Chatbots generate leads and support your clients 24/7
Chatbots directly book property viewings for agents
Chatbots help increase engagement and interaction outside of office hours
How to use chatbots to qualify buyer and seller leads?
Chatbots not only help outside of office hours but also improve the quality of your lead generation by helping you gather more information on leads.
To qualify leads, you can set up your real estate chatbot with qualifying questions specific to your agency's sales process.
Chatbots are 4X more effective than static lead capture forms
A chatbot can, for example, initiate a conversation with a prospect by asking:
Whether they want to sell, buy or rent a property
What their house budget range is
How soon they want to buy, sell or rent
What their preferred location is
Based on the answers given the chatbot can collect their contact information and hand over the qualified lead to a sales agent.
Combine your chatbot with live chat
Conversational lead generation works best for real estate when combining real-time live chat with automated chatbots.
By using a chatbot as the initial interaction, you can qualify your buyer or seller leads before transferring to a live chat agent.
This means your sales team spends less time chatting to irrelevant leads and more time on qualified sales leads.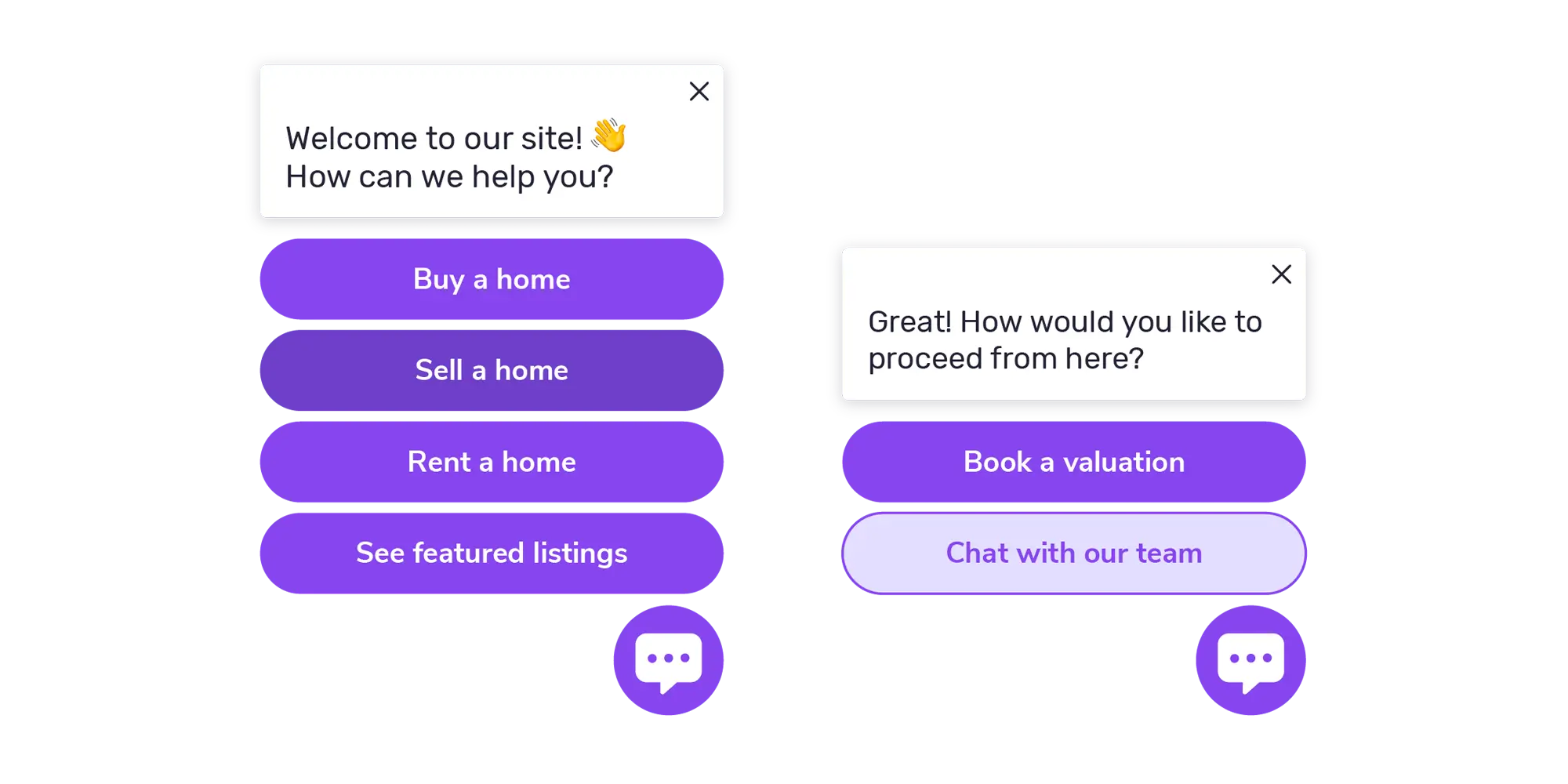 Your chatbot can also help you distribute your leads to the right real estate branch. Existing clients, tenants, and landlords can be sent to your support team, while buyer and seller are directed straight to sales.
3. Qualify seller leads with multi-step forms
Multi-step forms are exactly what they sound like - long forms broken into multiple views.

It's a simple way to help fight form fatigue and improve conversions.

Multi-step forms have 87% higher conversion rates. Breaking your form fields into smaller pieces makes it easier to digest, plus it looks more organised.

Obviously, this doesn't mean that sky's the limit - it's still important to be concise and keep form fields to a minimum.

But in situations when it's absolutely vital to have many fields, multi-step forms are a great choice.

With your property valuation or viewing forms, for example, you want as much information on the sellers and buyers without overwhelming your potential clients.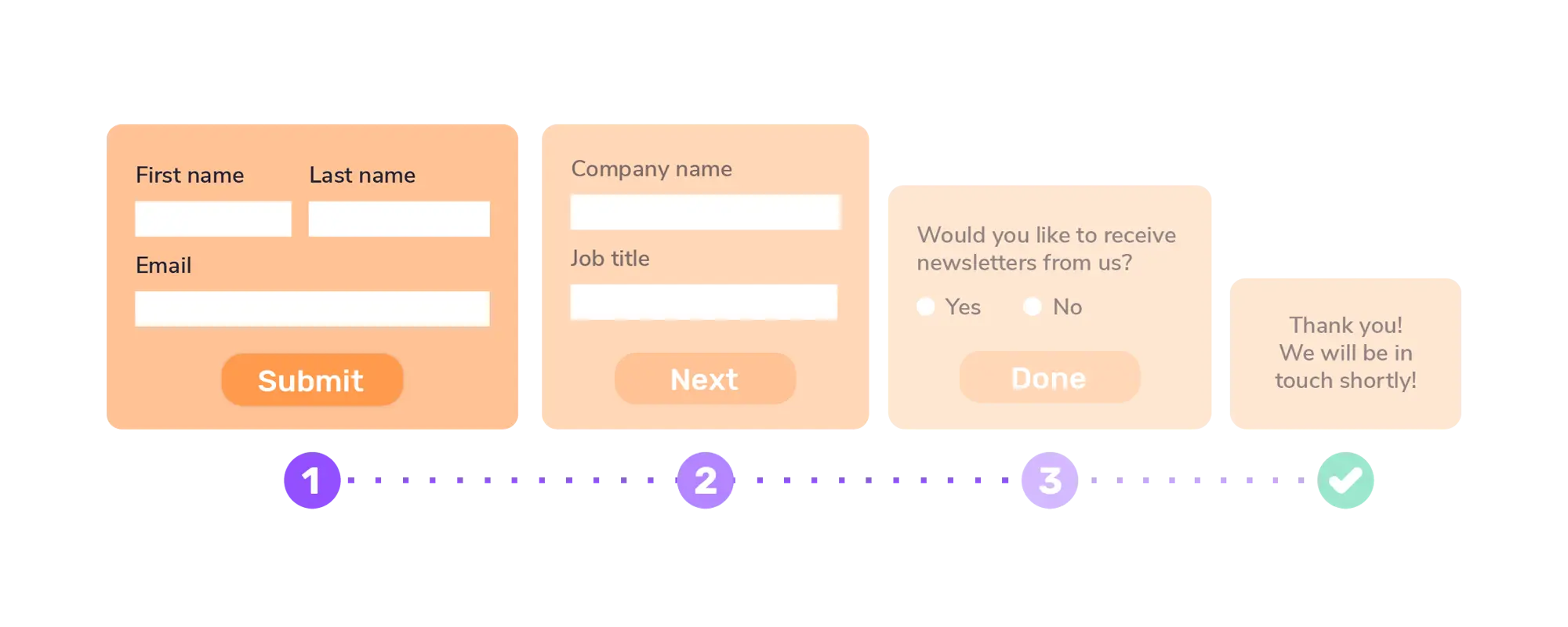 When to use multi-step forms for estate agent lead generation?
Spreading information across multiple views can create a more positive customer experience and improve your lead quality. Choose multistep forms, when you want to:
obtain a lot of information and data to qualify leads.
qualify leads without intimidating website visitors and reduce your
conversion rate.
only convert visitors who are truly interested in selling or buying a property.
4. Target your website visitors
80% of consumers are more likely to do business with a company if it offers
personalised experiences. When it comes to real estate this is no different!

Personalising your potential clients' online experience will take your inbound lead generation to the next level. Tracking your visitor behaviour and using that data to segment your clients, will help you trigger your lead generation tools at the right time with the right message.

How to better target home seller and buyer leads?
Here are some ideas to get you started with targeted interactions:

Activate your live chat during office hours and your bot outside of office
hours to capture leads.


If you're using Google Ads to convert more valuation bookings and drive traffic to your website, why not trigger a bot for booking a valuation for visitors coming from your campaigns.


Target returning visitors who have been on your site multiple times before by triggering a proactive chat message like, "Welcome back, Are you looking to buy a home?"


Read more about how leading London-based Estate Agency JOHNS&CO Converts 54% of their chat conversations into qualified leads.
5. Chat on property portals
Portals are usually property buyers' first port of call when looking for a new home. 77% of house hunters use portals to conduct property searches.

So imagine if your sales agents could engage directly with potential buyers when they're browsing for their new home on a portal.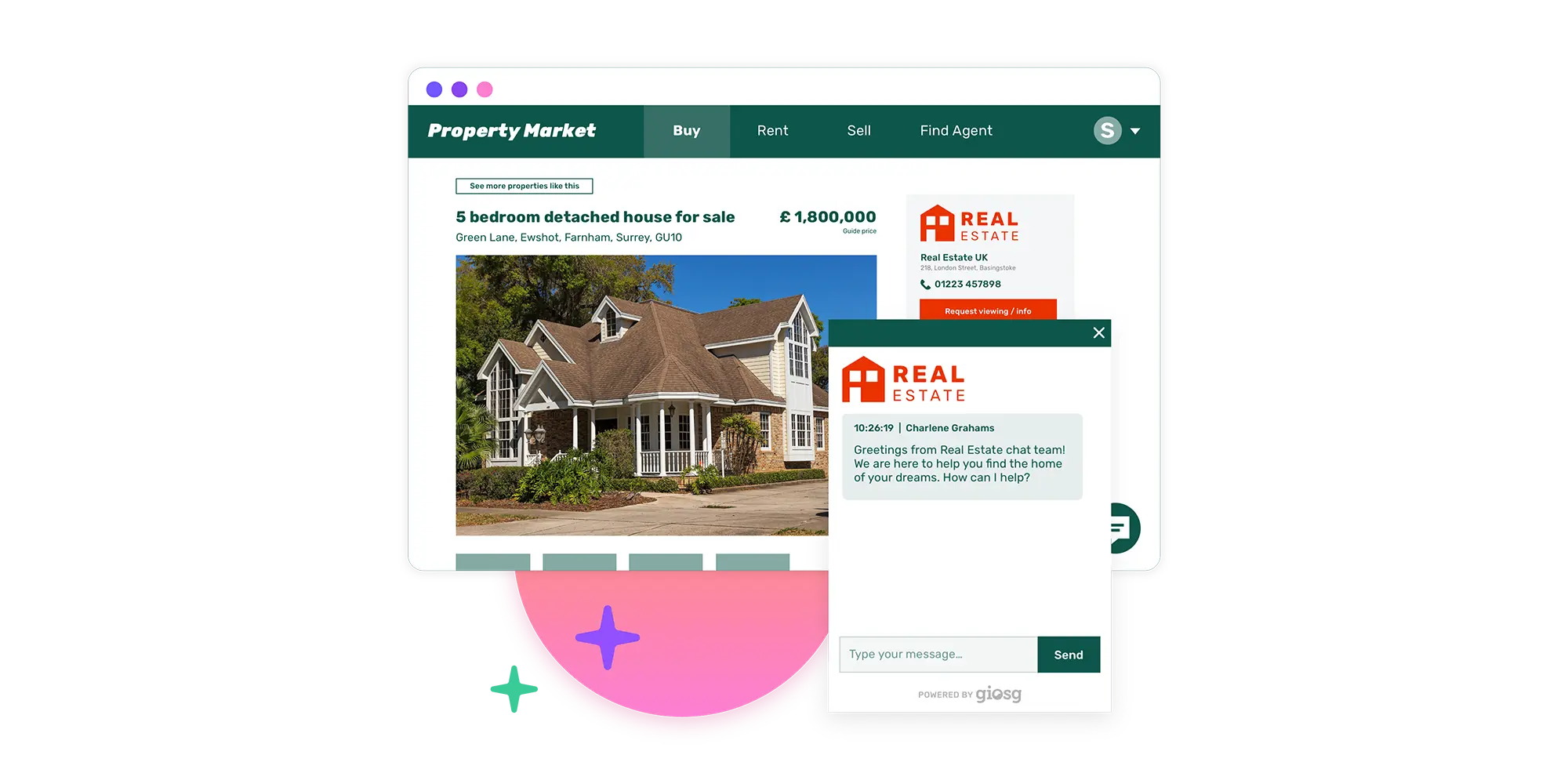 By placing your multistep forms, live chat, or chatbots on to your property portal listing pages, you can:

Collect lead data in real-time outside your website

Provide support for buyers interested in your listings

Increase your total number of incoming leads

Provide a new way for potential buyers to reach out to your agency outside of your own domain
6. Engage on social media
The average adult in the UK spends 109 minutes daily on social media

So it's not surprising that social media is becoming an essential tool for both house hunters and estate agents. It can be an excellent channel for marketing your property listings if used right.

According to Portico, a leading London Estate Agency, social media generates 15% of their property viewings.

How to use social media to convert estate agent leads:
Use Facebook Marketplace to promote your listings. This enables agents to get their property listings in front of interested browsers.


Create sponsored listings on social media to drive traffic to your website. Then, target your live chat with a personalised message to visitors from that campaign.



Allow visitors to reach out to you on social media via in-app messaging. At giosg, we help real estate companies integrate their Messenger with their live chat, meaning agents get all messages in one place and clients can reach out in real-time via multiple channels.
7. Ensure efficient follow-up
Speed to lead and efficient follow-up is crucial for the success of your lead generation results. With traditional lead generation forms, this just isn't optimised.

When a new prospect fills out a form on a listing page, it can take hours even a day before sales follow up that lead usually via email or phone. And once your agents reached the lead, it might be too late!

In order to see a return on your online leads, the follow-up process with your high-quality leads needs to happen immediately.

That's why setting up effective follow-up processes is crucial.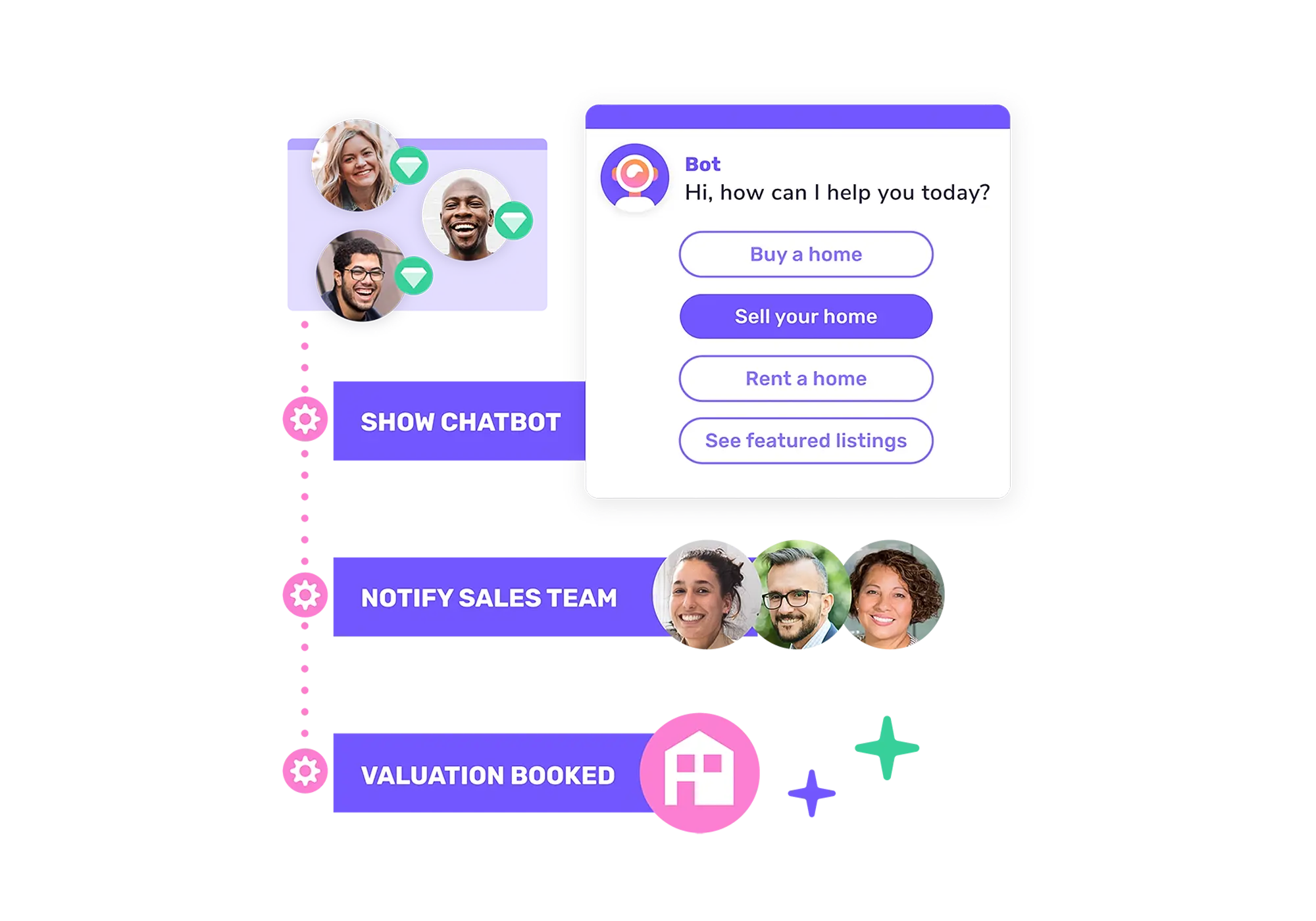 Lead follow-up within 1 min = 391% higher lead conversions
At giosg, our workflows help agents respond to leads faster and ensure a
buyer or seller lead never goes unconverted.
Here's how estate agent lead follow-up works with giosg:

Create tasks
Create tasks for agents when your leads are generated, outside of hours through forms or your chatbot.


Assign leads
Instantly assign leads to the right agents and use workflows to distribute your leads to the right branch.


Send notifications
Send real-time notifications on mobile to agents assigned to a lead. Using mobile will ensure that even when your team is not in the office, leads are followed up in real-time.
8. Try A/B testing
Use A/B testing to figure what resonates best with your potential clients.

A/B testing helps you optimise your lead generation and determine, what resonates best with your potential clients.

Giosg has a built-in AB testing feature that makes it easy to test any element of your lead generation tools, be it live chat, chatbot, or an interactive form.

What to test to optimise your estate agent lead generation?
Here are a few different ideas of what to test when optimising your lead generation:
Different lead generation tools: Live chat vs. Chatbot


Automated messages: "Hi, how can I help you" vs "Hi, would you like to book a valuation"


Calls-To-Action: "Book a Valuation" vs "Get Your Free Valuation"


Different pages: Does your Homepage convert more bookings vs your property listing pages?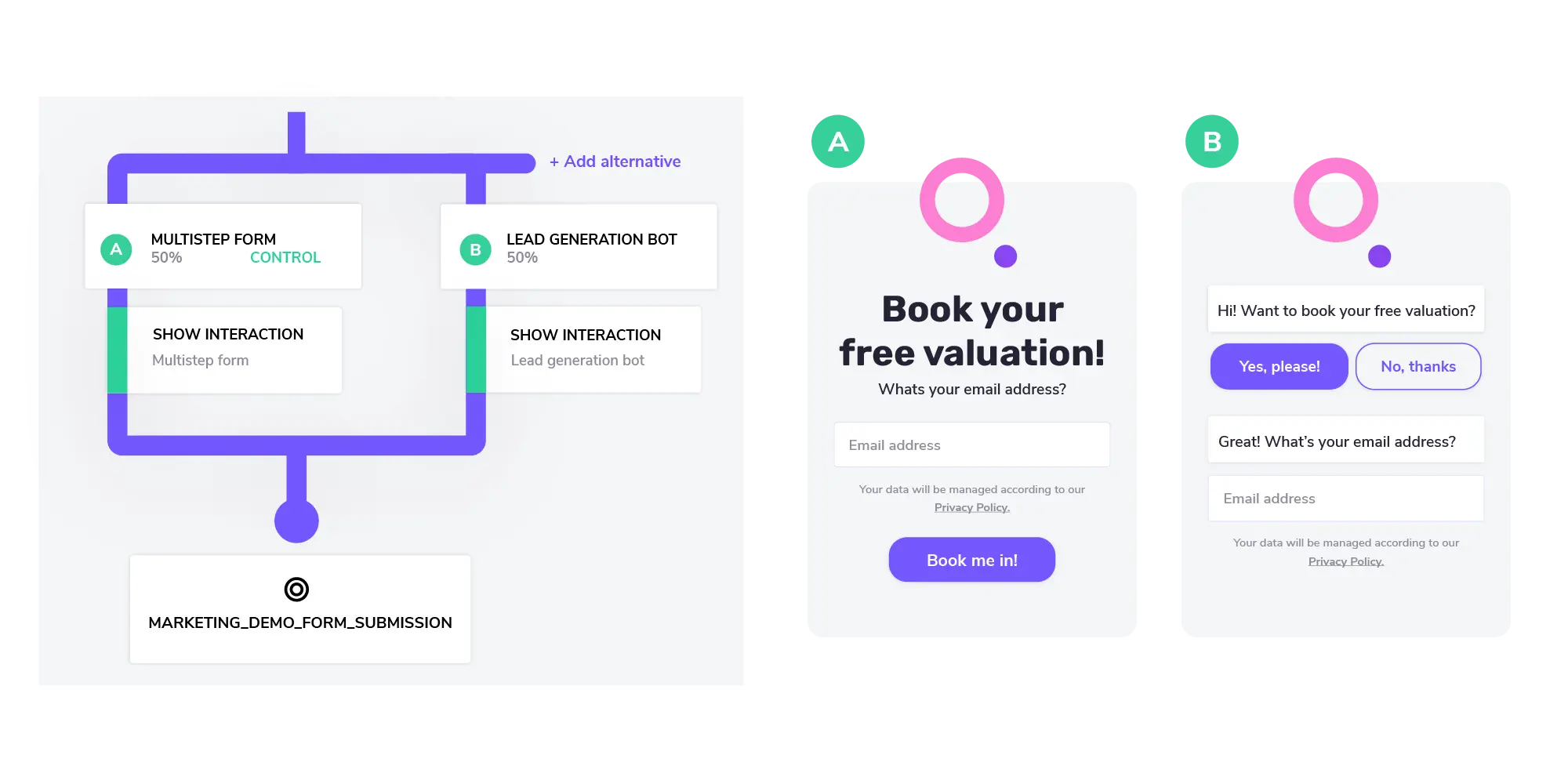 Switching your static forms with interactive lead generation tools, will not only provide a better customer experience and increase engagement but significantly boost your conversion rates!

So what now? If you want help implementing any of the strategies mentioned in this guide, here's what we suggest you do next:
During the quick product walk-through, we'll show how you can increase the number and quality of property leads.
Start converting more buyer and seller leads with giosg!