Live chat is no longer just a channel for delivering quick customer support.
With the help of AI, a live chat eCommerce conversion strategy can capture high-quality leads, engage customers at critical touchpoints, and boost sales on your website.

And who doesn't want more online sales? With online conversion rates averaging around 2%, there's plenty of room for improvement.

Using a combination of live chat and AI chatbots, you can deliver speedy, round-the-clock support, personalized product recommendations, and streamlined customer experiences that guide website visitors toward conversion.
How live chat increases eCommerce conversion
Is AI the future of customer engagement and sales? Of all the businesses that use AI-driven conversational marketing technologies, 82% say they are key elements of their sales strategies and operations. But how exactly does live chat increase eCommerce conversion?
Improved customer support 👨‍💻
Traditional support channels like telephone and email often fall victim to issues that result in poor customer service. For your potential customers, things like long wait times and inconvenient availability are all pre-sales obstacles that can seriously influence buying decisions.

Live chat, on the other hand, eliminates some of these inefficiencies. Most notably, it enables you to provide fast, convenient, and proactive support on a 24/7 basis.

These are all things that customers consider the most important aspects of customer service, according to Zendesk research.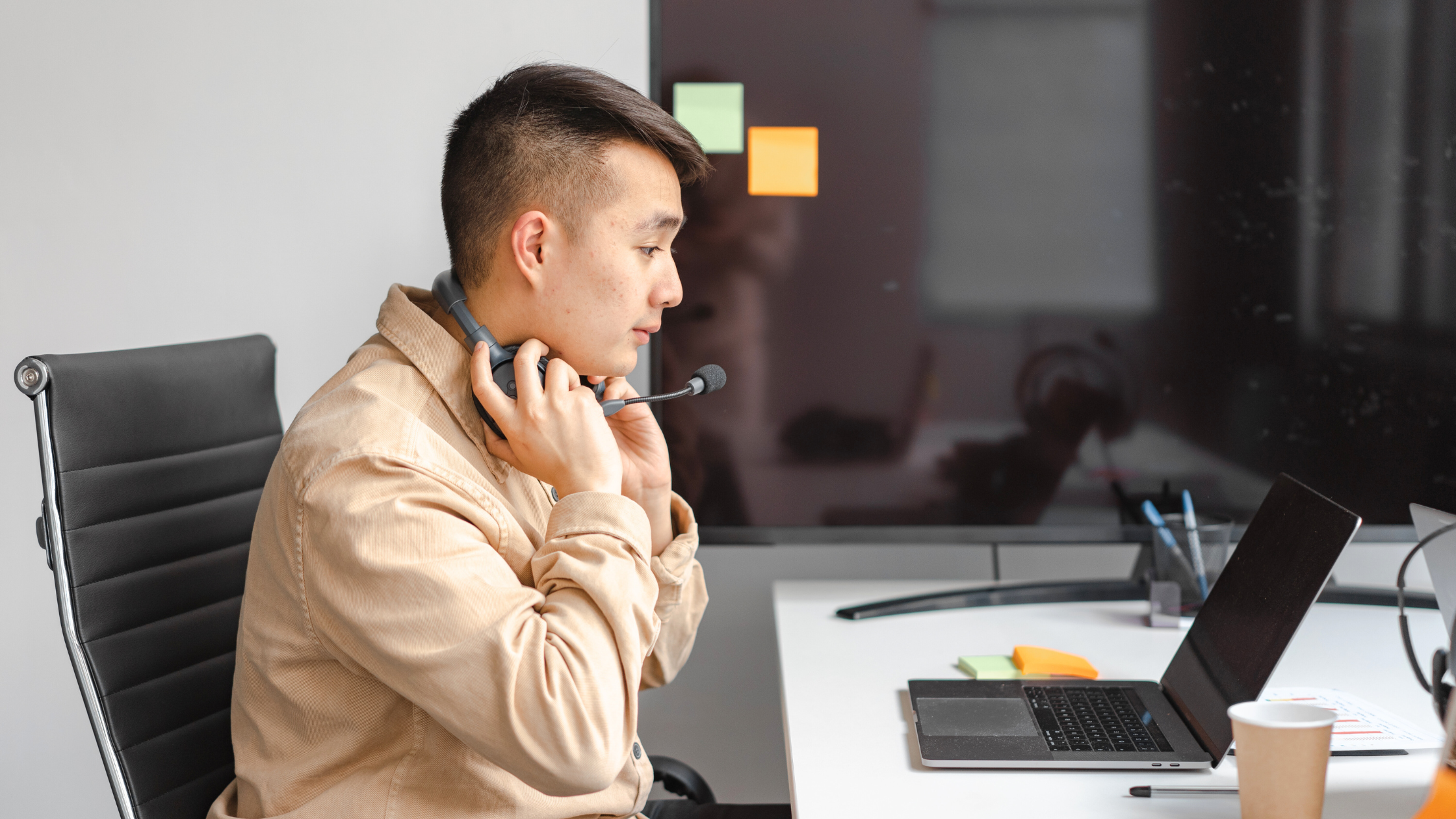 First of all, live chat can be implemented right into your website or online store. Your customers don't need to switch between channels to receive support.
This results in a more streamlined, convenient customer experience while you get the immediate, conversion-driving benefits of increased engagement and reduced customer churn.

Live chat also excels in delivering fast — or, in the case of AI chatbots —immediate customer support. Using the best eCommerce chatbot builders, you can proactively reach out to customers and answer basic questions in real-time, essentially providing self-serviced resolutions.

And, with the ability to provide round-the-clock support, chatbots empower customers to make round-the-clock purchases.

Still, if customers want to speak to a human agent via live chat, they can do so with more efficiency. Because agents can manage multiple real-time chats simultaneously, customers will generally receive much faster responses than if they were to use another channel.

So, how does this affect eCommerce conversion? Well, customer support is almost as influential to your visitors' buying decisions as your product and pricing strategy. According to a recent Khoros survey, 83% of customers said that good customer service was the most important factor in deciding whether to make a purchase.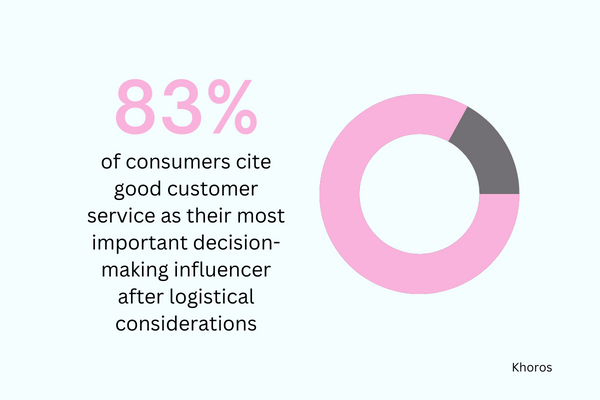 Data sourced from khoros.com
Solve blockers before they become frustrations 🔍
A blocker is something lying in the way of a customer making a purchase. This could be a question about your product or service that is essential to your customer's decision.

Rather than allow your customers to grow frustrated as they look for the answer themselves, why not implement live chat?

By analyzing your customers' online behaviour, you can pinpoint areas of your website that are susceptible to churn. Here, you can implement AI live chat and reach out to customers with blocker-resolving solutions.
Reduced abandoned cart frequency 👛
Tackling your cart abandonment rate can feel like an uphill struggle. Baymard Institute research puts online cart abandonment rate as high as 70% — that's a whopping seven out of ten potential customers lost at the tip of conversion.

By using live chat invitations, you can proactively approach customers at risk of abandonment and offer solutions that encourage conversion. Chat invitations are short messages that pop up on your customers' screens. These chatbots invite the customer to ask a question or entice them with an offer to initiate action.

Take a look at some of the most common reasons for cart abandonment according to Baymard research: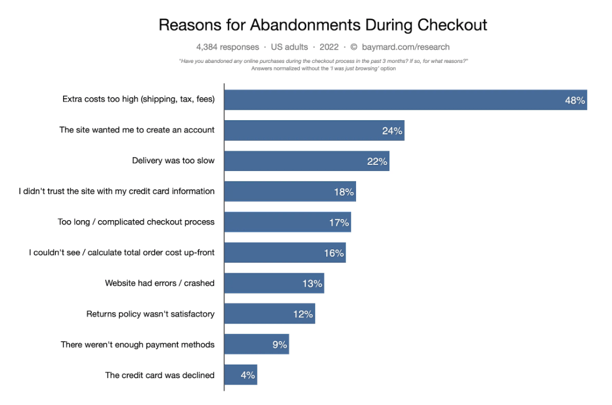 Image sourced from Baymard
You can place chat invitations that offer solutions to several of these issues strategically. For instance:
Offer assistance at the checkout 🛍️
This may prevent customers who are having difficulty navigating your website from abandoning their cart. It gives them the opportunity to immediately raise any issues that might be preventing them from purchasing.
Throw in an exciting discount 🎟️
Customers who are trying to decide between you and your competitor might be persuaded to purchase if you approach them with an exclusive offer. You could also offer discounted shipping, as the cost of these fees often leads to cart abandonment.
Entice customers with FOMO ⌛
The fear of missing out, or FOMO, is a powerful eCommerce marketing tool that can drive fast conversions. With the help of an accounting system, you can identify items that are low in stock. Should a customer have this item in their cart, you can send a message encouraging them to make a purchase before stock runs out.
Communicate your payment options 💸
Along with digital wallet payment options like Google Pay and Apple Pay, consider using alternative options like Klarna to entice customers to checkout using their preferred method. If you're a B2B company, you might communicate that your invoice program takes card payments directly from invoices in a single click to highlight just how effortless your checkout process is.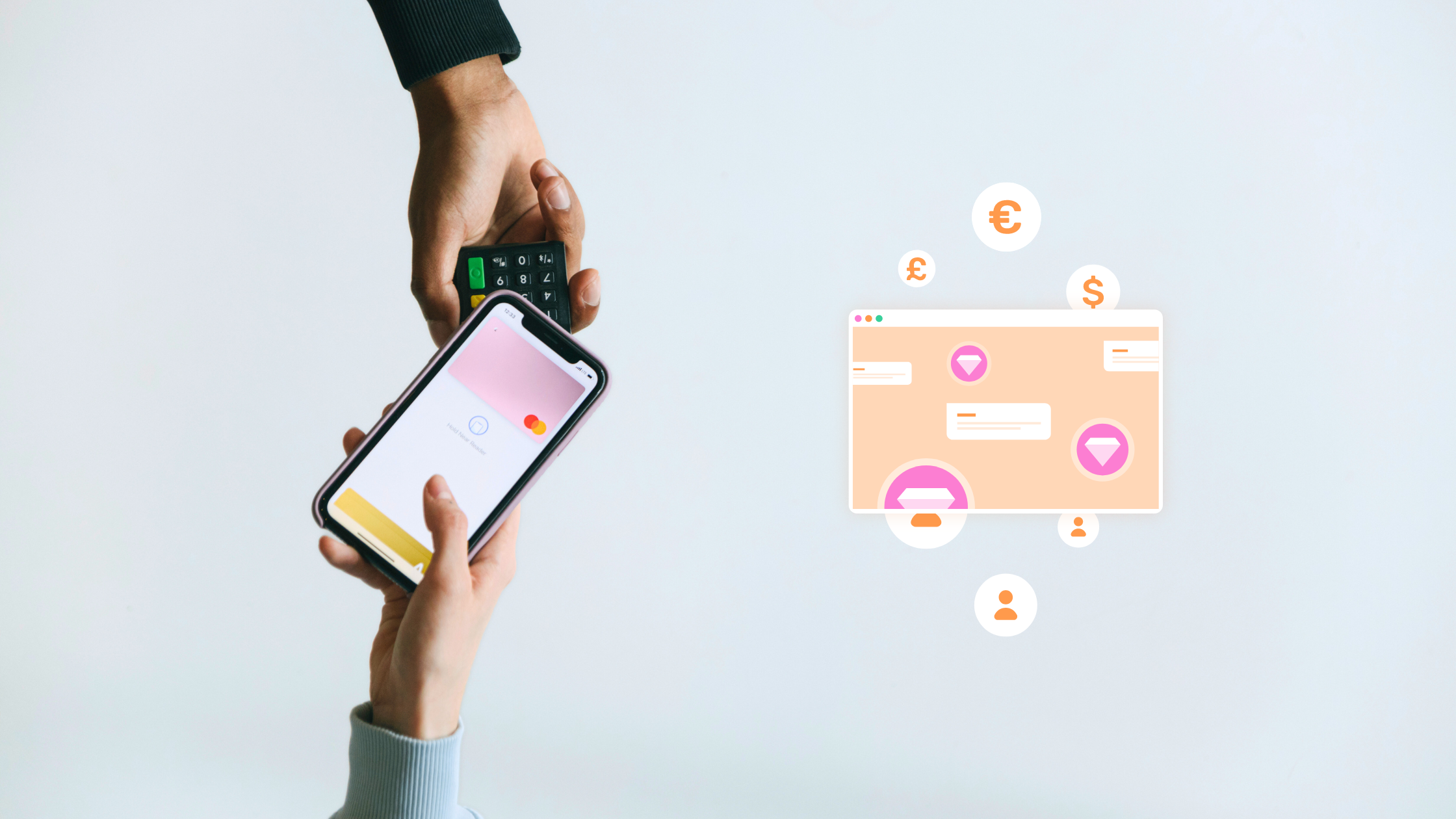 The best thing about using live chat to reduce cart abandonment is that both AI chatbots and live agents can work in harmony. AI chatbots can initiate conversations and communicate general information. Meanwhile, your live agents can handle more complex issues.
Offer personalized product recommendations 💎
AI product recommendation engines can analyze the behavioural and transactional data of your website visitors to create shopper profiles. These profiles are utilized by AI chatbots, enabling them to make personalized product recommendations.

Say, for example, a customer adds a coffee mug to their cart. You could use an AI chatbot to non-intrusively suggest related products that they might enjoy based on the buying behaviour of previous customers who bought that item. So, the chatbot might pop up to recommend the matching coffee flask or dinnerware set.

By making personalized recommendations, you can upsell or cross-sell to your customers. This generates more conversions without forcing your customer to browse your entire store.

You can even provide AI-driven personal shopping assistant services within your website.
Improve the customer journey 😊
Once a potential customer lands on your website, your goal is to guide them smoothly from browser to buyer. To do this, you need to create an intuitive, streamlined website customer journey.

Live chat can be implemented at every customer touchpoint. By tailoring messages for individual pages, you can facilitate meaningful, personalized interactions that directly resolve customer pain points, desires, and needs.

For example, if a customer is bouncing between two product pages, your chatbot might pop up and ask if they need help to make a decision. For customers loitering on your pricing page, your chatbot might ask if they want to talk to a sales rep about pricing plans.

Tailored messaging gently guides your customer further down the sales funnel without disrupting the flow of their journey. Free of distractions, customers remain engaged and make faster purchasing decisions.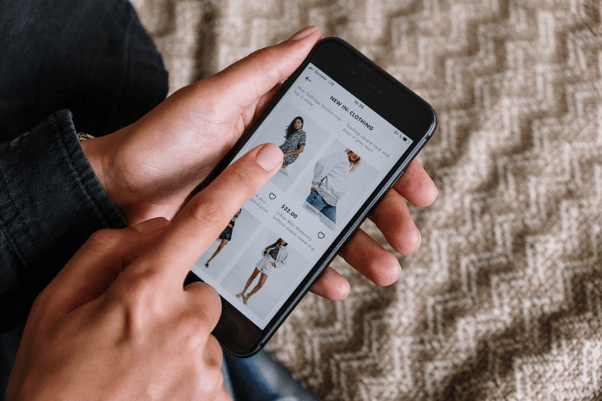 Managing post Live chat implementation
After implementing live chat, it's important to continually assess how successful it is in relation to your business goals.
If you're specifically implementing live chat for eCommerce conversions, you'll want to track metrics like chat volumes, chat duration, first-chat resolution, and, of course, conversions made directly after live chat engagement.

You'll also want to measure the ROI of your live chat implementation, which you can do with the help of accounting software for retail. Accounting systems like Sage can track all of your business spending ⁠— from technology expenses to stock purchases⁠ — and relate them to your wider cash flow for long-term financial visibility.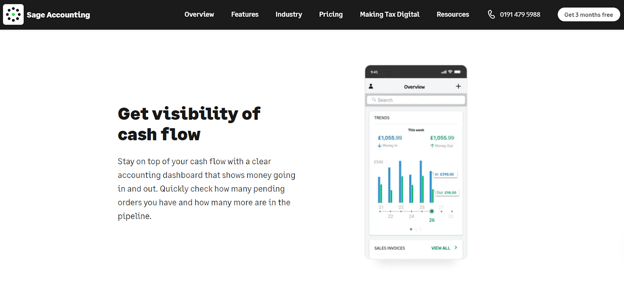 Screenshot from sage.com

Just as you continuously train your sales reps in customer communications, your chatbot messaging needs to be regularly refined too. Pay attention to your customers' fluctuating pain points, needs, buying behaviour, etc, and revise your messaging accordingly.
Using live chat as an eCommerce conversion tool
A live chat eCommerce conversion strategy isn't about pushing the hard sell. In fact, it's quite the opposite.

Live chat increases sales by putting the customer experience at the heart of online shopping. It eliminates many of the obstacles and distractions that commonly prevent conversions and delivers aspects that create fundamentally positive customer experiences, such as speed, availability, and proactiveness.

Personalization is potentially where you can directly influence the most sales. Using AI to target customers with personalized product recommendations and urgent stock notifications can not only drive conversions but increase the value of those conversions.
And remember, increasing conversions is just one of many benefits of live chat for eCommerce businesses. So, while you're refining your live chat messaging to increase conversions, you can also be building trust, improving customer support, and collecting valuable customer data.