Lead capture forms and lead generation bots are marketing teams' everyday tools for collecting contact information, generating leads, and qualifying them further before forwarding them to sales. Both forms and chatbots can be built from scratch or using ready-made templates.
The benefit of using pre-made elements to set up a form is that it can save you both time and resources, and is proven to increase your lead capture conversions. Instead of spending your time building the form, you can use it on testing and fine-tuning it.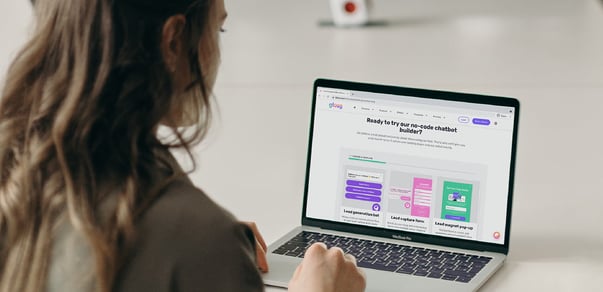 Creating a form by picking the most suitable options from a set of available elements leaves you just with the task of customising the colors, fonts and images to suit your brand guidelines.
With the available text examples and suggested questions and answer options, you can focus on applying your company tone of voice and fine-tuning the wording of your forms.
In this blog, we'll walk you through our top lead capture templates for boosting your conversion rate, and how to set them up.
4 best lead generation form templates
With ready-to-use templates, creating, publishing, and targeting your multi-step forms, lead generation bots and various pop-ups is quick and smooth – it will only take you minutes, and won't require any specific technical skills.

The drag-and-drop editor of the giosg tool lets you create forms of all sizes and shapes and customised bots to connect and engage with your audience in an optimal way.

You can either use the pre-built conversation flows or alter the content in the text fields to match your company tone of voice, and change styles related to font type, background colours, borders, and shadows to meet your brand guidelines.

To make your forms and bots more fun and stand out, you can easily add interactive media of your choice, such as videos, quality pretty images, GIFs, or emojis..

By adjusting timing, you can ensure your content appears at the right time, either when a visitor clicks on your CTA or based on any of the available onsite targeting options.
1. Multi-step lead generation form
The more data you get from leads, the more qualified they are. And going from 3 to 4 fields can even decrease your conversion rate by 50%.
That's why multi-step forms are great for lead capture conversions. So how can you get started with multi-step lead generation form templates?

Building your multi-step form with giosg couldn't be easier, with only three views to modify.

The template is built so that View 1 catches the most important information, which is the email address, followed by View 2 asking for additional information, and ending with a thank you note. Simple, isn't it?


👉To get started with multi-step form templates, sign up for a free trial of our drag-and-drop tool.
2. Pop-up lead capture form

template

Creating lead generation form pop-ups allows you to target your lead capture forms at the right time, to the right visitors.

Pop-up forms are equally easy to create and modify, and can be activated at a chosen time.

View 1 can be set to appear when a visitor has clicked on a CTA on your webpage, or alternatively, triggered when a set criteria is met, such as the number of visits or time spent on your site.

Again, View 1 captures the email first, and the rest of the contact details are submitted in the next view to make the information collection as smooth as possible.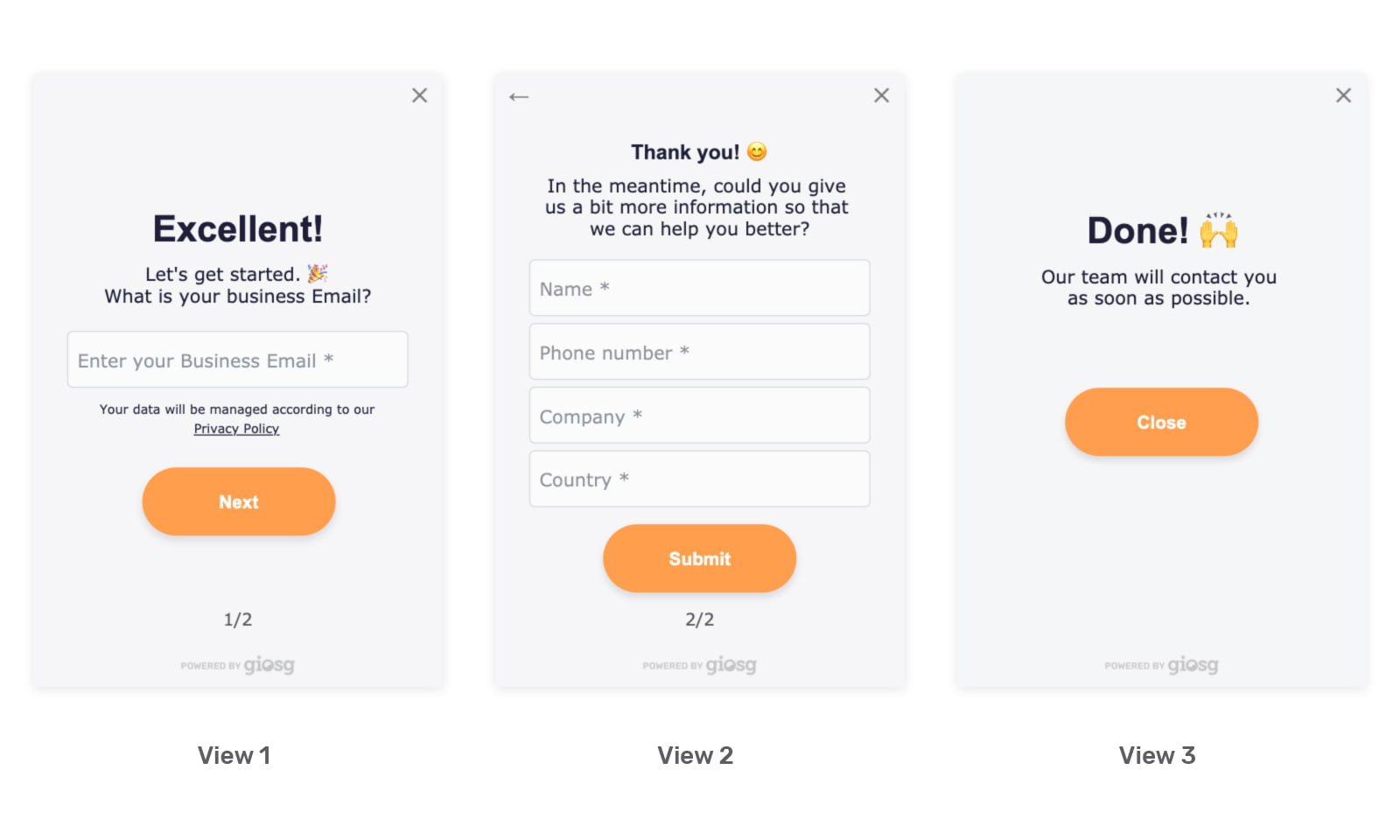 3. Lead generation bot template
There's no need to limit yourself to static forms. Lead generation chatbots allow you to take a conversational approach to your lead generation.

Not only that, they are 4X more effective than static lead capture forms.
Our bot template comes with five views to choose from and button-based options to modify based on your needs.
It's easy to add or remove views with the drag-and-drop feature and customise the bot to meet your objectives.
The conversational mode of the bot template makes the interaction feel more natural, and selecting answers from predefined options take your visitor to the next view with just one click.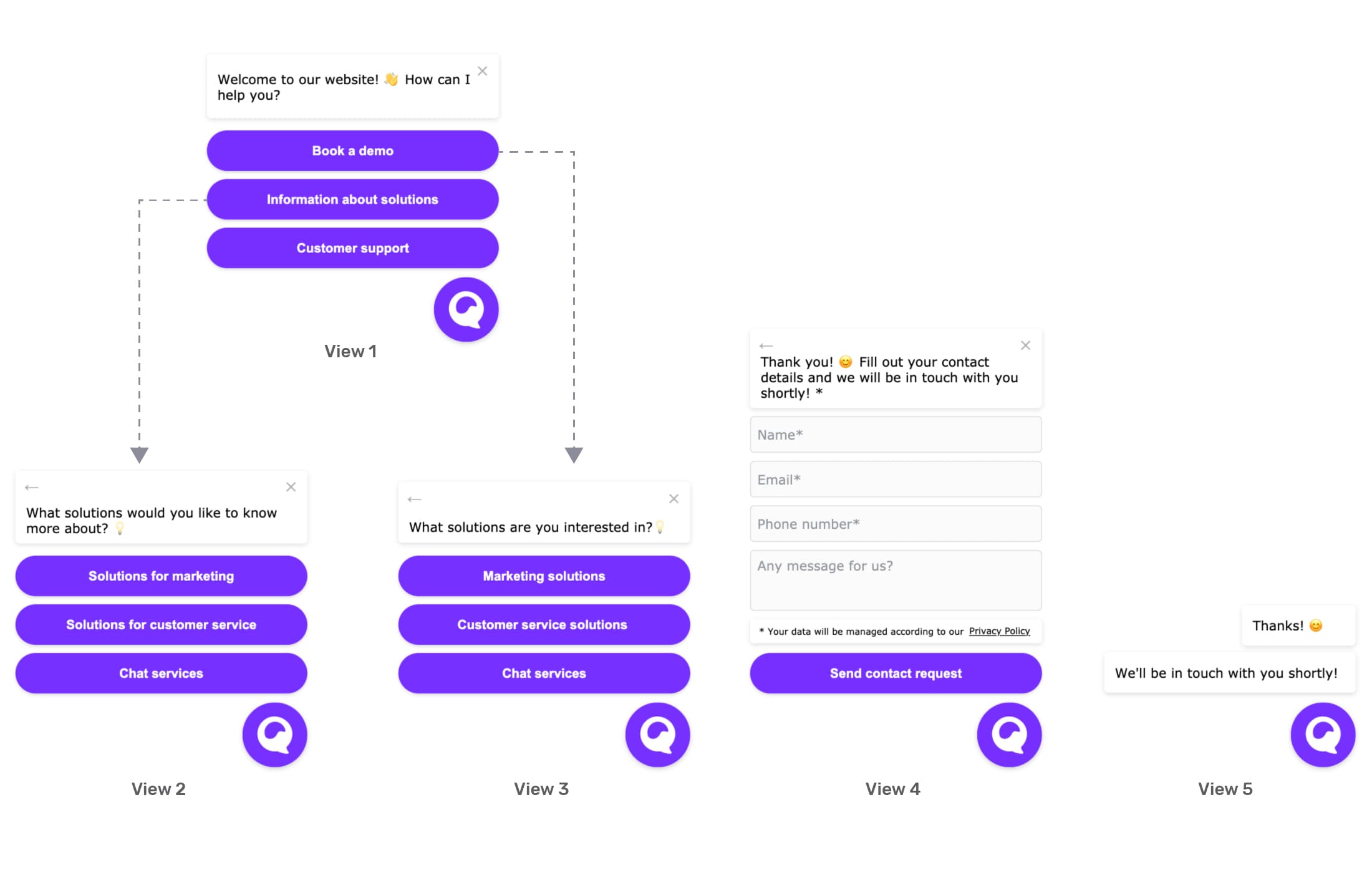 👉To get started with lead generation bot templates, sign up for a free trial of our drag-and-drop tool.
4. Lead magnet pop-up template
Promoting your content on relevant pages is easy with giosg lead magnet pop-ups.
Activate the pop-up offering your guides, whitepapers, or studies when the visitor has spent enough time on your page or using other available triggers.
To capture the lead, all you need to ask your visitor to do is to share their email and click on the button in the first view. The following thank you view will let them download the content.
The eye-catching green background can easily be changed to one of your brand colours to grab the attention of your audience.

Tried-and-tested lead generation form templates
Saving your time and efforts, ready-to-use templates really are an easy way to launch yourself into forms and chatbots for lead generation.

No need to start from scratch when the templates offer you options to choose from and help you build a customised flow for your bots and forms.
To try out lead generation bot templates, sign up for a free trial of giosg👇