The way people search for their next home has changed drastically over the years. Today the house hunting journey usually begins on property portals. Recent research in the UK shows that 77% house hunters use property portals to search for their next home.

Home buyers and sellers have become much more demanding and expect personalised customer experiences online.

Technology has made it easier and more efficient for portal visitors to search for properties that match their exact requirements.
And when increasing number of traffic goes to property portal sites, it's crucial that estate agents are present there too.

For estate agents always looking for the next new listing, interacting with their potential customers in the right place, at the right time is more important that ever before.
Why property portals are the key to converting more seller leads?
Very few people can actually afford to buy a new home, before they have sold their current one first.

So people browsing on property portals have a dual role; they're buyers, but also potential sellers.

That's why interacting with visitors browsing on property portals is an excellent way for agents to fish out those desired seller leads.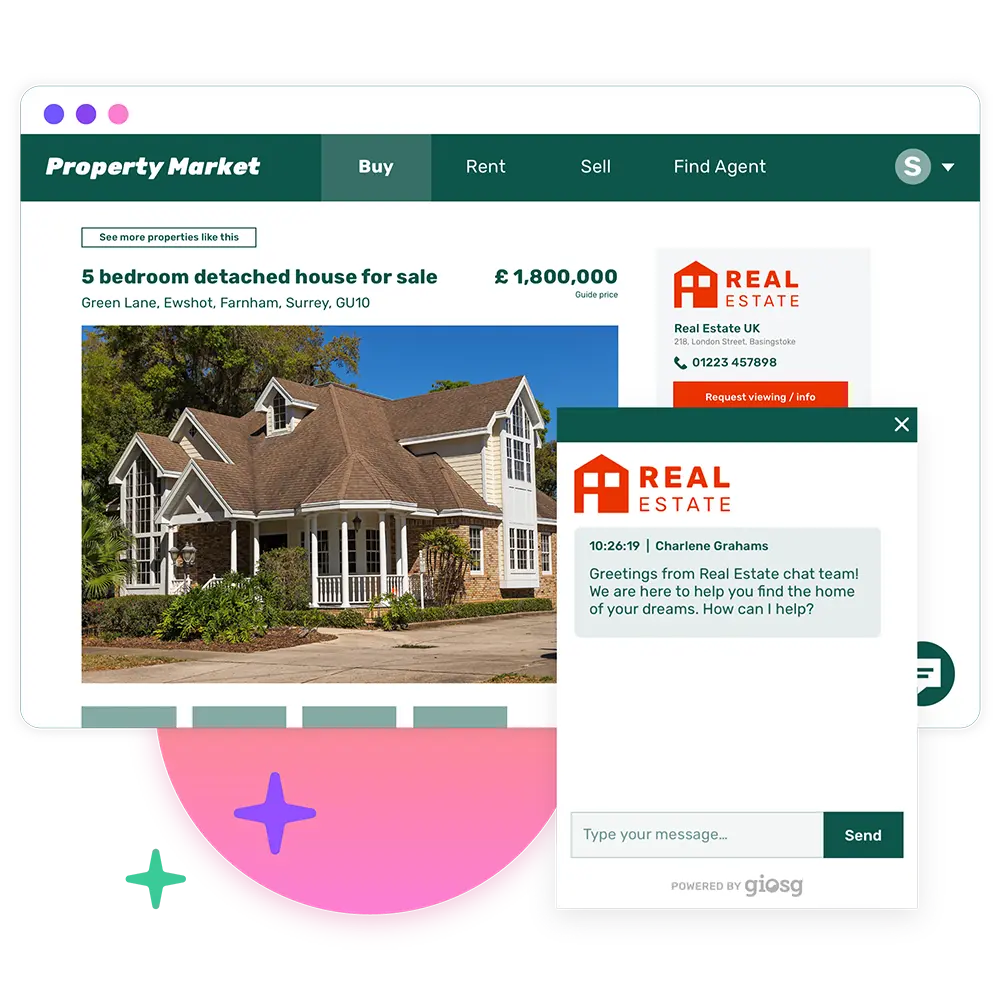 How to interact with seller leads on property portals?
The answer is simple: with giosg!

Using our property portal solution, estate agents can start a live chat conversation in real-time with a visitor on a portal site on their listed property page.

It allows for estate agents to directly interact with their potential clients on their property portal listings.

To help you understand how this could work for you, we've listed a few ways estate and letting agents can use giosg to engage with seller leads in a targeted way on their property portal listings:
1. Launch an automated chat message
The one thing that home seller leads are most interested in is how much their home is worth.

And, in a situation where you are looking to buy and sell simultaneously, it is even more important to know exactly how much money you have to spend.


By offering assistance and a free valuation, in an automated chat message that pops up when a person is looking at one of your listings it lets them know that assistance is readily available.

From a business point of view, this type of conversation starter also creates a valuable possibility to engage with visitors that are considering to sell their current home, without appearing to be too pushy.
In general, we recommend that you give the visitor some time to look around before sending out an automated live chat message (i.e. it's nice to give the visitor those 5 seconds before approaching him).

We also think that being active and taking an initiative to offer services is a good thing, as long as you pay attention to the way you formulate your message. After all, it's not so much about what you say but how you say it.
Of course, you know your customers best and, ultimately, it all comes down to your choice of strategy and way of doing business.
2. Prompt a returning visitor
So, in case what we suggested earlier feels too straightforward, here's an example of a more subtle way to start a conversation.

This is how one of our clients in real estate generate new customers on property portals:

And, when and if the visitor returns to the site

3. Trigger a property portal bot
Not only can you use giosg to start a real-time chat with your potential seller and buyer leads on property portals, you can also use our tools to trigger a property portal bot.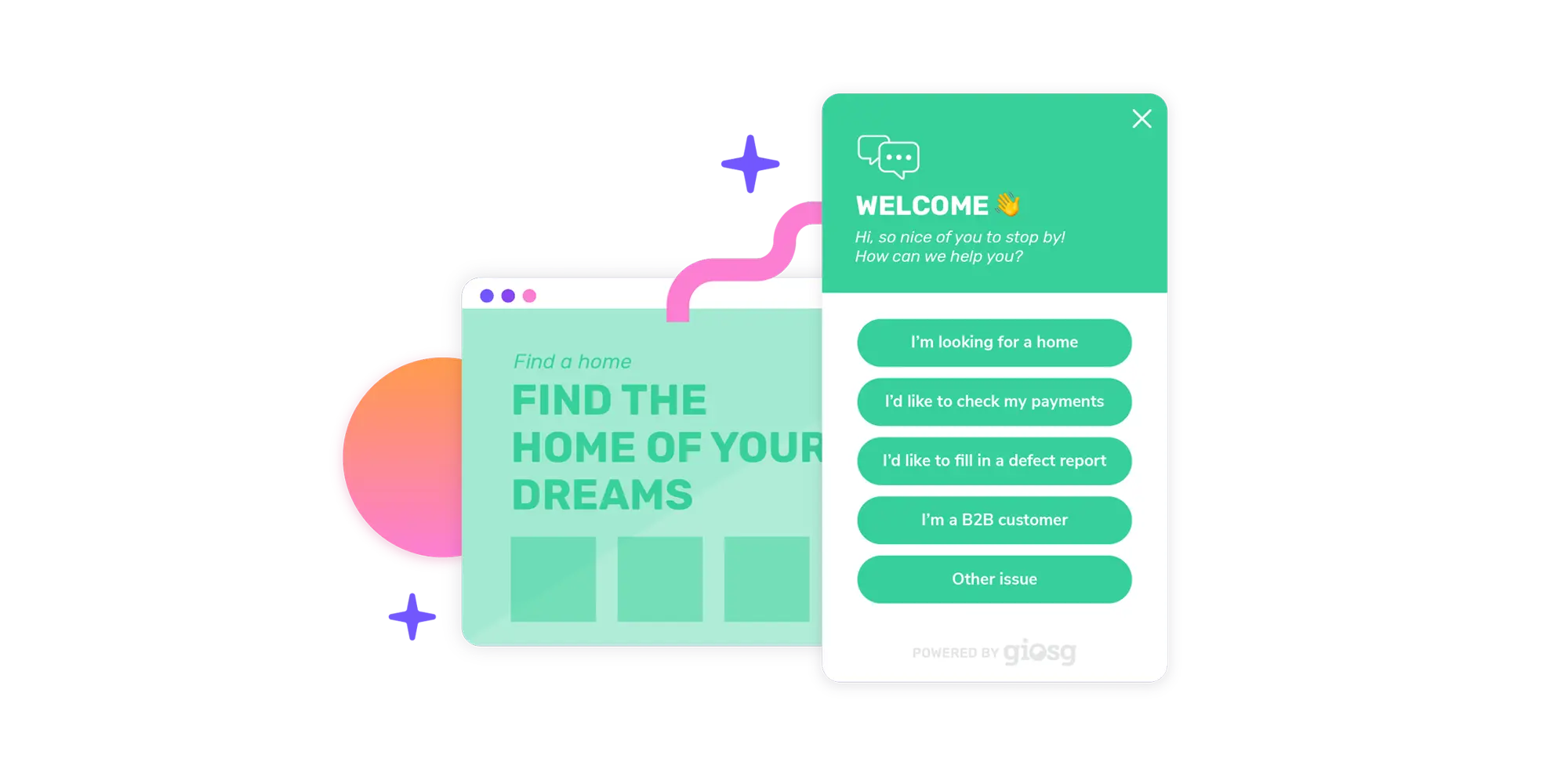 This allows you to completely automate the customer journey.
Our customer, Finnish housing investment company, Asuntoyhtymä, implemented a bot onto their property listings in two different property portals.

They also created two different bots for each portal pending on the type of listing - one was created for a rental request and one to arrange a viewing.
These property portal bots help them generate more than 100 new property leads per month.

Whatever you do, the most important thing is that you are present in the places where your customers are, so that you can offer them help and services when they need it!

In case you are an estate agent and not already interacting with portal visitors then maybe it's time to take the first step? Go to our real estate solutions page to learn more and to book your free demo here.

You can also download our estate agent lead generation guide to get more ideas and tips on how to improve your lead generation.




Editors note: This blog was originally published in 2017 but has since been updated and revamped for improved accuracy.