In the past decade or so, the way people search for homes has changed drastically as more and more house-hunters now start their search by looking on one of the major property portals. Recent research in the UK showed that 47% of the population had used a property search website during the last 12 months.
Technology will undoubtedly continue to take away barriers to information, so that portal visitors have even easier and more efficient ways to search for properties that match their requirements. Innovations are also changing the role of an estate agent so that the real issue real estate companies need to address is how to be more responsive to potential customers.
Estate agents are apparently always looking to get more listings but how to find those seller leads on property portals? The answer is quite simple: try asking portal visitors if they already have a home that they need to sell before they can buy a new one.
---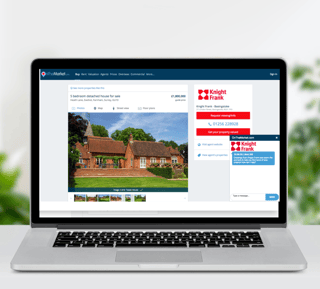 As increasing number of traffic goes to property portal sites they can also be helpful in seller lead generation. The reason for this is that many people browsing on property portals have a dual role; besides buyers, they are also potential vendors as very few people today can afford to buy a new home before they have sold the old one first. That is why interacting with visitors browsing on property portals is an excellent way to fish out those desired seller leads.
To overcome the barriers to prospecting on portals we have also created our Network solution. With giosg Network businesses' can connect in real time with the end-customer in the business partner's site. More precisely, in this case, this means that estate agents can start a chat conversation in real-time with a visitor on their listed property page on a portal site.
How to open a dialogue with a potential home seller
The one thing that home sellers are most interested in is how much their home is worth. And, in a situation where you are looking to buy and sell simultaneously, it is even more important to know exactly how much money you have.
That is why, in this case, we suggest you try this:

This opens a dialogue and lets the customer know that in case of assistance is needed it is readily available. From a business point of view, this type of conversation starter also creates a valuable possibility to engage with visitors considering about selling their current home, without appearing to be too pushy.
In general, we at giosg recommend that you give the visitor some time to look around before sending out an automated live chat message (i.e. it's nice to give the visitor those 5 seconds before approaching him). We also think that being active and taking an initiative to offer services is a good thing, as long as you pay attention to the way you formulate your message. After all, it's not so much about what you say but how you say it.
Of course, you know your customers best and, ultimately, it all comes down to your choice of strategy and way of doing business. So, in case what we suggested earlier feels too straightforward, here's an example of a more subtle way to start a conversation. This is how one of our real estate clients currently handles prospecting for new customers in a property portal:

And, when and if the visitor returns to the site

---
The most important thing is to be present for your customers
In the end, the most important aspect is that you are present in all the places where your customers are moving so that you can offer them help and services at the exact moment of need. So, in case you are an estate agent and not already interacting with portal visitors then maybe it's about time you take the important first step!
We are happy to help in case you want to talk more about how to get started. Just come and chat with us!