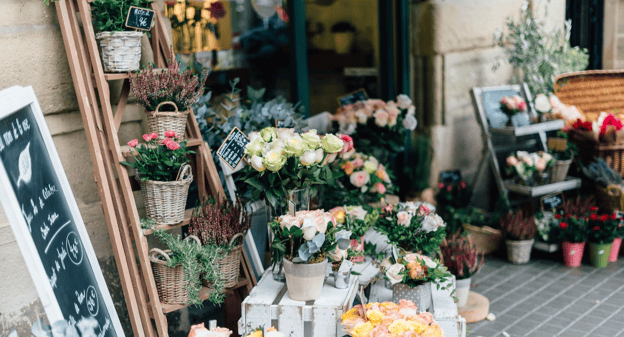 If you were a florist, Valentine's Day would be the busiest time of the year for you. If you were a toy store, you know you'd be minting cash around Christmas. In more recent times (and in this digital age), Black Friday would have virtually any retail business laughing to the bank and Cyber Monday would boot out the Monday blues. What we're trying to say is - seasonality matters.
Businesses are typically cyclic in nature, with demand peaking at certain times of the year and lulling to a slowdown at others. As such, you need to capitalize on the opportunity to maximize profitability.
So, if you are looking to increase your Shopify sales effectively, we recommend the following seasonal strategies:
1. Analyze store performance
Of course, the journey of preparing for seasonal sales starts by identifying seasonality. Fortunately, you no longer have to rely on hunch-based market understanding to know when your products will be in or out of demand.
Enter Shopify store analytics.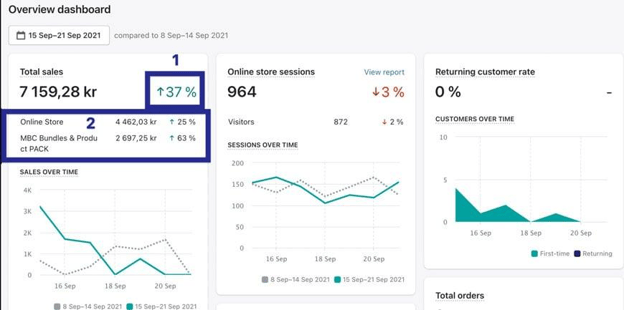 Source via Analyzify
Shopify store analytics reports are a data mine of valuable information such as purchase trends and patterns, traffic sources, customer profiles, etc. You can correlate the data to pinpoint which of your products are selling and when.
Such insights can help in myriad ways, from orchestrating marketing activities around these sales to forecasting revenue to pushing the right product at the right time to clear inventory. The findings of the reports are not just historical but can also be viewed live through an intuitive dashboard.
Another key factor to consider is how to improve the efficiency of your customer service during these times of high demand. If your customers are not getting the help they need during their purchasing journey, they have an increased incentive to take their business elsewhere.
One way to make sure your customers are supported every step of the way is by automating your customer service, especially whenever you're expecting high traffic on your online store.
So make sure to use the data and tools available to understand and improve your store performance!
2. Craft your marketing strategy in advance
Once you have an idea about the "when" and "what" of your seasonal sales, it is time to answer the "how."
Seasonal marketing is not a "we'll cross that bridge when we get there" thing. It needs to be planned - meticulously, and in advance. It needs to truly harmonize with the seasonal event. Fortunately, you would have done much of the groundwork while analyzing your store. You can pair that with the ongoing market trends to devise a roadmap for realizing your marketing goals and KPIs.
However, there are some events that need exceptionally more planning, like new products or business models. For example, if you want to begin your subscription box journey in the spring, you'll need to ask your customer base in the fall or winter if this is something they'd be interested in.

Rolling a complicated strategy out last minute can spell disaster for your customer satisfaction rates and ROI. This is especially true if you're selling perishables like flowers or food.
And if building a seasonal marketing strategy from scratch seems overwhelming, check out these top 12 e-commerce marketing strategies to get started!
3. Develop a customer-focused tech stack
Here's an irrefutable fact - you're not the only business running seasonal sales. You would be competing against multinational enterprises and local small businesses to carve a spot for yourself. And if you are looking for a competitive differentiator, nothing tops customer-centricity.
The impact and advantage of a rewarding customer shopping experience deserve a blog of their own. It becomes all the more crucial when one considers high-stakes, high-pressure situations like seasonal sales.
However, building a customer-first ecosystem requires more than changing the organizational mindset. It requires technological intervention. Fortunately, there is no dearth of options when it comes to making your store customer-friendly.
From intuitive AI-powered search engines to personalized retargeting campaigns - there is a tool for everything. It is just a matter of finding the right one.
4. Offer automatic promos and discounts
Speaking of retargeting, let's take a moment to talk about cart abandonment - the ultimate heartbreak point for any retailer. While the cart abandonment rate hovers around 51% to 75%, the numbers spike during the holiday season and festivities.
This could be due to various reasons, ranging from hiked product prices to delayed delivery timelines or even delivery charges. Whatever the motivator, losing your customer is lost revenue. More so when you were banking on seasonal sales to make amplified profits or eliminate excess inventory.
While there are several effective ways to reduce shopping cart abandonment, nothing beats a timely coupon or discount code. Offering these automatically before or after abandonment can rake in significant revenue that you would have otherwise lost.
5. Create a centralized inventory
Do you have multiple stores selling the same products? Or perhaps you have also partnered with other stores to sell your goods. Either way, the distributed nature of your store might make it tougher to manage stock.
The problem aggravates during the sale season when your products are heavily in demand or when you desperately want to shed some liability. Whatever the demand may be for the items in your swag store and your main inventory, it's important to centralize your stock to avoid the common pitfalls.
But what's the big deal about a poorly planned and maintained inventory? Well, it is a trillion-dollar leakage haunting retailers. Plus, customers have had to face about 2 billion out-of-stock messages online, which isn't very customer-friendly, to say the least.
With a centralised stock inventory, you will be preventing stockouts, overselling, or underselling deadstock that can hamper your goals.
6. Revamp your store policies for the season
Whether it is the post-purchase guilt or unmet needs and expectations, cash flow has become bidirectional in eCommerce
Once again, the problem is more pronounced around the holiday season when 3 in 10 customers will return items within a month of their purchase.
In such instances, comprehending and predicting money flow within the business sphere can significantly empower entrepreneurs to make astute decisions, proactively strategize, and ultimately avert any unwarranted cash flow crises.
On the other hand, stores are getting notorious for making it increasingly difficult for customers to return or replace items or seek refunds.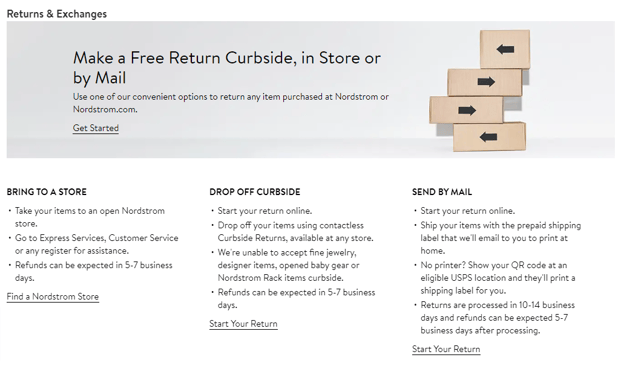 Even though some stores may justify such a move in order to protect their interest, it is finally the customer that reigns supreme. It would be best to formulate sale-specific policies that enhance the shopping experience.

Closing thoughts
Spring, Fall, Winter, or Summer - all it takes is a little foresight to master seasonal sales and use them to your advantage. From moving dead or excess stock to managing product selling, everything becomes easier to handle with the right strategy, advance planning, and preparation.
Author's Bio
Preethy Ann Kochummen is a digital strategist and marketer, mother, public speaker and mentor. A diverse career journey of 20+ years, rich in learning, has kept Preethy Ann motivated and hungry. She is always interested in meeting new challenges with wisdom and positivity.
In her current role, she is scaling marketing to drive and grow the business on par with the best examples. She has diverse interests and it's what keeps her inspired and raring to go - from theatre to personal finance, content strategy to MarTech, digital marketing to artificial intelligence and so on.