When people plan to grow the loyalty club of their e-commerce business, they often think they need to increase the marketing budget. But effective lead generation pop-ups can bring you great results at a low cost. With well-designed website popups, you can grab the attention of website visitors and grow your loyalty club.
In this article, we're going to examine how to create high-quality lead generation popups to grow your loyalty club. We will also cover the best tools for lead generation strategies, and share some lead generation popup examples to help you scale your business. Let's begin.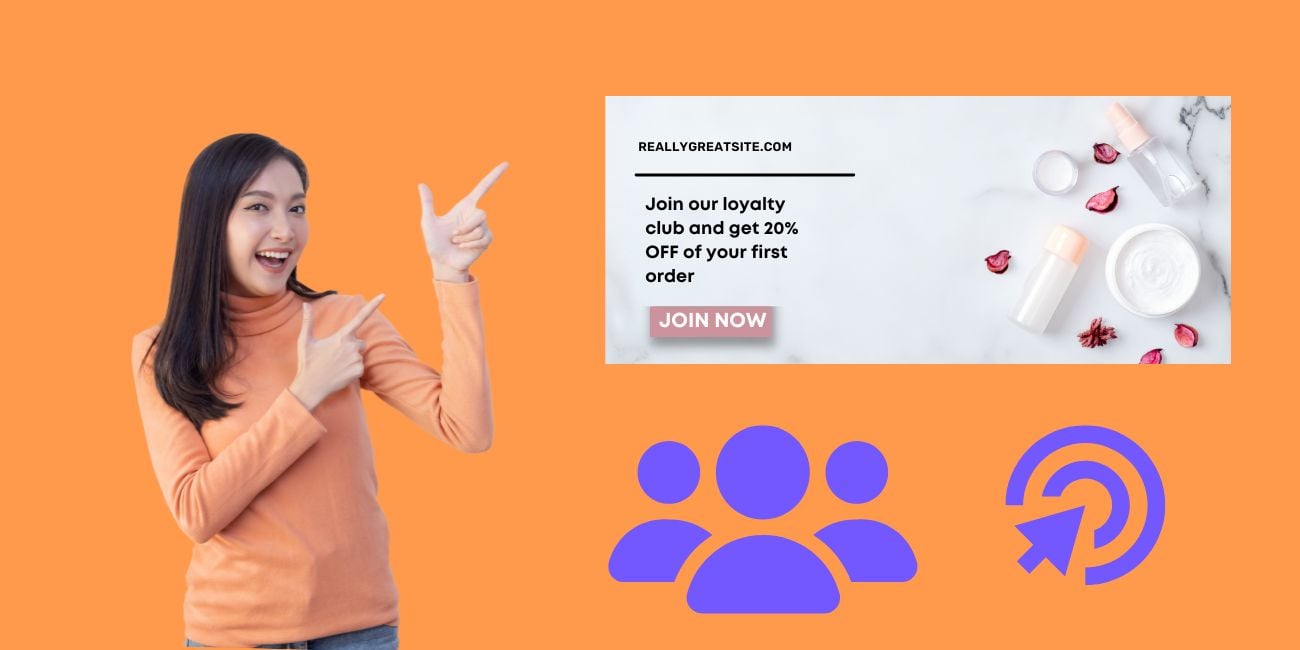 What is a

Lead Generation Pop-up in e-commerce

?
Lead Generation pop-up is a web form e-commerce companies use to grow their subscriber base and increase their overall sales. This tool can capture a potential lead's details which include name, email, phone number, or company data.
However, most businesses request only an email address to establish an easy communication path with potential clients in the future. After all, long lead generation forms often take time to fill and can scare away your visitors, making you lose them forever.
The aim of using lead generation pop-ups is to gather information about your site visitors so you can add them to your marketing funnel and sell more products to them later.
You can also build effective popups for e-commerce in giosg Interaction Builder to accelerate your sales.
Next, we will go over some lead generation pop-ups and which one works best in e-commerce.
10+

Lead Generation Form Popup Examples for different industries
The most common forms of lead generation popups include registration forms, contact forms, or even newsletter signup forms.
However, in this section, we're going to point out various examples of lead generation forms used in different business niches. You should learn a thing or two from these examples and implement them in your business.
Examples of Lead Generation Form Popups
The Chatbot is a great pop-up design for e-commerce businesses. This is chatbot is designed to pop out when a visitor reaches a certain limit on your page or clicks a specific link or button.
This is a very useful tool because it helps you engage your website visitors and keep track of their activity on your website.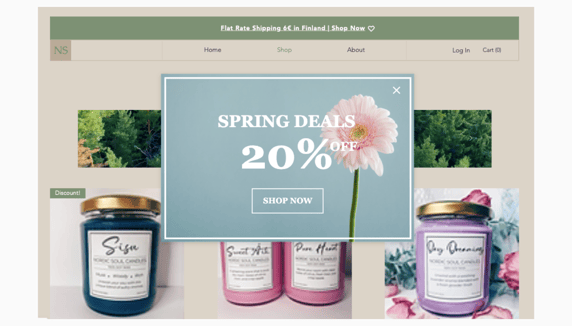 There is a Slide-in scroll option that you can use to convert visitors without disrupting the user experience. A call-to-action feature, "Shop now" invites users to learn more about your offer.
This is another website popup example that businesses use on their website. It is a simple straight to the point form with an effective design. Businesses use this form mostly during the registration process.
With this pop-up example, brands can gather factual information about the user, including their name, username, work email, password, and company name. The form also features a bright colour call to action button users can use to finish their registration or sign-in.
The Yes/No Form is another form that does an excellent job. Businesses can use these b2b lead generation examples to get users to make a selection, personalize their sales journey, or click something.
This form can be used as a fast track to identify a lead and know the form/page to send them based on what they want.
Brands can also use this lead generation popup to offer users limited options to complete an order. This will help brands easily know what visitors want.
Multiple Step Lead Form Popup
A multiple-step lead form is a straightforward form you can customize to fit your brand. The form has a sleek contemporary design you can use to improve conversions for your brand. Brands can customize the form's placeholder text to suit any information they want from the visitor. They can also break down different stages of the form into short questions, which will turn it into a multi-step form.
Bulleted Benefits Form Popup
This is another type of lead generation popup example where brand owners can list out short benefits of using their brand, which would help visitors to make a more informed decision on their products or services.
With this type of form, brands can list out benefits that will lead to a call to action. The form can be customized with bright colours on the call-to-action buttons to attract visitors.
Dedicated Landing Page Form Popup
A dedicated landing page form is a very simple landing page that has lots of conversion tactics. Businesses can create this landing page with form on WordPress as it generates lots of leads, saves time, and boosts conversion.
Using this type of form is beneficial because it only features a sign-up form with a call to action. You can also customize this landing page with different color schemes and your company logo since you're using WordPress.
With this, you can create more recognition among your visitors and raise more brand awareness.
Conversion Focused Landing Page Popup
As the name implies, a conversion-focused landing page is a multiple-page form focused on giving visitors a delightful user experience and conversion. This type of lead generation pop-up example is customizable to fit any brand's preferred design.
They can also share links to different pages on their website that will lead to conversion at the end of the day. An example of a brand that uses this type of page is Yumble.
Confirmation Checkbox Popup
This is a type of lead generation popup where the users get to affirm their consent to receiving different offers from the brand while submitting their email as the address to receive the offer.
It's a very straightforward type of lead generation page that works every time because it uses bold colours and adds a confirmation checkbox to attract high-quality leads.
This is another type of lead generation page where the brand owner offers the visitors different freebies when they sign-up for their website. This is a highly effective lead generation tool because it goes straight to the point with the offer.
It also usually entails what the visitor stands to benefit from getting the freebie. There is a direct call to action button which attracts the user to sign up.
This is a type of lead generation popup that monitors the activities and movements of your visitor. These popups detect when visitors want to leave without completing an order or leaving their information behind.
This type of popup is designed to send a targeted message to the client or to remind them of their last activity on the website before they leave and are gone for good.
So, you can entice your clients with bonus offers like a spin-to-win coupon wheel. Even if they don't make an outright purchase, you can collect their contact information and message them later regarding your products.
A gated content page is an online content page where visitors have to sign up with their personal information or social media page to gain access to whatever content you have to offer on your page.
This is a fast means of conversion because visitors must input their details before they can access your website.
An example of a gated content page is LinkedIn.
Refer-a-Friend Form Popup
A refer-a-friend form is an impressive way to convert leads or increase your talent pool in case you have openings.
This b2b lead generation example works simply because it's a personal recommendation to your brand, and the referral will create more trust in the eyes of the referred.
With this form, you can simply ask the visitor to send whatever offer you have to another individual using their email.
There is also a comment box section that creates the feeling that the user is sending a personal message to their friend. This type of lead generation tool works every time.
How to create a quality

Lead Generation Popup
If you're thinking of creating the best pop-up examples, this section provides all the detail you need!;
Offer your visitors relevant incentives

You must offer value that solves problems for the visitors. This will pique their interest and encourage them to sign up and share their information.

Use Exit-Intent Popups
The use of Exit-Intent pop-ups will win visitors by piquing their interest when they want to leave your site. The popup as soon as the visitor wants to leave. You can set them to show scintillating offers that will catch your client's attention.
3. Use Multi-Page Popups to ensure conversion
This will ensure that your popups are relevant in regards to what the visitor needs and convincing enough to make their purchase.
Be creative with your popup design
While creating your popup, play with the design. Try different colour combinations, different shapes, and different themes that rhyme with your business.
If you find that hard to do, you can use lead generation popup templates to form the basis of your design.
When creating a copy, use powerful and convincing words that will push visitors to take action. Also, try to be concise as you share information regarding the benefits your business has to offer.
You can use different juicy offers as your CTA. This would entice your visitors to check out your site and your products and your site may even serve as website popup examples for other brands to copy
Add a Call-to-Action button
Ensure that your call to action stands out from your other text. If you can, make it very bold and short. Also, make the button very clear and easy to click.
Conduct A/B tests to see which copy, headlines, pop-up copy, the colour of CTAs, and incentives are most effective in generating leads
What are the Best Lead Generation Tools?
While there are many awesome lead generation tools available, we have looked at them all based on their flexibility and user experience and have determined these three to be the best.
1. Giosg
Giosg is first on our list. It is an effective and easy-to-use platform that will help your business drive sales and grow revenue. You can leverage pre-designed popups for newsletters, promos, quizzes, surveys, and more. Additionally, giosg offers visually pleasing and interactive video pop-ups that are great at increasing conversion rates. With the help of 30+ targeting triggers, you can ensure popups are always shown at the right time and with the right audience.
2. Picreel
Picreel is one of the best tools out there. It is a solution that allows web traffic to be converted into high-quality leads by serving tailored offers to segmented visitors.
This tool offers 700+ integrations with analytics and personalization. You can create your popup easily using any of its 100+ popup templates available.
3. Hubspot
HubSpot is the perfect lead generation tool for scaling businesses looking for an all-in-one customer solution. With HubSpot's free form maker, you can collect contact information from all your website visitors and store it directly in your CRM. You can build and customize the forms with over 1,000 predefined form fields and embedded them into your site within minutes.
4. Wisepops
Create your contextual and beautiful popup design on Wisepops using your mobile or desktop device.
You can increase your lead generation and conversion using WisePops as it fits all your marketing needs with targeted promotion, mobile exit, cross-selling, cart abandon survey, up-selling and many more.
5.

Popupsmart
You can use this easy popup builder to increase your sales, build email connections, and keep your visitors engaged all under 5 minutes.
This tool offers flawless integration with more than 120 tools and users can receive feedback using its Thank You page or boost customer loyalty with smart tags on this tool.
Final Thoughts
This is a very versatile expose on lead generation popups. To generate more leads, you should try different tactics and methods.
The number of forms on your website isn't enough; rather, you should continually experiment with different types of forms, pop-ups, and landing pages to determine how they affect your results and how you can optimize them for conversion.
If you wish to find out how pop-ups can help you with growing your e-commerce business, contact our sales today.