A well-timed pop-up with an enticing offer can do wonders for increasing average cart value and customer loyalty for your online shop.
Getting creative with how you promote offers is a great way to strengthen your e-commerce strategies.

We've found that our giosg e-commerce pop-ups have an average conversion rate of around 11% with the highest around 44%. So why not give a little more thought to your pop-ups and start targeting them with intention?

It's easy to start creating the perfect pop-up for your online store when you have a template to work with, so we're sharing with you our top 6 e-commerce pop-ups and when to use them.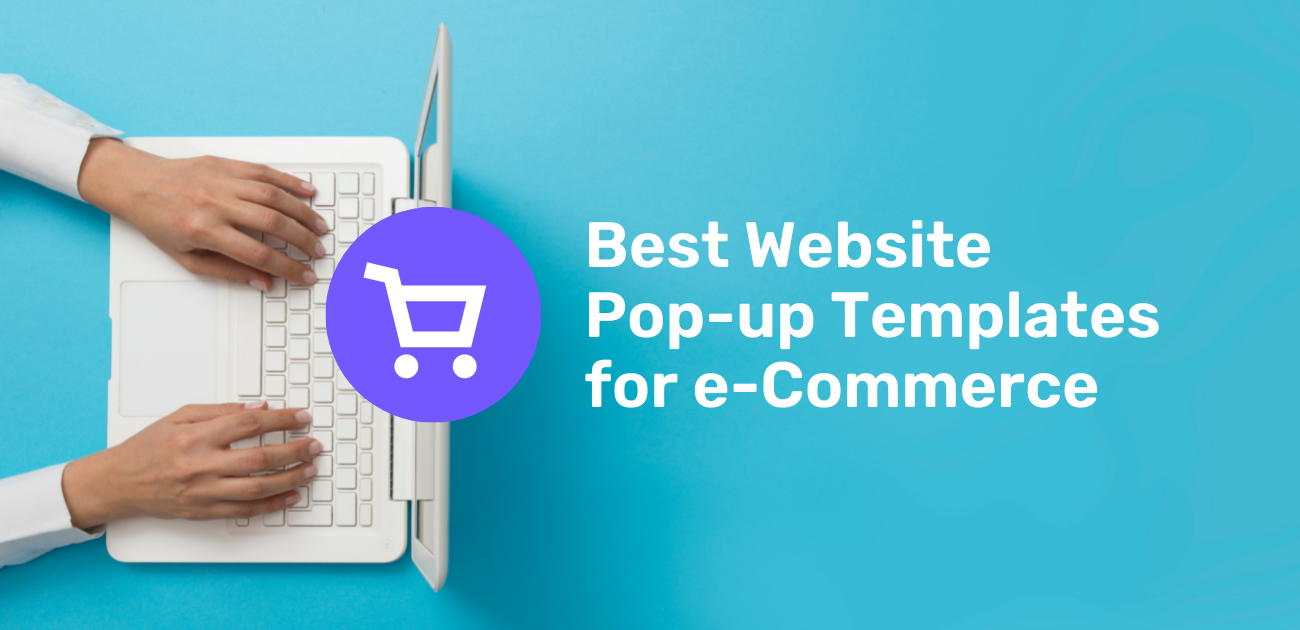 Why pop-ups for e-commerce are still relevant
To be completely frank, we know that pop-ups can be annoying. It would be crazy to claim a statement like "website visitors love pop-ups!"

But, what we do know is that customers love a good deal.

And what's the best way to make customers aware of the great deals you have running on your online shop? With pop-ups.

But not just any pop-ups. Pop-ups that are specifically targeted to visitors based on their website actions and also based on the relevance of your offers.

A carefully created strategy makes your pop-ups feel more helpful than annoying.

Pop-ups are great for catching the attention of customers when done right.
Best pop-up templates for E-commerce
Now, here are some of our most popular templates e-commerce businesses love, customise, and convert with.
Cross-selling pop-up template for e-commerce shops
Cross-selling allows you to offer valuable service to your online shoppers by helping them find supplementary items that go along with the item already in their shopping cart.

A helpful way to display your best product pairings is with a convenient pop-up.
You can decide whether to trigger our cross-selling pop-up when someone has a certain item in their cart and/or when he's on a specific product page.

It's easy to customise this pop-up to highlight your shop's best complimentary items and then adjust the rules on who you want to target with your new pop-up.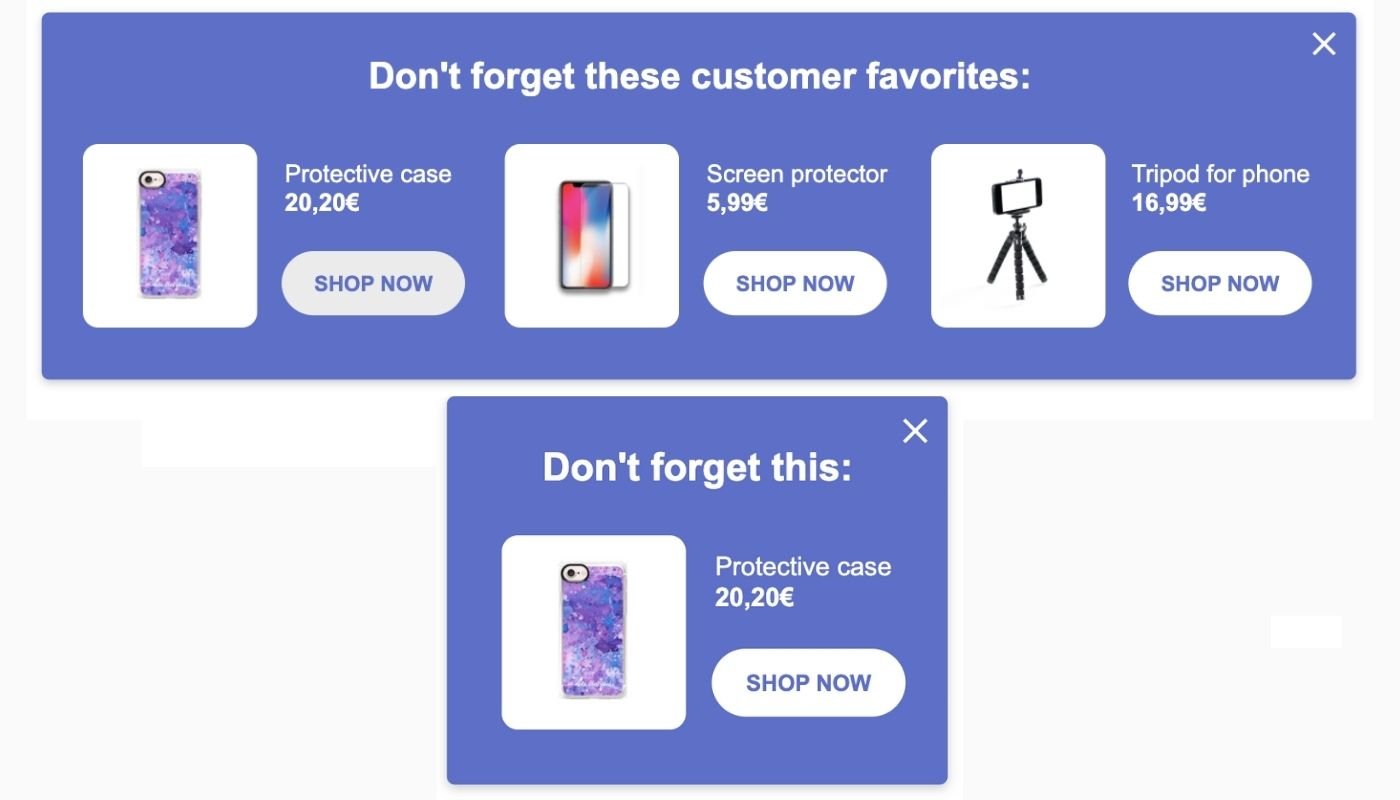 Discount pop-up templates for e-commerce stores
A website pop-up that offers discounts is one of the most popular types of pop-ups online stores use.

Sure, aesthetically, you want to make sure you're customising the details of your pop-up to match your brand colours and messaging, but an effective pop-up needs more than just that.

A big part of designing your pop-up will be reliant on who you're showing it to & what effect you want it to have on the visitor.

With this being said, it's important to consider whether a website entry pop-up, time-on-page triggered pop-up or exit intent pop-up works best for your e-commerce site.

In this template, we keep it simple for you to design or upload your own on-brand image as the base of this pop-up. Then, naturally, you can swap in your unique discounted offer. We've also made it really easy to change fonts, colours, and animations inside of our Interaction Builder.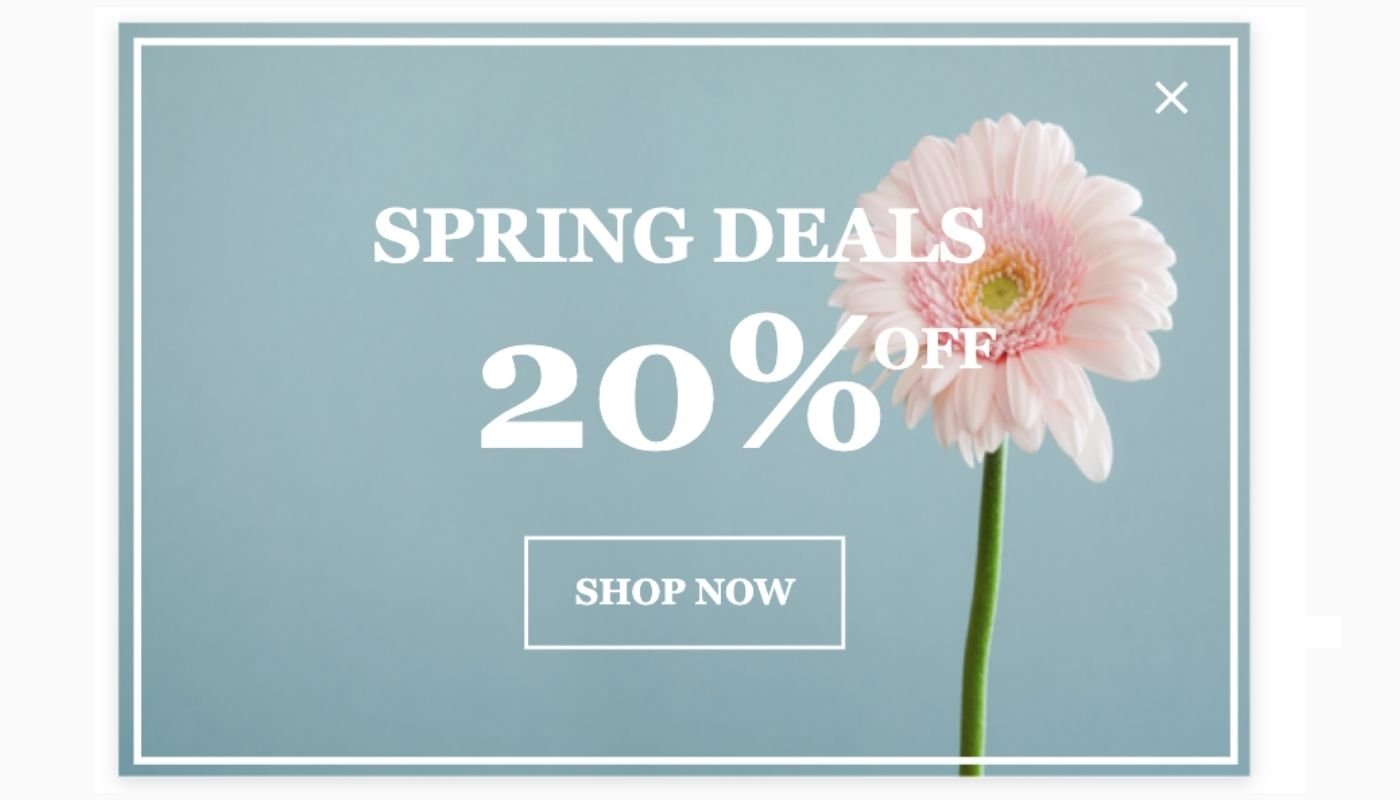 Then, once you have your pop-up ready, you can go forward with choosing which targeting conditions you want to apply to your pop-up.

Here are some targeting rules we suggest:
Trigger pop-up on specific product page
Trigger pop-up upon entering the home page
Show specific discount pop-ups once per visitor
Display pop-up when the visitor exits shopping cart
The goal of this pop-up would be to encourage the customer to increase the his order value.
Free shipping pop-up templates for e-commerce stores
Just like the template above, we also have a ready-made free shipping pop-up template for you.
The design of this template is simple and clean. Let's be honest, you don't have to do much convincing to get customers interested in free shipping.

You can write in your own free shipping text on the pop-up and display what the minimum value is to qualify for free shipping.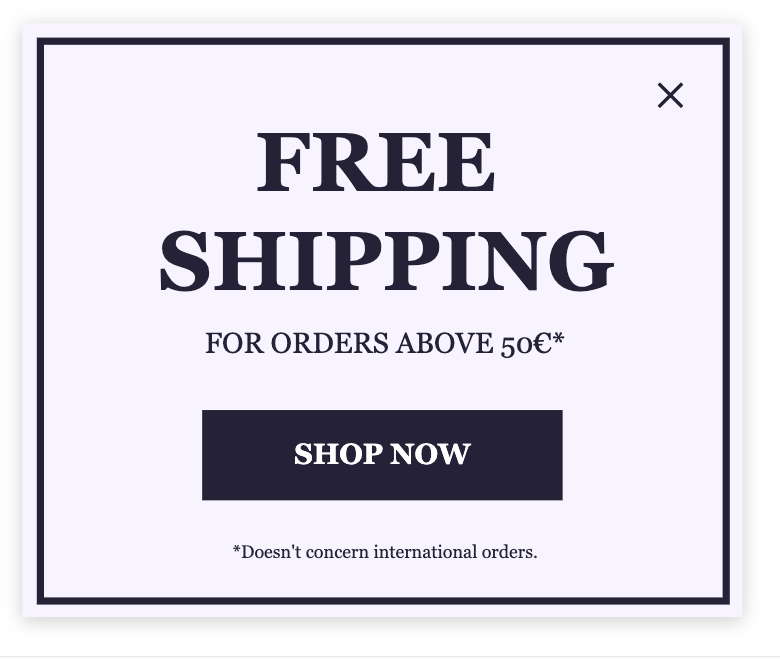 The key aspect to the success of this pop-up is the rules you set for when to display it.

Of course, you can display this pop-up to any visitor who enters your website, but there's an even better way to push customers over the free shipping threshold.

We recommend that you show this free shipping pop-up based on the value of the customer's cart.

Let's say that your free shipping minimum is €50. If a customer has €35 or more worth of products in their cart, then your free shipping pop-up would appear letting the customer know that they qualify for free shipping when they buy a few more products.

With giosg Interaction Builder, there are over 30 trigger rules you can choose from to make sure your pop-up is well-timed for the right shopper.
Free shipping banner template for e-commerce stores
Most often when using a banner type of pop-up, the banner appears across all pages and is visible upon entering the site. With a pop-up banner, your website visitor can remove it from view if necessary.

The benefit of this type of pop-up is that it's discreet but relevant across all pages. It's also a great way to display multiple deals to customers.

For example, if you have a 20% off Spring Sale but still want to make sure visitors know of your Free Shipping offer, you can make both of them known with a discount pop-up and free shipping banner.

This won't be too overwhelming because these banners don't take up a lot of space and are stationed at the top of the page.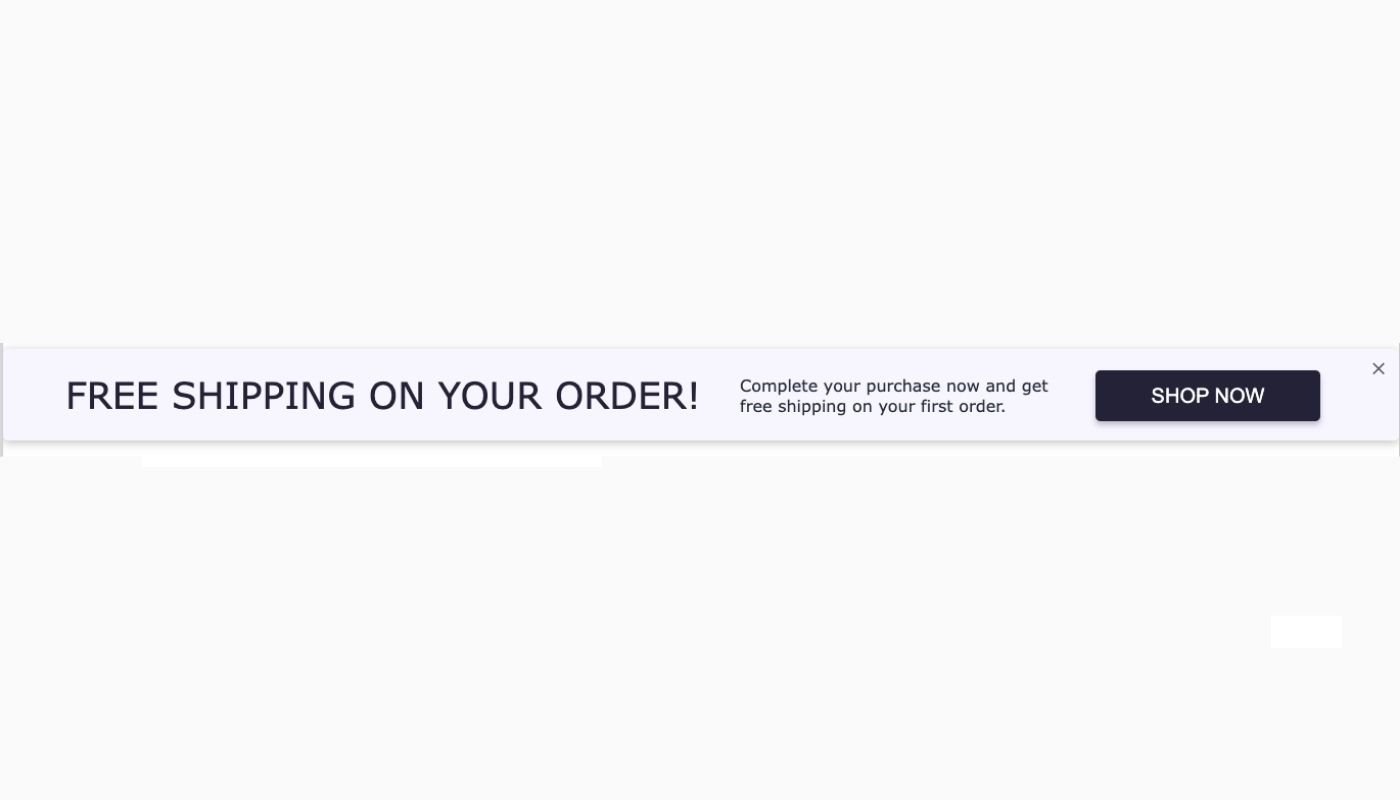 Of course, you can also customise the banner to your specific needs. If you need to share a store announcement with your customers, you can also pop this into the banner.
The goal of this e-commerce pop-up is to erase the common friction point of shipping costs before the customer even gets to the checkout.
Another goal of this banner pop-up could be to encourage the customer to finalise their order and move to checkout. In this case, you would want to include a CTA button that says "Continue to Checkout."
Instagram pop-up templates for e-commerce
Instagram pop-ups are great for building connections with your customers that last longer than just the time they spent browsing on your website.

An Instagram pop-up is an opportunity to show website visitors who you are underneath the layer of your website.
Even if a customer doesn't buy anything during one shopping session, now they have an opportunity to glean more inspiration from you on Instagram.

And hey, if you have a nice social commerce strategy implemented, you may even get the sale from Instagram before they visit your website on their own time again.

An Instagram pop-up like this could be great on specific collection pages.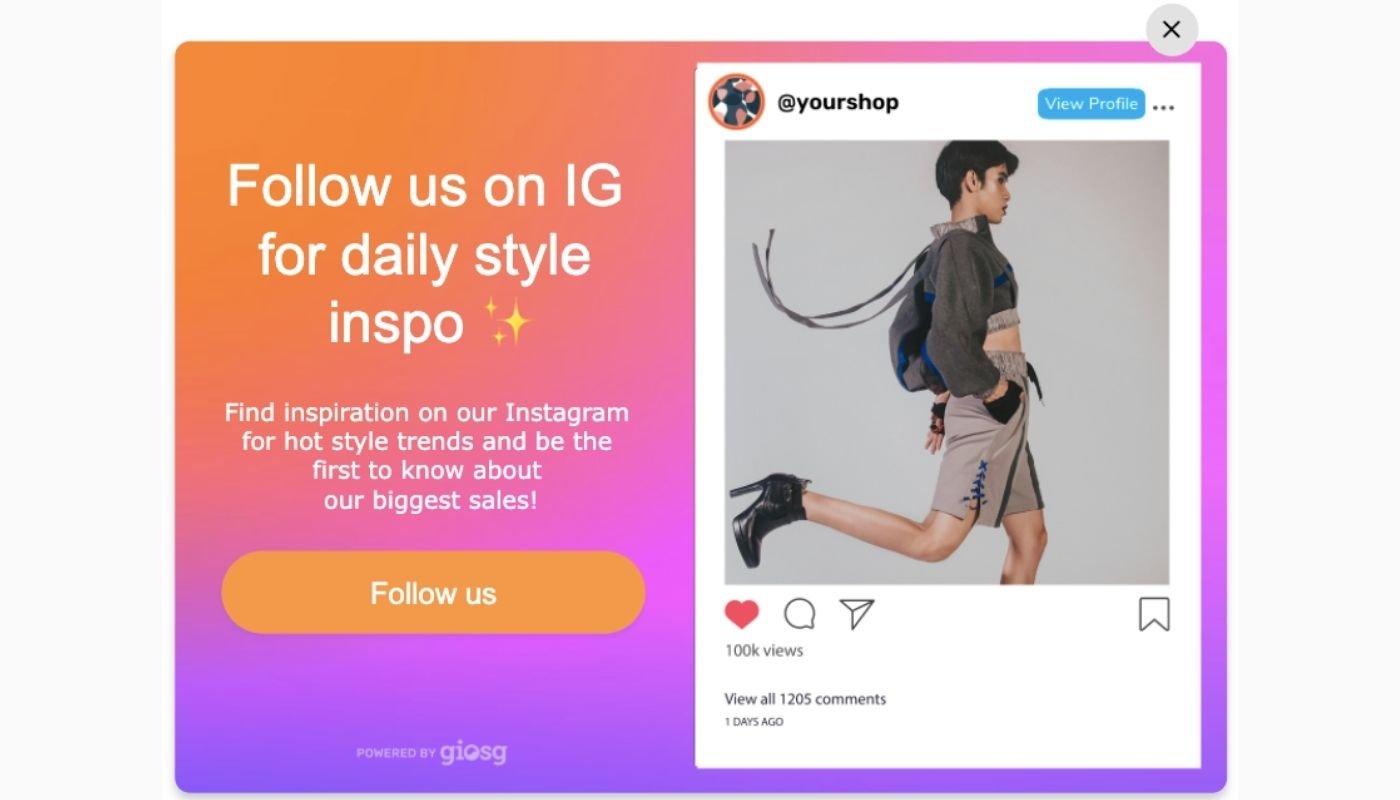 Pick your most like-worthy picture and use this template across pages on your website of your choosing.
The goal of this e-commerce pop-up is to build brand awareness and community on your social channels.
Newsletter subscription pop-up template for e-commerce
Another way to stay connected with your customers even after they leave your website is by meeting them in their email inbox every now and again.

A newsletter subscription pop-up can be great for your e-commerce website to help build up your email list and add customers to your loyalty club.

The most popular way e-commerce shops attract subscribers is by offering a discount for the customer in exchange for their email address.

With a strong email list, you can now connect with your target audience at large, drive traffic back to your website, and gain new customers.

You can persuade website visitors to leave their email in exchange for a discount code, style guide, insider news or anything else the customer may find valuable.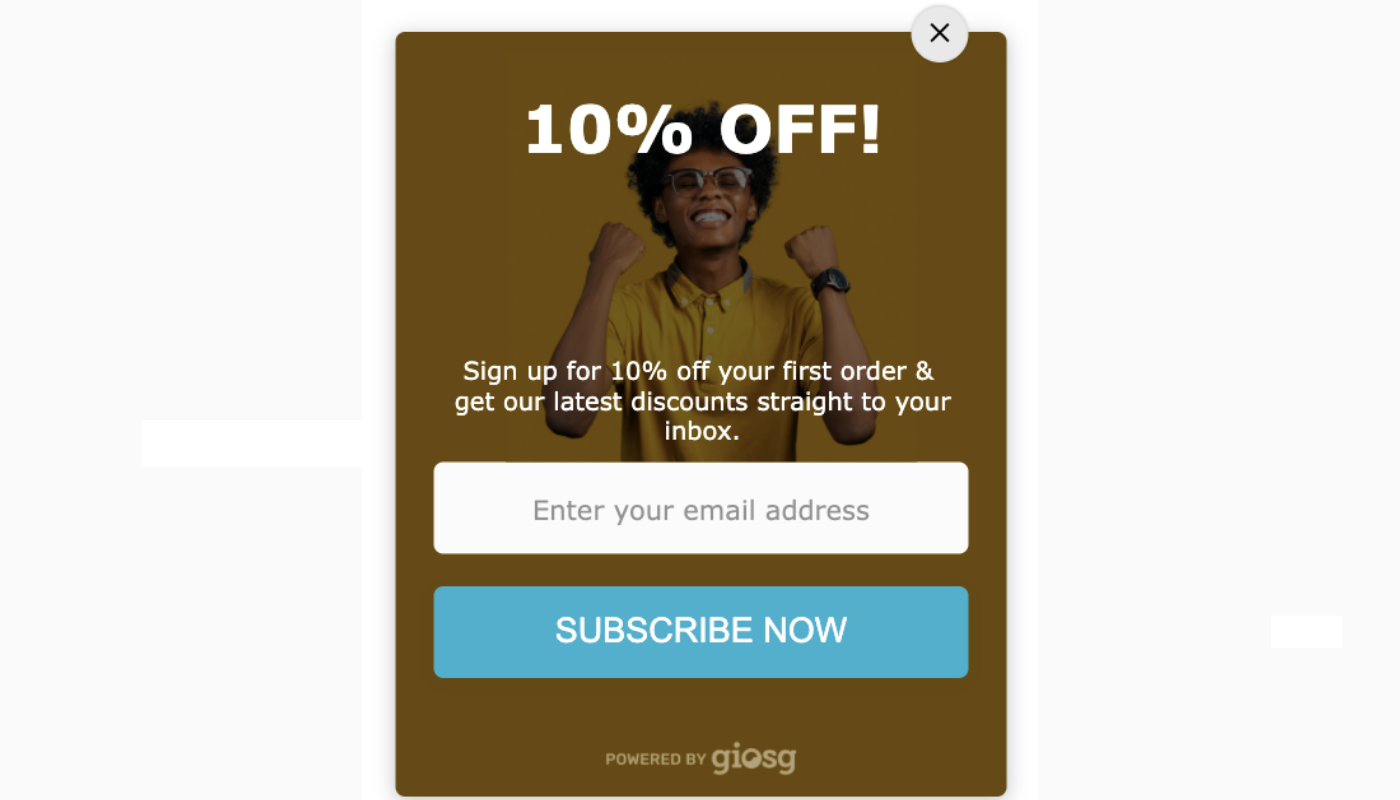 How to know if your website pop-ups are successful?
When it's time to assess the performance of your e-commerce website pop-ups, you'll want to consider the end goal.

This is also how you determine what your conversion rate is.

What do you consider a success? The fact that a website visitor clicked on the desired CTA? The fact that a visitor who saw your pop-up completed a purchase? That the customer returned to their abandoned cart?

Whichever metric you decide to base your performance analysis on will then give you your conversion rate. If 10 out of 100 people who saw the pop-up clicked to shop the collection, you would have a 10% conversion rate for this pop-up.
Use these pop-up templates on your e-commerce website
Are you already brainstorming how one of these templates could work perfectly for your online shop?

Book a quick call with our retail experts and learn what type of pop-ups could work best for your business!