Globally, eCommerce sales are expected to account for 20.8% of retail sales in 2023.
This number clearly shows how eCommerce is taking over and becoming a more important part of global commerce.
The industry is growing so rapidly that by 2026, it will account for 24% of worldwide retail sales. In other words, eCommerce is expanding in every direction and is becoming a greater part of the consumer experience on a global scale. Making efficient eCommerce solutions a key player for surviving in the competitive environment.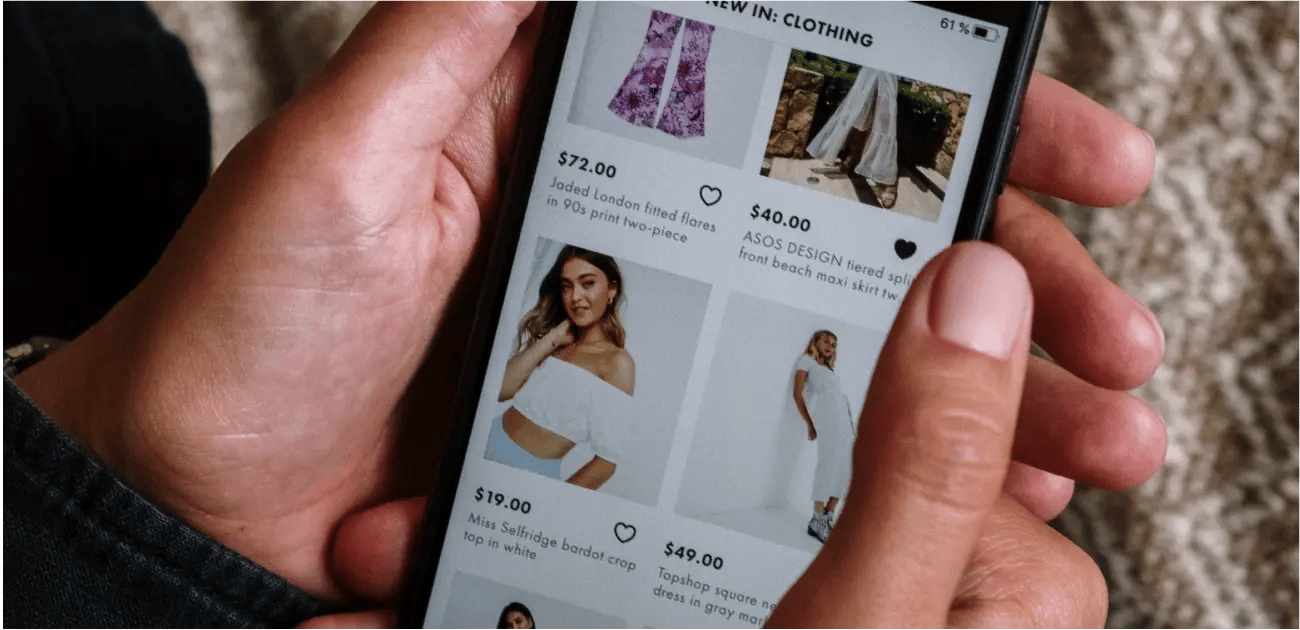 Once again, this trend offers massive opportunities for new entrepreneurs and existing businesses to scale and grow. However, while scaling, three components play an important role—alignment of vision and goals, a cash cushion to be able to expand and scale properly, and the right combination of tools to make things efficient and possible.
So, in this blog, we are going to discuss how you can scale your business better, and which are the best eCommerce solutions to help you achieve your goals. Let's dive in!

Things to clarify before you start scaling your business
Tips for scaling your eCommerce business
eCommerce solutions to scale your business
Website engagement tools
Design tools
Content management system
SEO tools
Marketing tools
Analytics tools
Inventory management, shipping & fulfilment software
Customer service solutions
Business management tools
The future of eCommerce
Things to clarify before you start scaling your business
When your eCommerce business is up and running, it may seem like the best course of action is to continue expanding by raising your marketing budget, expanding your product offering, introducing promotions, and leasing new premises. But take some time to evaluate your current condition before you invest more in anything.
Here are a few things to assess before going forward with the idea of scaling up your business.
Is This the Right Time to Scale?
When considering scaling up, this is the first thing you should ask, and chances are, you already are.
It takes a lot of work to scale your firm, and the work itself is crucial. So no matter if you are a traditional or an eCommerce company, trying to scale your business too early can lead to severe consequences.
For example, if you attempt to scale your business without first laying a strong foundation, you're merely setting your company up for failure because even a minor error could be disastrous.
A business may find it challenging to achieve a positive ROI without growing revenues if it scales too soon. Just be aware that scaling your eCommerce firm is a never-ending process.
To extend the life of your business, you must constantly refine, renovate, create, and develop your work and online store.
What resources will I need?
Scaling a business requires much more than just good people. Your financial situation should be stable to take care of all the costs involved in hiring a team and tools for scaling up your business. Don't put yourself in grave danger by basing your company's decisions on shoddy projections of future profitability. Hence, to kickstart your growth, you must have a healthy cash flow.
There will be a lot of testing to determine what is effective for your eCommerce brand and what is not, followed by a focus on that which is.
You'll find that speed and quality are your main concerns, so you'll need repeatable procedures and checklists to guarantee consistency as your organisation expands. Do you have enough workers to finish the job? How skilled are they? Will you bring professionals and pay them what they are worth, or are you willing to train them first?
What kind of tools will I need?
Look for methods to simplify your life to save money and headaches. Reduce the amount of data entry and other time-consuming tasks by using tools. There are many tools available for design, website engagement, SEO, marketing automation, inventory management, and customer service that contribute to the success and growth of your business.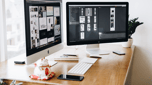 To take over and automate routine chores for your internet business, you'll need technologies with greater functionality and enhanced capabilities, including artificial intelligence.
For instance, scalability will be impossible if you only use email for customer service. While your workers concentrate on handling more complicated issues, you might need solutions like chatbots and live chat to handle simple customer care difficulties.
What are my competitors doing?
Whether you are kicking off or scaling your business, it is important to learn about the industry and the competition you are going to face.
Tips for scaling your eCommerce business
Imagine your business as a building if you want to understand the fundamentals of scaling an eCommerce business. To build a solid building or eCommerce business, you must first need to have a strong foundation.
Here are 5 tips to help you build a strong foundation while scaling your business:
1. Enhance & improve the online shopping experience
One of the most important things to take care of while running an eCommerce store is providing a good shopping experience.
Especially for online eCommerce entrepreneurs, the online store is the first point of contact for their customers. First impressions are much more important online than in person for any business scaling strategy.
Even if something minor goes wrong, you won't be able to tell by their body language and will not have enough time to correct it. As a result, your potential customer will click away and visit another website.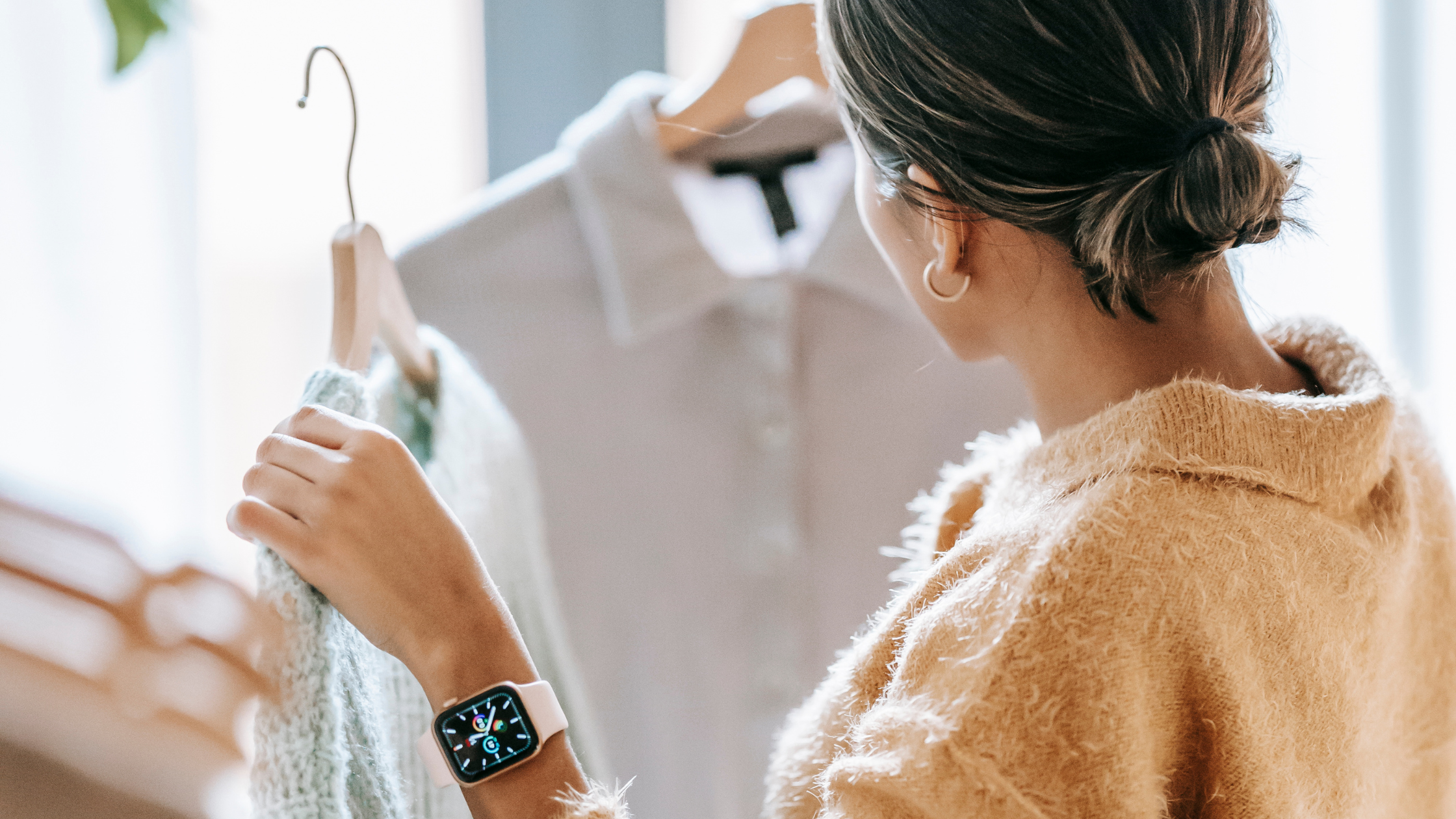 There are many things that will help you enhance your online shopping experience, but here are a few examples to get started with:
✅ Know your audience and tailor your marketing strategies accordingly. It can be things such as grouping similar audiences together, suggesting more relevant products, etc.
✅ Simplify the checkout process
✅ Keep them updated about your offers, new launches, best sellers, etc.
Make sure to check out our other blog to get the best tips for offering unique shopping experiences.
2. Create a solid marketing strategy
With strong marketing, it is possible to expand your business, even when people are purchasing your stuff.
Once your word-of-mouth advertising runs out, you will lose momentum without persistent promotion, and you need continued momentum to sustain growth.
In addition, the development and success of your eCommerce organisation depend on your ability to comprehend inbound marketing best practices.
eCommerce businesses need to have a strong online presence, but they also need to be able to convert potential customers into paying customers.
3. Invest in technology & automation
Scaling your eCommerce business will necessitate the outsourcing of tasks that you previously did on your own.
The main idea is to reduce the number of hours you spend doing simple tasks that can be delegated to someone else or handled by software. As a result, you can devote that time to the more refined aspects of your eCommerce business.
Therefore, it is wise to invest in technology and automation that enable an effective inventory management system, accounting, social media marketing, etc. Not only that, but automation has the additional benefit of providing your customers with a consistent and professional approach.
Moreover, tools and automation will help you get the most out of social media platforms, influencer marketing, and email marketing, which will again help your eCommerce business grow and gain recognition.
4. Switch to third-party logistics (3PL)
You might be able to manage order fulfilment yourself or with a small crew in the early stages of your business. However, as your company grows, you'll need to choose whether to invest in your warehouse or outsource order fulfilment to a third-party logistics (3PL) provider.
A third-party logistics provider, or 3PL, manages one, a few, or all of your order fulfilment procedures. If you use a 3PL, you won't have to worry about processing returns, choosing and packing orders, coordinating shipments with several carriers, or keeping inventory.
This will also give you more time to concentrate on other activities that will enable you to grow your company.
5. Improve your customer support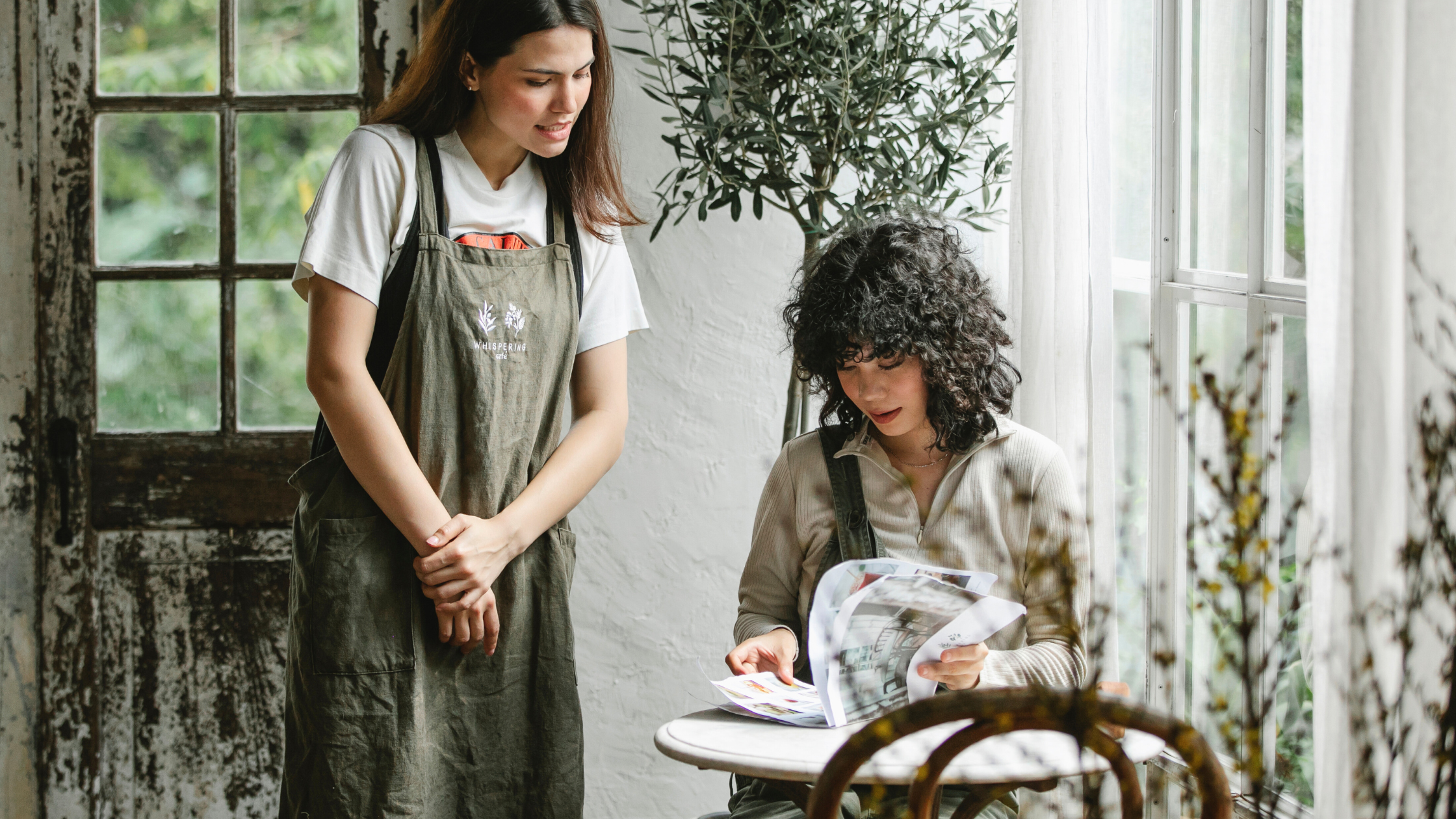 Since scaling is where you want to preserve some human touch to your organisation, customer service is one thing you shouldn't ignore.
Unfortunately, a lot of eCommerce business owners don't realise how important customer service is and lose the personal touch as their businesses grow.
Poor customer service will harm your eCommerce firm, especially given the abundance of options available to your target customer. Before you are overwhelmed with complaints, you must reach out to your customers and provide all the necessary support.
To connect with your customers and make them feel like humans, not just another source of revenue, it is best to combine automation with a personal touch.
Increasing customer support also entails concentrating on your current clientele while luring new ones, which will increase client retention over the course of your company's existence.
eCommerce solutions to scale your business
Website engagement tools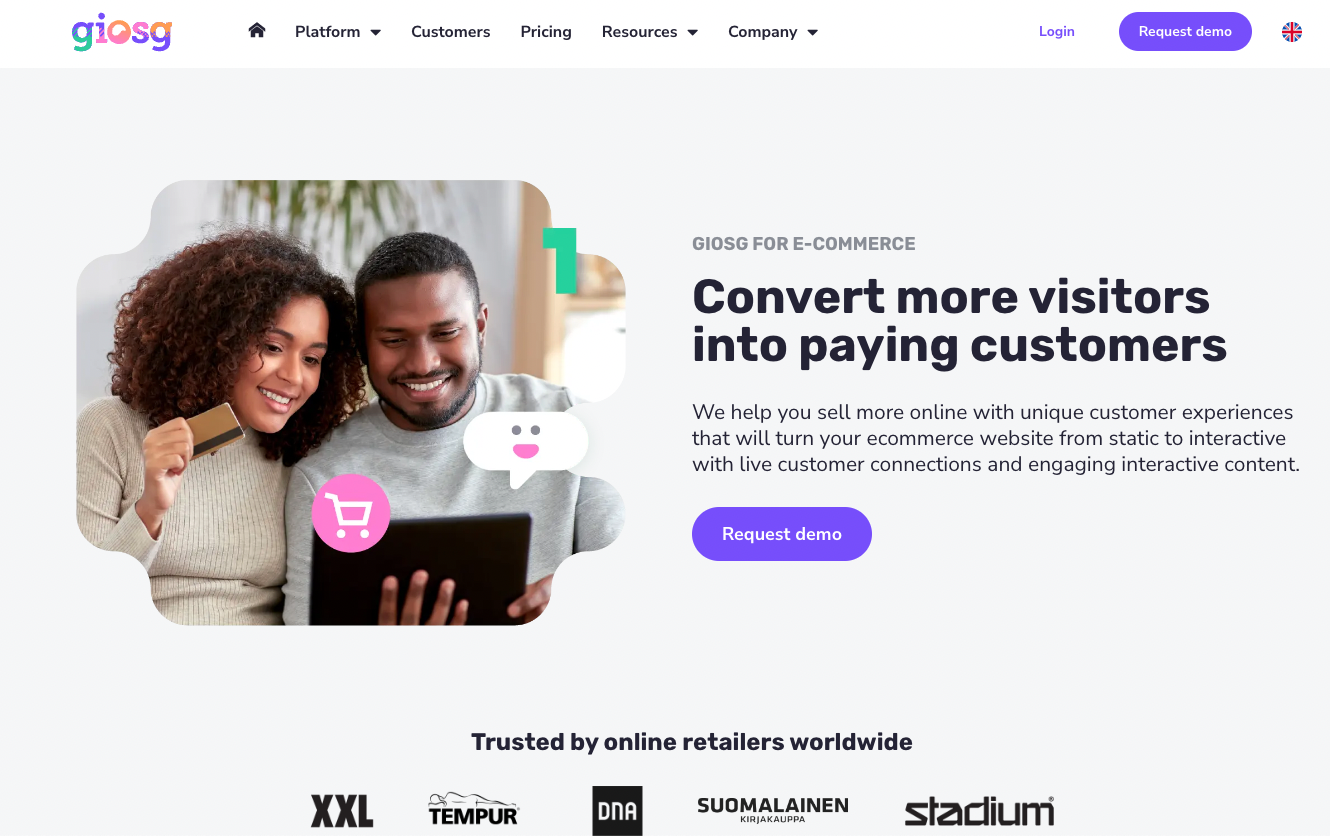 1. Giosg
The Giosg platform offers businesses an array of tools that enable them to effectively engage their customers in real time. Its solution allows you to create interactive content without any coding and deliver all kinds of engaging interactions along the entire customer journey - all within one tool.
It helps you with lead generation & qualification, gamifying the platform for better engagement, upselling, campaign promotion with personalization, and feedback capture.
Design tools
2. Glorify
If you're an entrepreneur just getting started, a marketer without any design skills, or even a professional designer with more technical taste, Glorify is the place for you!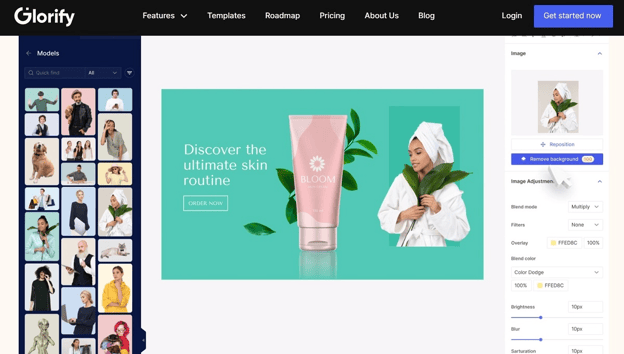 It is an all-in-one design tool made explicitly for eCommerce businesses to help them create stunning product images for better marketing. It lets you create professional and high-converting social media posts, ads, logos, infographics, presentations, mock-ups, and more. The only problem is that there is no feature to add CTA buttons to these creatives.
3. Canva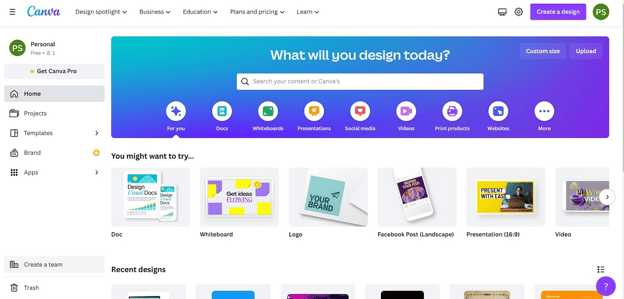 Canva is another well-known online editor that allows users to create social media graphics, presentations, posters, and other visual content without requiring any technical knowledge.
Canva's simple drag-and-drop user interface and vast library of templates and design ingredients such as fonts, illustrations, stock photography, video, and audio content enable anyone with an idea to create something beautiful in a few simple steps. It also allows you to include web-based content such as Giphy and Google Maps.
Glorify and Canva are best if you are just starting out. You can also consider more advanced design tools like Adobe Photoshop or Figma to nail your website and product designs.
Content management system
4. WordPress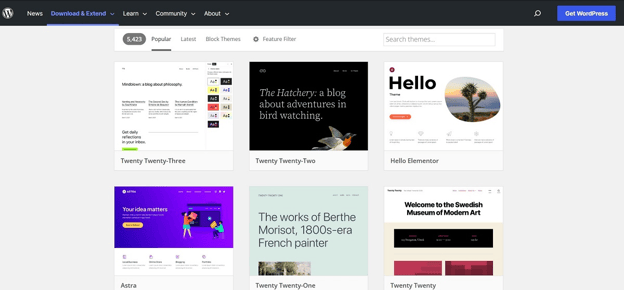 WordPress is an extremely flexible platform, making it possibly the most popular content management system around. It can be used to create a blog, a small business website, an online store, a membership site, sell online courses, run a marketplace, and much more.
Whatever type of website you want to create, chances are there is already a WordPress plugin (extension) for it. It enables you to publish content that will help your readers learn more about the solutions you provide.
WordPress also allows you to create product landing pages. These landing pages boost conversions because they target specific customer segments and their needs, ultimately helping you scale your business.
SEO tools
5. Ahrefs

With Ahrefs, you can analyse competitors, perform keyword research in-depth, and create custom content.
It contains many free tools that you can use to validate content ideas to engage your audience, check keyword volumes and difficulty, and determine how difficult it may be to rank for a specific term.
With all of this information and planning in place, you will get a better ranking on Google SERPs, leading to better recognition and business growth.
Marketing solutions
6. Benchmark Email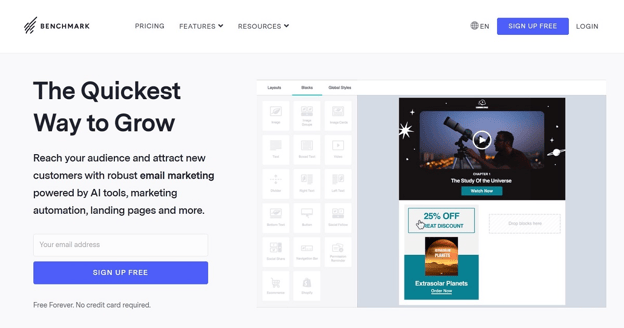 Benchmark Email is an easy-to-use email marketing software perfect for eCommerce businesses looking to grow their email list, send engaging newsletters to their subscribers, and increase sales.
Use Benchmark Email's landing pages and pop-up builder to create website forms that track user information and help you grow your email list. With Benchmark Email's Smart Content feature, powered by OpenAI, you can create fresh email copy from just a few ideas. And, with its drag-and-drop email builder, crafting quality eCommerce emails takes minutes.
Looking to promote specific products? Benchmark Email's eCommerce block allows you to highlight specific products in your email marketing so you can increase sales and exposure. Benchmark Email also syncs with Shopify so you can send targeted emails to your Shopify customers.
7. Moosend
Moosend is one of the best email marketing tools for building a great communication channel with your customers. You can create engaging newsletters, manage email campaigns, and mailing lists using Moosend's built-in campaign editor. It is cost-effective, easy to use, and offers great live chat help for all of your queries.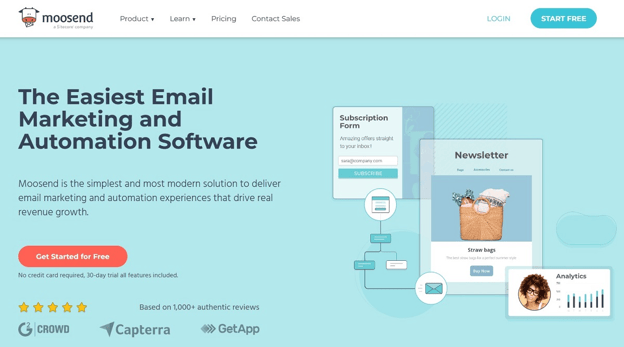 Once you know how to create or edit emails, you can easily navigate the Moosend platform. It offers a workflow editor for marketing automation that is tasteful and well-designed similar to the email editor. After creating the workflow, you will have a colour-coded summary that helps both beginners and experts.
Again, creating product landing pages and forms is similar to designing emails. In addition, you can share the forms on social media, and track the applications using advanced tools like Google Analytics and Facebook Pixel.
8. SendX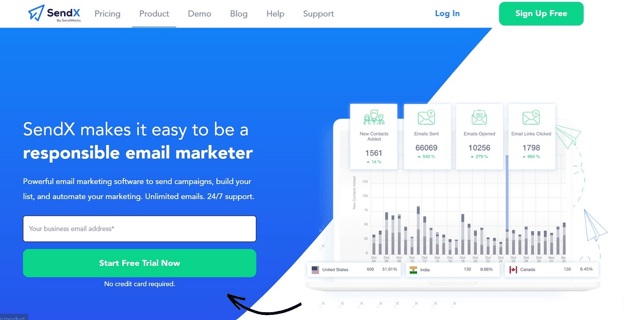 SendX is another email marketing software that allows you to create unlimited email campaigns, build your email lists, and automate advanced email sequences.
SendX is an email service provider that helps small & medium businesses to send large volumes of bulk or automated emails to their subscribers at an affordable cost. Apart from that, it also helps marketers build landing pages and popup forms to grow the subscriber base without any coding involved.
SendX is best known for its high email deliverability, which helps businesses avoid spam boxes and land their emails in the inbox.
9. SocialBee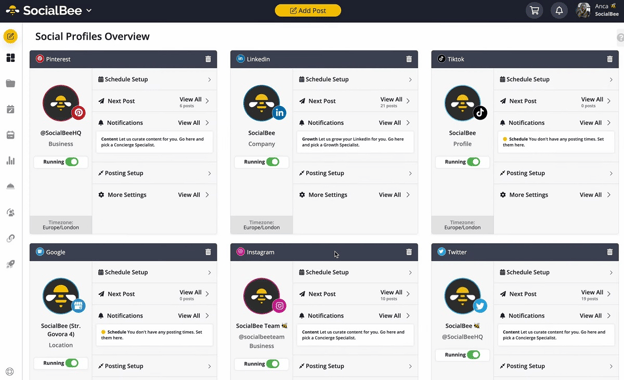 SocialBee is a social media automation tool that assists users in streamlining their social media management activities. The app allows them to create, schedule and publish posts while also tracking the performance of their content and social accounts.
The supported social networks on SocialBee are Facebook (profiles, pages and groups), Instagram (business and personal profiles), LinkedIn (personal profiles and company pages), Twitter (profiles), Pinterest (boards), Google Business Profile (location), TikTok (personal and pro) and Youtube.
When posting with SocialBee, users work with a category-based system to balance the content mix, an automated posting schedule, an AI assistant that helps with content creation, as well as multiple functions for recycling and repurposing posts.
Analytics tools
10. Google Analytics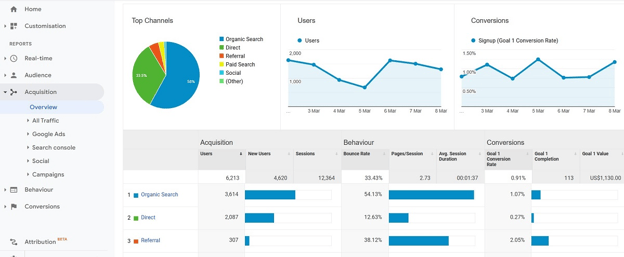 Google Analytics makes it simple to measure clicks, page views, repeat visitors, and user session duration while providing user insights that are exclusively available from Google. Its primary objective is to identify appropriate content by offering insights about user behaviour in interactions with websites and apps.
Additionally, it tracks and keeps an eye on email marketing, PPC networks, display advertising, and other digital materials. To help you get accurate traffic statistics, it lets you filter unwanted data such as spam and internal traffic.
Inventory management, shipping & fulfilment software
11. Veeqo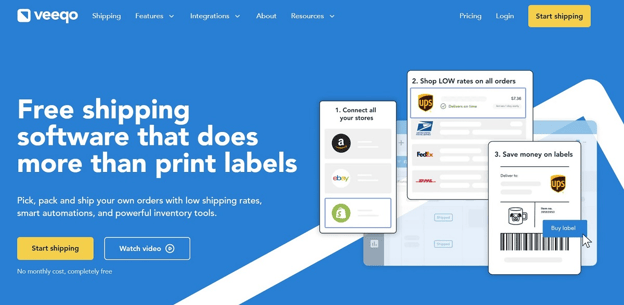 One of the most crucial aspects to take care of in eCommerce is managing your inventory, shipping the product, and tracking it. This is where Veeqo helps you manage your complete shipping and tracking system when the orders are ready to leave the warehouse.
It also helps sync your inventory across a variety of selling platforms, generate customised invoices, and track and organise all of your sales data to help you plan and grow your business with a breeze.
You can also consider inventory management platforms like Zoho Inventory, Fishbowl, Sortly, etc. depending on your workflows, team size, budget, and needs.
Customer service solutions
12. Giosg Live Chat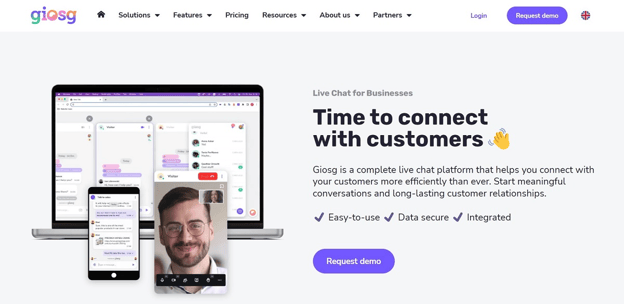 Giosg, trusted by over 1200 companies worldwide, enables sales teams to provide personalised experiences to customers through targeted live chat, AI chatbots, and interactive forms.
Giosg's live chat module allows you to efficiently serve customers, increase sales, and engage with customers. Using a simple swimlane view, it assists businesses in expanding their reach, improving efficiency, and making interactions meaningful for each visitor.
Business management tools
13. SmartTask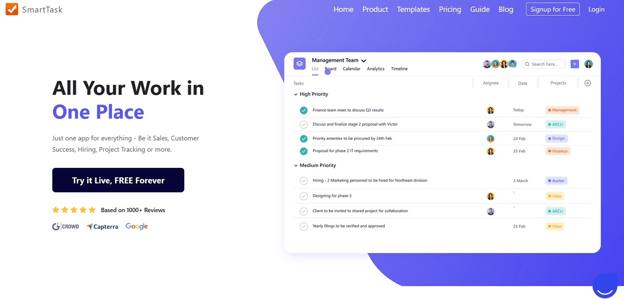 Without adequate planning and management, a project is doomed to fail. To achieve your goals, you must have a clear vision and a sustainable workflow, which is where SmartTask comes into play.
SmartTask is a project management and collaboration tool that helps businesses plan and manage their work while increasing productivity. You can plan, schedule, and track your tasks using various views such as task list, kanban, calendar, timeline, and more. It allows you to schedule posts, assign work to your team, share feedback, and track the progress of your work in real-time.
Miscellaneous tools
14. Zapier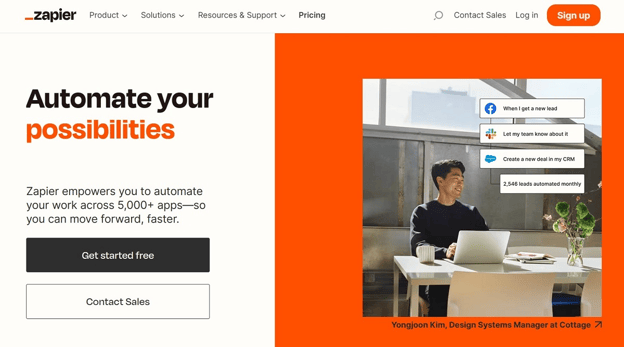 Zapier lets you automate actions between disparate business and productivity apps without coding knowledge. It assists in automating actions based on the triggers you specify, so you don't have to return to your primary tool to complete a task.
The future of eCommerce
The world of eCommerce is a fickle one.
It appears at times that some sites survive and others do not. In reality, however, it is the sites that plan and take steps to keep up with the growth of their business that is most likely to succeed.
Make sure to keep an eye on the latest trends, follow them, and implement best practices to ensure that you are recognized in the eCommerce world.
Some of the best ways to catch up in 2023 are to focus more on personalization, build your presence on social media, and invest in omnichannel communication.