Black Friday first began in the US and has spread like wildfire internationally. Last year 91% of retailers in the UK and 81% in the US offered Black Friday discounts and promotions, according to a SaleCycle's study.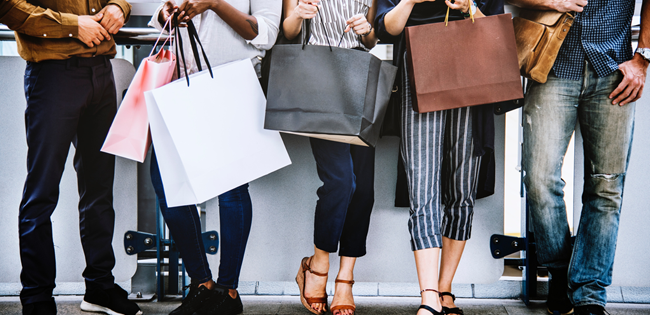 In fact, 85% of businesses invested more in "holiday" marketing in 2017 than the year before. It seems that businesses focused on online and began promotions much earlier with 52% starting in September and 58% putting efforts on online shoppers.
Further analysis showed that in the UK, sales volumes for Black Friday were 78% higher than Cyber Monday, the peak hour for online sales was between 4-5pm, and people were using desktop devices (66.9%) the most for purchasing.
And, it worked, as 2017 statistics revealed that Black Friday spend was up 18% on the year before in the US, and 12% in the UK. In addition, online retailers found that despite there being fewer shoppers out on the high streets, Black Friday spending was up by 8%.
High-end UK department store, John Lewis, said that it was "one of its most successful days" and it had its busiest hour of online trading ever during the American-inspired discount day, and its most popular product searches were for iPads and Sonos speakers.
Similarly, British catalogue retailer Argos, said that more than two million people visited its website in the first four hours after it launched its Black Friday deals on the Thursday night.
Tips for a successful Black Friday
Whether it's through email, search engine optimisation or social media, to ensure your Black Friday campaign reaches your audience, it's essential to promote it, and provide a seamless customer experience.

Below, we've highlighted key takeaways from previous eCommerce Black Friday campaigns:

1. Start early
Many retailers, including Amazon, are starting to offer deals earlier and earlier than Black Friday. And, research has revealed that the best deals for electronics are offered towards the beginning of November.

2. Utilise online advertising:
One of the best ways to reach a highly targeted group of people online is through advertising. This could be via social media ads, or display ads (PPC), depending on your audience demographics and preferences. Today's social media technology enables you to target people by age group, location, and job title. And, through PPC or online display ads, you can "follow" engaged customers through re-marketing ads that'll keep reappearing in ad spaces as they visit different web pages.

3. Bundle products together
A Black Friday marketing idea that many big retailers take advantage of is bundling products together, instead of selling them individually. For example, when it comes to technology products such as TVs, retailers are creating add-on offers such as discounts on speakers to increase sale opportunities.And, you can offer discounts or "rewards" when customers buy a certain number of items at once (e.g. "buy two get the third free" offer).

4. Reward loyal customers
Another great tactic is to offer your existing customers "exclusive" discounts - through a code that can be redeemed online at the checkout stage. It's good practice to push these codes through email to your customer base, and share them in a series of social media posts.

How to appeal to consumers?
As activity around Black Friday grows, so do consumer expectations. To appeal to and attract consumers, it's essential to offer them a seamless online shopping experience, and ensure your messaging around the event is clear to make the purchasing journey simple.
And, increase your efforts around customer service. We listed a few to meet and exceed customer expectations:
Make sure your website is optimised for mobile, there are no dead links, and test your site speed, as there's nothing worse than your site crashing or users not being able to checkout.

Create specific Black Friday content such as banners and landing pages for your website. This will immediately engage customers as they land on your site, and it'll help boost your Google search rankings if you include relevant Black Friday keywords.


Consider live chat functions to prevent basket abandonment and guide customers down the sales funnel by providing the right information, at the right time. With the use of giosg's live chat, you can increase your revenue by offering your customers a true omnichannel experience. Not only that, it can be integrated with your current website infrastructure, and be up and running in 24 hours - in time for Black Friday.
For more tips and advice on how to maximise your profits during peak seasons, take a look at our white paper on how to win in eCommerce.