Getting website traffic to your e-commerce site that converts to sales is no easy feat. That is why it is essential to get the most out of the traffic that does convert. Figuring out how to increase the Average Order Value of your e-commerce business is a great way to boost sales. But how do you get started?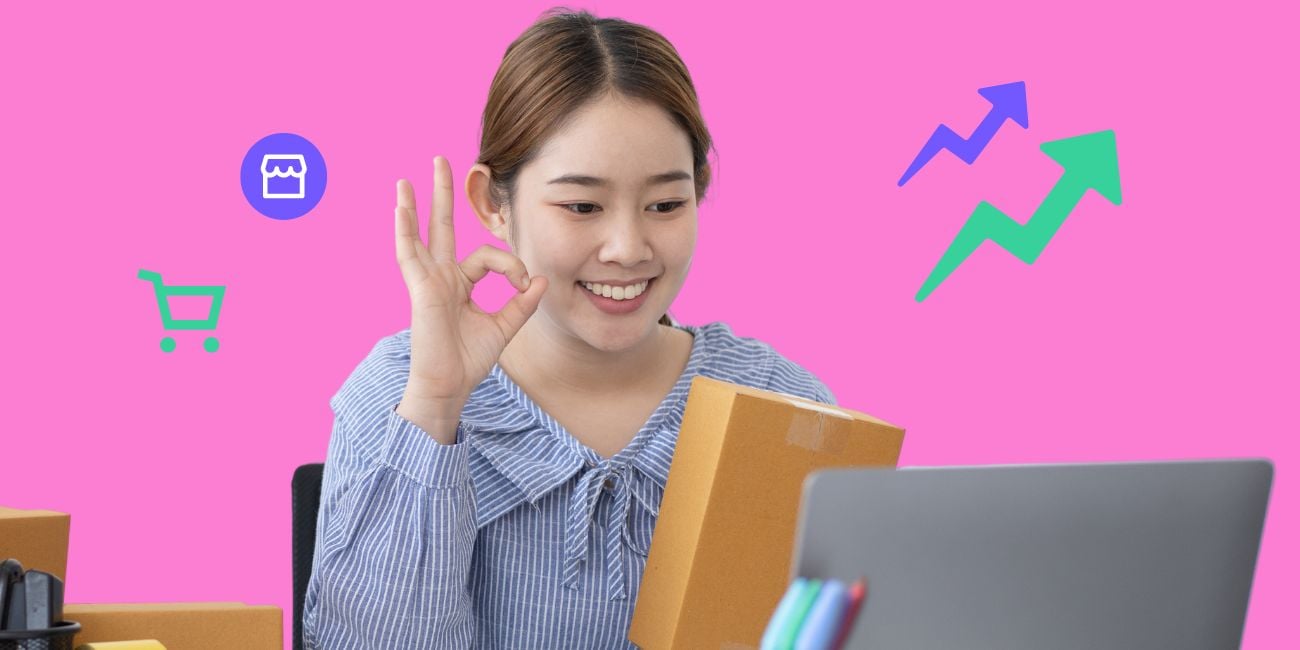 We talked to Brian Lim, who was featured on ABC's Shark Tank and received a deal from Mark Cuban and Daymond John. He runs two successful e-commerce businesses: iHeartRaves & INTO THE AM. He shared great ways to make those customers spend more at the checkout. Keep reading for actionable pro-selling tips.
Why should e-commerce stores care about Average Order Value
The Average Order Value or AOV is the average amount of money a customer spends at the checkout. AOV is one of the most important metrics that every online business owner should be tracking because it tells you how much customers are willing to spend on your online store.
"Obviously, you want the customer to add more stuff to their cart," says Lim.
The reason why might be self-explanatory, but when you manage to increase the amount people are willing to spend at your e-commerce store, you also increase the overall revenue of your business.
"Increasing the AOV can improve your margins and profitability. This also helps businesses to move their inventory more quickly. Eventually, it can lead to helping e-commerce businesses scale and grow more rapidly," Lim says.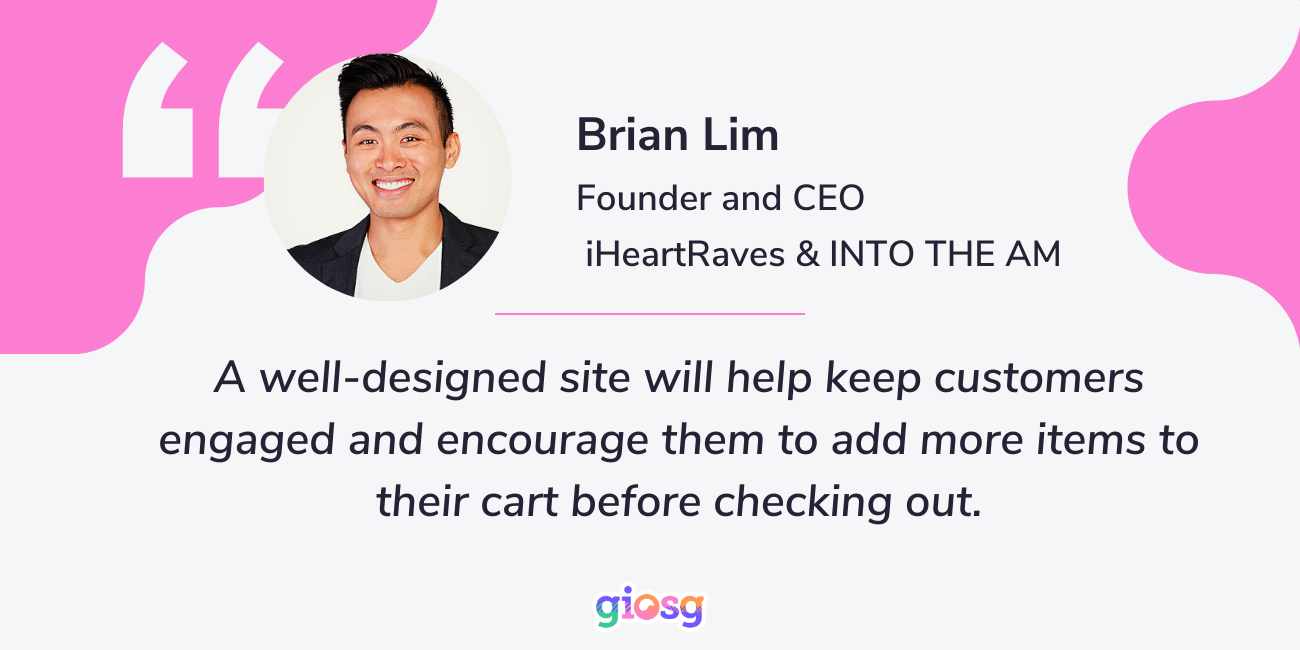 When to push Average Order Value boosting strategies for customers
To be successful in increasing your AOV, you have to think of the best strategy based on your customer data. Start by investigating the customer behaviour on your website and looking at the customer's journey from discovery to purchase. Try to find a non-intrusive path in the customer journey to push out cross-selling and upselling offers that are a win-win for you and the customer.
This is what an AOV-boosting customer journey might look like:
👉🏽The first cross-sell/upsell offer is activated when the customer has entered the Product Detailed Page or PDP.
This is the time to target the first cross-sell or upsell campaign based on purchase data.
"You know that the customer is interested in the product that they are viewing, so you can add some cross-sell and upsell options below it, showing other products that pair well with the item in question. You can also show what other customers bought together with that item," Lim says.
👉🏽The second cross-sell/upsell offer is activated on the shopping cart page
Here is where you have the slide-out of your cart. It is a great spot to cross-sell and upsell smaller products.
"Think about the grocery store. You know, when you're waiting to check out, you see gum on the side or other little things that you didn't go there to shop for, and you say 'Hey, why not? Let me just add it to the cart" Brian explains.
👉🏽
Cross-sells and upsells on the checkout page
You can also offer cross-sells and upsells on the checkout page as a last effort to increase the AOV. But remember to be careful with these kinds of cross-sells because you don't want to cause a distraction during the checkout process.
"It's all about a balance of the user experience. You are about to complete the order and you are stopped by: 'Hey, here's another product you can buy.' "You don't want to push too hard. It can create a negative experience."
So, show only very relevant and helpful cross-sell options to the customer at this stage. You don't want to risk cross-selling to bug people enough to abandon their carts.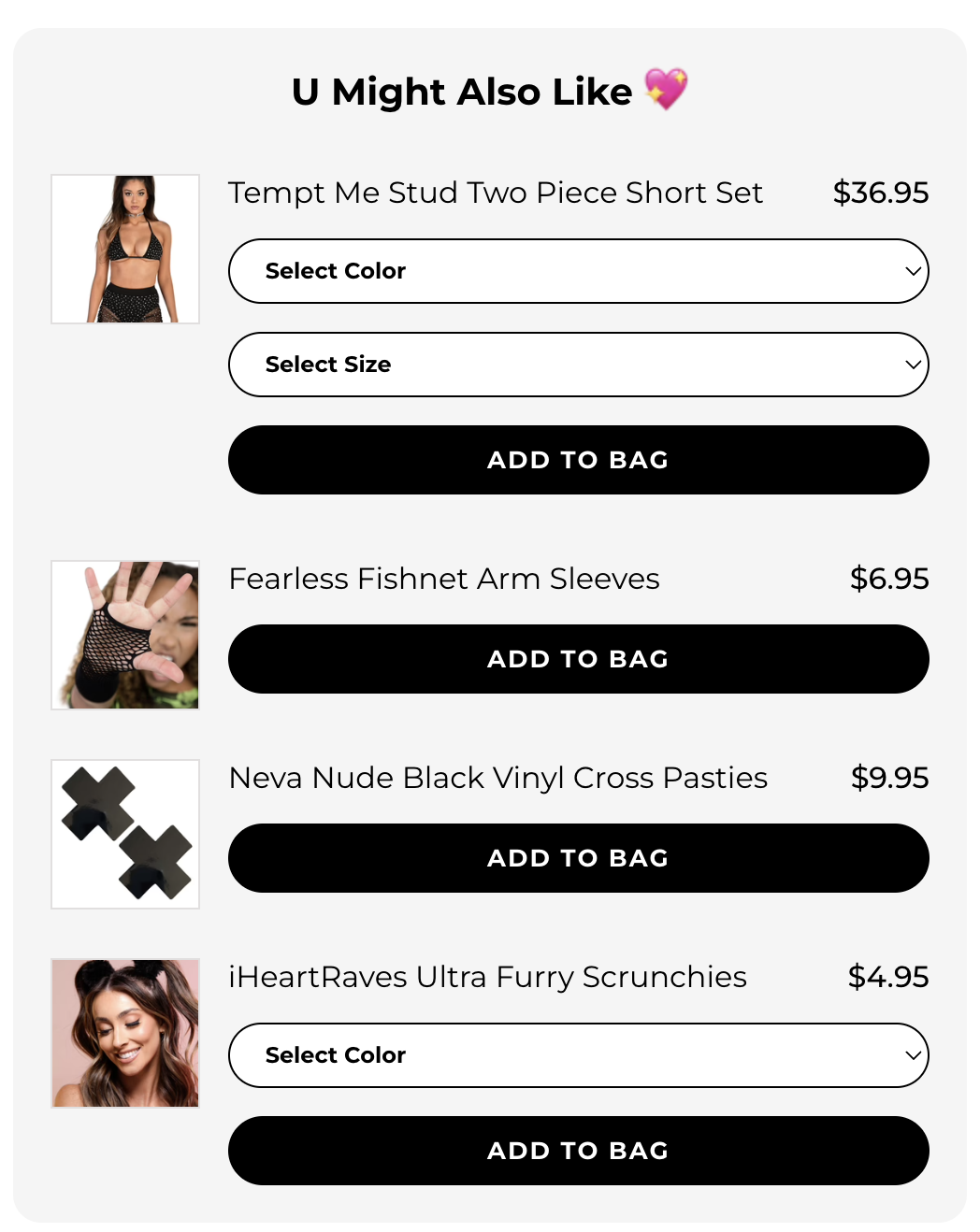 Actionable AOV boosting strategies for any e-commerce store
Here are 5 strategies iHeartRaves applies to help bring up their AOV:
1. Offer Promotions
Offering promotions and discounts on higher-priced items is a good strategy to increase your AOV. This encourages customers to purchase more expensive items, which in turn increases your average order value.
"On our site, we regularly offer flash sales and clearance sales. When customers see deals with a limited-time offer or prices too good to pass up, it encourages them to spend a little bit more," Lim says.
2. Offer Related Products
You should cross-sell related products to customers during the checkout process. By offering products that complement the items the customers are already purchasing, you can encourage them to spend more money overall.
"For example, on our site, if a customer is looking at a specific top, we might suggest a matching skirt on the 'you may also like' portion found below each item. This can not only help raise the AOV, but it's also helpful to the customer. Instead of having to search through the thousands of items listed on the site, they can build entire ensembles from the suggestions alone."
3. Optimize Your Website or Online Store
Make sure that your e-commerce site is user-friendly and easy to navigate.
"For example, we categorize our clothes in many ways so that each customer can find the most convenient shopping experience. The customers can look through all the items on sale, new additions, trending items, and types of items, like, accessories, shoes, and tops," Lim says.
"A well-designed site will help keep customers engaged and encourage them to add more items to their cart before checking out."
4. Test, test, test
Finding the optimal method to boost AOV requires testing out different ways to do it. Even for iHeartRaves, the working formula required some trial and error.
"On the product page, we probably had too many offers at one point, and we needed to trim it down. Same thing for the slide-out cart. We only show two now. Before we showed four."
After doing A/B testing they were able to optimize the AOV-increasing strategies.
"We're are constantly picking and choosing, doing AB testing to see what makes sense. "
5. Combine manual cross-selling with AI tools
Cross-selling is easier when you have great tools for it, but don't rely on AI-only cross-selling.
Whether to use AI or a manual cross-see depends on the situation, Lim says.
"It depends on the seasonality, whatever you wanna push at that time. But, AI is clearly the best for the product page where you're showing a bunch more products, such as customers who bought this product also bought this."
Want to read more about how to increase AOV?
Like what you read? Then we think you will also like our guide to Upselling the non-sleazy way.