Abandoned shopping carts are one of the top issues e-commerce businesses want to tackle. Many factors influence shopping cart abandonment, so it can feel overwhelming to start optimising your checkout process for purchase completion.

That's why we talked to Brandon Wilkes, marketing manager of The Big Phone Store, to get the best tips for reducing abandoned shopping carts. Wilkes shared with us his expertise in overcoming shopping cart abandonment hurdles.
Keep reading to get the tips you need to optimise your checkout experience.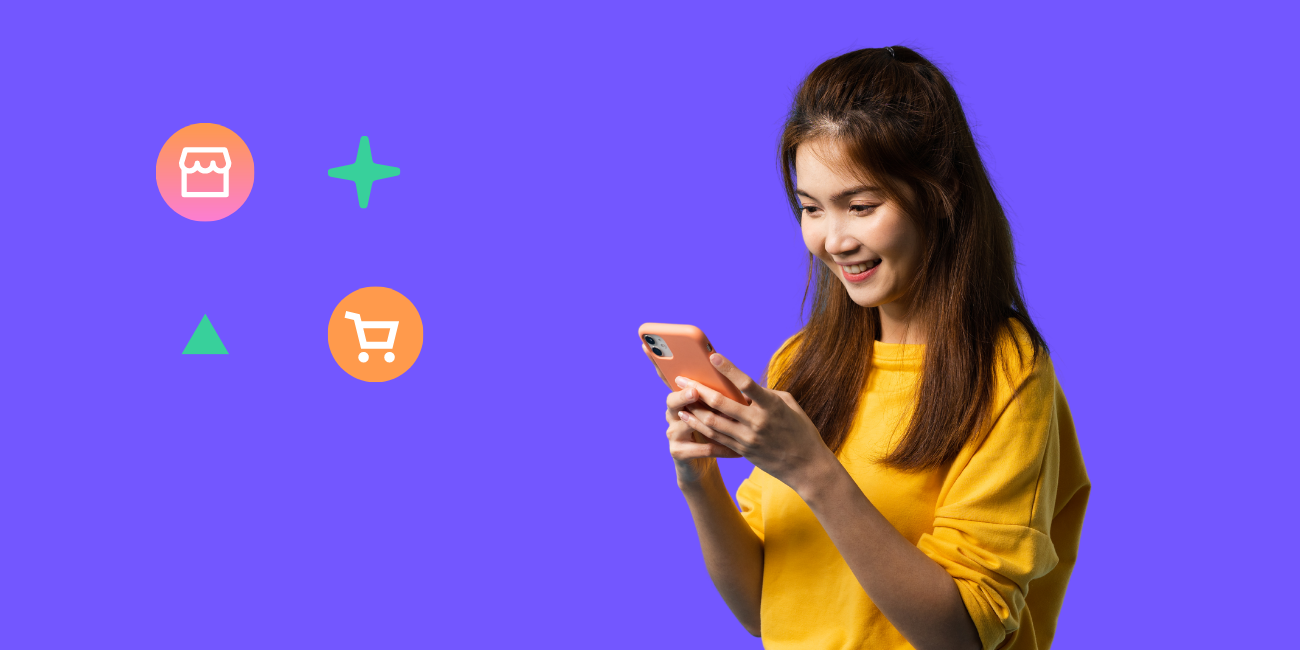 What is Shopping Cart Abandonment
Simply put, shopping cart abandonment means that the website visitor has added products to the shopping basket but exits the site without completing the purchase.
"The cart isn't abandoned until the visitor leaves the website, " Wilkes says. "As long as they go back to the website and are still engaging with the site, we are happy with it. It's only when they leave the website that we consider that the shopping cart has been abandoned."
On average, 69.57% of shopping carts get abandoned. But there are things you can do to make sure the rate is as low as possible. Keep reading to find out what.
The value of fewer abandoned shopping carts
The bottom line is that shopping cart abandonment means lost revenue. And the revenue lost is not just the value of the single purchase. With every single abandoned shopping cart, you have potentially lost a lifetime customer.
"A shopping cart abandonment means a customer that's abandoned your brand," Wilkes explains.
"Here is an example, we deal with refurbished phones. If a customer buys one phone from us and then a year or two later, they're looking at buying a new phone. They will come back and buy it from us if we gave them a good experience."
That's why if you're an e-commerce business, the value of what a customer adds to their basket is much higher than the value of that one-time order.
Main causes of Shopping Cart Abandonment
Website visitors abandon shopping carts for various reasons.
Here are the main reasons for shopping cart abandonment:
Unexpected shipping costs

Complex checkout page

Slow checkout process

Bad payment options

Long shipping times

Lack of trust
The solution to many of these reasons is as simple as fixing certain issues on your e-commerce website. So, this list is a good place to start when you start optimising your checkout process.
Keep reading to dive into the nitty gritty of these specific shopping cart abandonment cases.
1. Unexpected shipping cost
Unexpectedly high shipping cost is one the most common reasons for an abandoned cart.
"If your shipping costs are too high, customers are more likely to abandon their cart. To reduce shipping costs, try offering free shipping on orders over a certain amount or offering a flat shipping rate," Wilkes says.
If offering free shipping is impossible, there are other ways you can try to reduce abandoned carts due to shipping-related costs. One is to increase the prices of your products so you can lower the shipping price.
Another way to reduce shopping cart abandonment caused by unexpected shipping costs is to communicate the costs clearly to your website visitors.
You should be transparent about shipping costs even before the customer enters the checkout page so that they don't get blindsided by the price for shipping.
"If you are not transparent from the moment the customer's entering the website, then there's a big chance that although you persuaded the customer that your products are okay and that your website's trustworthy, high shipping costs can flip a switch in the customer's mind that they want to look elsewhere for a cheaper price."
2. Slow website speed
We, humans, are impatient creatures. We expect everything to be instant. That is why we don't want to wait long to check out a product. If your website is slow this will most likely hurt your conversion rates.
"The loading times can have quite a big impact on how the customer perceives the checkout screen. Google uses the metric core Cumulative Layout Shift (CLS) that pushed down lower-speed e-commerce sites. That can have a big impact on your site."
The slow speed of the website will not only frustrate the visitor but also reduce trust in your brand. So make sure that your website speed is as fast as possible.
3. Complex checkout page
Another reason visitors might exit before turning into customers is that your checkout process is too complex.
"If a visitor is on the checkout page and has to fill in a form with their information but can't find the right buttons, the visitor will get annoyed and they will also lose trust in your website," Wilkes explains.
The checkout page should have all the information customer needs to complete the checkout successfully. Offering assistance to a customer who seems lost on the checkout page is highly recommended. The best way to do this is to trigger a live chat with the customer when they have spent a certain amount of time on the checkout page without completing the purchase.
Pro tip: having customer reviews on your checkout page has proven to increase conversion rates as well.
4. Bad payment options
A lack of diverse ways to pay for a purchase plays a role in shopping cart abandonment.
If you don't allow customers to pay securely or in their preferred way, they might not risk buying from you at all.
Some popular trust-boosting payment options are:
Credit cards

PayPal

"Buy now, Pay later" solutions such as Afterpay or Klarna

ApplePay
Additionally, to build trust, payment solutions such as PayPal, Apple Pay and Klara, make the checkout process much faster. These companies have already all the customer information saved up, so the customer doesn't have to fill in their details again.
"The only thing they need to do is authenticate the payment," Wilkes says. "That makes it 10 times quicker than with other payment methods."
The faster the checkout process is the more likely the customer is to complete it.
Wilkes has looked into different payment methods. The slower methods, such as card payment, took about a minute longer on average than the quicker solutions.
"Most of the time customer just cares about a quick, easy experience. They don't care about anything else."
5. Lack of trust
Buying from a brand you've never used before can be intimidating. That's why it's extremely important to build trust with your website visitors so that they feel comfortable enough to make a purchase. The main way to build trust with your visitors is by having a user-friendly website.
"If a website visitor can't trust your website, how can they trust your brand?" Wilkes asks.
Trust is especially important if the visitor is planning to make a higher-value purchase. Everything on your website has to work smoothly.
"If the visitor is making a big purchase, then, even the slightest thing can put them off. It's like you're trying to convince them at the end of the day that we are the most trustworthy website and we're offering the best service."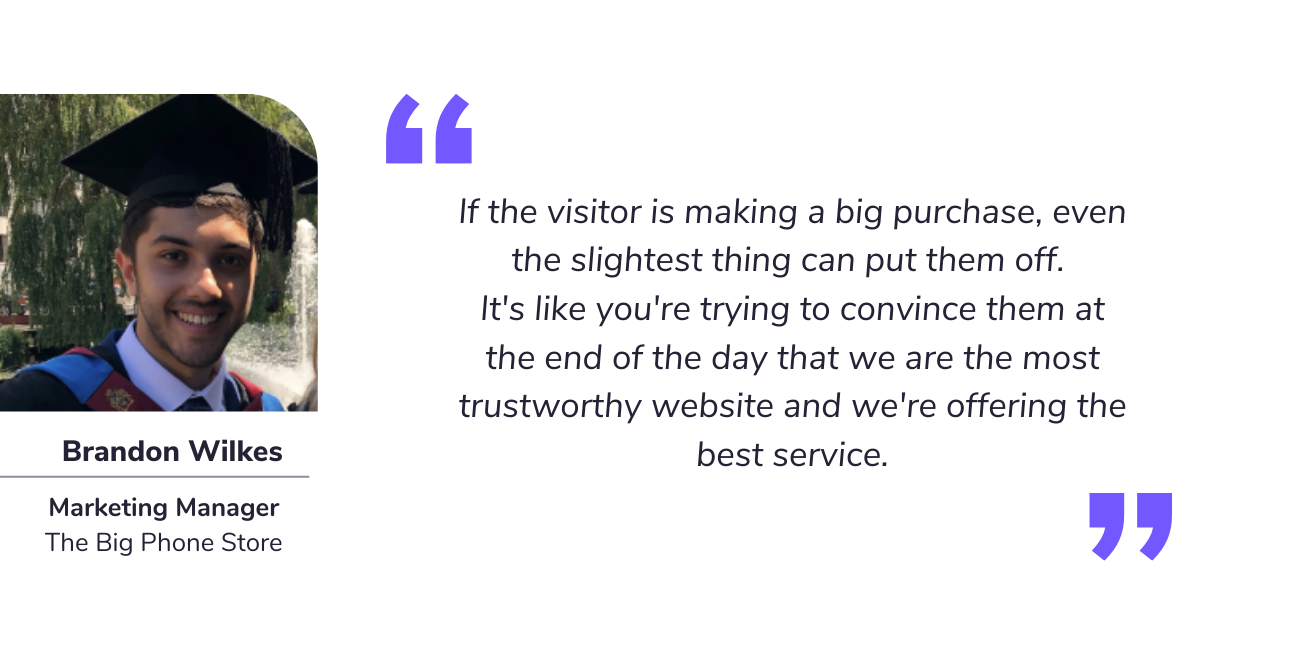 The best ways to build trust for your website:
Add reviews from external sources

Have secure payment options

Offer moneyback guarantees

User-friendly UX and fast loading times

Have support available when visitors need it - live chat or personal online shopping assistants are highly recommended for this
Need more tips for your e-commerce business?
Now that you have some new strategies to try for reducing shopping cart abandonment, you can test out what works best for your online customers.
If you want to read more tips for optimising your e-commerce store, check out our blog post on Best Discount code strategies.