Live chat is one of the most popular and cost-efficient service channels to date. Still, it requires human resources to provide customers with personal, timely and accurate support. And when implementing a live chat service and to ensure success, it's crucial to consider how to best resource.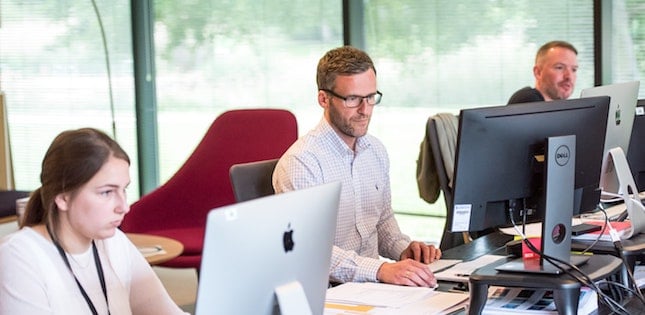 When utilising the full potential of live chat as a service channel, companies usually have three alternatives:
Use the same customer support and sales resources they use with phone and email.
Outsource the chat personnel to a resource company
Adopt a hybrid model that combines internal and outsourced resources.
Whether you want to outsource your live chat or keep it in-house depends on several factors such as:

The main purpose for live chat

The objective/goal or goal of chat

Where on your site are you planning to use it

What level of product and service knowledge should your chat agents have
Different alternatives have their advantages and disadvantages, which is why we've taken the time to review the pros and cons of each option:
Internal support team - The superheroes of customer experience
If you are planning to implement live chat on your website, in most cases, you can start by simply integrating live chat as an additional tool for your support team.
This means agents taking care of phone and email support also need to be trained, and you will need to allocate the necessary resources for live chat.

In the long run, having a live chat on a website usually reduces both phone calls and emails, meaning less resources going into those channels.

Internal chat agents also have the advantage of an excellent knowledge base and easy access to customer data and other teams. When chat is managed in-house, you have the same agents taking care of the different type of support. This makes it easier to maintain the same service quality, regardless of channel.

When the products or services you are selling are specialised and/or you are handling sensitive customer information, using your own customer support resources for handling chat conversations is probably your best bet.

For example, to be able to give precise answers to questions related to pharmaceutical drugs you usually need to be a pharmacist or at least have a deep understanding of the topic. Also, it's absolutely crucial that chat conversations are handled with care, as they contain sensitive personal information.
Your customer service team knows about your company, brand, products, services and processes better than anyone outside of your organisation. They will also have a better understanding of how your website works and can guide a visitor better if needed.
Most importantly, your in-house chat agents will have the experience and product knowledge to convert website visitors into a desired goal - whether it's a sale or into a completed customer service enquiry. As opposed to outsourced chat agent, who might not have enough product insight or know-how to do so.
Outsourced live chat agents - The customer engagement professionals
For some organisations outsourcing is necessary. Especially when it comes to high customer support volumes and when the products sold or services provided are not too complicated. In situations like this, outsourcing chat personnel can potentially be a cheaper and a more efficient option than, increasing the number of in-house customer support agents.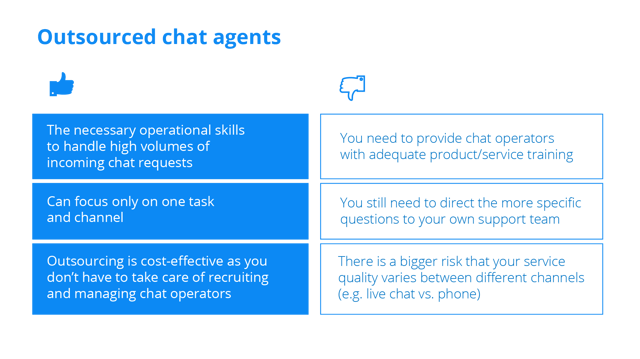 Outsourced chat personnel can typically answer to approx. 80% of visitor questions with a couple of day's training, which means that only the remaining 20% is left to handle by internal resources.
Experienced live chat operators can also manage approximately five chat conversations at the same time, which means that they can take care high volumes of incoming live chat requests.

As outsourced chat operators don't have to take care of any other support channels, they also have the advantage of being able to focus on one task at a time.
That's why many companies already use outsourced resources as the first line of chat agents, whose role is to start a conversation with a customer. Then, and only when needed, chats can be directed to internal customer support and sales specialists for additional information and help.
Combing outsourced live chat with in-house support
Adopting a hybrid model that combines the best of both worlds is, for most companies, the way to go. So, how does this model work?
Businesses that require 24/7 chat service, can have their support team take care of chat service during office hours with outsourced chat agents continuing when it's time for customer support team to go home.

Another great way to use the different type of resources is to give internal and external live chat teams different responsibilities, e.g. based on product and service categories.
A working hybrid model requires efficient routing to a contact centre and from your business. With giosg's efficient routing it's also possible to direct valuable chats back to your in-house support team. This means your contact centre works as the first line of support, and only meaningful conversations or more demanding issues are directed back to your customer service team.
Get more actionable insight into chat routing and how to improve your digital customer service in our how-to guide to boosting customer service efficiency!