Shoppable video is the hottest trend in e-commerce at the moment and no wonder why.
A shoppable video creates an interactive shopping experience that allows you to show how the products work or look in action. That makes them powerful in selling.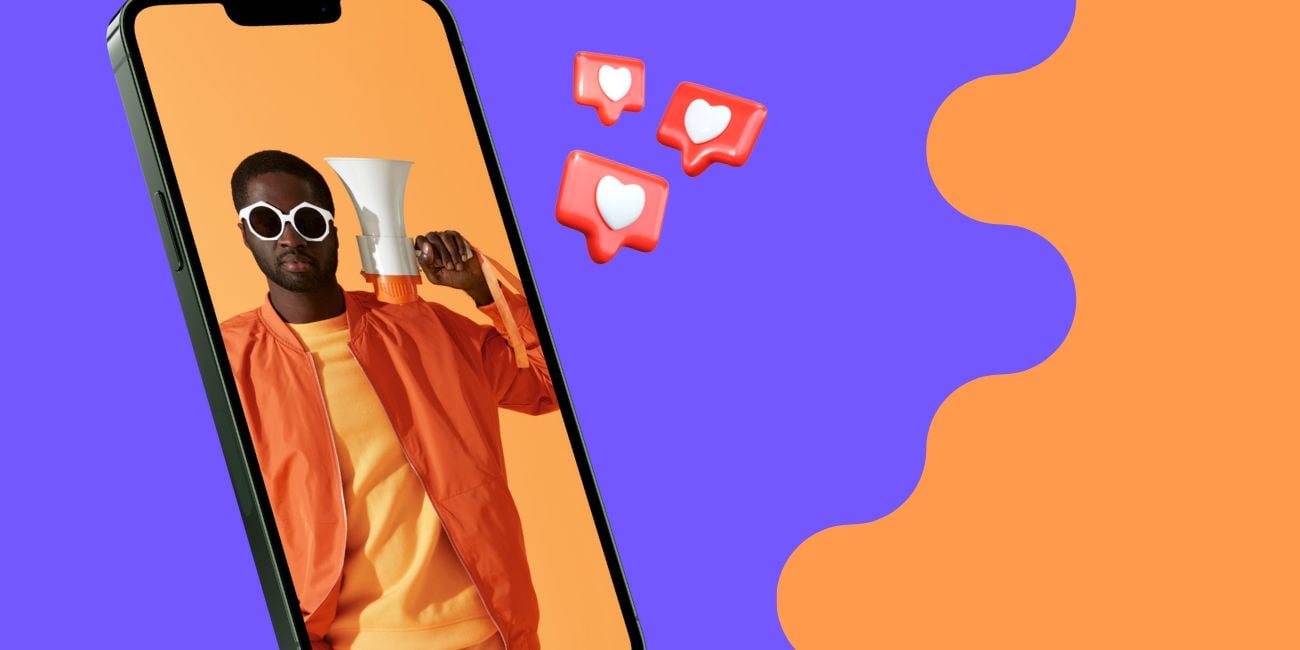 Here are the top 10 shoppable video platforms with an extensive pros and cons list:
1. giosg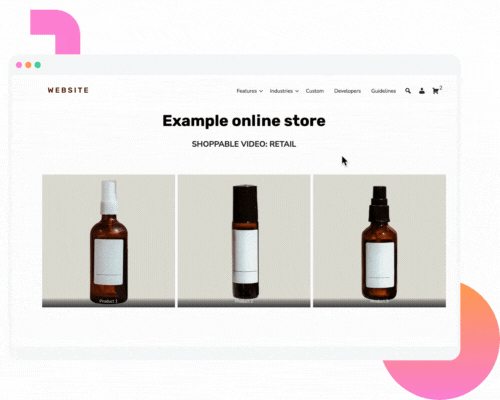 The first one on the list is giosg. We are a SaaS company that offers businesses tools to create interactive experiences online to connect with customers and accelerate sales. We are the ultimate customer experience platform!
giosg has all the features you need when starting out with shoppable videos: amazing templates for customization, the ability to turn your marketing videos into actionable shoppable videos and to track your ROI!
Pricing:
Pros:
Templates included in every package
Click rate tracking
Conversion rate tracking
Affordable for small businesses
2. ChannelSight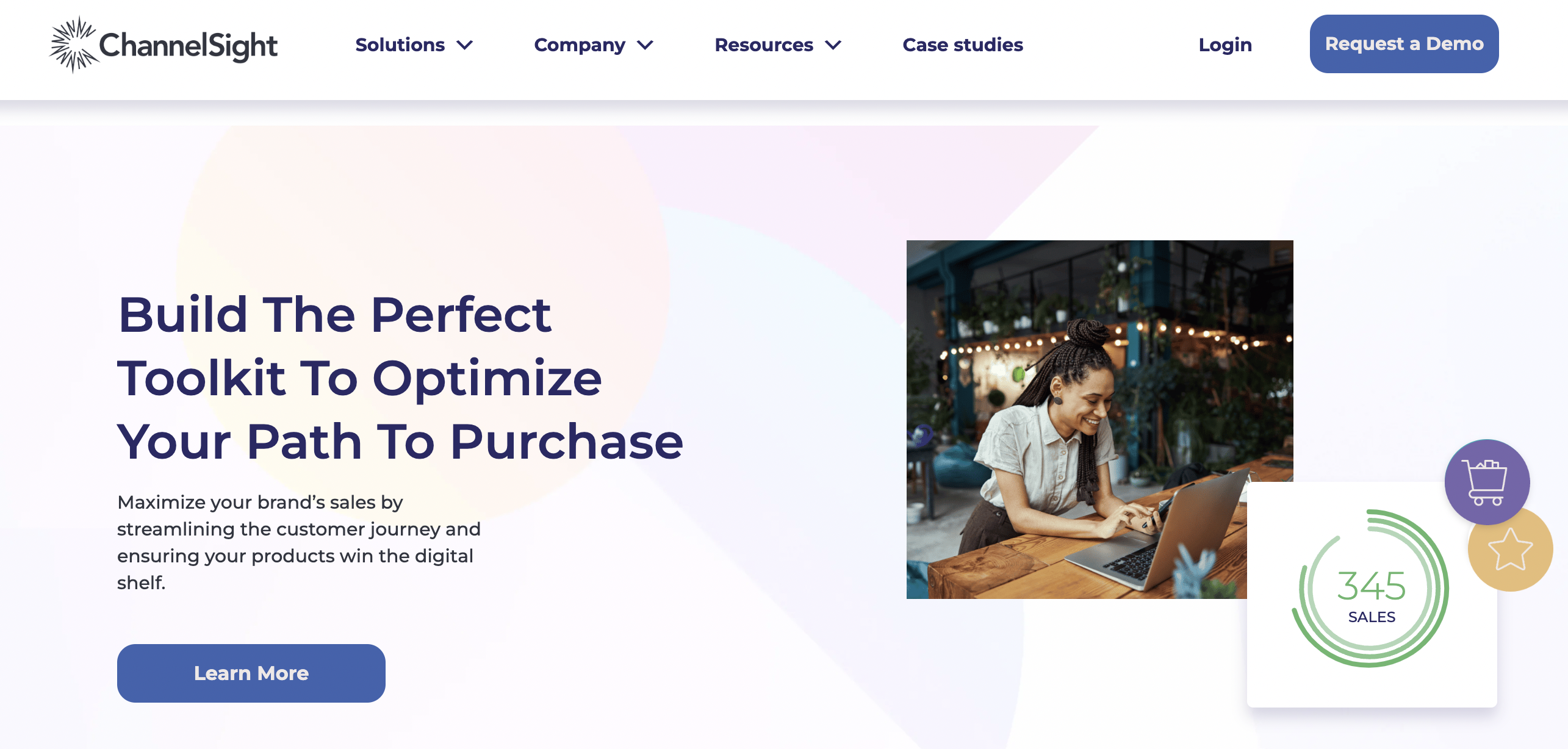 ChannelSight is an e-commerce platform, which helps customers to maximize their online sales. The products that are possible to combine, or use alone, include: Where To Buy Technology, Digital Shelf and most important, Shoppable Media.
Their software enables e-commerce brands to provide a great customer experience, gather detailed insights and maintain a good brand.
Pricing:
Pros:
Free demo
Easy access on multiple devices
With Shoppable Media, a seamless journey from product page to basket
Cons:
Free version has limitations
Customer service is lacking
According to customers, the platform is expensive compared to what you get from it
3. Vimeo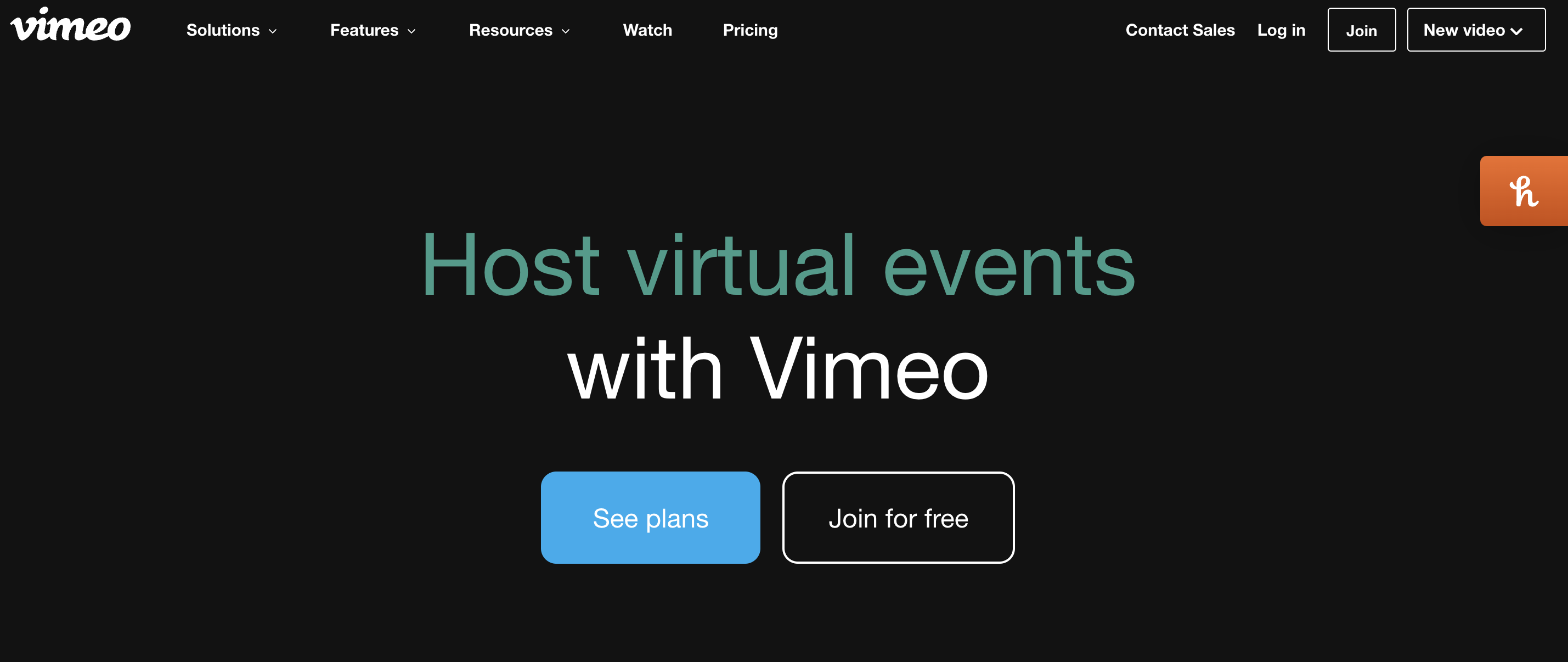 Vimeo is a video sharing platform that includes features such as live-streaming and customization. In June 2022, they introduced new features to their platform, which also included shoppable videos.
With Vimeo, it is now possible to build new shopping experiences by adding clickable elements to individual products within a video, overlaying additional product information, and "add to cart" buttons, allowing users to shop directly within a video.
Pricing:
Starter plan: €8 per month
Standard plan: €15 per month
Advanced plan: €60 per month
Enterprise plan: contact sales
Pros:
Interactive touchpoints, such as hotspots and informational overlays
Touchpoints are completely customizable
Able to track how many viewers engage with each item
Cons:
Interactive video available only for Enterprise accounts
Interactive features not available on full screen mode
4. Amazon Live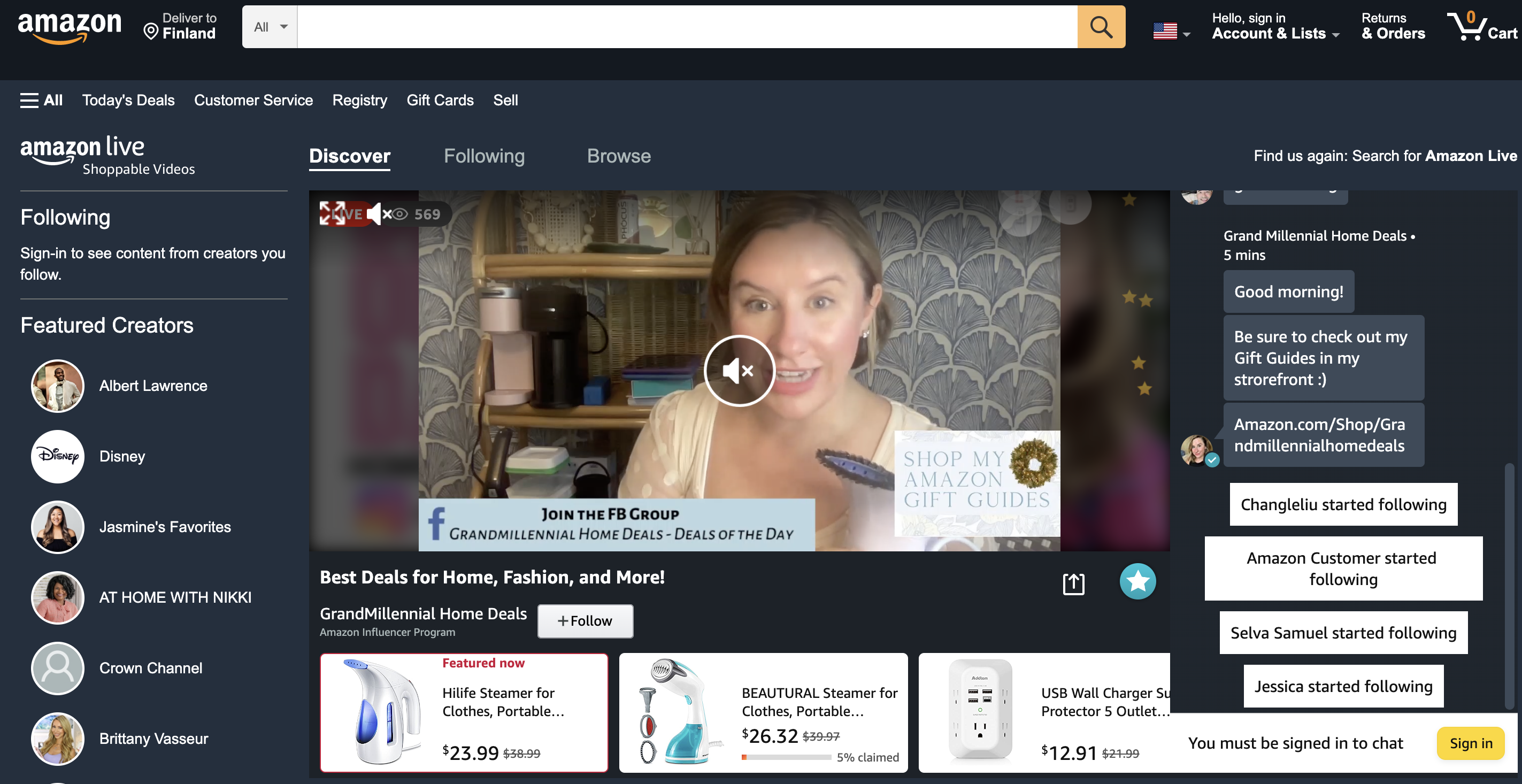 Amazon Live is a platform created by the e-commerce giant Amazon. With Live, it is possible for brands to educate audiences on product features, benefits, and special offers, and help customers make informed buying decisions.
With their chat feature, it is possible to interact with shoppers in real time and help them to stay connected by getting them to follow you. Shoppers that follow your brand on Amazon get reminders any time you go live.
Pricing:
Streaming with the Amazon Live Creator app is free
Running an Amazon-produced live stream will usually require spending a minimum of $50k.
Pros:
Brands can stream straight from their Apple device to Amazon with the app
Brands can sponsor livestreams that are produced by influencers using the app
Cons:
In order to promote your product on the app, it has to be available in Amazon.
5. Bambuser
Bambuser is a SaaS provider that offers a live video shopping experience for businesses. Bambuser's focus is mainly on live streaming, however, they also have an option to post pre-recorded material.
There is a possibility to stream from their app and their webpage as well as share to your other social media platforms.
Pricing:
Lite plan: contact sales for more information on pricing
Standard plan: contact sales for more information on pricing
Enterprise plan: contact sales for more information on pricing
Pros:
Easy integration with any e-commerce platform
Viewers can shop in-stream
Allows you to edit, download and re-purpose video material
App available
Cons:
No free trial
Coding required
6. Instagram Shopping
Does this app even need any introduction? With Instagram Shopping, you can make your products easy to discover. You can highlight your products seamlessly, so people can easily shop at the moment of discovering it. It is possible to use real-time or pre-made content to create an interactive, visual shopping experience that shows your products to the world.
Pricing:
Free to use on all desktop, Apple and Android devices
Selling fee of 5% per shipment or a flat fee of $0.40 for shipments of $8 or less
Pros:
A popular platform, guaranteed success
Can sell in both Facebook and Instagram at the same time
Access to analytics via Facebook's Business Page
Cons:
5% fee per shipment is costly
Some features only available in the US
In-app purchases (does not drive traffic to own website)
7. Livescale
Livescale provides a live shopping platform for ecommerce brands. Livescale has great in-video purchasing and integrated checkout features. Not only that, but it also enables you to create a branded sales experience by allowing you to have your logo on your live shows. You also get access to real-time analytics.
Like many other platforms, Livescale also makes it easy to embed videos and other content onto your website.
Pricing:
Pros:
Cons:
Expensive Starter Plan for small companies
8. Clicktivated
Clicktivated is a company that makes videos interactive and shoppable. With Clicktivated's live streaming shoppable video technology, viewers will now have the ability to click and shop individual products on screen as they watch.
The experience they provide is seamless and non-intrusive, only showing the viewer information on the products they are interested in.
Clicktivated currently works on creating a new and innovative way to shop directly through video for both pre-recorded and live streaming formats.
Pricing:
Pros:
IP-protected platform
Make an unlimited number of products in a video shoppable
Each view is a completely personalized shopping experience based on the individual needs/wants/likes of each viewer.
Viewers can self-select specific products or services of interest, at any time, while they watch.
A "get it now" feature provides a seamless path-to-purchase directly from a brand product page.
Cons:
No free trial
Not much information about the company
9. Uscreen
Uscreen is a cloud-based video on demand (VOD) platform that helps businesses organize, manage, and monetize content. Users can upload the content in bulk, add custom filters, and sort them into different categories.
The application enables professionals to stream live videos, schedule events in advance, and create a countdown overlay. Uscreen provides built-in marketing tools, which helps users set up sales funnels, generate leads, and convert the audience. The platform offers integration with various third-party applications.
Pricing:
14-day free trial
Growth plan: $199 per month + $1,99 per paid member
Pro plan: $599 per month + $0,99 per paid member

Plus custom pricing plan:

contact sales for more information
Pros:
Free trial
Frequent upgrades
User-friendly
Cons:
Coding required
Platform is not suited to host time-limited events
10. Smartzer
Smartzer is a shoppable video and live shopping platform. With Smartzer, it is possible to shop while still watching the livestream. This gives the buyer a sense of engagement which might be lacking in the basic online shopping experience.
When it comes to videos, Smartzer adds a layer on top of the video that has "hotspots" where people can instantly add the product to the cart. It also integrates with various other e-Commerce apps like Shopify, Shopify Plus, Woocommerce and Magento.
Pricing

:
Shopify plan: contact sales for information
Lite plan: contact sales for information
Enterprise plan: contact sales for pricing information
Pros:
With the Enterprise-package possible to integrate with various eCommerce platforms
Possibility to make purchases while watching the stream
On demand shoppable videos included to every subscription plan
Cons:
No social media integrations
Are you ready to go shoppable?