The recruitment of students is competitive and if you're not in the top tier of higher education institutions it can be challenging, to say the least. And with the current climate, applications have taken a dive - data from The Russell Group of leading research universities shows a 3% fall in EU students in the current intake, which is believed to be due to uncertainty over Brexit.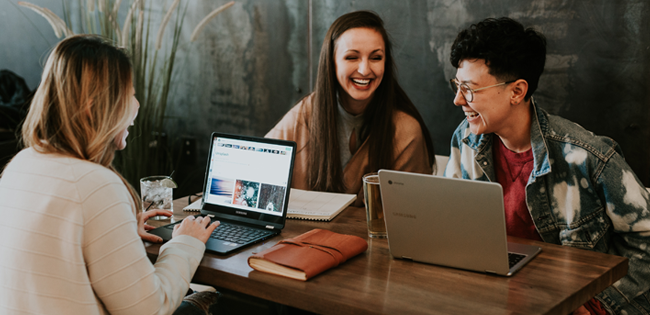 Not only has the number of international student applications plummeted, but recent Ucas figures show a decrease of 1% in British student applications as well.
Failing to attract new students could be the downfall of many universities. Even more so, with a current recommendation to cut student fees, UK universities may face serious financial difficulties and potential mass mergers.
Hence, captivating prospective students is more important than ever before and with applications being completed online, it is imperative that the student application process is made simple.
This is where online engagement tools that trigger the right action at the right time come in - adding value for those responsible for student recruitment and the students themselves.
What tools help with student recruitment?
In order to boost conversions online, from visitor to application and application to enrolment, live chat and chatbots are both very effective tools.
The reason live chat works so well is that behind it lies a real customer service agent answering queries submitted by the visitor. They can help guide or even push a prospective student forward in the application process.
On the other hand, a button chatbot, a simple FAQ bot, provides the answer to general questions without the need for human assistance. Combining the two can provide the best results for conversions i.e. using a bot to qualify students and a live chat to move relevant students forward in the application process.
How do these tools help with online conversion?
For starters, they provide real-time support - the type of timely customer service expected by the tech-savvy digital natives of Gen Z, currently applying to higher education. This generation sees email as an outdated form of communication and is three times more likely to open a chat message.
Ease of application is a top priority for students. In a previous post, we outlined 2 different scenarios where live chat services can aid in creating a seamless process:
1) When a student is looking for answers to very simple queries quickly

2) International students, who find that it is a more accessible way to communicate - especially as, calling can be costly for those living on the other side of the world.
Let's not forget, parents are also involved in the application process on behalf of potential students. They too want an efficient way to communicate with universities, find important information, and a channel for asking any pressing issues efficiently.
Furthermore, at times of financial strain, cost and time efficiency are key for institutions - with chat, agents can handle up to 7 chats at one time, meaning fewer resources are needed to process online queries.
How UDOL increased student applications
The University of Derby Online Learning (UDOL), has managed to significantly improve its customer service capabilities with its live chat service. The main reason for implementing a new function was to better engage with their online visitors.
As a result, their customer service team is now able to provide answers in real-time resulting in higher conversion rates, from application to enrolment.
Read more about how UDOL has made their customer service more efficient with chat.