Read Project Manager Essi Kiiveri's story about how implementing a bot onto property portals has improved customer experience and helped generate an additional 100 leads per month.
The challenge
We set out to improve and diversify our communication channels. Being in the rental market, we felt that contact forms, phone, and email were no longer sufficient enough. Our aim is to be present where our customers are and for that reason property portals are important channels for us.
As such, offering a new way for customers to reach out to us on property portals was on the top of our to-do list. The goal was to provide our customers with a simple and easy way to reach out to us - we believe support should be available immediately, should our customers have any questions.
After tossing ideas around, a property portal bot was the best solution for implementing our new communication strategy.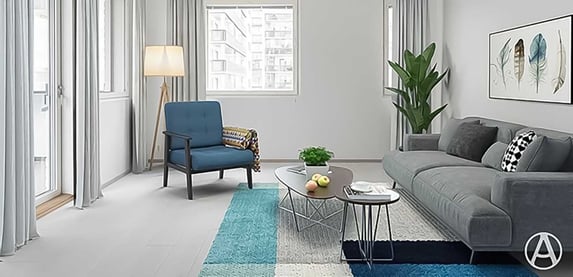 Enter giosg
We strive to be pioneers as an organisation on many fronts, especially when it comes to being a modern service provider in the rental property market.
Our aim is to develop, evolve and find effective solutions. From the get go, we felt assured that giosg's solutions would help us support our vision.
Compared to other bot providers, giosg's references stood out to us. With customers from various sectors achieving impressive results, it was clear that giosg's services were tailored according to their customers' needs. The simplicity and user-friendliness of the software also made giosg an easy choice.
Giosg helped us implement a bot onto our property listings in two different property portals. We created two different contact forms for each portal - one for a rental request and one to arrange a viewing.
Furthermore, it was imperative that our bot provider offer technical support and a fast service, as we don't have an internal IT department. We are really pleased with the support provided by giosg, from onboarding to fine tuning and further development. Help is always available and solutions to our issues are provided within a few days.
The results
We have now successfully implemented a new communication channel that has generated 300 new leads over just three months.
The best part is, that these 100 bot leads per month are in addition to the leads generated from our traditional channels and not at their expense.
We are also pleased with the positive feedback we have received from our customers for our fast service provided via the property portal bots.
In the future, we plan to implement a live chat, which will hopefully improve our customer experience even further.
"Our investment decisions are based on longevity and we use the same principle when it comes to our partnerships. Based on the positive and efficient start, we believe that our story with giosg is just beginning."
Essi Kiiveri, Project Manager, Asuntoyhtymä Group Oy