HCP engagement faces numerous obstacles that more and more pharmaceutical companies are recognising and trying to address in today's highly competitive environment.
In fact, nearly 40 % of pharma companies struggle with understanding their customer journeys well enough to map the relevant digital touchpoints and align them with their strategy.
But what exactly is HCP engagement, and why is it so important?
In this post, we'll cover the key features of HCP engagement and address the challenges and opportunities that come with it. From understanding the needs of HCPs to overcoming obstacles in communication, we'll also discuss the key factors that you need to keep in mind to ensure successful HCP engagement:
What is HCP engagement?
Benefits and opportunities
What are HCPs looking for?
Tips for improving HCP engagement
Key takeaways
What is HCP engagement?
So let's start with the basics. What is HCP engagement?
It is the process between healthcare professionals and pharmaceutical companies of offering relevant and targeted information, tools and solutions to healthcare professionals using a targeted approach.
HCP engagement is characterised by open and transparent communication and actively seeking and responding to HCP feedback and needs.
This can be done through various means and hcp marketing efforts like educational programs, events, and communication efforts, that aim to improve the understanding and use of a product or service.
HCP engagement not only helps to improve patient outcomes but also enhances the reputation of pharmaceutical companies and supports their overall success.
Therefore, HCP engagement is crucial and should be a key focus for companies looking to meet the evolving needs of healthcare professionals and their patients.
4 Most common challenges in HCP engagement
Healthcare professionals play a crucial role in the healthcare industry. For them to be able to help their patients and provide them with the necessary treatments and care, the HCPs themselves need to also have access to relevant resources and get the support they need.
But pharma companies are facing several challenges when it comes to HCP engagement, such as:
1. Limited face-to-face interaction
After the range of Covid-19 regulations and restrictions, pharmaceutical companies have had limited opportunities for in-person interaction with HCPs. And since those, digital engagement has been on the rise and HCPs are now insisting on virtual alternatives to communicate with pharma reps.
2. Competition for attention
HCPs have limited time and are often bombarded with information from multiple companies, making it difficult to stand out. To really capture the attention of the relevant HCPs, your content needs to be targeted, easy to find and relevant to their interests.
3. Inadequate understanding of HCPs' needs
Pharma companies may not have a clear enough understanding of the specific needs and preferences of HCPs, making it challenging to provide relevant information and resources.
With adequate data, pharma companies can learn more about HCP preferences and common behaviours for example regarding the way they tend to look for information and what channels they prefer using.

One of the key factors to overcoming this is implementing an omnichannel approach.
4. Difficulty in measuring the impact of engagement efforts
It can be difficult to quantify the success of engagement efforts, which can make it challenging to determine the impact and effectiveness of specific strategies.
Overall, EPG Health's recent research highlights 'providing real value' as one of the main challenges that 77% of companies are facing, while over two-thirds also struggle with delivering HCP and patient outcomes.
How to overcome these?
So what can be done when old marketing methods are no longer effective as customers want more and more personalised support wherever they are?
In healthcare like in many other industries, once you begin understanding your audience, building trust, and including them in active two-way conversations - you can make the most out of your virtual hcp engagement.
But to execute a successful engagement strategy you need to address these challenges with the right tools. Having the right procedures and software will make engaging with your audience a seamless part of your business and allow you to build a strong relationship with HCPs.

With tools like giosg for the pharmaceutical industry, pharma companies can really boost their efforts in innovation and digital marketing.
For example, one of the leading pharmaceutical companies was able to implement relevant pop-ups on its website that would activate at the right time and for the right visitors. Thanks to the giosg solution, they have had more flexibility and freedom to focus on conversions and attracting healthcare professionals. Read more about the case here!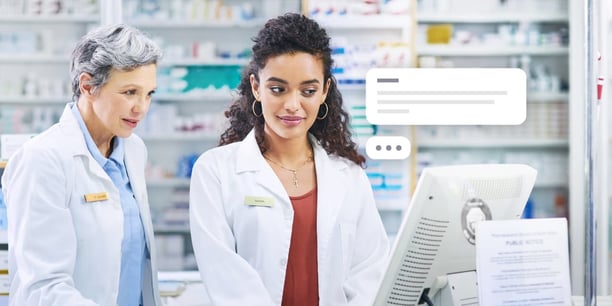 There are many emerging digital tools and platforms that allow for targeted, personalised communication and provide valuable data and insights that can be used to support your future engagement strategies.
And through the introduction of HCP engagement software, healthcare providers can now engage with pharma reps more efficiently for example via virtual meetings instead of face-to-face meetings, which use up more resources and time.
Additionally, these platforms help pharma companies gain and provide information that helps them boost the use of their products. Therefore, offering both HCPs and pharma companies a win-win situation.
Why is HCP engagement important?
HCP engagement brings numerous benefits to both healthcare professionals and the companies that engage with them.
👩‍⚕️ As mentioned, for healthcare professionals, engagement helps to keep them informed about new products, treatments, and best practices, allowing them to provide the best possible care for their patients.
🏥 For pharma companies, HCP engagement can lead to increased product usage and the number of relevant contacts, as well as increased brand awareness and loyalty among HCPs. Engaging with HCPs also provides valuable insights into their needs and perspectives, allowing you to make informed decisions about product development and marketing strategies.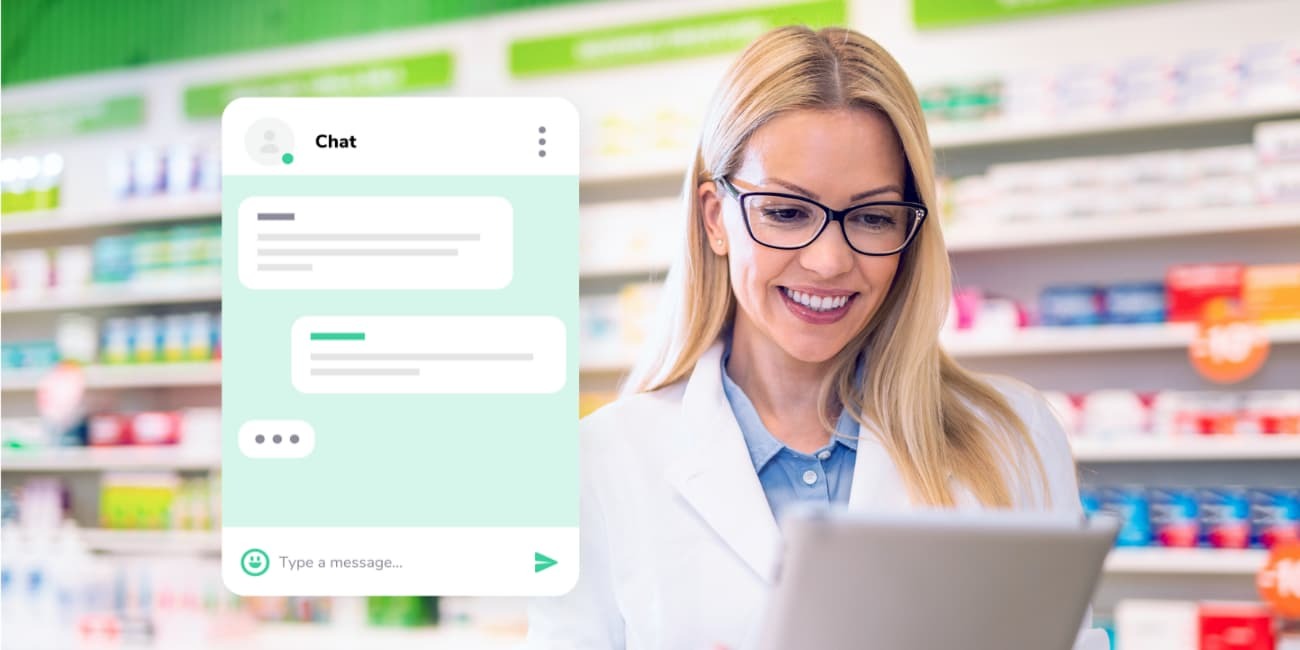 Overall, HCP engagement helps to build trust and foster strong relationships, leading to a better understanding and acceptance of products and services.
In the bigger picture, a successful HCP engagement strategy ensures that today's healthcare professionals have the necessary access to the latest information and resources, enabling them to provide the best possible care for their patients.
Digital HCP engagement, in particular, has become increasingly important in today's technology-driven world, as it provides a convenient and efficient way for healthcare companies to connect with HCPs and share information. And today adopting a digital engagement strategy is easier than ever.
The most important thing to keep in mind is that the aim of your HCP engagement should be to build better relationships and collaboration between industry and healthcare professionals, ultimately benefiting everyone and advancing the healthcare industry as a whole.
What are HCPs looking for?
HCPs are seeking several key factors when engaging with companies. To be able to cater to HCPs' needs, you need to understand what is it that helps HCPs to achieve their goals.
To help you get started with understanding your audience - here's a breakdown of some key things you should keep in mind and focus on when putting together your engagement strategy:

💁 Relevant and credible information: HCPs need accurate and up-to-date information to support their patient's health and treatment.

🔐 Patient safety: HCPs expect pharma companies to prioritise patient safety and be transparent in their clinical trial data and product information.

📖 Educational resources: HCPs value educational resources, such as continuing medical education (CME) programs, that help them stay up to date with the latest medical advancements and treatment options.

📄 Ethical marketing practices: HCPs expect pharma companies to be responsible and ethical in their marketing practices and to have strong compliance policies in place.

💬 Open and transparent communication: HCPs want open and transparent communication, and appreciate the opportunity to provide feedback and insights.

🤝 Collaboration: HCPs value the opportunity to collaborate on research, education, and other initiatives that advance patient care.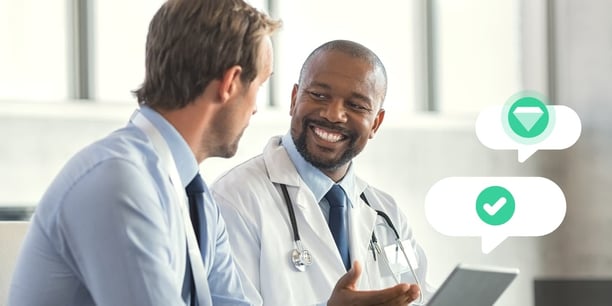 And once you identify what your audience is looking for, you can also detail:
what value you're able to deliver
what do you want to share with them (perhaps you have new data and findings that are relevant to your audience)
and essentially how can you effectively engage your audience with this information.


What's also important to note is where they are looking to get this information. Nowadays one channel is no longer enough. The touchpoints you have to reach healthcare practitioners in the most efficient ways include face-to-face contact, email, remote meetings and even virtual events. If you want to learn more about platforms and what are the key features and interactions to include in your strategy - see our list of the best HCP engagement platforms for 2023.
By meeting HCP needs and expectations, you can begin building strong, long-lasting relationships and enhance your reputation in the healthcare industry.
How to improve HCP engagement?
Research has found that 90% of HCPs feel that engaging with medical information on an HCP engagement platform has helped to support their treatment decisions.
Building strong HCP engagement requires understanding and responding to the needs and expectations of HCPs. Once you have this information you can make sure you are providing accurate and up-to-date information, educational resources, and responsible marketing practices that are valued by your HCP audience.
So if you're looking to show your audience you understand their needs, you should be considering how to implement engaging content on your portal.
Other efficient strategies for improving HCP engagement are:
🤝 Offering personalised experiences and interactions
🤝 Building strong relationships through open and transparent communication
🤝 Utilising digital and technology-based solutions to increase accessibility and convenience
🤝 Collaborating with HCPs to understand their needs and address their concerns
🤝 Encouraging and incentivising HCPs to participate in meaningful interactions, collaborations and research
If you wish to learn more about actionable steps you can take to improve your hcp engagement, check out our blog here!
Key takeaways
HCP engagement will transform and create new opportunities for pharma marketers as they focus on product development, marketing and advertising. And by the looks of it and the increased demand for targeted content, HCP engagement platforms will play a major role in the growth of the company and in building trust with the HCPs.
In the words of Dan Rizzo from Veeva, the best advice for hopping on to the trend when it comes to reaching HCPs is:
"Companies need to be thoughtful about how they're adding value to the conversation and which channels HCPs prefer. Then, once they have access, use the right resources and means to strengthen that relationship — ultimately, opening the door even wider."