A variety of businesses have jumped into social commerce feet first knowing how powerful social media selling is.

The automotive industry is no exception in the industries that can reap the benefits of engaging in social commerce.

If you want to increase your car dealership lead generation, it's time to take social commerce more seriously.

Leaning into social media can be intimidating for car dealers who previously have no social presence, but have no fear, we'll help you smooth out your social commerce game.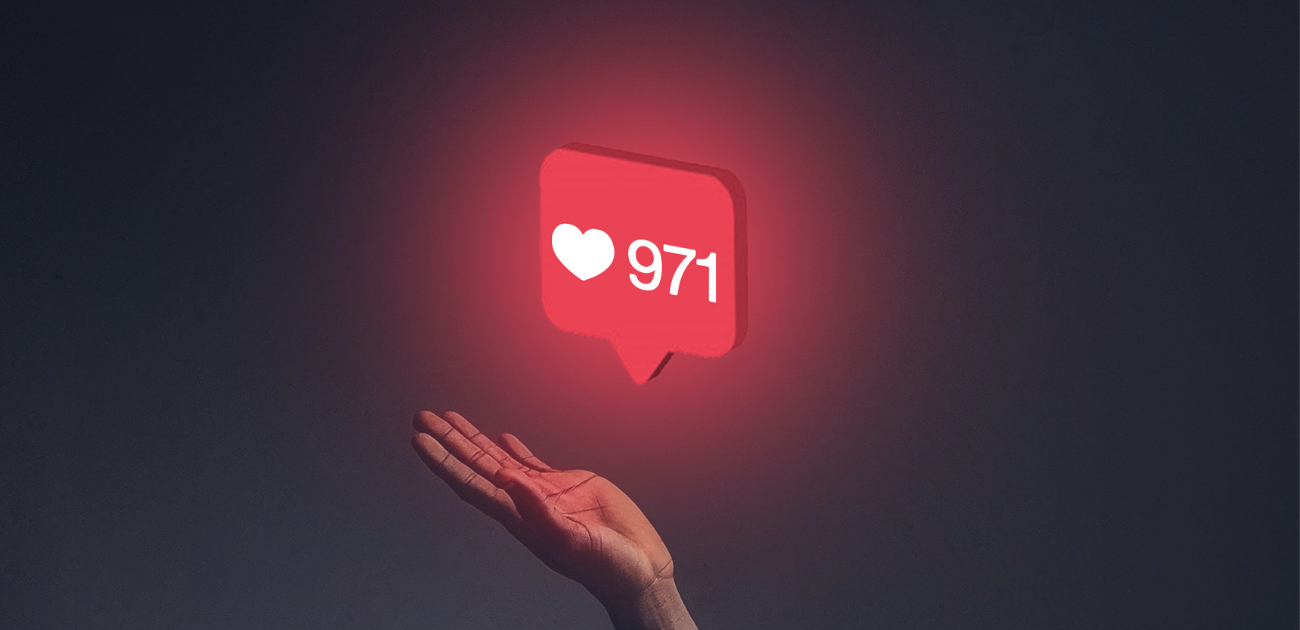 What does social commerce mean?
At its core, social commerce is the marriage of social media and online commerce. With social commerce, businesses use social media to assist with selling. On the flip side, it's also wise to incorporate social elements on your website so that consumers see a clear relationship between your different channels.
What is automotive social commerce?
For car dealers who want to take advantage of social commerce, this means appealing to the audiences readily available on social media platforms.
Car dealerships can do this by establishing a brand presence on selected channels and strengthening their inventory marketing on social media.
Social commerce platforms for car dealers to use
Everything isn't for everybody, so just because there's a social media channel that's available and trending, doesn't mean you need to run towards the hype for your business.

However, there are three platforms you should at least look into promoting your car dealership on for social commerce.
Facebook for automotive social commerce
There's a fine line between cultivating community and awareness for your dealership on Facebook and coming off as too salesy by bombarding your page followers with your inventory.

Members of the Facebook Auto Marketing Collective group have noticed that the best social commerce tactics for Facebook include sharing engaging content on your newsfeed and then marketing your vehicle inventory with ads.
For example, try out user-generated content for your newsfeed posts.
Facebook provides handy resources for car dealers, such as:
Automotive inventory ads
Ad campaign management
Facebook Shop Marketplace
Creative marketing tools like "Reels."
Some car buyers may do research for cars on Facebook as they do on Google.
With this in mind, it's key to establish some type of presence on Facebook.
In fact, Facebook is the most frequented touchpoint of a car buyer's journey.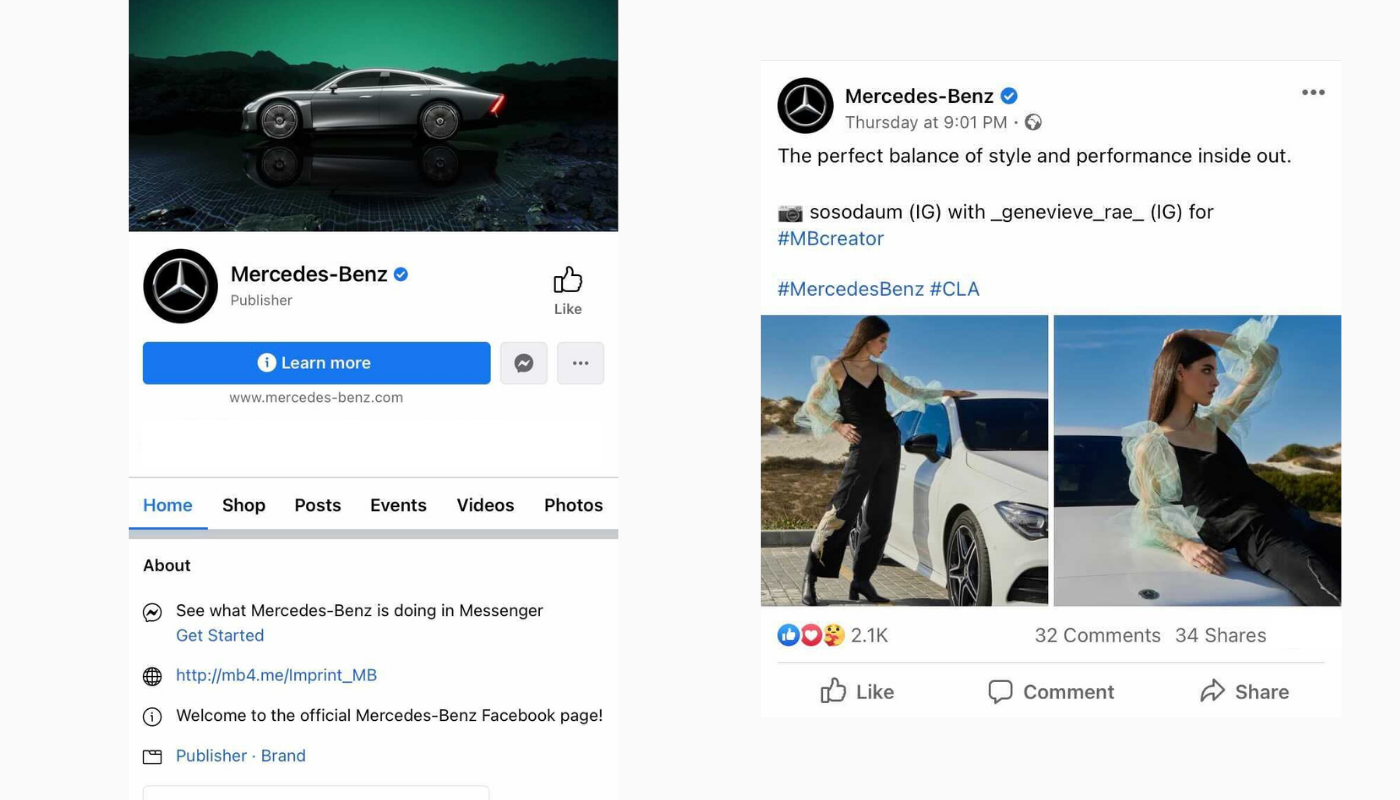 Image from Mercedes-Benz Facebook Page
To differentiate your brand and really hone in on the power of video, consider trying Facebook Live for your car dealership marketing.

Facebook Live is a popular feature on Facebook that allows your dealership to stream a live video directly to your followers within the app.
Using this feature is a great way to get creative in showing 360° vehicle tours, dealership walk-throughs, service videos and more.

In other words, Facebook Live is a great way to promote your digital showroom.

For a seamless experience across multiple channels, giosg specifically allows you to add your Facebook Live stream to your dealership website with video bots. This ensures that if someone is browsing your website and not within the Facebook app, they still watch and gain value from your stream.

Overall, being active on Facebook will allow you to take hold of your social commerce strategy and help you reach ready-to-buy customers.
Instagram for automotive social commerce
You may know there are nearly a billion active Instagram users, but here are some other alluring stats to further convince you Instagram is a platform worth ignoring your social commerce on:
59% of car buyers said Instagram is a key influencer in car purchase
41% of Instagrammers share a photo of their new car after purchase.
Car dealers can leverage the power of social commerce by leaning into the native Instagram functions that promote creativity.

The marketing possibilities on Instagram for car dealers include:
Vertical videos like Instagram Reels
Dynamic feed posts
Community-driven hashtags
Interactive Instagram Stories
Paid Ads
Instagram has proven to be a beneficial social commerce platform for car dealers who are passionate about growing their brand support and their online sales.
YouTube for automotive social commerce
YouTube is a platform that car dealers need to consider using to amplify their sales.

Creating videos on YouTube helps boost your social commerce strategy because 75% of car shoppers say that online videos influenced their buying decision.

You can use YouTube to differentiate from local competition. The key is to create videos to showcase your brand, vehicles, and knowledge to establish yourself as a well-rounded dealership.

In your YouTube videos and on your YouTube channel you'll want to make sure to cover clear call-to-actions of how interested viewers can get in contact with you. It's important to add links to your CTAs in the description of your video.
Pro tip: consider adding your YouTube videos to your dealership website with video bots. This will bring value to your website visitors and increase the visibility of your YouTube videos.

Looking to YouTube as a social commerce platform is a good idea because when an interested car-buyer is browsing for local car dealers on search engines, relevant videos that match the search query are almost always at the top.

So, keep in mind to optimise your YouTube video titles to match localised keywords also.
Tips for car dealers wanting to champion social commerce
Use your organic posts to foster community & provide value
Focus on "hard-selling" with your Ad campaigns
Learn about Facebook Dynamic Ads and Auto Inventory Ads
Be attentive to direct messages on social media platforms
Test unique native features like live video streams or car buyer guides

Remember to just start! You may feel like you're behind so you want to perfect your social commerce strategy before starting, but the best thing is to begin and learn as you go.

Why should car dealers look to social commerce?
At its core, social commerce is a relatively frictionless part of a car buyer's journey. When you use social media as a tool to generate leads and promote your brand, you give buyers the opportunity to click and learn more as soon as they are inspired.

Social media selling has made it easy for users to go from inspiration to action. There's not a better place for car dealers to benefit from this user pattern than on social media.

Looking for more practical ways to capture more leads for your car dealership? Download our FREE Car Dealership Lead Generation Guide.