How to deal with evolving customer demands in this new digital era? As the customer support, sales and marketing functions increasingly move to digital channels, great chatbot platforms, relevant content creation and different forms of efficient targeting have become key differentiators when offering the full personalised customer experience.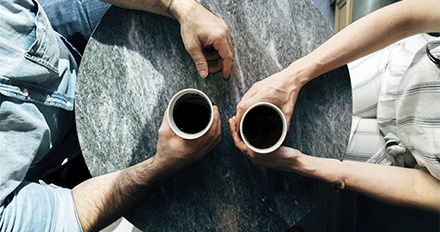 Haaga-Helia University of Applied Sciences published a study called "Value creation through the integration of sales and marketing: SMARKETING" urging businesses to realise the importance of an efficient marketing-sales relationship in this new digital environment.
The study contains great insights into the online customer journey and experience, with ideas for chatbots in the B2B market, a great read and right up our street! We've discussed some of the points we found most interesting, with some interesting findings for sales and marketing managers.
Smarketing - What is it?
We thought the term was a typo when we first read it, but as we found out more, we began to understand that it is key in achieving efficiency within your revenue teams.
Smarketing is described as the integration of sales and marketing. Usually set as separate teams, sales and marketing can often have a difficult relationship and even a negative perception of each other. So, it all starts with finding a common language, the one crucial question to start with is - what are we trying to achieve here, what is our goal?
Whether sales and marketing merge into a single revenue team, or you have a Smarketer liaising between teams, the idea is for Smarketing professionals to be able to operate as the first line of customer contact, and use analytics, service design methods and digital tools to create a relationship with the potential customer. Smarketing professionals have the ability to find potential customers and reach them efficiently, in other words, they have sufficient knowledge of the various channels available to them and experience utilising different digital tools.
Important insights for the Smarketer:
Create
multi-channel presence, customers react to different digital channels differently

relevant content, so different target customers can identify their individual problems and needs

an initial plan for the communication between sales and marketing (to be able to implement the Smarketing concept)
Personalise
content based on customers' navigation history
and customise support services
Change
Implement a direct way for the customer to reach you
new ways of selling (e.g. via live chat) as buyers adapt to the journey-based approach and change their behaviour and expectations
Automate
back-office work such as converting an email contact into a lead
Identify
sales-ready leads taking into account both sales and marketing input


Targeting customer experience touch points
Another important theme in the article is online information and browsing, people no longer rely solely on what companies tell them, the modern online customer searches for information on numerous sources.
As browsing the internet with no particular objective becomes more popular, businesses strive to successfully target those walking question marks with content that is relevant to them. Artificial intelligence has made this much easier, and AI-powered tools, such as our giosg Target solution, have enabled companies to find those customers at the critical touchpoints of their journey, showing them relevant calls to action to get them to engage.
Personalising the customer experience
And what about personalising the customer experience? People tend to trash-talk and troll chatbots, but that is because, to-date, they have failed to provide the personalised human experience they promise. It's understandable, the customer experience is not great if all indicates that you're talking to a machine and a machine alone. It is therefore essential to add a human agent to equation.
The solution is to create a collaboration between the two, one that is as smooth and unnoticeable as possible, one that changes the whole nature of the conversation. When customers can't tell whether they are talking to a person or a bot, they act as if they were talking to a human, even when unsure.
In instances where the bot is unable to deliver an answer, we all want to be served by an actual human. And as a business, wouldn't it be great if you could ensure a seamless and efficient transition between bot and agent, only getting the agent in when they're truly needed?
Interested in reading more about Customer Experience? Check out our whitepaper below!