The consumer buying landscape has changed dramatically in recent years. With eCommerce booming, shoppers are expecting far more in terms of convenience, customer service, and creative marketing than ever before.

So, how can businesses navigate this new normal and achieve success in such a fast-paced market?

In this post, we'll cover:
What is an Omnichannel strategy?
How to build an effective omnichannel sales strategy
Boosting conversions with giosg
Final Thoughts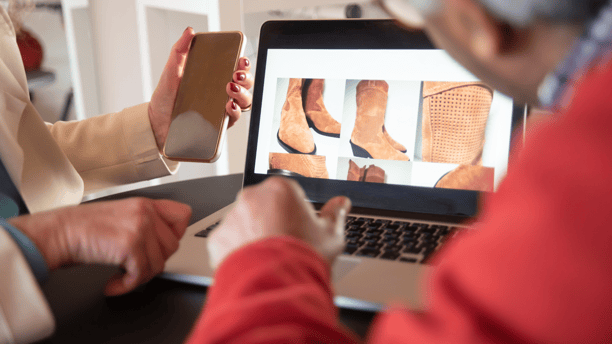 What is an omnichannel strategy?
The term 'omnichannel' (or multi-channel selling) relates to commerce that integrates a variety of interaction methods when reaching out to customers. For example, an omnichannel business is one that may market to its customers via online platforms as well as via a physical store.
What is B2C Marketing?
B2C (business-to-consumer) marketing is a term that refers to the approach that businesses who sell to consumers take to advertising their brand, products and/or services to their target audience of customers.
The primary goals of B2C marketing are raising brand awareness, driving more leads and sales, and improving and maintaining good customer retention and loyalty. Before building your sales strategy, it's important to understand each stage of your customer journey and how they fit your marketing funnel.
Understanding the B2C marketing funnel
The traditional marketing and sales funnel approach is a tried and tested method for selling that are still relevant to today's market. Sales funnels are typically based on three key stages:
Awareness
Introducing your brand for the first time - although some may have heard of you, they may not yet understand what you do or why they may need what you offer.
Consideration
Once consumers have acknowledged the problem they wish to solve and are shopping for a solution, it's time to show them how you offer the solution.
Conversion
Now is the time for the hard sell. Your target customers are ready to make a purchase, and it's time to go for marketing strategies such as FOMO (Fear Of Missing Out), urgency (limited-time offers), and other mental triggers.
Understanding the marketing funnel theory and building your B2C omnichannel sales strategy around it will ensure that you take the right action at the right time to engage and convert your customers.
So how do you build an omnichannel sales strategy for your B2C business?
How to build an effective omnichannel sales strategy ⚡
To succeed in B2C sales and marketing, it's essential to understand that the primary aim is to win the trust of consumers through meaningful and engaging content and brand messages. There are a number of critical steps in achieving this through omnichannel marketing.
1. Know your customer
No marketing strategy can be successful without first knowing the customer. It's a big shot in the dark to attempt to make attractive, relevant content for customers whose interests, motivations, and problems you can't even articulate.

Before strategizing any marketing approach, ask yourself questions such as:
What problems do my product/s and/or services solve?
What age/location/demographic are my target customers?
What will motivate my customers to buy my products/services?
What would motivate my customers to buy from a competitor instead?
Build a clear picture of your target customers to assist you in tailoring a marketing strategy that is most likely to reach them and compel them to engage in your content, brand, and offerings.
2. Leverage relevant data
Data-driven marketing is marketing that has been designed with data-backed metrics and insights to optimize the relevancy of content and conversion rates. Using data analysis to create marketing goes hand-in-hand with personalizing your marketing to engage with consumers on a more personal and emotional level.
3. Create engaging content
You can implement all the flashy tech you like, but in today's market, without consistently providing high-quality, engaging, value-driven and emotive content, you will struggle to connect with your customers.

When it comes to creating engaging content, your focus needs to be on understanding your customer. This includes knowing what they want and typically engage with, and what's trending.
With all this information, you need to craft how you can best deliver consistently high-quality content that is recognisable, value-adding and reaches the consumers on a personal/emotional level. This can include content in your store, on your online platform, on social media, or interactive digital catalogues to drive traffic to your physical or online store.
For example, you can build QR codes that you implement inside your store to drive people to your website. This can even be used to create upselling opportunities to further boost your sales.
4. Get into the minds of your consumers
To take understanding your customers a step further, here are some key points to consider:
What do they want and need?
What are their personal values and goals? Consumers typically choose products whose brands align with their own personal values
Impulse purchasing - what are your target consumers' behaviors around making impulse purchases (typically below $50) in your market, and does your product fit that mould?
Personal shopping preferences - as an omnichannel business, you have the unique advantage of offering your customers a variety of shopping options, but which one might be more popular and justify the extra investment?
If you're not sure about any of this, don't be afraid to simply ask them! You can offer discounts or other incentives for customers to complete surveys to give you plenty of insight into their preferences and opinions.
5. Utilize artificial intelligence (AI)
To leverage the power of data-driven insights, you will need to feed your tech with high volumes of quality consumer data. One of the easiest ways to do this is by leveraging your content to compel consumers to opt in to receive further communication.
Well-placed website forms and interactions are another great way to begin ongoing relationships with your customers and leverage their data to improve what you offer them.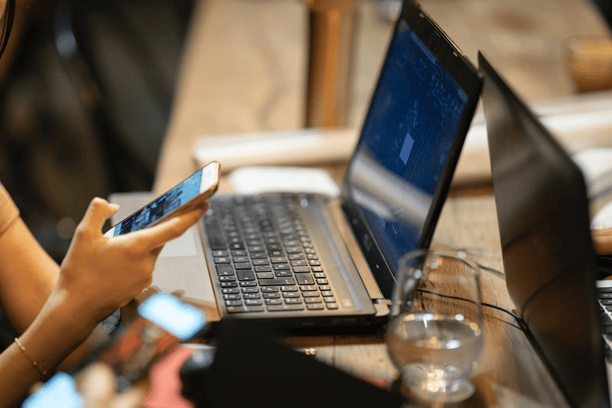 Photo by Engin Akyurt
6. Connect with consumers on a personal level
According to a report by Stackla, 70% of shoppers agree it's important for brands to provide a personalized consumer experience.

Competition is fiercer than ever, and generic marketing may have once sufficed, but not anymore. If you want to attract and retain customers, you're going to have to adopt a more personalized approach to your sales marketing.

By leveraging customers' browsing and purchasing behaviors, automated technologies can create data-driven campaigns that offer up recommendations that are relevant to particular consumers.
Strategies like this help not only to convince a consumer that they should shop with you, but the more personalized their experience becomes (loyalty offers on relevant purchase options are a good example of this), the greater their trust and loyalty will be in your brand.
Extra tips to consider when building your B2C omnichannel sales strategy
⭐ Tap into the power of influencer marketing - according to Shopify, 61% of shoppers trust recommendations from influencers
⭐ Don't overlook the importance of setting your marketing up for easy access and impressive presentation via mobile devices
⭐ Create data-driven retargeting programs to boost retention and give shoppers a chance to reconsider (especially those who have abandoned buying or browsing sessions on your website)
⭐ Be sure to keep your content personalized and non-salesly on social media platforms such as Instagram and Facebook
⭐ Invest in SEO - with the right SEO strategy that focuses on building your brand and site's authority, expertise, and trustworthiness, you can begin to rely on consistent site growth.


Boosting conversions with giosg 🔥
Once you've got the knack for driving visitors to your site, it can be a whole other mountain to climb to consider how best to connect with them and win them over as customers.

The giosg platform helps businesses to transform their websites into highly engaging environments from which to convert online visitors into paying customers and raving fans.
Through their engaging interactive tech such as pop-ups, chatbots, and more, giosg brings business websites to life, attracting and converting consumers into loyal fans, while delivering advanced reporting capabilities to ensure that the business-consumer interactions are meaningful and ever-improving.

Sometimes it's great to be self-sufficient and work it all out for yourself - other times, the smartest strategy is to engage the experts!
Final Thoughts
It can feel daunting to consider creating a B2C sales strategy from the ground up; that's why putting a clear and well-researched plan in place is the first vital step in doing it successfully.

Once you have your plan in place, taking consistent action, assessing and adapting your approach in response to statistical analyses, and practising persistence and patience are key to unlocking the benefits of all your hard work.