Interactive content is one of the best content formats for e-commerce businesses. It helps you get their attention, retain it, and helps you bring them closer to a conversion.
That's because this type of content builds trust with online users and promotes brand loyalty. Engaging, conversational content pieces create interactive experiences for consumers. That keeps customers coming back. The more they interact, the stronger their allegiance to your brand becomes.
Now that the basics are covered, let's discuss some interactive content examples to enhance your content marketing strategy.
1. Online Polls and Surveys
Polls and surveys are among the interactive content ideas you should consider. They're an effective way of generating engagement and brand loyalty. When you ask your audience about their opinions about your product, you let them have a say. Customers feel appreciated when brands listen to them.
See below an example of a survey made by giosg for Bonti's website. The survey helps visitors of the baby products retailer based in Sweden choose the suitable baby pram for them, according to their answers: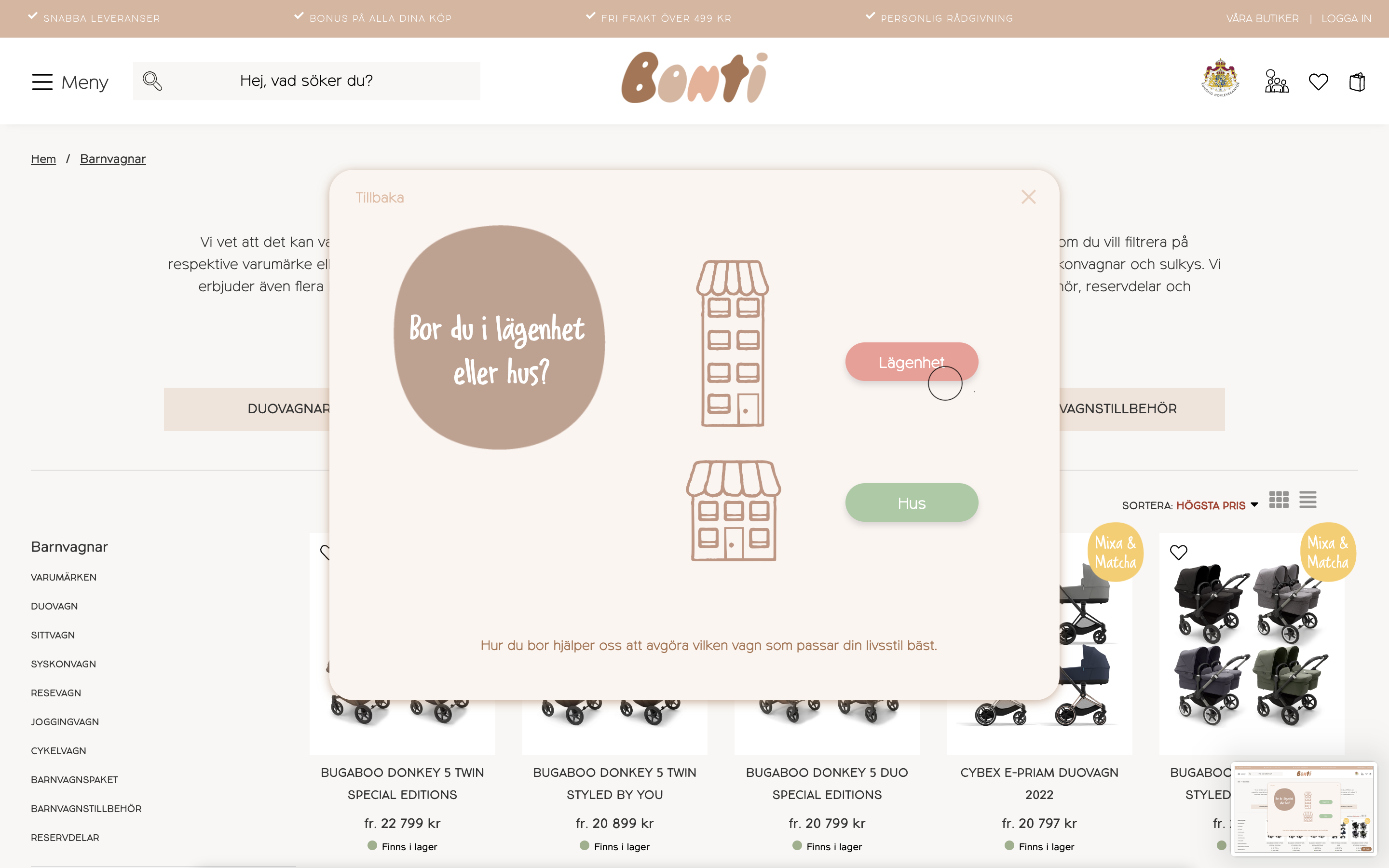 Image via Bonti
The good thing about polls and surveys is that you can also generate data that can help you know your target audience better. Depending on your questions, the information you derive from your poll or survey data analysis can be used to create content or improve products that can resonate better with your audience.
For instance, if you find that many of your customers are choosing a three-wheeler pram on your survey, then you can highlight your three-wheeler prams on your website's pram section. That can increase the chances of people clicking through and converting, too.
The most effective way of ensuring customer satisfaction is by getting feedback from your audience. Acting on this feedback makes consumers feel valued and improves brand affinity.
2. User-Generated Content
User-generated content is another valuable asset for your content strategy. User-generated content is original, brand-specific content created by other people who are not directly affiliated with your brand.
Zappos, a fashion retailer, is an excellent example of how user-generated content can be utilised by an e-commerce business. Once a visitor clicks on a product they're interested in, they see how other users wore the product on the page's "How It Was Worn" section:
Image via Zappos
Putting your brand name to a customer's work creates an even stronger bond. Using customers' content takes your brand authenticity to another level. As a result, this enhances trust and builds brand loyalty.
User-generated content can also work as social proof. When potential customers see that people who have purchased the same product are very satisfied with it, they are more likely to push through with their own purchase.
You can also use UGC in your email marketing campaigns. You can even partner with influencers so they will produce the content for you. Influencers can help boost your sales since they can sway the opinions of their followers. Get in touch with them via DMs or use an email address finder to get their contact information and send your pitch for collaboration.
Another way to leverage user-generated content is by using AI-generated images. AI-image generator can help you create stunning visuals in a matter of minutes that are customized to all your graphic design needs.
With an online AI-image generator, you can also easily create high-quality visuals that you can use for your campaigns.
Among the available choices, there exist photo editing software solutions that have the ability to promptly generate, modify, and transform your photographs into remarkable works of art with minimal effort. Through the utilization of such software, one can effortlessly create awe-inspiring visual imagery in a matter of a few simple steps.
3. Chatbots
Chatbots use artificial intelligence to talk to website visitors. They automate conversations with online users to answer queries.
For example, Sato, a rental homes solution based in Finland, uses chatbots on their website. The chatbot provides visitors with the information they need depending on what they're looking for. For instance, if they click on the "I'm looking for a home" option, they are directed to an application form they can fill out.
Image via Sato
If they click on the "I'm a B2B customer," they are then instructed to leave their contact information so a Sato employee can contact them.
Chatbots should be on any ecommerce business' list of interactive content ideas for several reasons.
For one, studies show that chatbots increase sales by as much as 67%. One of the biggest reasons for this is that they allow you to provide quick customer service 24/7. That way, customers are never left waiting anxiously for assistance. Even if you're asleep, your chatbot can give the necessary assistance.
For another, chatbots complement customer service reps. Chatbots can help reduce the work of human customer agents, who can focus on a customer's more complex queries. When S-Bank, a Finnish bank, for instance, deployed a chatbot to their website, the chatbot managed to solve 80% of customer problems. The remaining 20% was left for human agents to solve.
Overall, chatbots facilitate a smoother customer journey while saving the business time and money.
4. Interactive Videos
Modern-day consumers have limited attention spans. Content that provides immersive experiences can help you get around this. Videos are a great example of this type of content.
K-Ruoka, for instance, a Finnish retailer, provides an excellent user experience through the videos on its website. K-Ruoka shows how-to videos so website visitors will know how to use the ingredients they buy from the site.
Image via K-Ruoka
You can take this a step further and make the videos interactive. Shoppable videos are moving images that allow viewers to engage with them. For instance, if they see a product video with an item they like, they can click on the product and then add it to their cart.
Interactive content like this can increase engagement and viewing time at 66% and 44%, respectively.
Image via Miro
However, it is essential to create your interactive videos with potential customers in mind. The videos should always complement your website content. Just think about it. Your website visitors access your website to read your content. That just means if you have content there that's not related to the pieces they're interested in, then they're more likely to leave.
5. Interactive Databases
Imagine your ecommerce store sells audio equipment such as headphones, speakers, and microphones.
Now imagine a user is browsing your store and they're looking for wireless bluetooth speakers that can be mounted onto your walls, with dimensions around 200 x 100 mm, and priced around $200. Can they easily find products that fit this bill?
Most likely, they'll have to browse through your entire selection of "speaker" products to be able to find what they're looking for.
Interactive databases provide an easier shopping experience for consumers by allowing them to easily find what they want in seconds. It encourages "shopping around" and reduces customer fatigue.
An interactive database is essentially a spreadsheet that contains all the information about the products. The user interacts with it through a clean UI where they can find what they're looking for by applying various filters or sorting methods.
Although setting one up can be difficult and may take months of development work, there are ways you can cut short this time. You can, for instance, generate and customize interactive databases within seconds by uploading a spreadsheet and using specialized tools.
In Closing
Ecommerce businesses can no longer ignore interactive content. Interactive content can help you get your website visitors' attention and retain them. The longer you retain your visitors' attention, the more likely they are to convert on your site.
You learned five interactive content ideas from this article. Polls and surveys, user-generated content, chatbots, interactive videos and interactive databases can all add value to your website.
You don't need to use all of these at once. Pick one or more and experiment. With the proper testing, you're bound to find the perfect interactive content combination that suits your business needs. The result? You'll increase your website engagement and help your ecommerce business grow.
Good luck!
Bio
David Campbell is a digital marketing specialist at Ramp Ventures. He helps manage the content marketing team at Right Inbox. When he's not working, he enjoys traveling and trying to learn Spanish.
Link to LinkedIn