On Monday morning, our crew gets greeted at work by cheerful people and delicious coffee. Later in the day, we are kept awake by an ongoing, steady flow of caffeine and smiles. Sounds good right? In our opinion, the best way to start the week. And all thanks to Lyhty ry!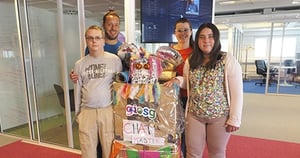 Lyhty ry is a registered non-profit association founded in 1993 with the objective of increasing the welfare of people with intellectual and learning disabilities, their relatives and the greater surrounding community. They provide:
Housing services
A learning unit for young adults
Textile, outdoor maintenance/gardening, culture, café, media and independent workshops
Events and culture/leisure activities
The work they do at giosg falls under the café workshop category, and our crew has really enjoyed the hard work and positivity of the people taking part in Lyhty's #Erikoisjoukko - co-operation. They help with us keep our office tidy and do coffee and tea runs, whilst having a chat and a laugh with everyone.
Our Support Team Lead Laura, who had a major role in putting this partnership forward, explains how it all started, earlier this year:
"Our co-operation with Lyhty started when I met their instructor Jan in Avikaisen Leipomo. The Lyhty team was working there and Jan gave me information about their programmes whilst I was buying cinnamon buns. He was really enthusiastic about the Erikoisjoukko co-operation and got me excited as well. At giosg, we had been thinking about this kind of partnership for a while but didn't know where to start and Erikoisjoukko seemed like the perfect fit, since we needed some extra hands at our growing office."
We have really enjoyed having people from Lyhty around the office brightening up our day, and look forward to continuing the partnership, below are some opinions from the team:
"It's actually great to come to work on Monday when there's happy people and coffee waiting! Their positive presence lifts the whole work environment here and it is really rewarding to know that they have a job here that they enjoy."
"Our kitchen is never as clean as when they are here! The sincerity and authenticity they bring always cheer up our days and the work itself is top notch without exceptions. Probably the most conscientious workers I've ever met!"
"Mondays are always full of hassle and they bring these calming moments with their positivity and sincerity."
"Someone basically brings a cup of coffee to your hand! Can't complain!"
By the way, giosg is hiring! Join our smiling (at least on Mondays) crew here!