Commerce is on a journey. Not so long ago, customers had to make a trip out to an actual physical shop for all their needs. After this, companies began to buy domain names as the focus became online shopping and everything went onto eCommerce websites.
No need to shlep all the way to a town center when you could just go to your desktop. It seemed like the last word in convenience.
However, this is not so. Now along comes the next big trend in consumer empowerment: mCommerce. Shopping via desktop computer is fab as far as it goes. But that's the problem - your desktop can't go very far. When you're out and about and you want to buy something you need a convenient and secure way to shop, using your mobile device. Step forward mCommerce.
MCommerce has revolutionised the fortunes of a host of businesses, from craftspeople to drop shippers. Let's see what it delivers.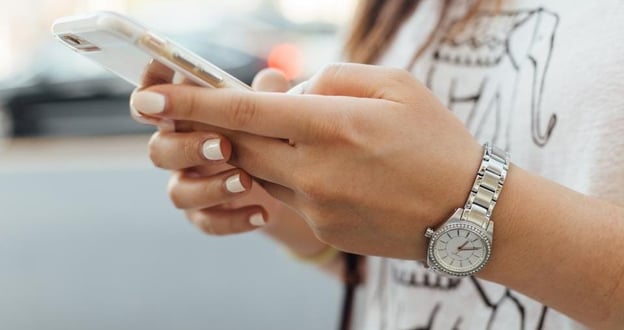 What is Mobile Commerce?
The term 'mobile commerce' is used to describe any electronic commerce that takes place using a mobile device. By mobile device, we mean smartphone, tablet, or wearable device. It's become more and more popular because mobile devices have become more and more widely owned.
How widely? According to Statista, 2021 saw the number of mobile devices owned worldwide standing at just under 15 billion.
Consequently, mobile commerce is gaining in popularity at a striking rate, both in terms of market share and absolute numbers of sales, as this graph concerning the situation in the US makes clear.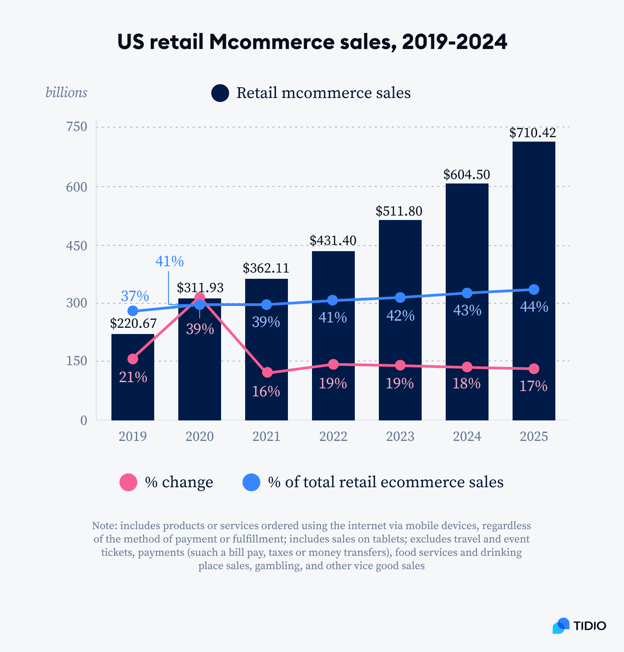 Image sourced from Tidio
Types of mobile commerce
1. Mobile shopping
This is the aspect that we're most interested in here. Using a sales app, a company can sell its products directly to the customer, wherever that customer happens to be (as long as they have a signal).
A company can also use social media via a mobile device to push its products. In addition, it can send marketing efforts out via SMS that might be triggered by the customer's geographical location.
The customer can use their mobile device for a whole host of shopping experiences, such as livestream shopping.
Mobile users can browse for products via a company website or they can book a table at a local restaurant, together with a ride home. With mobile and digital shifts, new businesses and services in hospitality have been emerging, such as ghost kitchens.
The possibilities are staggering. And the rewards are too.
This is why it's vital for businesses to get up to speed with mCommerce, no matter what system they're using, whether, for instance, NetSuite or one of the Oracle NetSuite competitors out there.
2.

Mobile banking
All that shopping requires finances to be kept in tip-top order, and using mobile banking a bank account holder can manage their money while on the move. Balance enquiries, statement perusal, one-off transfers, cheque deposits, and regular direct debits are all possible from a smartphone. Also available via mobile are loans and international services, and information is on offer regarding mortgages and other facilities.
3. Mobile payments
These can be via mobile wallets (AKA digital wallets) in which debit cards and credit cards are kept on a mobile device, or can be peer-to-peer services, such as PayPal.
A good deal of effort has been put into making these payments secure, with techniques such as 2-step authentication becoming the norm. This has resulted in mobile payments being widely used and trusted.
So, that's mCommerce in a nutshell. Businesses have been quick to appreciate its significance, realising that if they're not up to speed with mCommerce, they're going to fall behind.
In order to score big with mCommerce, there are a number of factors business owners have to be on top of.
Website design
It's no longer the case that one great design is enough. A savvy business now has to consider the device that the website is being viewed on. It may look great on a desktop PC with a large screen.
But if it looks unclear or unappealing on a small mobile device screen, that's a big website mistake. Businesses without mobile-friendly websites will pay a big price.
Etsy UK is a good example of catering to the different screen dimensions involved in desktop and mobile commerce.
Here's its landing page when viewed on a laptop.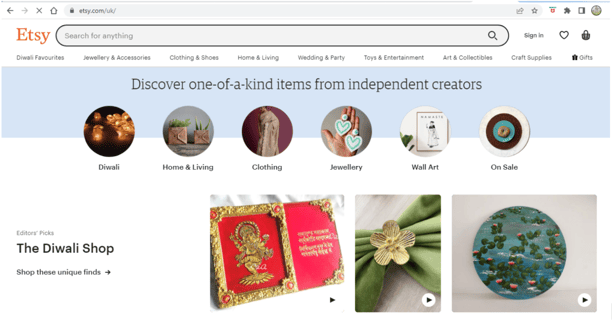 Image sourced from Etsy (Screenshot)
The screen is filled with a number of different options, and there are some striking images there too. Now contrast this with a screenshot of the site when accessed from a mobile.
The mobile website's emphasis is on simplicity and clean design. No clutter. Clear images with enough information to decide where you want to go.
So, you have different designs in evidence depending on how a customer is viewing your website. The final piece of the puzzle is to make the site automatically register and optimise for the device being used.
These are called responsive designs and are a vital step in ensuring that all your hard work in making the site great for every device actually pays off.
Advantages of mCommerce
✅ Immediate and direct access to customers
Customers don't just own mobile devices. They love them. People in the UK are now believed to be spending a daily average of 4.8 hours on their phones. With that kind of dedication to their beloved device, it makes sense to use mobiles to get your business message out to these customers.
There was a time when a business would have to call each of these customers, using the best outbound sales tips in order to reach them. This isn't the case with mCommerce today.
It's more often the case that a social media marketing campaign for instance will attract attention, leading to customers finding their way inbound to the business.
People identify a lot with their mobile phones. It's their constant traveling companion and is always there with some entertainment on tap. Anything that's as loved and trusted as a phone translates to massive commercial opportunities.
Simply put, a company can exploit a customer's love for their phone just by being visible on it. It's love by association.
✅

Convenience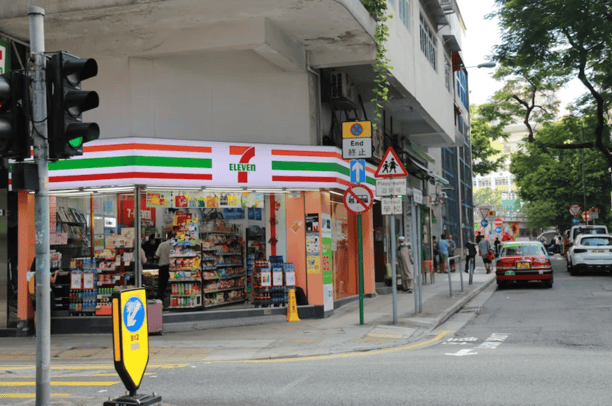 Image sourced from Unsplash
Why would somebody want to have to get in the car to a shopping centre when they can let their mobile do the work for them? And the thing about enhanced convenience is that it soon becomes the accepted norm. This is often the case with customer experience management market trends.
The other point about convenience is that some purchases can be impulse-driven. An individual might see a heading on their phone like how to make money on Instagram. They can then click on that link as soon as they see it.
If, on the other hand, they see the heading on a poster that the money-making Insta scheme is probably going to stay a closed book. There's very little chance of that person remembering the heading when they get home and bothering to look it up on their desktop.
Mobile commerce works because it strikes when the iron is at its hottest (also known as contextual commerce). The marketing hits, the opportunity to buy is there, the mobile payment options are simplicity itself, and the checkout process is a breeze. Done.
'If you are uncertain about the effectiveness of your checkout process you can always use checkout A/B testing.
✅
Young reach
MCommerce's reach in general is pretty impressive, but even more so with younger customers. Gen-Z (and to a lesser extent, Millennials) profess a greater liking for mobile commerce than other demographics, and this lot tends to have a lot of disposable income.
So, if younger customers primarily form your customer base, you have to think about mCommerce. You simply won't exist to a lot of your target demographic if you don't have a mCommerce operation.
✅
Analytics
One of the key benefits of mCommerce is the power it gives businesses to analyse customer behaviour. This is especially the case when a business takes an omnichannel approach.
This means that a customer's journey across a series of channels such as email, website, SMS and social media can build up quite a picture of that individual's preferences and habits.
Such insights are pure gold to marketers looking to build up a clearer idea of exactly who they are trying to appeal to.
This can also give the business a great tool to use in their selling: personalisation. If a customer feels that a product or service is being offered or has been shaped because of something special about them, they will feel much more inclined to buy.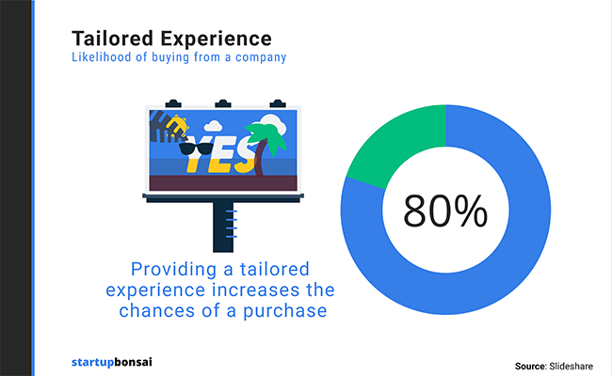 Image sourced from Startup Bonsai
Mobile commerce, combined with omnichannel operations, gives businesses all the information they need to really get results with personalisation.
What's next?
There are a lot of exciting developments and trends in the pipeline for the future of mobile commerce. These include:
Augmented reality
Products can be viewed using handheld devices actually in situ. So, for example, a new picture can be trialed with a simulation of what it would be like up on the wall way before you actually get the thing in a frame and mounted up there physically.
Image search
Powered by artificial intelligence, customers are becoming able to search the net using just an image (or a small part thereof). This is great if you happen to see someone wearing a killer pair of shoes that you just have to get for yourself.
Virtual reality
This is related to mCommerce, in that your virtual reality headset will be very much a mobile device. VR's going to be a huge leap forward in user experience and will bring incredible benefits to shoppers and businesses alike. Especially beneficial to those with mobility problems.
So, all good?
Well, nothing's perfect. MCommerce has hastened the deaths of myriad brick-and-mortar stores that didn't manage to get on board with the mobile revolution. Let their fates be a warning to you.
Businesses have to stay on top of developments in tech and convenience so that they become the obvious place for customers to shop. This is what mCommerce is all about.
Bio - Jessica Day is the Senior Director for Marketing Strategy at Dialpad, a modern business communications platform that takes every kind of conversation to the next level—turning conversations into opportunities with helpful guides such as this Dialpad customer lifecycle management article. Jessica is an expert in collaborating with multifunctional teams to execute and optimise marketing efforts, for both company and client campaigns. Jessica has written for domains such as MultiBriefs and DataFeedWatch.