Lead generation tools provide an interactive way to convert inbound leads and qualify them before sending them to your sales team. They make it easy for you to target and engage with your website visitors and to collect contact information from them.
Effective lead generation tools help you reach the right audience, share timely and targeted content and grow your business.
We've put a list together of the best lead generation tools for converting your inbound leads.

Our Top 11 list includes interactive marketing tools, such as:
Chatbots
Custom and multi-step forms
Gamification
Pop-ups
1. giosg Interaction Builder
Pricing: Free trial, pricing plans start at 69€/month
The number one lead generation solution on our list is giosg, which includes all the above listed tools.
With this easy-to-use tool, you can create customised bots, interactive lead capture forms, and even quizzes or questionnaires using an innovative drag-and-drop solution.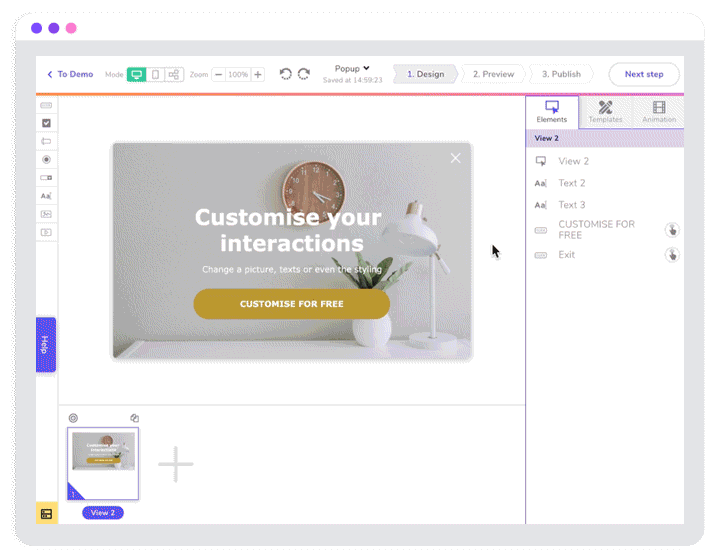 Collect data and engage your website visitors using conversational lead generation chatbots, or improve your lead quality and quantity by gathering contact details with multi-step forms available as ready-to-use templates.
You can target your bots based on website visitor behaviour and choose from 30+ different triggers. The built-in A/B testing feature allows you to test what kind of content resonates with your audience and optimise accordingly.
With giosg, you can create customisable interactions that build trust among your audience and help boost your lead generation.
Start your free 30-day trial and you'll see why we are in love with our tool.
Now, let's see what are the other tools on our list:
Chatbot tools for lead generation:
2. Drift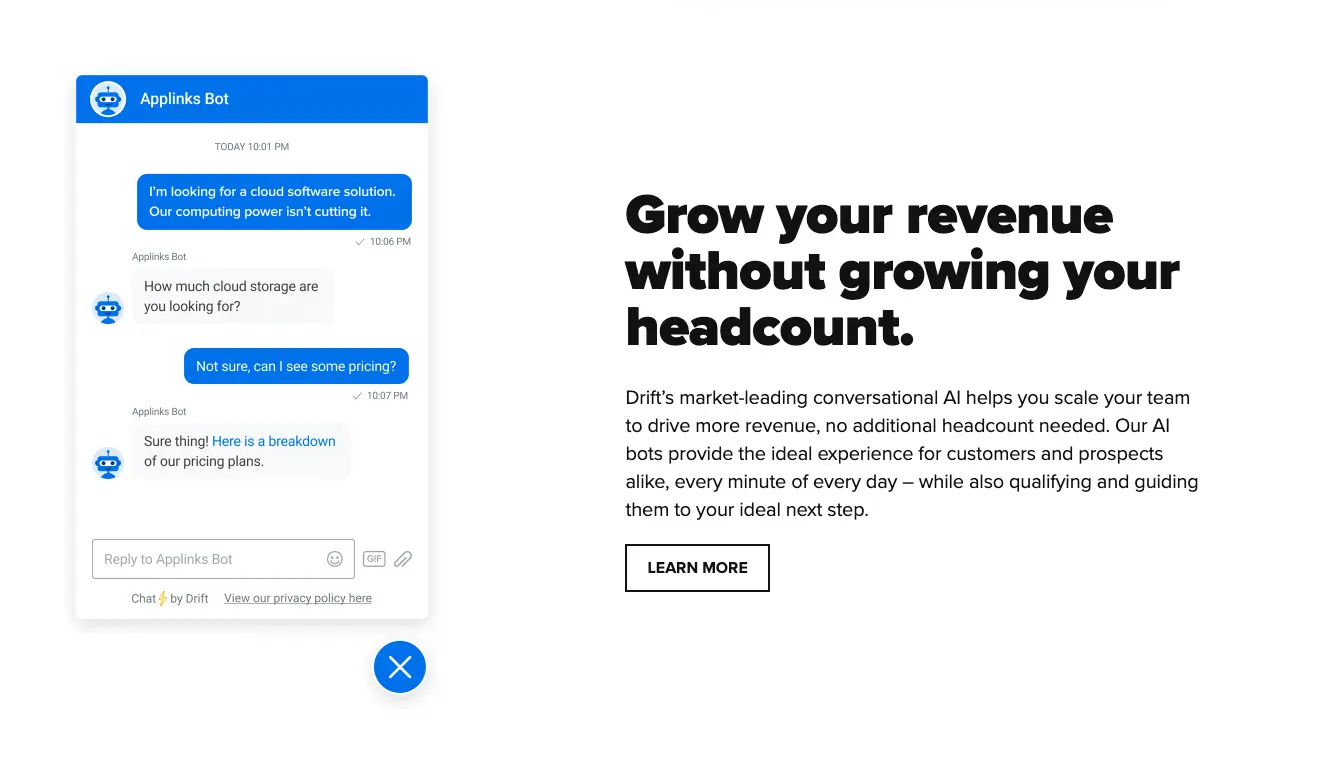 Pricing: Free trial, contact sales for paid plans
Drift offers custom chatbots for tailored customer conversations to qualify customer interest, share your company content, or schedule a meeting with sales.
AI chatbots engage and qualify site visitors delivering a consistent experience in customer conversations and handing over a stream of high intent leads to your sales team.
3. Intercom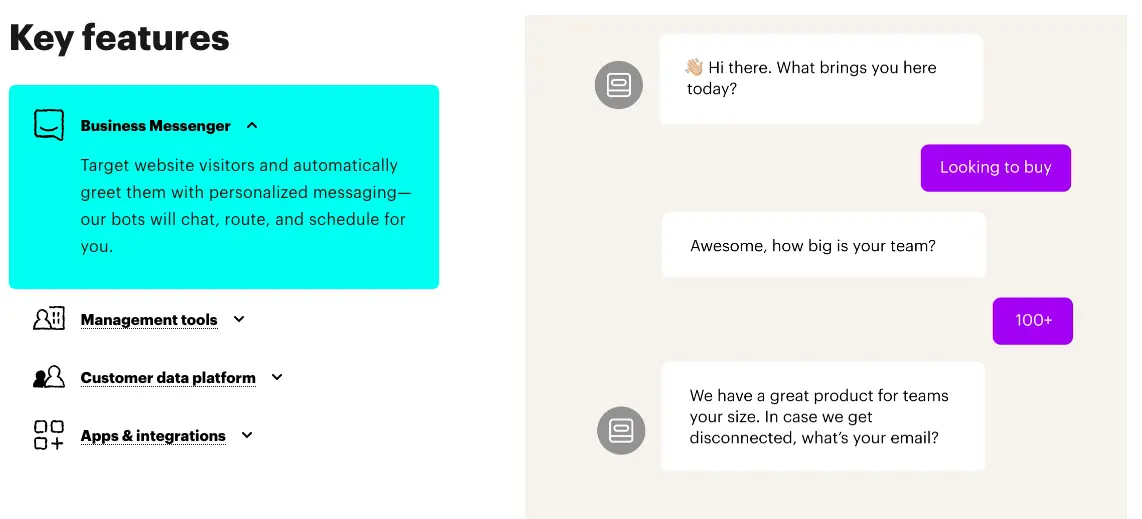 Pricing: Free trial, paid plans start from $59/month
With the Intercom chatbot you can target website visitors and automatically greet them with personalised messaging. The chatbots will chat, route, and schedule for you through real-time conversations.
Intelligent bots and routing rules guide the visitors to the right path to find a solution, whether it's to start a trial, book a meeting or speak to customer support.
4. Hubspot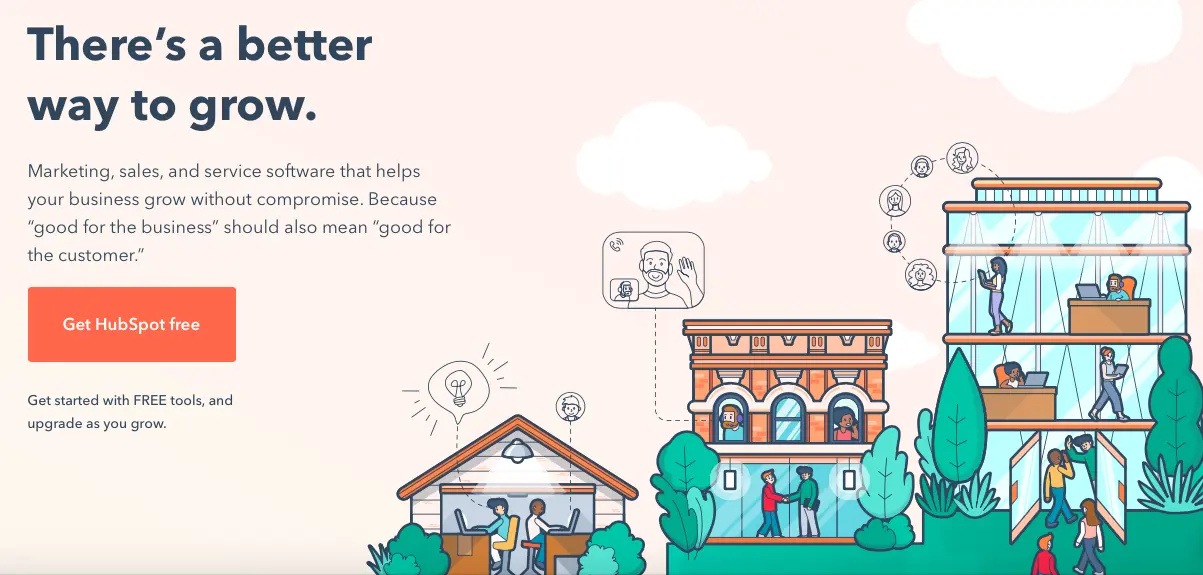 Pricing: Free version, paid plans start at €41/month including forms and conversational bots
HubSpot's canned bot templates enable you to create and customise chatbots yourself, or if you prefer, start from scratch with HubSpot's easy-to-use chatbot software to build your bot.
No coding skills required. Conversational bots are included in HubSpot's free marketing tools and in their Marketing Hub Starter plan.
5. Landbot.io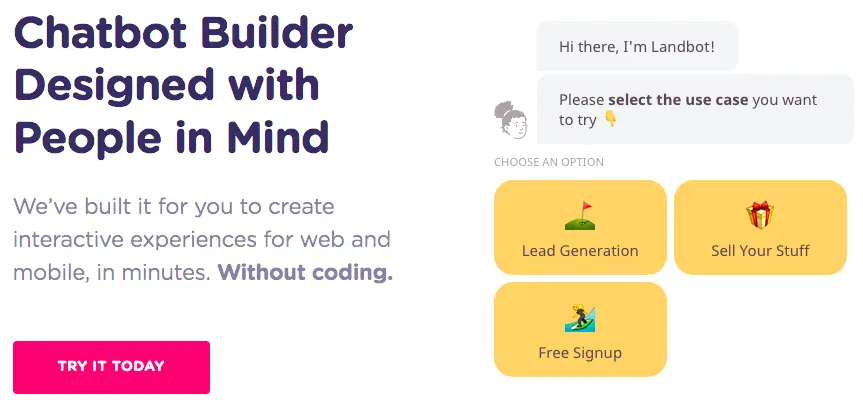 Pricing: Free version, paid plans start at €30/month
Landbot is a chatbot builder that allows you to build high-quality chatbots in minutes using a drag-and-drop feature. Creating chatbots with Landbot's chatbot templates doesn't require coding skills.
Among other things, you can personalise your messaging through conditional logic, turn the most used sequences into virtual bricks you can reuse in any new bot, and perform calculations, control, and adjust data formats inside the bots' flow.
6. Tidio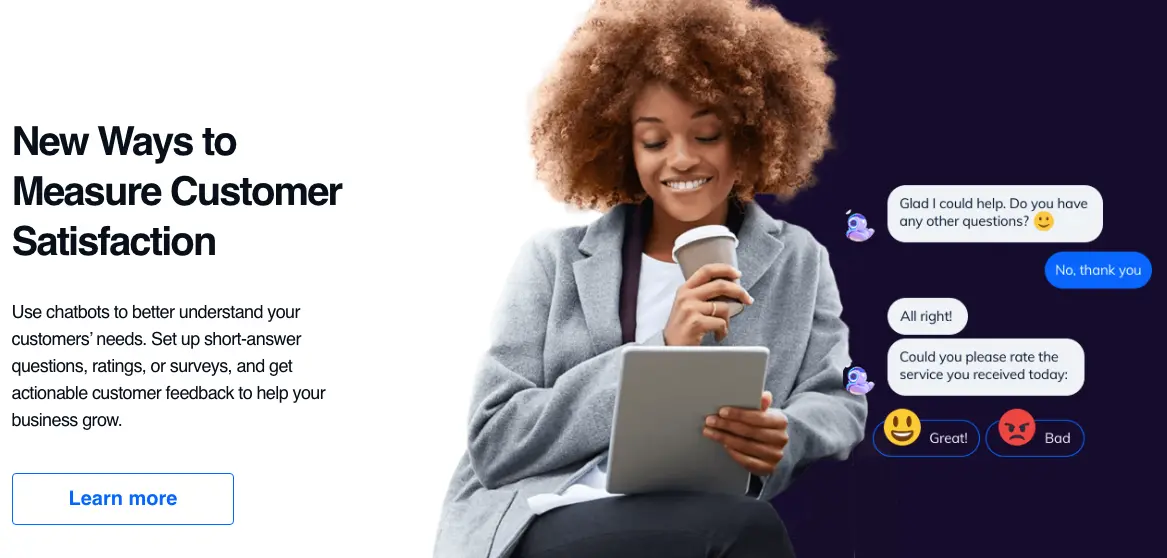 Pricing: Free version, paid plans start at €18/month
With Tidio, you can either choose a template from the many ready-to-use conversation bot templates, or customise one to your business needs.
Using the drag-and-drop chatbot builder doesn't require coding skills. Integrations to CRM tools like Zapier help segment your visitors.
Lead capture forms & gamification:
7. JotForm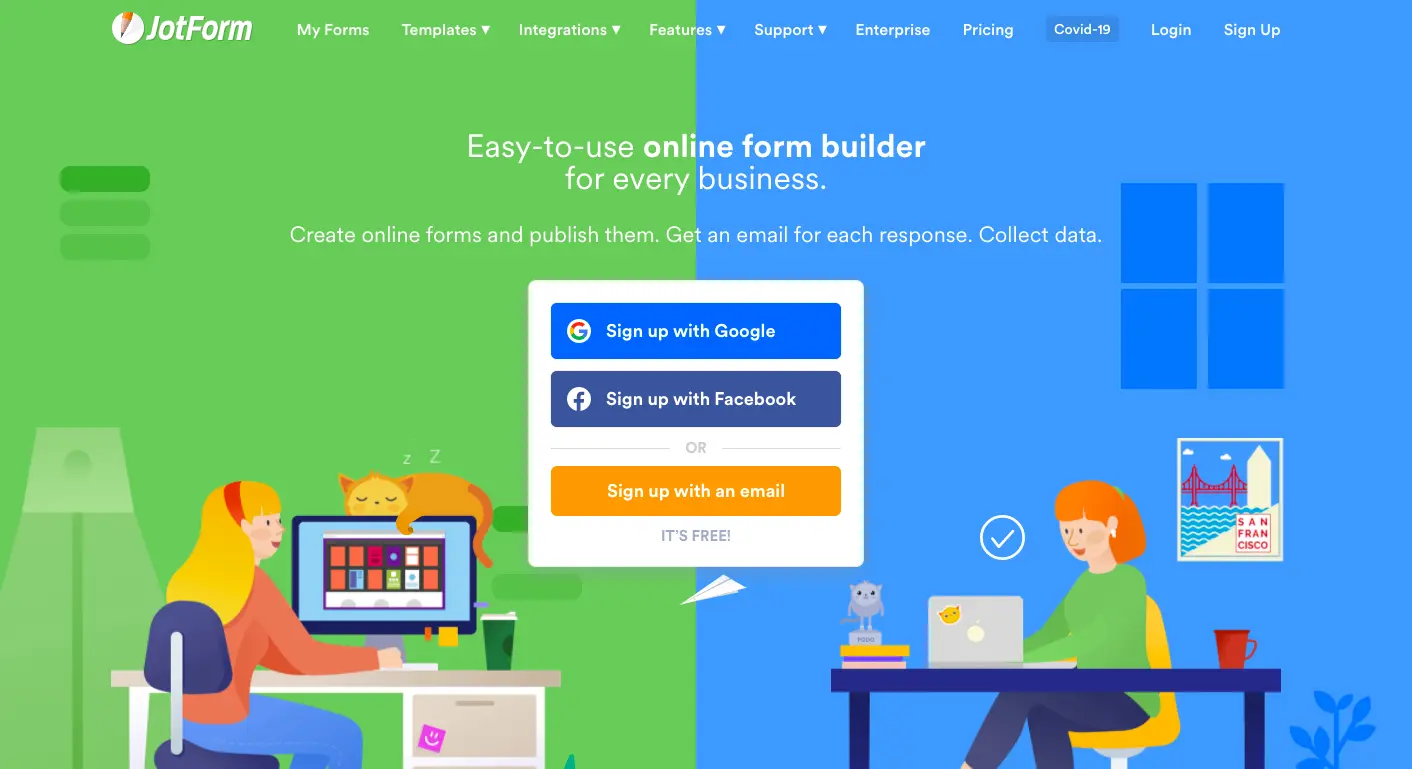 Pricing: Free version, paid plan from $24/month
JotForm is an online form builder that is used to create professional looking forms that can be customised to your brand.
They offer thousands of free templates from application forms to quizzes and polls. Form integrations are available to more than 100 applications.
8. Optinmonster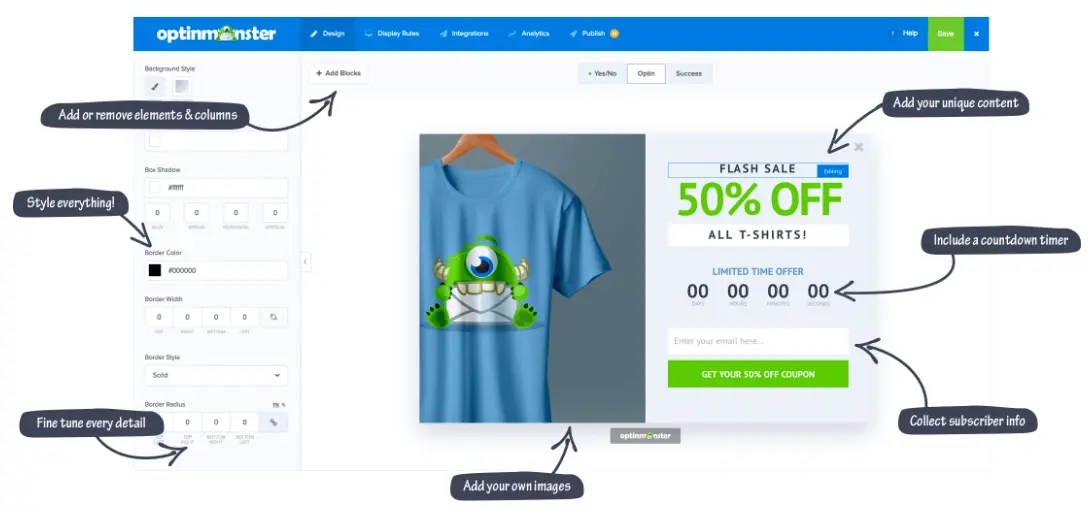 Pricing: No free trial, paid plan from $9/month

Optinmonster provides email capture forms combined with advanced targeting and behaviour automation that helps you boost conversions.

You can design and customise forms with pre-made templates, target and personalise your messages with behaviour automation, and A/B test your ideas. The drag-and-drop builder requires no coding skills.
9. Typeform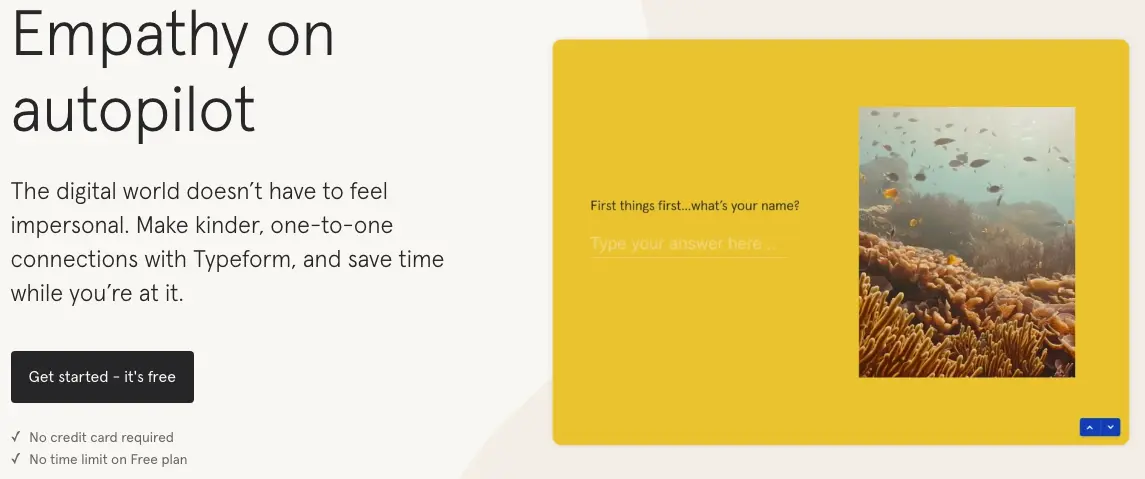 Pricing: Free plan, paid plan from €30/month
Typeform allows you to create conversational forms and surveys to engage your audience using custom layouts and themes that you can adapt to your brand.

There are several design options available and built-in photo and video libraries to choose visuals from. No coding skills required. Integrations are available to a wide variety of applications.
10. Sleeknote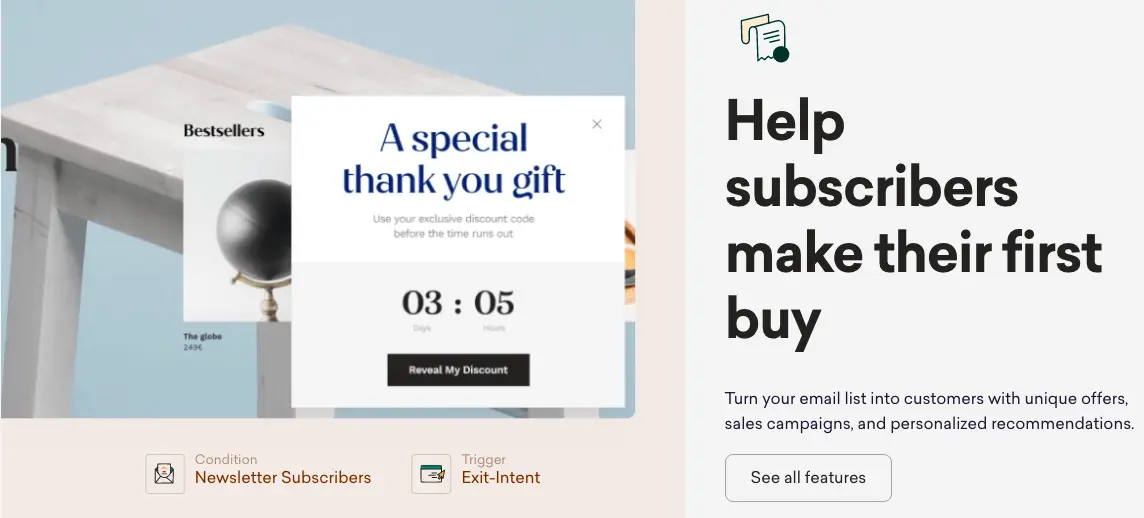 Pricing: Free trial, paid plan from €49/month
With Sleeknote, you can create multiple, personalised lead capture pop-ups for different groups of visitors and target them based on how familiar they are with you and how they behave on your site.

You can do it yourself in the campaign builder without the help of a designer or developer, and integrate your pop-ups easily with the systems you're using.
11. LeadFamly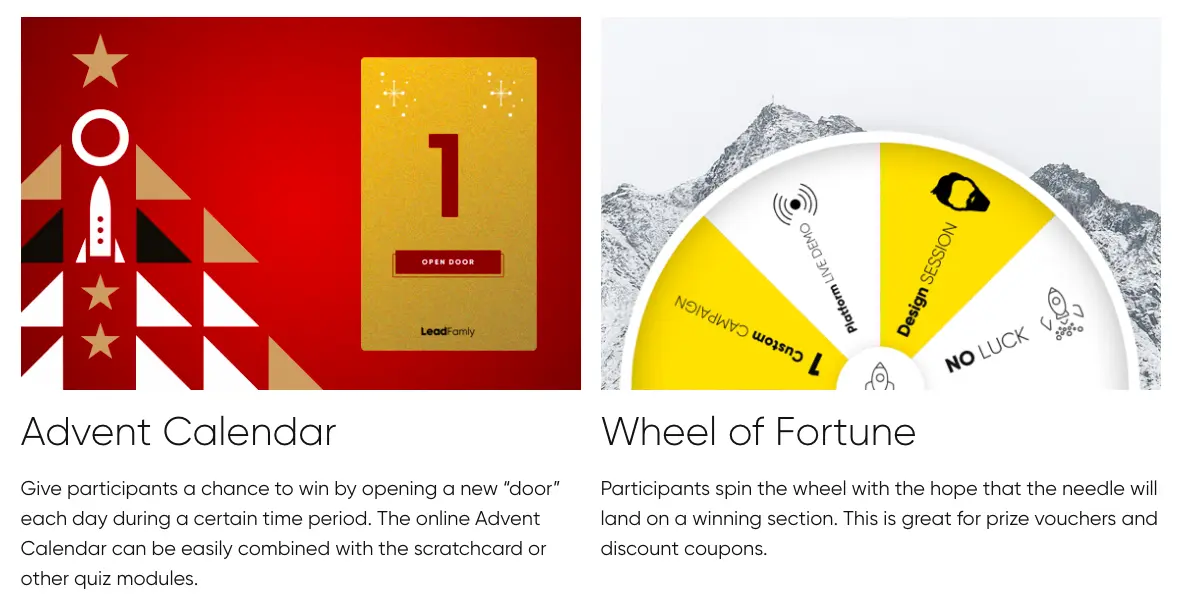 Pricing: Free demo, no free version, contact sales for paid plans
With LeadFamly, you can create gamified marketing campaigns to grow your database or engage with your target group. There are more than 25 different ready-to-use online game concepts available.

Build, manage and execute your own branded games and campaign pages, catch key data for segmentation, and turn app and website visitors into paying customers.
Get started with giosg's no code lead generation tool!
We hope these examples of lead generation marketing features help you to see the benefits of the best interactive tools and how they can boost your marketing efforts.
If you're ready to put your plans into practice, download our step-by-step guide to building a chatbot for lead generation. We've gathered our expert insights and show you how to build a simple bot for lead generation with giosg's drag-and-drop tool. And you're all set to go!