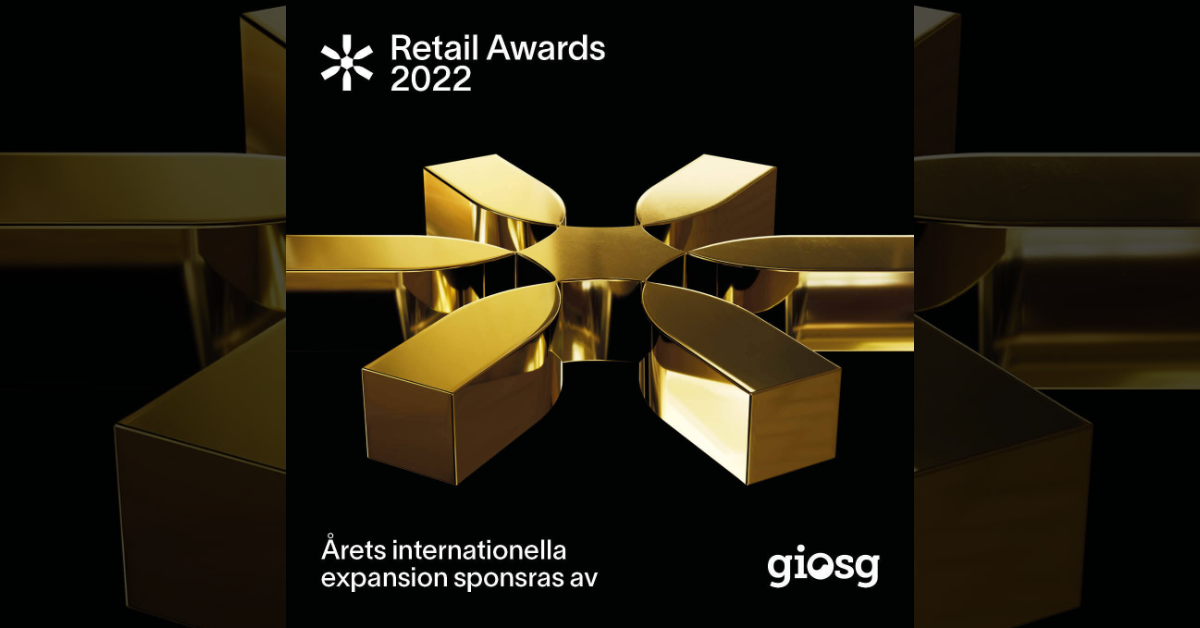 We summize yesterday's industry event organized by Svensk Handel and Svensk Digital Handel where giosg was present as sponsors for This Year's International Expansion. Read more about panel debates between industry leaders from Ikea, Microsoft, Lyko, Kicks, Gina Tricot, Martin & Servera, Mio, Ikea, etc. at the Nordic Retail Summit & Retail Awards, 6 October 2022.


"Winter is coming"
The first speech of the day was opened by Svensk Handels CEO, Sofia Larsen. Sofia stated that trade is facing major challenges and that many are worried about the economic situation. Businesses face tough priorities, but there's light at the end of the tunnel when it comes to learning and change.

Circular business models should be seen as opportunities instead of threats. "It's going faster now than ever and the digital transition is accelerating, what will be the next step? The digital identity is becoming more important, what does it mean for trade?", something that would be discussed further during the day.
Megatrend 1: Geopolitical challenges in the international arena - consequences for trade - Anders Borg, former Finance Minister
Anders Borg began his speech on the geopolitical situation today. We are in a difficult period and inflation has hit the world economy. The high inflation must now be pushed back, he commented, and it is not something that will go away in the short term.
At the same time, Sweden stands strong. We have a well functioning labor market, we have strong finances, welfare companies such as Scania, Astra, Volvo, etc. Sweden is also enormously strong in entrepreneurship, startups and the tech industry. We have thus become one of the largest economies. "A Swedish 70-year-old is more digital than a middle-aged British person, and we have a strong entrepreneurial climate today," he commented.
Panel discussion: Anders Borg, former finance minister - Sofia Larsen, CEO Swedish Trade - Liv Forhaug, CEO & CEO Martin & Servera - Lena Sellgren, chief economist, head of analysis Business Sweden, Björn Lindblad - CEO Mio
In the panel debate, there was further discussion about challenges. Change is required, how do you proceed? How do you think in these times and what challenges do we face?
Björn Lindblad started working at Mio 2.5 years ago. They started to feel the imbalance in Q4 2019. To fend off became the new plan, he commented. "Many trading companies will benefit from this. We are in shape. We'll do this wisely and it will be a lesson. We mentally load our bagage when the wind changes". Mio encourages their employees, and it is necessary to accept the situation. Björn believes that it is important to spend time on what you can influence. Mio invests a lot in their customer meetings and runs a health project that aims to encourage its customers to sleep in cooler temperature and thus reduce energy.
Liv Forhaug from Martin & Servera said they lost half their sales in a week. "What we see now is of course everything that comes before us. But when we look at our own numbers, we don't notice much, yet. People still go to restaurants and events like today. It will look ok for us until July maybe, then it doesn't feel so cheerful anymore". So what can be done? "We have practiced, we know what we can do. The lesson is that it is extremely difficult to scale up again. These turbulent times provide the opportunity to advance the positions. We are careful about costs, but it is also an opportunity to move forward and invest in digitalisation".


Concrete tips from the panel:
- Elaborate price strategies. It is possible to raise the prices
- Address your costs at an early stage
- Keep track of cash flows and balance sheets
- The trade has a good future. Consider your flexibility
- Have even more knowledge and understanding of your business
- Understand your market
- Think ahead, see the possibilities, be prepared for shock waves, they will come.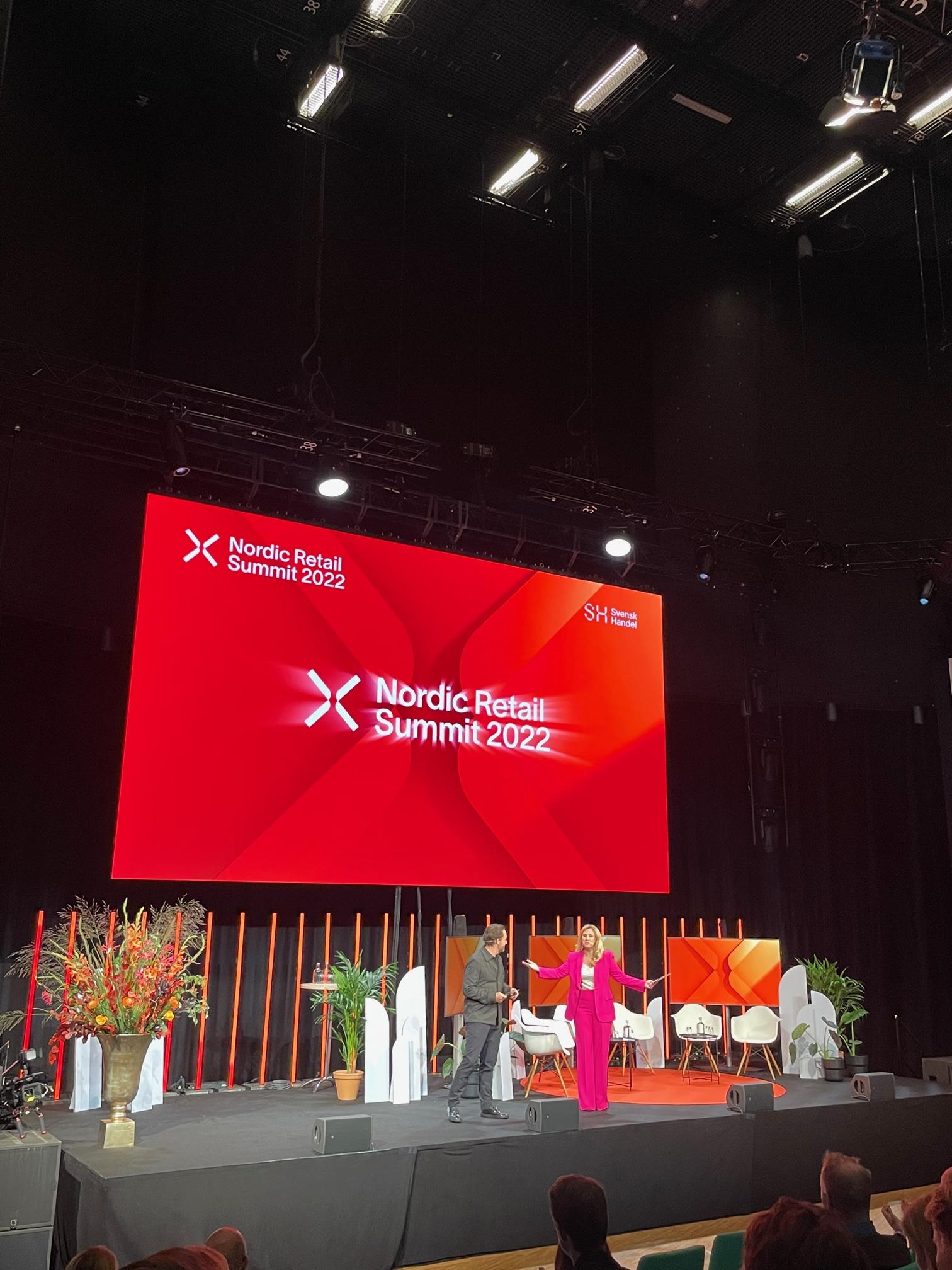 Megatrend 2 panel discussion: The perfect city - commerce in our urban future. Jonas Karlén, CEO Adlibris – Julian Lee, Founder and CEO Airmee – Alexander Ståhle, CEO Spacescape and Placetoplan – Freddy Sobin, CEO Kicks – Veronica Palmgren, Urban development director Citycon
During this panel, the physical and digital store was discussed. Freddy Sobin, CEO of Kicks that sells beauty products, said that Kicks has a strong omnichannel position and has both physical and digital sales. Their target group likes to visit their stores located in malls.
"More people have become digitally mature and many appreciate the physical store as well. Companies will have to challenge themselves and not just have stereotypical stores, but you will have to see your store more as an event center with the customer in focus".
He also commented that they are worried about what will come. The physical store will face challenges like never before. Kicks has a strong position on social media where they use live shopping, videos and communicate a lot with their target group in the form of community building.
Jonas Karlén, who is the CEO of Aldibris, pointed out that e-commerce is a joint transport. You have to be careful of comparing e-commerce against the physical store, as they live in symbiosis and we should embrace that and see the possibilities. In big cities, the physical store is still strong, but in small towns, e-commerce can mean much more.
Julian Lee told us that as e-commerce increases, it also becomes more environmentally friendly. Airmee stands for logistics and transport. "There is much more to do when volumes increase. Ten years ago, the focus were more on stores, but now more people make their purchases online instead. The physical stores must step up as experience centers."


Megatrend 3 panel debate: The circular economy - Emma Garrote Fredman, global sustainability manager and production manager, Gina Tricot - Eva Karlsson, CEO Houdini Sportswear - Tom Thörnblom, communications manager and sustainability manager, Lyko - Sara Resvik, CEO and partner Backing Minds - Lena Herder, Retail country manager, chief sustainability officer, IKEA
In a conversation about the environmental impact, Lena Herde told us that IKEA plans to be 100% circular. This means that they stand on their biggest journey going forward. They are moving from a linear business model to becoming climate-political by 2030. "It depends on how and where we meet our customers, how we develop and purchase materials. It is basically the entire food chain that is affected. We will work together with other players in the market to achieve this goal."
Tom Thörnblom from Lyko told us that it is about trying to get their customers to understand what they are buying before they buy. They work a lot with information and 90% of their sales take place online. They started an environmental project during four weeks where they learned a lot.
Together with Instabox, they tested delivering the products the customers bought in an environmentally friendly box, which was then taken back by Instabox when the product was delivered. In normal cases, the customer receives the product and does not know where or what to do with the boxes, thus an incredible amount is thrown away unnecessarily. With this project, they learned about how well it is possible to influence if you cooperate with other actors in the chain.


Megatrend 4: The Metaverse, consumer trends and commerce in a digitized society. Panel debate: Kunal Chopra, Frame – Linda Pimmeshofer, Microsoft – Wilhelm Sporrong, Gamify – Barbara Wallin Hedén, Snapchat – Sara Öhrvall, Axel Johnson
Emma Chiu, Global Director at Wunderman Thompson Intelligence, took the stage to talk about The Metaverse.
She started by asking the audience how many people have tried Metaverse. It was found that Metaverse is largest among millennials, but will grow significantly. She compared it to when people first talked about the internet. "The Internet may be just a passing fad as millions give up on it". "What is the internet? 1990's, what is the Metaverse? 2020's."


According to a survey, Wunderman Thompson has come up with the following statistics:
- 32% have heard of the term 'metaverse' in July 2021
- 74% have heard of the term 'metaverse' in March 2022
- 74% believe that metaverse is the future
- 72% agree that it is the next big event.


An interesting aspect from Linda Pimmeshofer at Microsoft was seeing companies start a clothing collection in the Metaverse and then get an understanding and indication of interest, and then produce a clothing collection. It is both environmentally friendly and can save large costs.
Barbara Wallin Hedén from Snapchat told us that AR is the future of commerce. Not just the future but what is going on now. More and more companies are focusing on sales via snapchat or other social media, and an example from Barbara is that it then goes from relationship to sales. Globally, 250 million use Snapchat every day. Sales drive down returns by 25%.
Wilhelm Sporrong at Gamifiera told us that the customer experience has been forgotten by many merchants, and you need to focus more on the entire customer journey and experience. Through games, experiences, creativity. "The empty is deathly sad."


Retail Awards – International Expansion of the Year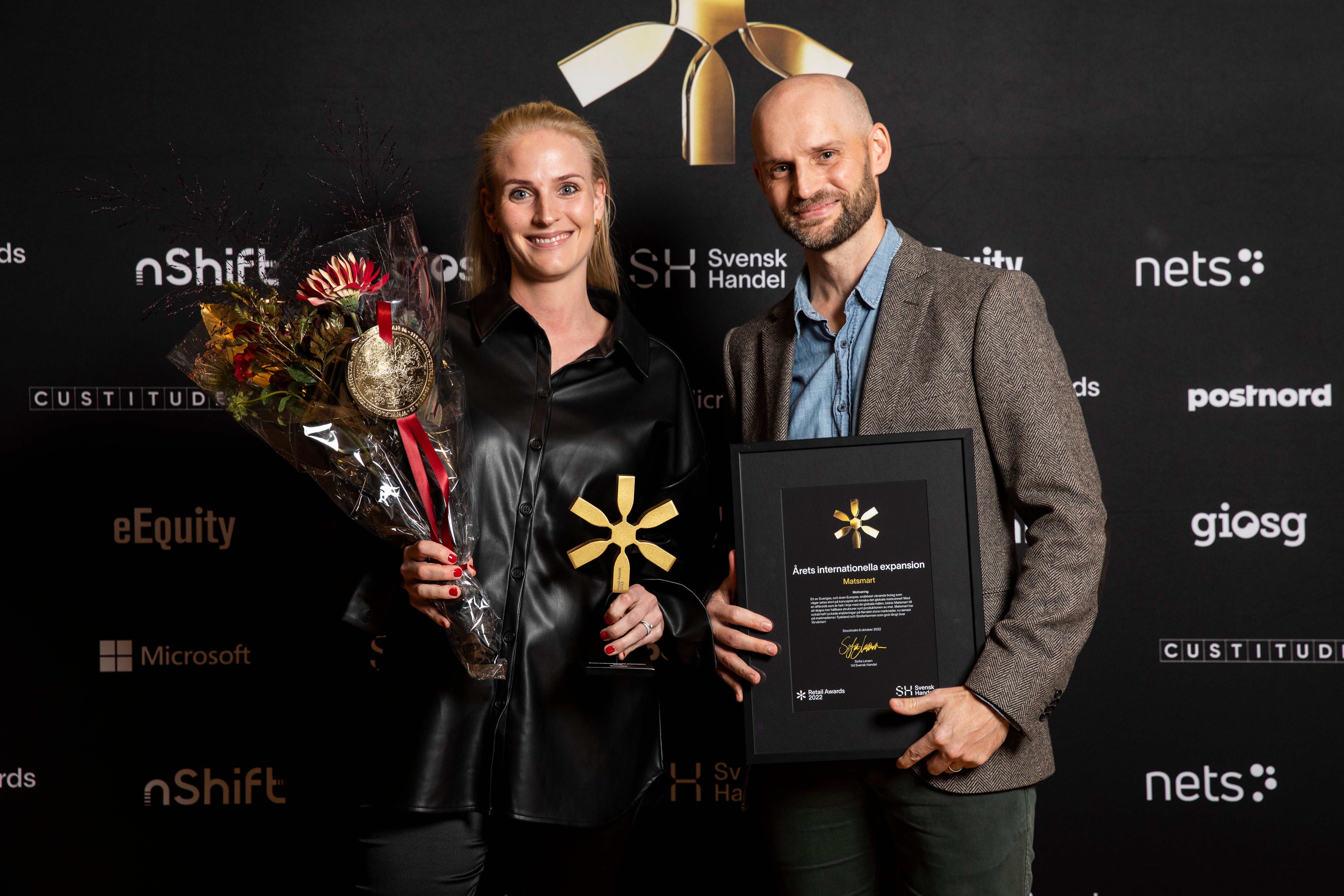 We want to thank Svensk Handel and Svensk Digital Handel for a very inspiring day filled with trend scouting, panel discussions, interesting discussions with industry colleagues and partners.

The evening in honor of the Retail Award, giosg was proud sponsors of This Year's International Expansion and the nominees were: Matsmart, Cake and Lisa Yang.


John Goliats, Country Director Sweden was happy to present the award to the evening's winner which was: Matsmart! Many congratulations and thanks to the jury for a well-formulated justification.