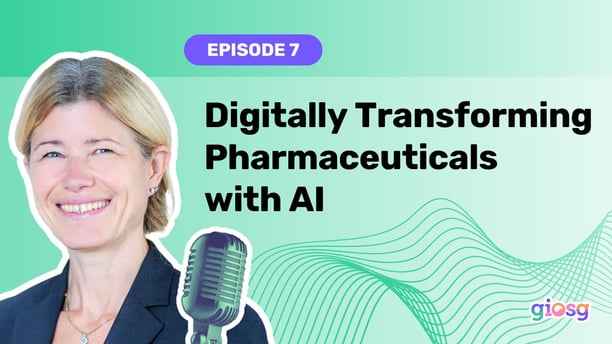 November 17, 2023. Giosg, the leading tech company that combines interactive website content such as chat, AI, live shopping, pop-ups and interactive elements in one platform, announces the release of an exclusive interview and podcast episode with Malin Parkler, Country Manager at Pfizer Sweden.
In a new episode of the 'Digital Customer Experience' podcast by giosg, we had the unique opportunity to interview Malin Parkler – the inspiring Country Manager of Pfizer Sweden. Malin's episode offered a deep dive into the transformative role of digitization in healthcare, which reflects her visionary approach as a leader at Pfizer.
Malin Parkler: A conductor of change
Talking about her musical background, Parkler compared her leadership style to playing a stringed instrument, which symbolizes harmony and precision. Her approach is a mix of creativity and strategic thinking, much like Sweden's well-known musical heritage.
Parkler emphasized the importance of being curious and open-minded, a trait she believes is critical to driving innovation.
When asked if during her impressive career she has met influential people who inspired her, she replies; "I have met and very often meet many people. I am very curious about people in general and the new perspectives they bring, which makes me find it very interesting. But the first one I met who I think you know of, was the CEO of Mastercard – and Satya Nadella at Microsoft."
When asked how Malin met them and how they inspired her, she replies; "I was on the board of the American Chamber of Commerce in Sweden for a long period of time. Through that, I got to meet many leaders that came to Sweden for various assignments. The most rewarding discussion I remember was about how to inspire people and colleagues to unleash their greatest potential, and how a softer leadership can help you do great business and good stuff for your customers."
When Malin is asked how to be a good leader, she answers:
"Always be curious and open-minded."
Malin's leadership philosophy revolves around inclusivity and promoting a culture of continuous learning and improvement.
She advocates a leadership style that is less about directing – and more about inspiring and enabling her team. Her advice to new leaders is to stay curious, invest in technology and understand the importance of adapting business strategies to a digital world.
Revolutionary power of digitalization in the pharmaceutical industry
Malin passionately discussed how digital tools have revolutionized the pharmaceutical industry.
From accelerating drug discovery to improving patient care, digitization has reshaped the landscape. She highlighted Pfizer's efforts to use digital channels to engage with healthcare professionals and patients, ensuring that important information is always available.
"It's our core, it's constantly improving, also the journey around making a drug and a vaccine as well as reinventing the patient journey and care. It has also revolutionized how we meet our customers' needs and the customer experience or what the experienced customers expect."
"For customers, healthcare staff, nurses of course and patients – but also government authorities. Because of this, we are all changing the way we engage or engage with our stakeholders. It increasingly reflects the expectation of having science and knowledge at the fingertips of healthcare patients. I think this is a big challenge and also a big opportunity to make information more available".
Agile methodology, patient journeys & omnichannel
Malin means that we can combine the power of science and the power of technology, and also the way in which we are agile – the way we have developed the ways of working.
"You could say we've done it in a number of ways. Agile methodology, user experience, patient journey, as well as omnichannel. They have a fundamental importance in the way we work."
Agile methodology is the way to constantly make sure you have content available. In a very quick way, you can ensure that you are up to date, have relevant content for different types of customers.
You always have to find a way to simplify and improve and to keep the speed, because the expectations are so high now on what you want when you're looking for something – you want the answer right away.
"You want the solution immediately. This is how our customers experience it in their private lives, and how they want it in their professional lives as well.
She continues: "I think this is the challenge and also a fun opportunity to make sure that you actually put together everything that you have and make it available in a very attractive way to the customers. But it needs to be simplified, and that is also a challenge. In our business in the pharmaceutical industry, we are very limited. We are in a very regulated environment. Many different businesses are highly regulated, but for us it's about collaboration with healthcare and patients."
AI in the pharmaceutical industry
When asked how AI will affect the pharmaceutical industry, Malin answers; "I believe that everyone knows that next year the biggest technology will change the way we work, the way we do things in all dimensions."
All perspectives are AI, in different ways, and it will have a big impact on what we do. Everyone talks about the negatives, and it's actually very crucial that you do and use AI safely. That is, it has to do both with the value you add, but also with your reputation.
"But there are many compelling things also and I think in this context we might be talking about generative AI, gen AI. For example in our industry, it's not just about the content itself. A very interesting thing is how it accelerates, and can actually answer questions about biology and how you can find new medicines."
"It is of course a new source. Then you can also reduce the cycle time for the patient from detection – to when that patient receives treatment. They get a healthier life by reducing certain parts of the clinical studies. It helps you get quality content to healthcare providers better and faster and like many other companies, we have launched our own secure area of ​​our internal chat GPT. An internal gen AI platform we are exploring."
Conclusion: A trailblazer in digital healthcare
Malin Parkler's insights not only highlight the significant impact of digitization on the healthcare industry, but also underscore the importance of visionary leadership to navigate today's continuous changes.
We hope her conversation with Daniel Paul is an inspiration to current and future leaders in the digital world, emphasizing the power of innovation, curiosity and adaptability when it comes to shaping the future of healthcare.
The Digital Experience Podcast episode in which Malin shares more unique insights is available to listen to via giosg.com (video episode), Spotify, Gaana, Amazon Music, och Google podcasts, and Youtube.

Press contact giosg
Sofia Correnti, PR & Communications Manager
sofia.correnti@hotmail.com
+46708 45 23 09
Press contact Pfizer Sweden
Ulrika Chevalier, Manager, External Communications
ulrika.goossens@pfizer.com