November 10th, 2022. Giosg, the leading tech- and software company that combines interactive website content such as video elements, live shopping, conversational AI and live chat, can today announce that they have partnered with IDA WARG Beauty, the growing beauty company that sells vegan skin- and hair care products made in Scandinavia.
IDA WARG Beauty has been on the market for four years and was founded in Stockholm, Sweden by the Swedish beauty distributor Letsfaceit Nordic AB together with the influencer Ida Warg. The company stands for modern beauty products and well-being, and made a breakthrough with its best-selling self-tan products. IDA WARG Beauty has also developed in hair, body- and facial care, which are sold in colorful packages.
More businesses that runs an e-commerce store like IDA WARG Beauty chooses to invest in a more engaging website for their target group. The need to interact with their customers online and help them find the right products is growing. Statistics show that the pandemic gave e-commerce a real boost, and the result is that consumers want to be treated in the same way as when they visit a physical store – through guidance to the right products and personal advice.

The initiative with Giosg means a more unique visitor experience through improved customer communication and personalization. With product recommendation quiz, they will be able to collect consumer data in a smart and simple way – and offer their customers and visitors the right guidance to the right products.

With video elements such as Shoppable video they will capture the visitor's interest. By reusing campaign videos containing images of the products being demonstrated, the visitor can get to the selected products with a simple click. Shoppable video will also be used for marketing purposes and the visitor can easily follow IDA WARG Beauty's new TikTok account. With pop-up windows with their own brand colors, they will communicate discount codes, campaigns and which payment methods that are offered.
"With the collaboration with Giosg, we want to create a customer-friendly and flexible e-commerce platform to make the visit unique. We want every customer to feel extra welcome. Through personalized advice such as question quizzes, smarter and faster advertising of discount codes and video elements to demonstrate products and social media accounts, we look forward to getting started and in a more personal way by offering our visitors what they deserve - also online", comments Cecilia Bergman, CEO at IDA WARG Beauty.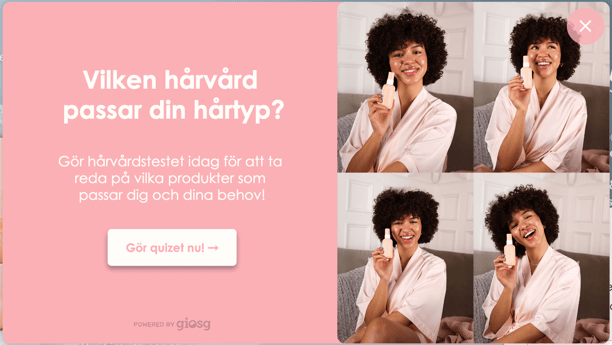 "We are very much looking forward to the collaboration with IDA WARG Beauty. We are growing in retail and we see an increasing interest within the hair- and beauty segment. Businesses want to be able to offer their customers faster and better guidance to the right types of products. There is a lot of opportunities to get closer to your target group with giosg's platform, and offer a personalized visitor experience," says John Goliats, Country Director Scandivania.

About Giosg
Giosg is a real-time platform that maximizes sales and marketing by creating a physical online experience. We help retailers worldwide provide proactive engagement and personalized interactions that create value. With tools that capture the right visitors at the right time, and with a platform filled with interactions such as; video elements, live shopping, quizzes, banners, live chat and AI chat, businesses can interact with the most relevant customers 24/7 – bringing their online store to life.


ABout IDA WARG Beauty
IDA WARG Beauty offers modern beauty products for well-being. All products are 100% vegan, allergy tested and manufactured in Scandinavia. The brand sells self-tan products, hair and body care with nourishing and softening ingredients specially adapted to the needs of the consumer.


Press contact Giosg
Sofia Correnti
PR & Communications Manager
sofia.correnti@giosg.com
+4670-845 23 09


Press contact IDA WARG Beauty
Dani Walther
Marketing Coordinator
dani.walther@idawargbeauty.se
+4670-447 92 22