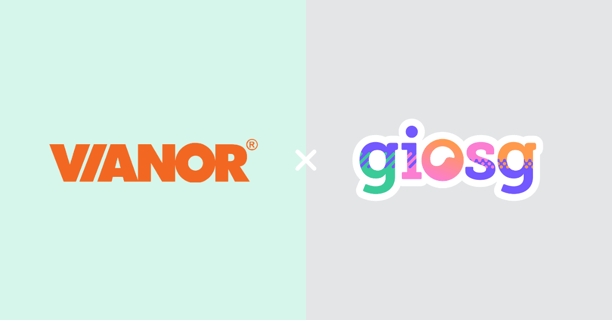 December 20th, 2022. Giosg, the leading tech and software company combining interactive website content such as video elements, live shopping, conversational AI and live chat, can announce today that they have entered a partnership with VIANOR in Sweden and Norway, and thereby complete partnerships with them in the Nordic market.
VIANOR is the Nordic region's largest leading and fastest growing workshop chains for car, tire and wheel service, with more than 1500 workshops in 27 countries in Europe.

Improving the customer experience is an important aspect for VIANOR when choosing the right supplier to work with. Since the company has cooperated with Giosg in Finland, they know what they are getting when the collaboration extends further across the Nordic market.

Offering fast and efficient customer service is an important way of working in the automotive industry. Buyers want help quickly, and answers to all the concerns they might have relating to the matter. As online trade has increased sharply in recent years, a chat interaction is a great way for companies to offer help from experts directly.

Giosg's chat is not only a customer service tool that delivers what website visitors and potential buyers expect during the buying journey – support, but it's also a great way for the company to connect with their target group, track important online shopping behaviors, and long term; drive conversions and sales. It streamlines the customer journey – and supports the visitors at the same time.

With the launch in Sweden and Norway, VIANOR can now offer the same look, feel and user experience through the chat. They will also be able to provide value and be able to support the visitors at the pace that they need in all local languages, with for example frequently asked questions like price indications for car service or repairs, tire change, etc.

"We are happy to enter a collaboration with VIANOR in Sweden and Norway. Being able to work with one partner in all of the markets (NO, SE, FI) in order to be efficient, is something we know will bring value", comments John Goliats, Country Director Scandinavia.

"We are looking forward to a long term collaboration with Giosg. It feels safe to enter a new era in two new markets with a partner that we have been a customer to in Finland already. Through the chat we will be able to offer a good user experience, customer support and help our visitors in the way that we want to improve the process", says Joonas Ilmarinen, Sales Manager at VIANOR.

About Giosg
Giosg is a real-time platform that maximises sales and marketing by creating a physical online experience. We help retailers worldwide provide proactive engagement and personalised interactions that create value. With tools that capture the right visitors at the right time, and with a platform filled with interactions such as; video elements, live shopping, questionnaires, banners, live chat and AI chat, businesses can interact with the most relevant customers 24/7 – bringing their online store to life.

About Vianor
VIANOR is one of Europe's leading and fastest growing workshop chains for car, tire and wheel service, with more than 1500 workshops in 27 countries in Europe. Read more about VIANOR here

Press contact Giosg
Sofia Correnti
PR & Communications Manager
sofia.correnti@giosg.com
+46708452309

Press contact VIANOR
Jonas Illmarinen
Sales Manager
joonas.ilmarinen@vianor.se
+358 10 401 2261