Giosg has improved immensely this year. We have top of the class technology, amazing visual updates, whole new features, and exciting new opportunities already ahead.
At giosg, our daily goal is to ensure excellent user experiences for our customers and their customer alike by the continuous development and improvement of our technology. We want to keep our customers at the forefront of exceptional online experiences which also requires us looking outside the box to see whole new opportunities beyond our existing portfolio.
So, let's check what this has meant for giosg in 2022!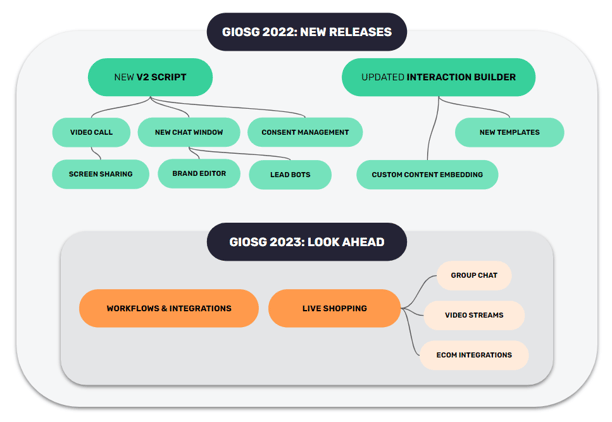 Our biggest release this year has been our new script V2. It itself as a technical element is a huge improvement to the script V1, but V2 has also meant that new exciting features have now been made possible within the giosg platform: video calls, new chat window, screen sharing, brand editor, and consent management.
On top of our V2 release, we have been busy with Interaction Builder which has seen numerous new templates for as many use cases and new capabilities for the tool like custom content embedding.
Let's go these through in more detail 👇
Giosg script V2 comes with speed and new features
As mentioned, our new script V2 is a huge technological improvement but also the one update that has opened many new doors for us.
The script is smaller and faster than its predecessor. This means better user experience and better SEO friendliness. It has also less dependencies to third party js libraries, which lowers the possibility for compatibility issues and makes it faster for us to develop our services and fix potential bugs.
Giosg has always been known for it not being an IT project. Just add our script and you're ready to go. Now, this crucial part of what we are, has entered a new era.
Next we'll go through the features the V2 has enabled.
Beautiful new chat window
We believe in an idea that whatever you have on your website should fit to your brand. When you have a coherent visual look, it builds trust on your services, improves the usability and gives a better brand experience.
Thanks to the V2 script, we have now a brand new Live Chat window to match our vision on how SaaS tools should look and work. On top of the huge visual upgrade, the new windows has:
A unified design across different platforms, use cases, and roles
An easy customization options via our new Brand Editor
Video (and voice) calling functionality via our new Video Calls
Screen sharing functionality via our new Video Calls
Come tell us what you think of our new look — in our chat of course 😉
Brand editor makes customization easy
We have released our new brand editor. It will help our customers stay consistent with their brand while providing customers with a unified website experience.
With our old window, a person with some tech skills could edit the way it looked on your website. We wanted to improve it so that anyone would have an access to change the visuals of your chat service with ease without the usual CSS .
With Brand Editor, you can easily:
Change your chat icon
Change your window colors
Add a background image
Set a transparent background
We can't wait to see more on-brand versions of our Live Chat on customers' websites in the future! 🎨
Lead bots replace lead forms
With the V2 script, it was time to say goodbye to our old V1 lead forms that couldn't be customized nor enhanced by any qualification questions. They weren't interactive and didn't reflect our ideas of customizing whatever you have on your website to fit your brand.
Now, we use our Interaction Builder made lead bots to enhance our live chat capabilities. You can still use our simple forms and customize them according to your brand, or you can add qualification questions and other functionalities more familiar from chatbots to your service.
Let us know if you're still using our old lead forms and wish to upgrade! 🤗
Video calls enhance personal experiences
Personal service and buying experiences require real human connections. In the past we enabled it through our text-based chat. This year we have introduced Video Calls to enhance these experiences.
With our Video Calls, you can start video conversations directly on your browser from our interactions with a single click. They can also be pure voice calls or the agent can have a camera on and the customer just the mic. We wanted to have a very flexible service.
Another way to utilize the Video Call is through our Live Chat. Start with text-based conversations, and if the situation calls for it, enhance the experience by initiating the video connection.
Our new video capabilities will play an important role in our road map for the 2023 when we increase our footprint in the live shopping market.📽️
Screen sharing enables customer collaboration
Screen sharing is all about making the service experience more efficient and enhancing the collaboration with your customers. Through our Video Call, this is now made possible simply with a one click.
You can choose who shares their screen; you or your customer. Compared to our co-browsing feature, screen sharing is a lighter and more data secure option as the other side doesn't get the rights to actually do actions on your screen, it's just about viewing it. 👀
Leading the way with consent management
Our commitment to data security is consistently something that makes us stand out from our competitors. Now, we have even better capabilities in this field with our new consent management tool.
This new capability will ensure that giosg services continue to work in the future where data privacy issues need to be in order.🔒
Interaction Builder is evolving
Interaction Builder has helped our customers to make their website a more interactive place for three years now. With more and more use cases needed, we have been busy with our templates to make Interaction Builder even more flexible in solving different business challenges in lead generation, visitor engagement, campaign performance, and more.
New templates, more ways to interact
Our new templates in Interaction Builder help our customers to find inspiration for their own creations or help them solve more uses cases faster with pre-designed interactions. In 2022, we have added these templates to our library:
Shoppable videos
Product recommendation quizzes
Social feed bots
Podcast bots
Service bundle bots
New FAQ bots - and more!
Content embedding, new opportunities
We launched the custom content element this year and we knew already back then that it opens so many opportunities to enhance the interactions.
As the name says it, our new element enables you embed any HTML content into an interaction. Type in content URL, or <iframe> or <script> tag used by the third-party content or service provider and witness how the embedded content appears within your interaction. You can also enter any valid HTML for a completely customized element. It's again all about the flexibility of the tool.
The most common use cases for the new feature are embedded calendars, calculators, maps, social media feeds, and even podcast players. We are constantly discovering new use cases for the feature. 📅📍🎶
2023: The year of live shopping and better integrations
Our major technological upgrades we have built in 2022 will pave the way for what's to come in 2023 and beyond. First, we will scale up our video capabilities and start to introduce our customers into a world of live shopping with One-to-Many live streams. At the same time, we will make our platform more integrated to others to ensure the efficient use of giosg in part of the biggest systems in the world including Salesforce, ServiceNow, Genesys, and Shopify to name a few.
These new development projects together with the improvement of the existing tech, will allow us to continue our work in helping companies create world-class digital experiences.