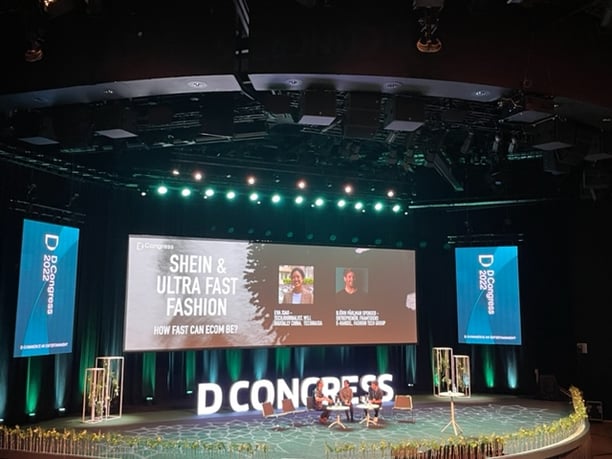 April 28, 2022. As a partner to Swedish Digital Handel, giosg was present at and sponsored the recent D-Congress event in Gothenburg. It took place at the Svenska Mässan, and it's one of Sweden's largest events for retail & eCommerce. In this article, we will summarise the hottest topics, trends and activities that took place during the fair!
Physical events are finally back again and it happened with a strong comeback by Svensk Digital Handel. It was an important event for retailers in Sweden, and many large, international companies – such as TikTok, Amazon, Nelly, Dagens Logistik and NA-KD were present.
Looking at eCommerce as entertainment
The theme was eCommerce as entertainment and, undeniably, live shopping, gamification and social commerce were the hot topics at the event. Jacob Lovén, Co-Founder of The Digital Dragon, stated in his speech on stage in the Congress Hall that eCommerce has transformed and changed over the past three years. But how?
"In 2019, everyone was super excited about social shopping and they eagerly waited for what would happen as the next step. Now the hype is real, we see the numbers and statistics. Things are still evolving but we know that this will change in a big way, forever. In China, TikTok is the largest content platform." He continued: "eCommerce is experience-based and consumers wants good content. What we have seen has totally changed the way eCommerce looks today. It should be relaxed and genuine. The big giant, Alibaba, is struggling with new shopping and new consumption."
Because of the shift we've seen in the west, giant players have been growing in the market. The largest is now the retail company Shein. Shein has grown past Zara and H&M in the US – which is the world's largest market for fast fashion. They have a revenue of 100 million dollars, which is more than H&M and Zara together. How have they grown so big? What are the secrets behind it, and how can they grow so fast?
Shein sells everything from makeup, home accessories, and pet products, you name it. The company has no physical store because they have focused on sales through its app and e-commerce store. TikTok is one great example of their success journey.
Björn Påhlman Spenger, founder of Framtidens E-handel, says that eCommerce is about testing different, new things and approaches. "Shein is the perfect example of that, they go all-in when they test and are 100% data-based."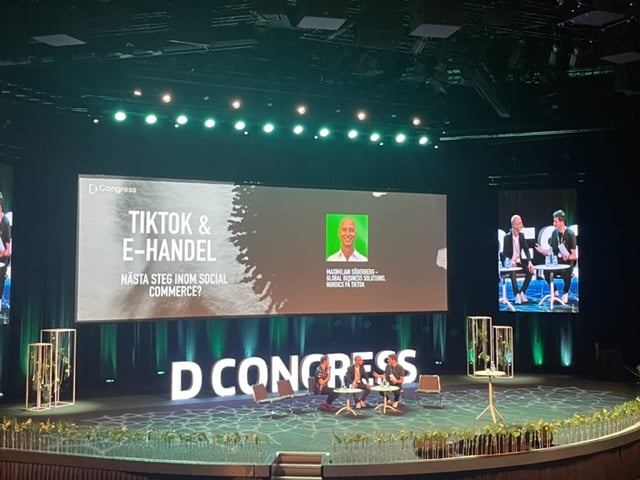 The role of TikTok in eCommerce
Maximilian Söderberg, Global Business Solutions, Nordics at TikTok came on stage and talked about TikTok's success story. "The shift happened three years ago when eCommerce took an enormously good path by leading customers from start to purchase. What they missed though, was the entertainment part. You did not get the same inspiration. Then, TikTok was launched and took a big role in that aspect. It's fun to be inspired again, we're told by consumers. We have taken that into account."
How can companies succeed at TikTok?
"TikTok resonates with users.
🟣 Tip 1: On the platform, you learn by being a part of it. This is the best way. You will start from scratch and learn by seeing how others do.
🟣 Tip 2: Take advantage of creators within the company. Creators have captured the unique feeling that is the platform."
What's on TikTok?
"Everything. There is something within all categories. My mother, who's a dentist, has signed up for TikTok and started looking at tips for dentists. There really is something for everyone".
When it comes to live shopping, Anneli Gullström, Head of Phygital Solutions (yes, phygital is now a title, she stated!) entered the stage, from Bambuser. During the pandemic, live shopping has grown enormously and a special quote that stood out for us from Anneli was:
"Is retail dead? -No! Boring retail is dead".
It is now about engaging, interacting, and educating. You want so much more than just a product.
Anneli showed interesting statistics as follows:
🟣 67% of Europeans want to be inspired when they shop online
🟣 Only 29% of consumers in Europe say that online retail stores inspire
🟣 57% claim that the lack of inspiration or a bad shopping experience is a barrier when it comes to buying products from online retail stores
🟣 84% of consumers think that retail businesses should do more to interact with their online and offline channels.
So what do business values ​​really look like?
🟢 New type of marketing & communication
🟢 New type of content for other channels (reduce cost for other activities)
🟢 Consideration / interest-push
🟢 Enable more sales
🟢 Customer satisfaction & loyalty.
The importance of being social & an influencer
On stage, the lovely Petra Tungården and Linn Herbertsson came up. Petra Tungården is an entrepreneur and has an Instagram account platform with almost 200,000 followers. She's the founder of the fashion company Adoore, which sells colorful dresses, and the company is growing rapidly. She mentions on stage that this has not always been the case.
"The journey has not been straightforward. Some months, we did not even have the possibility to pay out salaries, and now it is going so well that we have just opened our store. The secret behind our success is to engage with our customers. We socialize with them in the store, ask for tips and advice. One customer came in and commented on a dress: 'Oh, I would like this in green as well!'. And then we did it. We choose to include them on a completely different level than many other companies. That is our success."
Linn Herbertsson is also a successful entrepreneur and runs the company Organista, which sells products for organizing suitcases. Linn stated how tough it was to run a business that focuses on products for people who travel when the pandemic struck. "We fought against the odds, and now we are so happy that people have started traveling again. We believe that our success is that we sell a product that I am really passionate about. Something I think was missing on the market. To organize and have it in stylish products. It stands out when you do what you are passionate about." Linn has 23,000 followers on her Instagram account.
During the event, 3 great retail businesses were nominated for this year's D-Award. The nominees were; Inet, Djerf Avenue, and Rugvista. The initiative pays tribute to Swedish eCommerce companies. The nomination was E-commerce Company of the Year 2022, and the competition was fierce between the parties. At the banquet dinner, the prestigious prize was awarded to Inet.
During the banquet dinner, the Swedish artist Seinabo Sey sang and it was a wonderful closing of the event.
We at giosg would like to thank the organizers, visitors, and exhibitors for a fantastic event and above all a big thanks to our partners; Svensk Digital Handel.

Read the pressrelease in Swedish here