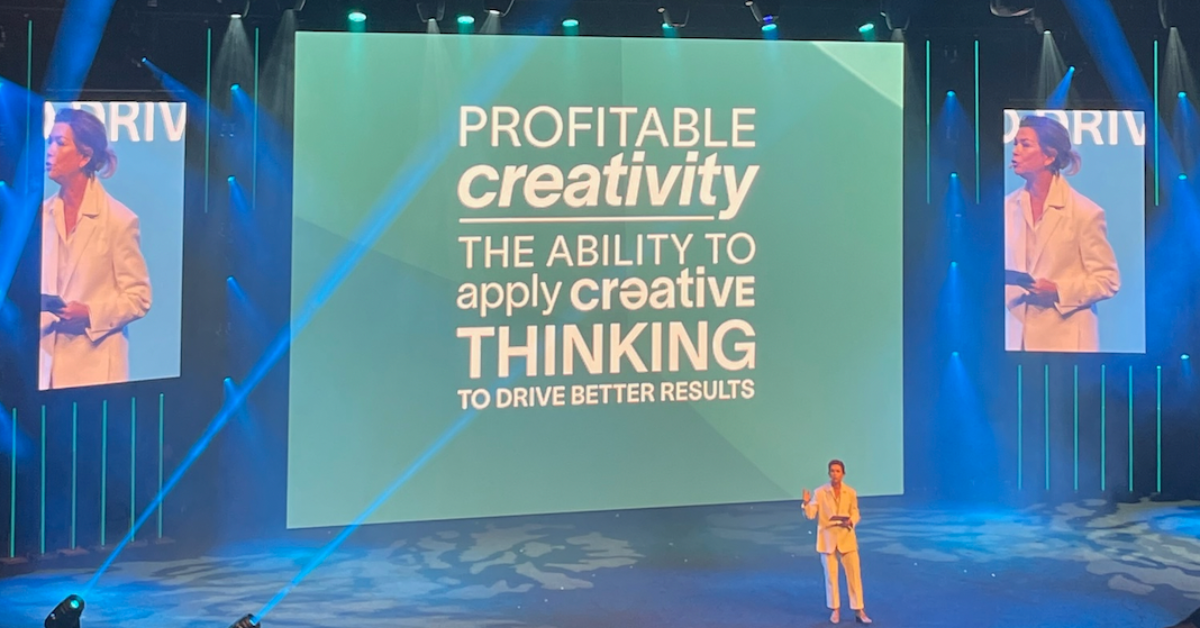 March 9, 2023. In this article, we've summarized the takeaways from the hot e-commerce topics that will be on the news in the coming year. Read more about how industry leaders in retail and e-commerce discuss the year's important topics and take part in inspiration and trends in; the interaction and customer journey between the physical and digital channels, community, Chat GPT, and more.
The theme was Profitable Creativity
Sofia Larsen, CEO at Svensk Handel, started D-Congress on the first day on stage. She talked about how Svensk Handel and Svensk Digital Handel have merged together, and how they will now invest even more in becoming a sharper, clearer voice for trade in Sweden. They want to clarify the offer to the trade linked to business advice and be more cohesive for both digital and physical companies.
Sofia emphasized that the customer journey moves between the physical and digital store and that it is about how those who engage their customers best become winners. She emphasized that they see the entire retail scene in Sweden as one.
Physical stores in a digital world & the impact of Omnichannel
Something that several speakers highlighted during the event was, to say the least, the complex consumer. Jack Stratten, Head of trends, presented a recent and contradictory statistic that showed how 57% of customers want retailers to become more sustainable, while 61% of the same customers are more concerned about cost than sustainability.
Today's consumers place high demands on e-tailers and it is a challenge for everyone in the industry how to be expected to both appear and be the alternative people choose.
Further lifts Stratten several success stories of companies that have succeeded. He showed off an AI filter that enables one to "test" how different lipstick colors would look on one's lips via the mobile camera and added;
"You used to go to the physical store for this stuff, you don't need to do that anymore."
That brings us to one of the clearest trending words right now: Omnichannel. Omnichannel is about creating as coherent an experience as possible between the different channels, and Stratten believes that this has become an extremely important component for a successful business. He believes that the brands that succeed in this have also succeeded in a total way. In fact, e-commerce sales increased globally in 2021, among brands that are only available online, turnover increased by 8% and among brands that were present in multiple channels, offline and online, turnover increased by as much as 36%.
The understanding of the importance of a seamless experience between online and offline became the clearest when we in the audience heard about several examples of success. For example, how Dyson's heat tool for hair styling made a big success despite the expensive price tag.
Dyson works with showrooms for its heat tongs where visitors can come and test the product without a salesperson on site, the staff is instead more focused on education. This has proven to be the last little push the prospective buyers need before hitting the online via the successful digital campaigns the hair company is running.
Dyson allows its showrooms to complement its digital venture rather than trying to sell directly to stores, and the physical complement to their otherwise pioneering online experience has proven to equal success.
Axel Arigato, Lyko, Asket, panel discussion - "Every product is measured against eternal relevance"
Panel between; Axel Arigato, Lyko and Asketc. Albin Johansson, CEO and co-founder of Axel Arigato, August Bard Bringeus, CEO and co-founder of Asket, as well as Richard Lyko, CEO and co-founder. In this session, they discussed about taking retail to a new level.
"We need to streamline the flows and products. Find out more about the customer with the help of data and AI algorithms. With basic data, we can create value. We want to elevate the customer experience in the digital world".
Lyko told us that they focus on skin experts who answer questions about the products they sell. Lyko's focus is to become one with the beauty industry. "The technology behind it is important to focus on. We have started an app, where we work hard to engage and entertain our customers. We want to increase the customer benefit with the help of the app. We also have a points shop only in the app, where the customer can collect points on their purchases."
Axel Arigato talked about how they work to create greater value for their products. A pair of plain white sneakers might not feel so original. But Axel Arigato as a company wants to increase the value of its products, and they focus on building community and creating commitment in the stores, to create energy and connect with customers. They organized 116 events in 2022 to build relationships with their customers. In this way, they create something special.
Freddy Sobin, CEO of XXL, former CEO of Kicks – "The Chat GPT wave is flooding. What's starting to happen is cool, and it's going to have an impact"
Freddy Sobin, CEO at XXL, was interviewed by the live podcast. He told how he is driven by his work and tries to constantly find a balance in his career and private life, in order to be the best version of a leader. "Sometimes it's about prioritizing things. I often say no to things I'd like to do. But to be the best leader and private person, it's necessary."
He told us how he goes into his projects wholeheartedly, is passionate, and believes in authentic leadership. He also talked about AI and Chat CPT. "A few years ago, true AI wasn't quite there yet. But now something is starting to happen. The wave around Chat GPT is overflowing. Now people have dived even more into the subject, and what's starting to happen is cool and will impact ". He also mentions that he thought it was just another buzzword, but what's starting to happen now is fascinating.
The success story Chimi, Daniel Djurdjevic, CEO and co-founder - Global expansion with the customer in focus
Daniel Djurdjevic, the co-founder at Chimi, talked about Chimi's success journey, and how they have worked to improve the online experience. With the customer journey, they focus on localization and adapting things to markets and their needs. In the long term, Chimi aims to establish itself in the US as well, and they just opened a store in Paris. During the session, the panelists gave their best tips for e-tailers:
Customize the checkout by industry market
Connect the physical and digital customer journey so that the customer can shop how, where and when they want. All the flows must enable it, online or offline
Sell a product that keeps what it promises
Have a clear channel strategy combined with own stores such as marketplaces, trade and link them together in a clear way
Create a strong brand, it has to start there
See marketing & e-comm as integrated.
How Sweef works with marketing & conversion
Another talk that we at Giosg enjoyed listening to was when our growing furniture customer Sweef talked about their marketing and conversion strategy. Theo Hanzon, the E-commerce Director at Sweef, got the question: "You don't spontaneously buy a sofa right away, so how do you resonate about conversion?" He then explained how all of Sweef's marketing focuses solely on awareness, the top of the funnel, which then generates traffic to the website.
"We want to make every visit a customer experience, if you take the time to visit us, you are a VIP."
And these are key findings that Sweef lives up to. By offering personal help and advice on the website to the right customers at the right time, the site is able to do the conversion job. How Sweef works with marketing versus conversion is a strategy that has proven to work.
Indiska, Microsoft & Optimezely – From traditional retail to modern customer experience

The panel consisted of Yvonne Magnusson-Norling; CEO at Indiska, Linda Pimmeshofer; Industry Advisor at Microsoft, and Mårten Bokedal, Director of Product Strategy at Optimezely.
Yvonne, CEO at Indiska, talked about the journey and how she took on the role of CEO. She told how they have started rebuilding Indiska as a brand from scratch. "Indiska is a lifestyle brand, and we're very focused on who our customer is today."
"We are passionate about the customer building brand and relevance in the market."
Indiska has started with customer offers and building an assortment strategy. They want to retain the customer's interest for the long term rather than in the short time. She talked about how they want to meet digital customers through digital channels. Another strategy they started with is that all Indiska stores have their own Instagram accounts, something that their followers appreciate.
"We want to involve the customer in every step. We also look at the kind of data we can gather about the customers and their behaviors, we think that is important to then reshape offers and other things. We also want to invest heavily in building our community."
About Kick's impressive community
Community is the new black, almost. At least in Kick's case, which has a huge customer club to spare three million members. Every second woman aged 16-65 is a member of Kicks Sweden, and a whopping 80% of sales come from members. The key, according to Kicks themselves, is to test, and they have done that.
Kicks work a lot with engaging content; via Kick's beauty talk, the company gets UGC (User Generated Content) that they can use in their marketing, on the web they work with gamification and they strongly believe in collecting customer reviews.
Besides, they have one chat-like exclusive forum for its customer club where members answer and ask each other things with a whopping 90% response rate! Not to mention how the previous year they hosted an event where one-half of the guest list consisted of influencers and the other lucky winners from the customer club who traveled far and wide to be part of the event.
Building a strong community is a phenomenon that more companies choose to place high on their priority list going forward, and the word community was heard in several contexts during D-congress. In addition to the credibility and loyalty that comes from a strong community, customer clubs are also a goldmine when it comes to data collection that can automate processes while maintaining personality.
Shopify – Interesting statistics from social commerce
Shopify is one of the largest growing multichannel e-commerce platforms. On stage they shared interesting statistics as follows;
Companies using their platform receive x5 more orders from their social media channels than other channels
28% of sales came from international buyers in 2022
80% of Swedes engage in cross-border commerce
They mentioned that Toteme, the growing brand, is a customer to them and focuses a lot on customer loyalty. With customer loyalty comes benefits:
22x higher value comes from their loyal customers
40% of loyal customers buy products from the brand even if cheaper alternatives are available
60% of loyal customers tell others about the brands they are loyal to.
We would like to thank our partners Svensk Handel and the entire project team around D-Congress for an excellent event this year again!