VSP (Vakka-Suomen Puhelin) provides companies with telecommunication, IT and contact center services nationwide. VSP needed a reliable chat partner to add to its contact center offering, which led to the launch of a partnership between giosg and VSP. Two years of cooperation have resulted in very satisfied customers, improved service channels and better service offering. Read the full story!
The Challenge and the Solution
VSP wanted to offer a chat with analytics capabilities. Giosg Live Chat was an agile solution that could tackle this challenge and was therefore quickly integrated into the VSP's production system. Before turning to giosg, VSP worked with another chat partner with a solution that wasn't able to accommodate the demands or system preferences of VSP's contractual customers. The flexibility of giosg software and it's good reputation made VSP turn to giosg.
In addition to giosg Live Chat, VSP also provide added value for their customers through button bots. In practice, VSP offers an Interactive Online Response solution that enables contractual customers with customer service 24/7. This kind of service is made possible through interactive elements made with giosg Interaction Designer.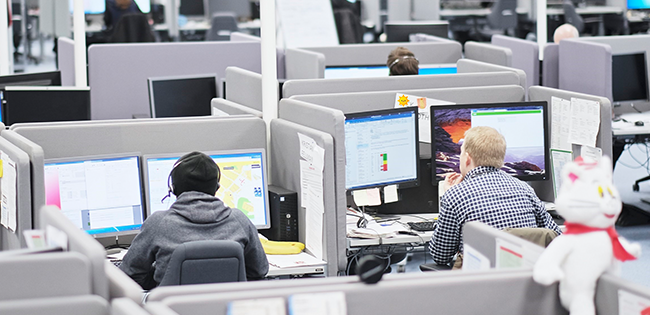 Support for partners
In addition to assisting with customer projects, VSP also received early sales support when giosg participated in the presentation of the solution to VSP's contract customers. Product sales are also promoted by further supporting and assuring VSP contractual customers of the benefits of chat. A giosg representative will also attend any sales events if expert assistance is required.
Value for partners
Giosg's value creation for VSP has been done in four ways.
Firstly, giosg Live chat has supported other communication channels. One contractual customer was able to transfer 1,500 of incoming calls a month to their chat channel. Live chat has also provided VSP contract customers with an additional channel to connect and track sales through the Basket feature.


Secondly, VSP customers have been pleased with the data derived from chat, which initially seemed challenging to grasp. Now, chat data is recognized as a crucial part of the customer value helping the development of customer experience and operations.


Thirdly, interactions created with Interaction Designer have addressed FAQ-type questions previously handled via phone, which has improved customer service efficiency.



Fourthly, the end-user customer experience has also been improved through the chat channel. One of VSP's clients stated, "Our NPS scores have been off the charts especially with the chat channel."
Value is also generated through an effective business model, consisting of three parties: VSP, giosg and VSP's contractual customer. The process begins by identifying the goals of the chat service channel, which giosg rules are to be implemented, and what the chat will look like on the contractual customer's website. Giosg helps with this initial step, by creating the chat rooms in the system. After that, VSP adds their customer advisors to the rooms and takes care of any further changes from that point forward. Although, a giosg representative may be consulted for more extensive changes and developments if needed.
"Giosg's solutions enable more comprehensive value-added services for VSP contact center customers."
Jaakko Kivelä, Development Manager, Vakka-Suomen Puhelin