Find out how S-Bank enhanced its customer service with giosg Live Chat, interactive pop-ups and a chatbot, and at best, got six times better conversion rates than before with interactive content!
The Challenge
S-Bank wanted to improve its customer service and sales by guiding its customers more effectively on their website. To support this process, S-Bank decided to implement live chat, lead capture pop-ups and a chatbot. These tools helped them overcome both customer service and sales challenges.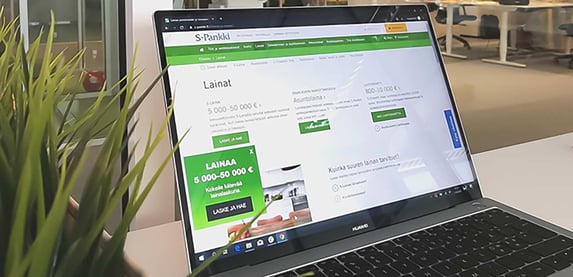 Enter giosg
Giosg's expertise and references helped assure S-bank that giosg solutions were agile enough to meet their specific business needs. Initially, giosg live chat and a chatbot through giosg's partner Ultimate.ai were implemented.
Subsequently, S-Bank has introduced giosg Interaction Designer, a new tool for creating and publishing interactive content. The tool allows them to easily create pop-ups completely autonomously.
S-Bank has dedicated employees responsible for managing chat and creating Interaction Designer content. In addition to presenting various features, giosg's role has been to provide product training and proactive service support in case of problems.
The Results
S-banks chatbot is able to successfully solve 80% of customer problems and the rest is redirected to their customer service agents. This has significantly improved customer service efficiency.
Pop-ups created in Interaction Designer have helped better direct online visitors to S-banks website content and, at best, have produced six times higher conversion rates than traditional display advertising.
S-bank customers get support and the answers they are looking for via live chat. Pop-ups are used when suitable and are targeted towards different customer groups, which has not only increased conversion rates but also boosted S-Bank's sales.
These positive results have helped fuel the potential for ​further development with giosg.
"Easy-to-use software and helpful customer support."
Meea Tuomarmäki, Content Designer, S-Bank