Medialuotsi has already been a giosg reseller partner for several years. Giosg solutions complement Medialuotsi's other offerings and often act as a great door opener for booking customer meetings.

In addition to direct business coming from the sales of giosg solutions, Medialuotsi uses giosg to generate new sales leads on their own website.
The challenge and solution
Many of Medialuotsi's SME customers shared the challenge of a lack of time. This meant that they didn't have the required resources for a live chat.

Initially, implementing giosg Lead Call solved this issue by making it possible to collect leads 24/7. Lead Call improved their customers' website conversion rates significantly, which has, in turn, encouraged Medialuotsi to push the sales of giosg Live Chat to further increase their customers' conversion rates.
At the moment, Medialuotsi creates and publishes lead capture forms, button-based bots, surveys and other interactions using the giosg Interaction Builder tool. These interactions have managed to improve their customers' website conversion rates with the use of both giosg Live Chat and Interaction Builder.
Medialuotsi creates interactions, sets up the rules that automate these interactions, and configures giosg live chat for their customers. After this, the management of giosg software is transferred to the customer. Support is always provided by Medialuotsi should any questions arise regarding the software.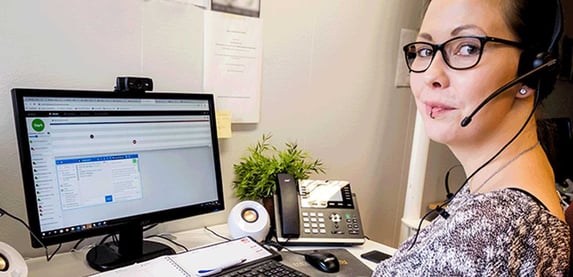 Support for partners
Giosg and Medialuotsi have clear processes when it comes to partnerships. During giosg sales training, Medialuotsi's personnel get all the required tools and materials for the successful sales of giosg Live Chat and for creating interactions with Interaction Builder.

Giosg provides Medialuotsi's sales team with support via phone and live chat with any possible questions that arise during the sales process.
Value for partners
In comparison to the other products that Medialuotsi sells, giosg offers more diversity. Live chat is a simple but effective solution, helping Medialuotsi drive sales and bring in new customers.
One of the main goals for Medialuotsi is to drive quality traffic to their customers' websites using various advertising solutions. In spite of their hard work and efforts, there are times when pre-defined campaign goals are not met. It's in these cases, in particular, that giosg solutions provide a great value for Medialuotsi by helping them optimise and increase their customers' conversion rates.
In addition to reselling giosg products, Medialuotsi is successfully using giosg services on their own website. They have implemented both live chat and a lead generation bot created with Interaction Builder on their homepages, from which Medialuotsi generates up to 50% of their sales qualified leads.
"Our sales team always get support quickly and the pricing is really clear. Both elements are up-to-par and our partnership is working smoothly."
Aki Hepokorpi, Digital Marketing Manager, Medialuotsi