Read more about how Bonti transformed its website into a more engaging place for visitors, and how they increased their sales through giosg's product Interaction Builder.


The Goal
👩‍💻 Bonti strives to be an industry leader when it comes to offering the best possible customer service online and finding the right items. In the world of baby products, prams are a difficult product to choose because there are many different parameters that come into play. Bonti needed a solution to help assist customers online who don't have the opportunity to visit a physical store to bring the in-store experience online.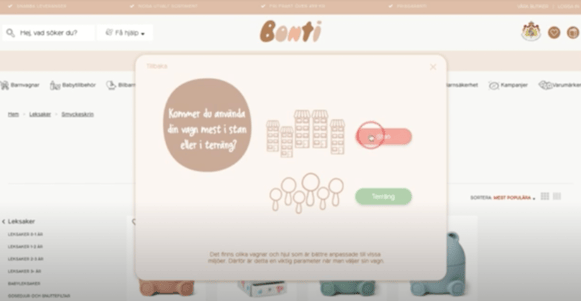 The Solution
👶🏻 Bonti sought out giosg's help to create a solution that would help build personalised recommendations to online customers. Giosg knew the perfect solution: an interactive baby pram quiz.
The product was live beginning of October 2021 and can be found at bonti.se. The company received help from giosg's customer engagement team, who helped develop the easiest and fastest way to set up the quiz. The implementation took about two weeks, with planning taking the majority of the time. Setting up the quiz was quick when there was a structure to follow and the design was set up during one day. According to Erica Jonson, CRM Manager at Bonti, the implementation went very well and thanks to all the support, everything went well from the start.
📈 In addition to the interactive quiz, giosg also provided a solution for Bonti to offer their customers advice by phone in order to help the customer and increase sales.


The Challenge
🤔 A lot of planning, structure and preparation is needed in advance in order to get the best result out of the product. It is also key to have a plan for what questions the quiz should contain – that leads to their end goal. Giosg showcased in advance what parts that could go wrong before the launch. Bonti appreciated that giosg's team spent a lot of time understanding their wishes, and discussed with colleagues how to build it properly.


"There are not many things that cannot be created with giosg as long as you have
a clear plan."
Erica Jonson, CRM Manager, Bonti
The Collaboration
👊🏽 Bonti has been happy throughout the project as the collaboration with giosg has gone very well. Everyone in the support team is helpful and quick to give recommendations and advice. They also think that the person who gets involved spends a lot of time understanding and finding the right solution before giving an answer.



The Result
✅ Bonti has become a strong e-commerce platform with its engaging quiz through giosg's solutions. Statistics show that 3,422 online shoppers have been interacting through the quiz on their website between September 2021 and March 2022. Out of them, 95% have completed the quiz and 42.5% have clicked through to one or more product pages. The people involved in the project are very satisfied with giosg and the way they easily can build recommendations to customers that are informative yet fun – and that make their customers satisfied. Bonti looks forward to building more quizzes and being able to help customers on several parts of their website.

Read more about Bonti and their baby pram quiz.

Read the Customer Story in Swedish here.