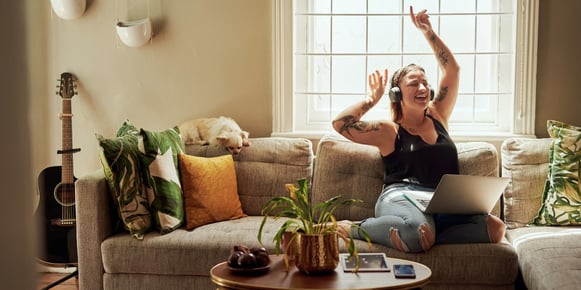 We interviewed Kim Hedemyr, Head of Customer Relations at Sweef, to find out which decisive factors made them come back to Giosg after trying competitor's products, twice – and how they are now utilizing Giosg's live chat for customer engagement and to increase customer communication.
About Sweef
Sweef Furniture, originally an abbreviation of "Swedish E-Furniture", is the Swedish founded company that sells furniture and interior design. On their website, the visitor can find anything from a large sofa – to carpets and mirrors. Sweef opened its e-commerce store in 2011, and the goal was to be able to sell quality furniture at unbeatable prices through efficient logistics, with focus on selected models.
What separates Sweef from their competitors in the market is the passion and selection the company puts into their products, from production to buying. With a very carefully selected assortment, they only sell what the employees want themselves – and deserves the title "Sweden's nicest furniture".
The Goal
Sweef wanted to improve customer communication and the customer journey on their website. The goal was to find a tool for their customer service team that would help them create a seamless buying journey. They wanted to offer their customers a service in a personal, friendly and energized way, Kim adds.
Kim Hedemyr, Head of Customer Relations, was involved from the beginning as the evaluator when they came into contact with Giosg's team. "We had a team of three- to four people that included web developers and our marketing department. We went through what our demands were, which solutions were crucial for us, what had already been developed and what was in our pipeline. After hearing what Giosg could offer based on our KPI's, we thought a collaboration with them would be a great fit."
"One of the biggest channels within our service is primarily the Giosg chat, where our customers have the opportunity to ask questions about fabric selection, delivery times, product dimensions, and opening hours in a simple way."
Kim Hedemyr, Head of Customer Relations, Sweef
Utilizing Giosg on three domains & markets
Sweef has applied Giosg's chat on its Swedish, German and Norwegian domains. They recently opened up a new domain on the German market, where they will open a showroom shortly. With their new website, Kim adds they will have the same strategy as they have in Sweden in regards to their customer service; establish the Sweef feeling in all new markets they enter into using Giosg.
From purchase to delivery, their customers will receive a personal, friendly and energetic service through Giosg's chat. "We are working on a long-term, sustainable logistic solution for the German market, it is not yet fully established.", she adds.
Sweef utilizes Giosg's chat extensively during their opening hours, and Kim says that their customers appreciate the opportunity to be able to ask their questions from a real person quickly. Sweef believes that the product is user friendly, which is one of the main reasons why they came back, twice, after trying out a competitor's product to investigate other options. When asking about one of the main reasons about why they chose to come back, she responds:
"We left Giosg for a while and tried something else, but it didn't feel right. There were some basic functionalities that were missing that made our job harder instead of easier – so we quickly switched back to Giosg."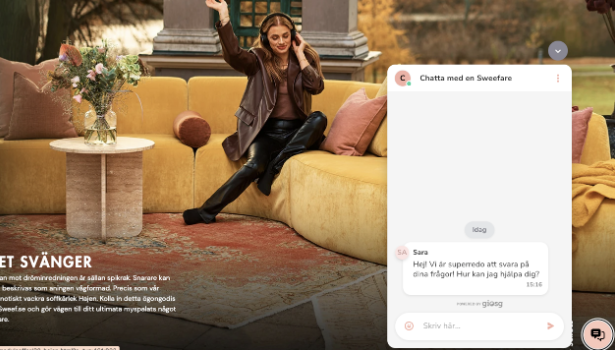 3000 serviced customers, 40 seconds response time
The result of how Sweef has worked proactively with Giosg's chat is that they have increased their customer communication and customer satisfaction with the tool. During the collaboration, they have been able to get closer to their visitors and target group.
Through the chat, important questions are coming in and conversations are started, and the information they get ultimately is very valuable. Some ask specific questions about, for example; textiles, products, and deliveries. In this way, Sweef gets a greater understanding of what the need is, something that is highly valuable in terms of customer data and information for them.
A proven result of how they have been using the chat in an excellent way, as well as a good collaboration with Giosg's support team in place, is that Sweef has been able to help approx. 3000 customers and website visitors during a three-month period, with a response time of only 40 seconds.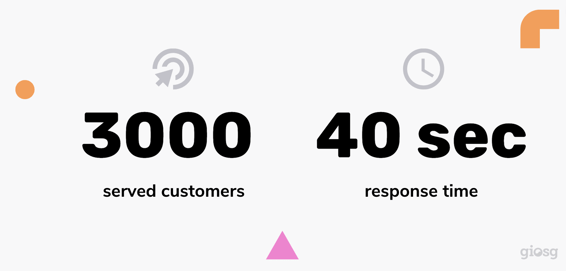 "The Giosg chat is user-friendly, simple & clear. No fuss."
Read the story in Swedish here